Abstract
Background
Natural orifice transluminal endoscopic surgery (NOTES) involves accessing the abdominal cavity via one of the body natural orifices for enabling minimally invasive surgical procedures. However, the constraints imposed by the access modality and the limited available technology make NOTES very challenging for surgeons. Tools redesign and introduction of novel surgical instruments are imperative in order to make NOTES operative in a real surgical scenario, reproducible and reliable. Robotic technology has major potential to overcome current limitations.
Methods
The robotic platform described here consists of a magnetic anchoring frame equipped with dedicated docking/undocking mechanisms to house up to three modular robots for surgical interventions. The magnetic anchoring frame guarantees the required stability for surgical tasks execution, whilst dedicated modular robots provide the platform with adequate vision, stability and manipulation capabilities.
Results
Platform potentialities were demonstrated in a porcine model. Assessment was organized into two consecutive experimental steps, with a hybrid testing modality. First, platform deployment, anchoring and assembly through transoral–transgastric access were demonstrated in order to assess protocol feasibility and guarantee the safe achievement of the following experimental session. Second, transabdominal deployment, anchoring, assembly and robotic module actuation were carried out.
Conclusions
This study has demonstrated the feasibility of inserting an endoluminal robotic platform composed of an anchoring frame and modular robotic units into a porcine model through a natural orifice. Once inserted into the peritoneal cavity, the platform provides proper visualization from multiple orientations. For the first time, a platform with interchangeable modules has been deployed and its components have been connected, demonstrating in vivo the feasibility of intra-abdominal assembly. Furthermore, increased dexterity employing different robotic units will enhance future system capabilities.
This is a preview of subscription content, log in to check access.
Access options
Buy single article
Instant unlimited access to the full article PDF.
US$ 39.95
Price includes VAT for USA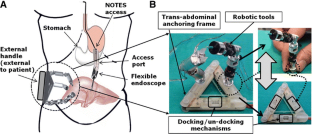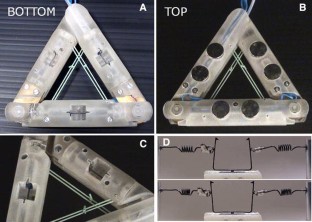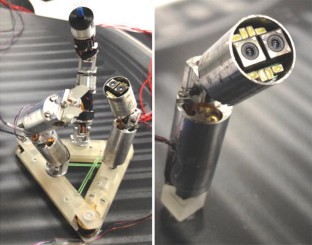 References
1.

Kantsevoy SV, Hu B, Jagannath SB, Vaughn CA, Beitler DM, Chung SS, Cotton PB, Gostout CJ, Hawes RH, Pasricha PJ, Magee CA, Pipitone LJ, Talamini MA, Kalloo AN (2006) Transgastric endoscopic splenectomy: is it possible? Surg Endosc 20(3):522–525

2.

Wang X, Meng MQH (2012) Robotics for Natural Orifice Transluminal Endoscopic Surgery: a review. J Robot 2012:1–9

3.

Swanstrom LL, Kozarek R, Pasricha PJ, Gross S, Birkett D, Park PO, Saadat V, Ewers R, Swain P (2005) Development of a new access device for transgastric surgery. J Gastrointest Surg 9(8):1129–1136

4.

Yonezawa J, Kaise M, Sumiyama K, Goda K, Arakawa H, Tajiri H (2006) A novel double-channel therapeutic endoscope ("R-scope") facilitates endoscopic submucosal dissection of superficial gastric neoplasms. Endoscopy 38(10):1011–1015

5.

Eickhoff A, Van Dam J, Jakobs R, Kudis V, Hartmann D, Damian U, Weickert U, Schilling D, Riemann JF (2007) Computer-assisted colonoscopy (The NeoGuide Endoscopy System): results of the first human clinical trial ("PACE Study"). Am J Gastroenterol 102:261–266

6.

Dallemagne B, Marescaux J (2010) The ANUBISTM project. Minim Invasive Ther Allied Technol 19:257–261

7.

Yeung BPM, Gourlay T (2012) A technical review of flexible endoscopic multitasking platforms. Int J Surgery 10:345–354

8.

Spaun G, Zheng B, Swanström L (2009) A multitasking platform for natural orifice translumenal endoscopic surgery (NOTES): a benchtop comparison of a new device for flexible endoscopic surgery and a standard dual-channel endoscope. Surg Endosc 23:2720–2727

9.

Abbott DJ, Becke C, Rothstein RI, Peine WJ (2007) Design of an endoluminal NOTES robotic system. IEEE/RSJ international conference on intelligent robots and systems. San Diego, USA, pp 410–416

10.

Phee SJ, Kencana AP, Huynh VA, Sun ZL, Low SC, Yang K, Lomanto D, Ho KY (2010) Design of a master and slave transluminal endoscopic robot for natural orifice transluminal endoscopic surgery. Inst Mech Eng Part C J Mech Eng Sci 224:1495–1503

11.

Vitiello V, Lee SL, Cundy TP, Yang GZ (2013) Emerging robotic platforms for minimally invasive surgery. IEEE Rev Biomed Eng 6:111–126

12.

Cahill RA (2010) Natural orifice transluminal endoscopic surgery—here and now. The Surgeon 8(1):44–50

13.

Karimyan V, Sodergren M, Clark J, Yang GZ, Darzi A (2009) Navigation systems and platforms in natural orifice translumenal endoscopic surgery (NOTES). Int J Surg 7:297–304

14.

Harada K, Susilo E, Menciassi A, Dario P (2009) Wireless reconfigurable modules for robotic endoluminal surgery. IEEE international conference on robotics and automation. Kobe, Japan, pp 2699–2704

15.

Diller E, Pawashe C, Floyd S, Sitti M (2011) Assembly and disassembly of magnetic mobile micro-robots towards deterministic 2-D reconfigurable micro-systems. Int J Robot Res 30(14):1667–1680

16.

Canes D, Lehman AC, Farritor SM, Oleynikov D, Desai MM (2009) The future of notes instrumentation: flexible robotics and in vivo minirobots. J Endourol 23:787–792

17.

Raman JD, Scott DJ, Cadeddu JA (2009) Role of magnetic anchors during laparoendoscopic single site surgery and notes. J Endourol 23:781–786

18.

Best SL, Kabbani W, Scott DJ, Bergs R, Beardsley H, Fernandez R, Mashaud LB, Cadeddu JA (2010) Magnetic anchoring and guidance system instrumentation for laparo-endoscopic single-site surgery/natural orifice transluminal endoscopic surgery: lack of histologic damage after prolonged magnetic coupling across the abdominal wall. Urology 77(1):243–247

19.

Scott DJ, Tang SJ, Fernandez R, Bergs R, Goova MT, Zeltser I, Kehdy FJ, Cadeddu JA (2007) Completely transvaginal NOTES cholecystectomy using magnetically anchored instruments. Surg Endosc 21(12):2308–2316

20.

Tiwari MM, Reynoso JF, Lehman AC, Tsang AW, Farritor SM, Oleynikov D (2010) In vivo miniature robots for natural orifice surgery: state of the art and future perspectives. World J Gastrointest Surg 2(6):217–223

21.

Tortora G, Salerno M, Ranzani T, Tognarelli S, Dario P, Menciassi A (2013) A modular magnetic platform for natural orifice transluminal endoscopic surgery. IEEE international conference of the engineering in medicine and biology society. Osaka, Japan, pp 6265–6268

22.

Salerno M, Tognarelli S, Quaglia C, Dario P, Menciassi A (2013) Anchoring frame for intra-abdominal surgery. Int J Robot Res 32(3):360–370

23.

Tognarelli S, Salerno M, Tortora G, Quaglia C, Dario P, Menciassi A (2012) An endoluminal robotic platform for minimally invasive surgery. IEEE RAS/EMBS biorob conference. Italy, Rome, pp 7–12

24.

Tortora G, Dario P, Menciassi A (2014) Array of robots augmenting the kinematics of endocavitary surgery. IEEE/ASME Trans Mechatron 99:1–9
Acknowledgments
The authors wish to thank Mr N. Funaro for manufacturing the prototypes, Professor Sir Alfred Cuschieri for his precious recommendations during the optimization of the platform design, and Dr. S. Schostek and novineon CRO team for their invaluable help during the animal experiments. This work was supported by the European Commission in the framework of the ARAKNES FP7 European Project, Grant No. 224565.
Disclosures
Selene Tognarelli, Marco Salerno, Giuseppe Tortora, Claudio Quaglia, Paolo Dario, Marc Oliver Schurr and Arianna Menciassi have no conflicts of interest or financial ties to disclose.
Electronic supplementary material
Below is the link to the electronic supplementary material.
Supplementary material 1 (WMV 5279 kb)
Supplementary material 2 (WMV 9801 kb)
About this article
Cite this article
Tognarelli, S., Salerno, M., Tortora, G. et al. A miniaturized robotic platform for natural orifice transluminal endoscopic surgery: in vivo validation. Surg Endosc 29, 3477–3484 (2015) doi:10.1007/s00464-015-4097-x
Received:

Accepted:

Published:

Issue Date:
Keywords
Laparoscopic surgery

Miniature robots

NOTES

Modular platform