Abstract
Background
We aim to report a 5-year retrospective multicentric European survey about the outcome of laparoscopic partial nephrectomy in infants and children with duplex kidneys.
Methods
The data of fifty-two children underwent laparoscopic partial nephrectomy (42 upper-pole nephrectomies and 10 lower-pole nephrectomies) in six European centers of Pediatric Surgery, were collected and analyzed. Median age at surgery was 5.1 years (range 6 months–9.7 years). There were 32 girls and 20 boys. In 37 patients, the left side was affected and in 15 patients the right side. For the right side, 4 trocars were used and for the left side 3/4 trocars. Special hemostatic devices were used for dissection and parenchymal section in all centers. We assessed intraoperative and postoperative morbidity.
Results
Median length of surgery was 166.2 min (70–215 min). No conversion to open surgery nor intraoperative bleeding was reported. Mean hospitalization was 3.5 days. We recorded 10/52 complications (4 urinomas, 2 recurrent UTIs, 4 prolonged urinary leakage), all managed conservatively. Reoperation rate was 0 %. No loss of renal function on the residual kidney moiety was recorded in all operated patients.
Conclusions
Laparoscopic partial nephrectomy remains a technically challenging procedure performed only in pediatric centers with high experience in minimally invasive surgery. Although the median operative time was higher than 2 h, we recorded no conversions in our series. The complication rate remains high (10/52–19.2 %). All were II grade complications according to Clavien–Dindo classification and were treated conservatively without the need of other surgical procedures.
This is a preview of subscription content, log in to check access.
Access options
Buy single article
Instant access to the full article PDF.
US$ 39.95
Price includes VAT for USA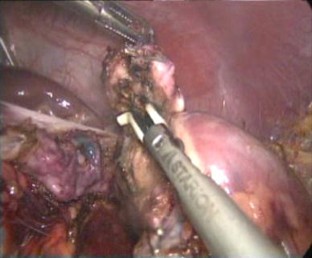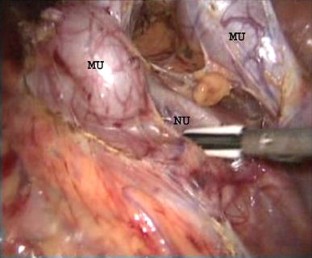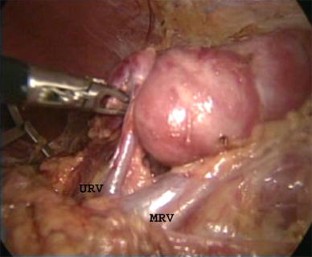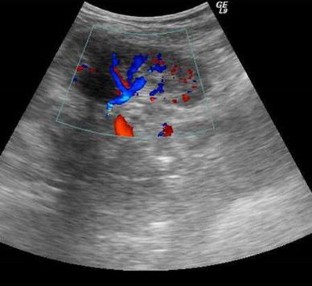 References
1.

Janetschek G, Seibold J, Radmayr C, Bartsch G (1997) Laparoscopic heminephroureterectomy in pediatric patients. J Urol 158:1928–1930

2.

Yao D, Poppas DP (2000) A clinical series of laparoscopic nephrectomy, nephroureterectomy and hemi-nephroureterectomy in the pediatric population. J Urol 163:1531–1535

3.

Peters CA (2000) Laparoendoscopic renal surgery in children. J Endourol 14(10):841–847; discussion 847–848

4.

El-Ghoneimi A (2003) Paediatric laparoscopic surgery. Curr Opin Urol 13(4):329–335

5.

Ehrlich RM, Gershman A, Fuchs G (1994) Laparoscopic renal surgery in children. J Urol 151:735–739

6.

Valla JS, Breaud J, Carfagna L, Tunsini S, Steyaert H (2003) Treatment of ureterocele on duplex ureter: upper pole nephrectomy by retroperitoneoscopy in children based on a series of 24 cases. Eur Urol 43:426–429

7.

Jordan GH, Winslow DH (1993) Laparoendoscopic upper pole partial nephrectomy with ureterectomy. J Urol 150:940–943

8.

Miranda LM, Oliveira-Filho AG, Carvalho PT, Ungersbock E, Olimpio H, Bustorff-Silva JM (2007) Laparoscopic upper pole nephroureterectomy in infants. Int Braz J Urol 33:87–93

9.

Piaggio L, Franc-Guimond J, Figueroa TE, Barthold JS, Gonzalez J (2006) Comparison of laparoscopic and open partial nephrectomy for duplication anomalies in children. J Urol 175:2269–2273

10.

Winfield HN, Donovan JF, Lund GO et al (1995) Laparoscopic partial nephrectomy: initial experience and comparison to the open surgical approach. J Urol 153:1409–1414

11.

Breda AL, Lam JS, Veale J, Lerman S, Schulam PG (2007) Laparoscopic heminephrectomy for upper-pole moiety in children using a 3-mm laparoscope and instruments. J Endourol 21(8):883–885

12.

Elashry OM, Wolf JS Jr, Rayala HJ, McDougall EM, Clayman RV (1997) Recent advances in laparoscopic partial nephrectomy: comparative study of electrosurgical snare electrode and ultrasound dissection. J Endourol 11:15–22

13.

Jackman SV, Caddeddu JA, Chen RN et al (1998) Utility of the harmonic scalpel for laparoscopic partial nephrectomy. J Endourol 12:441–444

14.

Hayakawa K, Baba S, Aoyagi T, Ohashi M, Ishikawa H, Hata M (1999) Laparoscopic heminephrectomy of a horseshoe kidney using microwave coagulator. J Urol 161:1559

15.

Dindo D, Demartines N, Clavien PA (2004) Classification of surgical complications. a new proposal with evaluation in a cohort of 6336 patients and results of a survey. Ann Surg 240:205–213

16.

El-Ghoneimi A, Valla JS, Steyaert H, Aigrain Y (1998) Laparoscopic renal surgery via a retroperitoneal approach in children. J Urol 160:1138–1141

17.

Esposito C, Iaquinto M, Escolino M et al (2014) Is retroperitoneoscopic renal ablative surgery easier and safer using a new hemostatic device compared with clips and monopolar coagulation? A comparative study. Minerva Urol Nefrol 66:101–105

18.

Singh R, Wagener S, Chandran H (2010) Laparoscopic management and outcomes in non-functioning moieties of duplex kidneys in children. J Pediatr Urol 6:66–69

19.

Gundetti MS, Ransley PG, Duffy PG, Cuckow PM, Wilcox DT (2005) Renal outcome following heminephrectomy for duplex kidney. J Urol 173:1743–1744

20.

Weise ES, Winfield H (2005) Laparoscopic partial nephrectomy. J Endourol 19(6):634–642

21.

Robinson BC, Snow BW, Cartwright PC, DeVries CR, Hamilton BD, Anderson JB (2003) Comparison of laparoscopic versus open partial nephrectomy in a pediatric series. J Urol 169:638–640

22.

El Ghoneimi A, Farhat W, Bolduc S, Bagli D, Mclorie G, Khoury A (2003) Retroperitoneal laparoscopic vs open partial nephroureterectomy in children. BJU Int 91:532–535

23.

Le Clair MD, Vidal I, Suply E, Podevin G, Heloury Y (2009) Retroperitoneal laparoscopic heminephrectomy in duplex kidney in infants and children: a 15-year experience. Eur Urol 56(2):385–389

24.

Schneider A, Ripepi M, Henry-Florence C, Geiss S (2010) Laparoscopic transperitoneal partial nephrectomy in children under 2 years old: a single-centre experience. J Pediatr Urol 6(2):166–170

25.

Dingemann C, Petersen C, Kuebber JF, Ure BM, Lacher M (2013) Laparoscopic transperitoneal heminephrectomy for duplex kidneys in infants and children: a comparative study. J Laparoendosc Adv Surg Tech A 23(10):889–893

26.

Cabezali D, Maruszewski P, Lopez F, Aransay A, Gomez A (2013) Complications and late outcome in transperitoneal laparoscopic heminephrectomy for duplex kidney in children. J Endourol 27(2):133–138

27.

You D, Bang JK, Shim M, Ryu DS, Kim KS (2010) Analysis of the late outcome of laparoscopic heminephrectomy in children with duplex kidneys. BJU Int 106(2):250–254

28.

Mushtaq I, Haleblian G (2007) Laparoscopic heminephrectomy in infants and children: first 54 cases. J Pediatr Urol 3(2):100–103

29.

Gao Z, Wu J, Lin C, Men C (2011) Transperitoneal laparoscopic heminephrectomy in duplex kidney: our initial experience. Urology 77(1):231–236

30.

Wang DS, Bird VG, Cooper CS, Austin JC, Winfield HN (2004) Laparoscopic upper pole heminephrectomy for ectopic ureter: initial experience. Can J Urol 11(1):2141–2145

31.

Nerli RB, Vernekar R, Guntaka AK, Patil SM, Jali SM, Hiremath MB (2011) Laparoscopic hemi/partial nephrectomy in children with ureteral duplication anomalies. Pediatr Surg Int 27:769–774

32.

Seibold J, Schilling D, Nagele U, Anastasiadis AG, Sievert KD, Stenzl A, Corvin S (2008) Laparoscopic heminephroureterectomy for duplex kidney anomalies in the pediatric population. J Pediatr Urol 4:345–347
Acknowledgments
Drs Ciro Esposito, Francois Varlet, Dariusz Patkowski, Marco Castagnetti, Maria Escolino, Isabela Draghici, Alessandro Settimi, Antonio Savanelli and Holger Till declare that they have no conflict of interest or financial ties to disclose.
Appendix 1: Our survey tool was a questionnaire that was mailed to all participants
Appendix 1: Our survey tool was a questionnaire that was mailed to all participants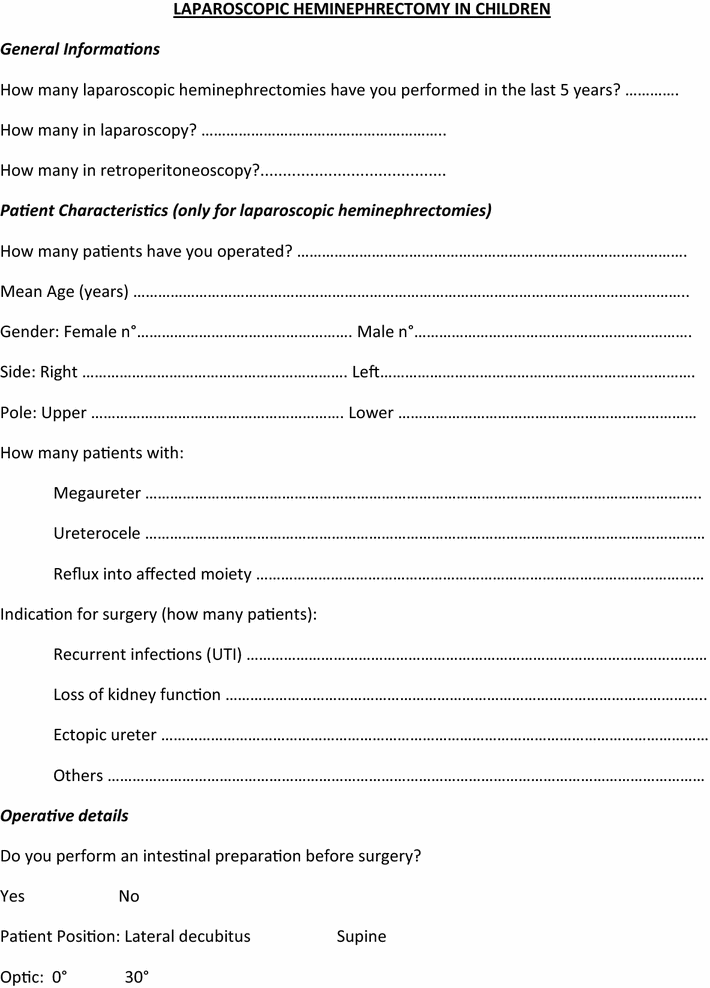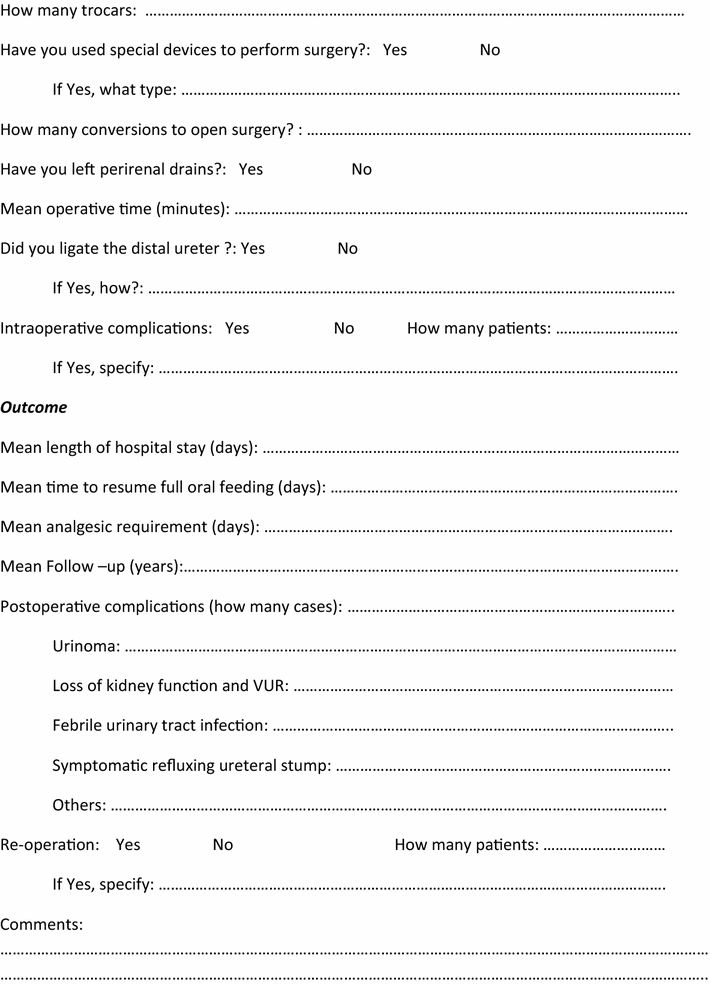 About this article
Cite this article
Esposito, C., Varlet, F., Patkowski, D. et al. Laparoscopic partial nephrectomy in duplex kidneys in infants and children: results of an European multicentric survey. Surg Endosc 29, 3469–3476 (2015). https://doi.org/10.1007/s00464-015-4096-y
Received:

Accepted:

Published:

Issue Date:
Keywords
Laparoscopy

Partial nephrectomy

Children

Heminephrectomy