Abstract
Background
Females are less attracted than males to surgical specialties, which may be due to differences in the acquisition of skills. The aim of this study was to systematically review studies that investigate gender differences in the acquisition of surgical skills.
Methods
We performed a comprehensive database search using relevant search phrases and MeSH terms. We included studies that investigated the role of gender in the acquisition of surgical skills.
Results
Our search yielded 247 studies, 18 of which were found to be eligible and were therefore included. These studies included a total of 2,106 study participants. The studies were qualitatively synthesized in five categories (studies on medical students, studies on both medical students and residents, studies on residents, studies on gender differences in needed physical strength, and studies on other gender-related training conditions). Male medical students tended to outperform females, while no gender differences were found among residents. Gaming experience and interest in surgery correlated with better acquisition of surgical skills, regardless of gender. Although initial levels of surgical abilities seemed lower among females, one-on-one training and instructor feedback worked better on females and were able to help the acquisition of surgical skills at a level that negated measurable gender differences. Female physicians possess the required physical strength for surgical procedures, but may face gender-related challenges in daily clinical practice.
Conclusion
Medical students are a heterogeneous group with a range of interests and experiences, while surgical residents are more homogeneous perhaps due to selection bias. Gender-related differences are more pronounced among medical students. Future surgical curricula should consider tailoring personalized programs that accommodate more mentoring and one-on-one training for female physicians while giving male physicians more practice opportunities in order to increase the output of surgical training and acquisition of surgical skills.
This is a preview of subscription content, log in to check access.
Access options
Buy single article
Instant access to the full article PDF.
US$ 39.95
Price includes VAT for USA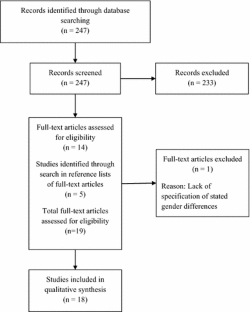 References
1.

Wirtzfeld DA (2009) The history of women in surgery. Can J Surg 52:317–320

2.

Levinson W, Lurie N (2004) when most doctors are women: What lies ahead? Ann Intern Med 141:471–474

3.

Ramakrishnan A, Sambuco D, Jagsi R (2014) Women's Participation in the medical profession: insights from experiences in Japan, Scandinavia, Russia, and Eastern Europe. J Womens Health (Larchmt) 23:927–934

4.

Pedersen LT, Bak NH, Dissing AS, Petersson BH (2011) Gender bias in specialty preferences among Danish medical students: a cross-sectional study. Dan Med Bull 58:A4304

5.

Pakkenberg B, Gundersen HJ (1997) Neocortical neuron number in humans: effect of sex and age. J Comp Neurol 384:312–320

6.

Stark AK, Toft MH, Pakkenberg H, Fabricius K, Eriksen N, Pelvig DP, Møller M, Pakkenberg B (2007) The effect of age and gender on the volume and size distribution of neocortical neurons. Neuroscience 150:121–130

7.

Luders E, Gaser C, Narr KL, Toga AW (2009) Why sex matters: brain size independent differences in gray matter distributions between men and women. J Neurosci 29:14265–14270

8.

Baron-Cohen S, Knickmeyer RC, Belmonte MK (2005) Sex differences in the brain: implications for explaining autism. Science 310:819–823

9.

Shaywitz BA, Shaywitz SE, Pugh KR, Constable RT, Skudlarski P, Fulbright RK, Bronen RA, Fletcher JM, Shankweiler DP, Katz L, Gore JC (1995) Sex differences in the functional organization of the brain for language. Nature 373:607–609

10.

Kimura D (1996) Sex, sexual orientation and sex hormones influence human cognitive function. Curr Opin Neurobiol 6:259–263

11.

Adam JJ, Paas FG, Buekers MJ, Wuyts IJ, Spijkers WA, Wallmeyer P (1999) Gender differences in choice reaction time: evidence for differential strategies. Ergonomics 42:327–335

12.

Sneider JT, Hamilton DA, Cohen-Gilbert JE, Crowley DJ, Rosso IM, Silveri MM (2014) Sex differences in spatial navigation and perception in human adolescents and emerging adults. Behav Process 111C:42–50

13.

Schoenfeld R, Lehmann W, Leplow B (2010) Effects of age and sex and mental rotation and spatial learning from virtual environments. J Individ Differ 31:78–82

14.

Kimura D, Hampson E (1994) Cognitive pattern in men and women is influenced by fluctuations in sex hormones. Curr Dir Psychol Sci 3:57–61

15.

Kromann CB, Jensen ML, Ringsted C (2011) Test-enhanced learning may be a gender-related phenomenon explained by changes in cortisol level. Med Educ 45:192–199

16.

Moher D, Liberati A, Tetzlaff J, Altman DG; PRISMA Group (2009) Preferred reporting items for systematic reviews and meta-analyses: the PRISMA statement. BMJ 339:b2535

17.

Elneel FH, Carter F, Tang B, Cuschieri A (2008) Extent of innate dexterity and ambidexterity across handedness and gender: implications for training in laparoscopic surgery. Surg Endosc 22:31–37

18.

Enochsson L, Isaksson B, Tour R, Kjellin A, Hedman L, Wredmark T, Tsai-Felländer L (2004) Visuospatial skills and computer game experience influence the performance of virtual endoscopy. J Gastrointest Surg 8:876–882

19.

Madan AK, Harper JL, Frantzides CT, Tichansky DS (2008) Nonsurgical skills do not predict baseline scores in inanimate box or virtual-reality trainers. Surg Endosc 22:1686–1689

20.

Thorson CM, Kelly JP, Forse RA, Turaga KK (2011) Can we continue to ignore gender differences in performance on simulation trainers? J Laparoendosc Adv Surg Tech A 21:329–333

21.

Kolozsvari NO, Andalib A, Kaneva P, Cao J, Vassiliou MC, Fried GM, Feldman LS (2011) Sex is not everything: the role of gender in early performance of a fundamental laparoscopic skill. Surg Endosc 25:1037–1042

22.

Schlickum M, Fellander-Tsai L, Hedman L, Henningsohn L (2013) Endourological simulator performance in female but not male medical students predicts written examination results in basic surgery. Scand J Urol 47:38–42

23.

Donnon T, DesCoteaux JG, Violato C (2005) Impact of cognitive imaging and sex differences on the development of laparoscopic suturing skills. Can J Surg 48:387–393

24.

Strandbygaard J, Bjerrum F, Maagaard M, Winkel P, Larsen CR, Ringsted C, Gluud C, Grantcharov T, Ottesen B, Sorensen JL (2013) Instructor feedback versus no instructor feedback on performance in a laparoscopic virtual reality simulator: a randomized trial. Ann Surg 257:839–844

25.

Rosenthal R, Gantert WA, Scheidegger D, Oertli D (2006) Can skills assessment on a virtual reality trainer predict a surgical trainee's talent in laparoscopic surgery? Surg Endosc 20:1286–1290

26.

Shane MD, Pettitt BJ, Morgenthal CB, Smith CD (2008) Should surgical novices trade their retractors for joysticks? videogame experience decreases the time needed to acquire surgical skills. Surg Endosc 22:1294–1297

27.

White MT, Welch K (2012) Does gender predict performance of novices undergoing fundamentals of laparoscopic surgery (FLS) training? Am J Surg 203:397–400

28.

Schueneman AL, Pickleman J, Freeark RJ (1985) Age, gender, lateral dominance, and prediction of operative skill among general surgery residents. Surgery 98:506–515

29.

Grantcharov TP, Bardram L, Funch-Jensen P, Rosenberg J (2003) Impact of hand dominance, gender, and experience with computer games on performance in virtual reality laparoscopy. Surg Endosc 17:1082–1085

30.

Van HC, Perry KA, Spight DH, Wheeler-Mcinvaille K, Diggs BS, Sheppard BC, Jobe BA, O'Rourke RW (2008) Predictors of technical skill acquisition among resident trainees in a laparoscopic skills education program. World J Surg 32:1917–1921

31.

Leslie KK, Dipasquale-Lehnerz P, Smith M (2005) Obstetric forceps training using visual feedback and the isometric strength testing unit. Obstet Gynecol 105:377–382

32.

Waddington MS, Paech MJ, Kurowski IH, Reed CJ, Nicholls GJ, Guy DT, Day RE (2009) The influence of gender and experience on intubation ability and technique: a manikin study. Anaesth Intensive Care 37:791–801

33.

Bonar KD, Kaunitz AM, Sanchez-Ramos L (2000) The effect of obstetric resident gender on forceps delivery rate. Am J Obstet Gynecol 182:1050–1051

34.

Gibson A, Boulton MG, Watson MP, Moseley MJ, Murray PI, Fielder AR (2005) The first cut is the deepest: basic surgical training in ophthalmology. Eye (Lond) 19:1264–1270

35.

Peschers UM, Tunn R, Dejewski C, Koelbl H (2008) Urogynecological training, testing and treatment among gynecologists in Germany. Eur J Obstet Gynecol Reprod Biol 140:118–123

36.

Konge L, Ali A, Sørensen M, Bitsch M (2011) Gender differences among medical students in the approach to simulation. Ugeskr Laeger 173:3170–3173

37.

Blatter K, Graw P, Munch M, Knoblauch V, Wirz-Justice A, Cajochen C (2006) Gender and age differences in psychomotor vigilance performance under differential sleep pressure conditions. Behav Brain Res 168:312–317

38.

Noble C, Baker BL, Jones TA (1964) Age and sex parameters in psychomotor learning. Percept Mot Skills 19:935–945

39.

Byrnes JP, Miller DC, Schafer WD (1999) Gender differences in risk taking: a meta-analysis. Psychol Bull 125:367–383

40.

Quine L (2002) Workplace bullying in junior doctors: questionnaire survey. BMJ 324:878–879

41.

Dageforde LA, Kibbe M, Jackson GP (2013) Recruiting women to vascular surgery and other surgical specialties. J Vasc Surg 57:262–267
Acknowledgments
The authors wish to thank Josie Hamper for linguistic assistance.
Disclosures
Authors Amir Ali, Yousif Subhi, Charlotte Ringsted, and Lars Konge have no conflicts of interest or financial ties to disclose.
About this article
Cite this article
Ali, A., Subhi, Y., Ringsted, C. et al. Gender differences in the acquisition of surgical skills: a systematic review. Surg Endosc 29, 3065–3073 (2015). https://doi.org/10.1007/s00464-015-4092-2
Received:

Accepted:

Published:

Issue Date:
Keywords
Gender differences

Surgery

Surgical skills

Surgical career

Surgical simulation

Medical education