Abstract
Background
Bronchogenic cysts are rare foregut abnormalities that arise from aberrant budding of the tracheobronchial tree early in embryological development. These cysts predominantly appear in the mediastinum, where they may compress nearby structures. Intra-abdominal bronchogenic cysts are rare. We report an intra-abdominal bronchogenic cyst that was excised laparoscopically.
Methods
A 40-year old female with a history of gastritis presented for evaluation of recurrent abdominal pain. A previous ultrasound showed cholelithiasis and a presumed portal cyst. Physical examination and laboratory findings were unremarkable. A CT scan with pancreatic protocol was performed and an intra-abdominal mass adherent to the esophagus was visualized. A laparascopic enucleation of the mass was performed. A 3-cm myotomy was made after circumferential dissection of the cyst and the decision was made intraoperatively to reapproximate the muscularis layer. A PubMed literature search on surgical management of esophageal bronchogenic cysts was subsequently performed.
Results
The literature search performed on the subject of esophageal bronchogenic cysts found one review article focusing on intramural esophageal bronchogenic cysts in the mediastinum and five case reports of esophageal bronchogenic cysts. Of these, only one was both intraabdominal and managed laparascopically with simple closure of the resulting myotomy. The majority of the bronchogenic cysts mentioned in the literature were located mediastinally and were managed via open thoracotomy. Our findings confirm the rarity of this particular presentation and the unique means by which this cyst was surgically excised.
Conclusion
This case highlights the management of a rare entity and advocates for enucleation of noncommunicating, extraluminal esophageal bronchogenic cysts and closure of the esophageal muscular layers over intact mucosa as a viable surgical approach to this unusual pathology. Other cases of laparascopic enucleation of bronchogenic cysts have shown similarly uneventful postoperative courses and rapid recovery with no apparent return of symptoms.
This is a preview of subscription content, log in to check access.
Access options
Buy single article
Instant unlimited access to the full article PDF.
US$ 39.95
Price includes VAT for USA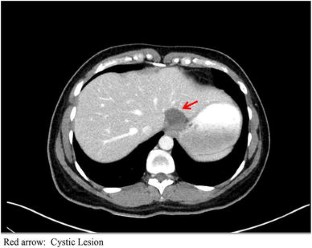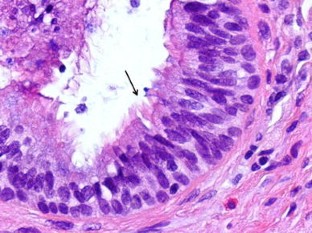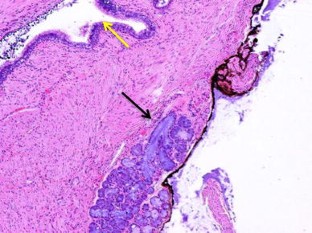 References
1.

Turkyilmaz A, Eroglu A, Subasi M, Findik G (2007) Intramural esophageal bronchogenic cysts: a review of the literature. Dis Esophagus 20(6):461–465

2.

Sarper A, Ayten A, Golbasi I, Demircan A, Isin E (2003) Bronchogenic cyst. Tex Heart Inst J 30(2):105–108

3.

Sirivella S, Ford WB, Zikria EA et al (1985) Foregut cysts of the mediastinum. J Thorac Cardiovasc Surg 90(5):776–782

4.

Ko S, Hsieh MJ, Lin JW et al (2006) Bronchogenic cyst of the esophagus: clinical and imaging features of seven cases. Clin Imaging 30(5):309–314

5.

Okada Y, Mori H, Maeda T, Obashi A, Itoh Y, Doi K (1996) Congenital mediastinal bronchogenic cyst with malignant transformation: an autopsy report. Pathol Int 46(8):594–600

6.

Aktogu S, Yuncu G, Halilcolar H et al (1996) Bronchogenic cysts: clinicopathological presentation and treatment. Eur Respir J 9(10):2017–2021

7.

Fievet L, D'Journo XB, Guys JM, Thomas PA, De Lagausie P (2012) Bronchogenic cyst: best time for surgery? Ann Thorac Surg 94(5):1695–1700

8.

Ballenahinna UK, Shaw JP, Brichkov I (2013) Subdiaphregmatic bronchogenic cyst at the gastroesophageal junction presenting with Dysphagia: a case report. Surg Laparosc Endosc Percutan Tech 23(4): e170–2

9.

Diaz Nieto R, Naranjo Torres A, Gomez Alvarez M, Ruiz Rabelo JF et al (2010) Intraabdominal bronchogenic cyst. J Gastrointest Surg 14(4):756–758

10.

Fernandez JL, Bauza G, McAneny DB (2011) Minimally invasive management of lesser sac bronchogenic cyst. JSLS 15(4):571–574

11.

Melo N, Pitman MB, Rattner DW (2005) Bronchogenic cyst of the gastric fundus presenting as a gastrointestinal stromal tumor. J Laparoendosc Adv Surg Tech 15(2):163–165

12.

Sashiyama H, Miyazaki S, Okazaki Y et al (2002) Esophageal bronchogenic cyst successfully excised by endoscopic mucosal resection. Gastrointest Endosc 56(1):141–145

13.

Wang W, Ni Y, Zhang L, Li X, Ke C, Lu Q, Cheng Q (2012) A case report of para-esophageal bronchogenic cyst with esophageal communication. J Cardiothorac Surg 7:94

14.

Ko SF, Hsieh MJ, Lin JW, Huang CC, Li CC, Cheung YC, Ng SH (2006) Bronchogenic cyst of the esophagus clinical and imagin features of seven cases. Clin Imaging 30(5):309–314

15.

Hallani H, Eslick GD, Cox M, Wyatt JM, Lee CH (2004) Chest pain? cause. Lancet 363(9407):452

16.

Kiral H, Tezel CS, Kosar A, Keles M (2008) Clinicopathologic demonstration of complex bronchopulmonary foregut malformation. Ann Thoac Surg 85(6):2114–2116

17.

Rubin S, Sandu S, Durand E, Baehrel B (2009) Diaphragmatic rupture during labour, two years after an intra-oesophageal rupture of a bronchogenic cyst treated by an omental wrapping. Interact CardioVasc Thorac Surg 9(2):374–376

18.

Akutsu Y, Matsubara H, Hayashi H, Okazumi S, Aoki T, Kozu T, Ochiai T (2006) Endoscope-assisted thoracoscopic technique for esophageal bronchogenic cyst which presented elevetated CA 125. Dig Surg 23(4):209–214

19.

Chuang KH, Huang TW, Cheng YL et al (2007) Esophageal bronchogenic cyst: a rare entity. Z Gastroenterol 45(9):958–960

20.

Vennucci J, Pecoriello R, Tassi V, Ceccarelli S, Puma F (2013) Giant thoracoabdominal esophageal bronchogenic cyst. Dis Esophagus 26(3):340

21.

Grover M, Gupta A, Wagner DP, Orringer MB (2007) Hard to swallow. Am J Med 120(12):1023–1025

22.

Pages ON, Rubin S, Baehrel B (2005) Intra-esophageal rupture of a bronchogenic cyst. Interact CardioVasc Thorac Surg 4(4):287–288

23.

Westerterp M, van den Berg JG, van Lanschot JJ, Fockens P (2004) Intramural bronchogenic cysts mimicking solid tumors. Endoscopy 36(12):1119–1122

24.

Chafik A, Benjelloun A, Qassif H, El Fikri A, El Barni R, Zrara I (2011) Intramural esophageal bronchogenic cysts. Asian Cardiovasc Thorac Ann 19(1):69–71

25.

Ghobakhlou M, Fatemi SR, Dezfouli AA, Tirgary F, Zali MR (2012) Long-term dysphagia due to bronchogenic cyst of the esophagus. Endoscopy 44(Suppl 2):E129–E130

26.

Eom DW, Kang GH, Kim HW, Ryu DS (2007) Unusual bronchopulmonary foregut malformation associated with pericardial defect: bronchogenic cyst communicating with tubular esophageal duplication. J Korean Med Sci 22(3):564–567

27.

Barbetakis N, Asteriou C, Kleontas A, Papadopoulou F, Tsilikas C (2011) Video-assisted thoracoscopic resection of a bronchogenic esophageal cyst. J Minim Access Surg 7(4):249–252
Disclosure
Dr. Dana Telem receives speaking honoraria from Gore, consulting honoraria from Ethicon and has a research funding from Cook. Dr. Aurora Pryor receives speaking honoraria from Gore and consulting honoraria from Freehold Medical. Dr. Maria Altieri, Dr. Alan Heimann, Dr. Soojin Ahn, and Richard Zheng have no conflicts of interest or financial ties to disclose.
Electronic supplementary material
Below is the link to the electronic supplementary material.
Supplementary material 1 (WMV 33037 kb)
About this article
Cite this article
Altieri, M.S., Zheng, R., Pryor, A.D. et al. Esophageal bronchogenic cyst and review of the literature. Surg Endosc 29, 3010–3015 (2015). https://doi.org/10.1007/s00464-015-4082-4
Received:

Accepted:

Published:

Issue Date:
Keywords
Esophageal

General

Technical

Surgical