Abstract
Background
Many factors can affect a surgeon's performance in the operating room; these may include surgeon comfort, ergonomics of tool handle design, and fatigue. A laparoscopic tool handle designed with ergonomic considerations (pistol grip) was tested against a current market tool with a traditional pinch grip handle. The goal of this study is to quantify the impact ergonomic design considerations which have on surgeon performance. We hypothesized that there will be measurable differences between the efficiency while performing FLS surgical trainer tasks when using both tool handle designs in three categories: time to completion, technical skill, and subjective user ratings.
Methods
The pistol grip incorporates an ergonomic interface intended to reduce contact stress points on the hand and fingers, promote a more neutral operating wrist posture, and reduce hand tremor and fatigue. The traditional pinch grip is a laparoscopic tool developed by Stryker Inc. widely used during minimal invasive surgery. Twenty-three (13 M, 10 F) participants with no existing upper extremity musculoskeletal disorders or experience performing laparoscopic procedures were selected to perform in this study. During a training session prior to testing, participants performed practice trials in a SAGES FLS trainer with both tools. During data collection, participants performed three evaluation tasks using both handle designs (order was randomized, and each trial completed three times). The tasks consisted of FLS peg transfer, cutting, and suturing tasks.
Results
Feedback from test participants indicated that they significantly preferred the ergonomic pistol grip in every category (p < 0.05); most notably, participants experienced greater degrees of discomfort in their hands after using the pinch grip tool. Furthermore, participants completed cutting and peg transfer tasks in a shorter time duration (p < 0.05) with the pistol grip than with the pinch grip design; there was no significant difference between completion times for the suturing task. Finally, there was no significant interaction between tool type and errors made during trials.
Conclusions
There was a significant preference for as well as lower pain experienced during use of the pistol grip tool as seen from the survey feedback. Both evaluation tasks (cutting and peg transfer) were also completed significantly faster with the pistol grip tool. Finally, due to the high degree of variability in the error data, it was not possible to draw any meaningful conclusions about the effect of tool design on the number or degree of errors made.
This is a preview of subscription content, log in to check access.
Access options
Buy single article
Instant access to the full article PDF.
US$ 39.95
Price includes VAT for USA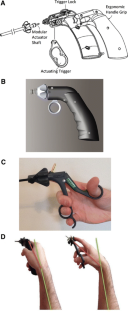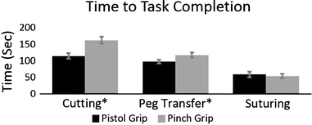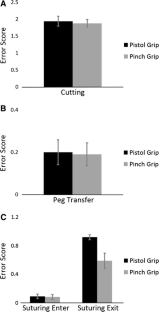 References
1.

Sari V, Nieboer TE, Vierhout ME, Stegeman DF, Kluivers KB (2010) The operation room as a hostile environment for surgeons: physical complaints during and after laparoscopy. Minim Invasive Ther Allied Technol 19:105–109

2.

Matern U, Eichenlaub M, Waller P, Ruckauer K (1999) MIS instruments. An experimental comparison of various ergonomic handles and their design. Surg Endosc 13:756–762

3.

Van Veelen MA, Meijer DW (1999) Ergonomics and design of laparoscopic instruments: results of a survey among laparoscopic surgeons. J Laparoendosc Adv Surg Tech A 9:481–489

4.

Rassweiler JJ, Goezen AS, Jalal AA, Schulze M, Pansadoro V, Pini G et al (2012) A new platform improving the ergonomics of laparoscopic surgery: initial clinical evaluation of the prototype. Eur Urol 61:226–229

5.

Reddy PP, Reddy TP, Roig-Francoli J, Cone L, Sivan B, DeFoor WR et al (2011) The impact of the alexander technique on improving posture and surgical ergonomics during minimally invasive surgery: pilot study. J Urol 186:1658–1662

6.

Reyes DA, Tang B, Cuschieri A (2006) Minimal access surgery (MAS)-related surgeon morbidity syndromes. Surg Endosc 20:1–13

7.

Matern U, Waller P (1999) Instruments for minimally invasive surgery: principles of ergonomic handles. Surg Endosc 13:174–182

8.

Nguyen NT, Ho HS, Smith WD, Philipps C, Lewis C, De Vera RM et al (2001) An ergonomic evaluation of surgeons' axial skeletal and upper extremity movements during laparoscopic and open surgery. Am J Surg 182:720–724

9.

Quick NE, Gillette JC, Shapiro R, Adrales GL, Gerlach D, Park AE (2003) The effect of using laparoscopic instruments on muscle activation patterns during minimally invasive surgical training procedures. Surg Endosc 17:462–465

10.

van Jakimowicz V, Kazemier (2004) Improved physical ergonomics of laparoscopic surgery. Minim Invasive Ther Allied Technol 13:161–166

11.

Serina ER, Mote CD Jr, Rempel D (1997) Force response of the fingertip pulp to repeated compression–effects of loading rate, loading angle and anthropometry. J Biomech 30:1035–1040

12.

Silverstein BA, Fine LJ, Armstrong TJ (1987) Occupational factors and carpal tunnel syndrome. Am J Ind Med 11:343–358

13.

Bergqvist U, Wolgast E, Nilsson B, Voss M (1995) Musculoskeletal disorders among visual display terminal workers: individual, ergonomic, and work organizational factors. Ergonomics 38:763–776

14.

Park A, Lee G, Seagull FJ, Meenaghan N, Dexter D (2010) Patients benefit while surgeons suffer: an impending epidemic. J Am Coll Surg 210:306–313

15.

Downey E, Carter SB, Gross KA, Schmuckle DI, Splane Jr RL (2011) Laparoscopic surgical instrument. Earl Downey, assignee. Patent US8080004 B2. 20 Dec. 2011
Acknowledgments
We would like to thank Dr. Earl Downey for providing us with the pinch grip (Stryker) and pistol grip tool handles used in all testing trials.
Disclosures
Dr. Earl Downey is the patent owner of the novel device tested and has received no compensation. Dr. Andrew Merryweather, Dr. Donald Bloswick, Kryztopher Tung, and Rami Shorti have no conflicts of interest or financial ties to disclose.
Conflict of interest
Our conflict of interest with Dr. Earl Downey was managed through IRB (IRB_00056637).
About this article
Cite this article
Tung, K.D., Shorti, R.M., Downey, E.C. et al. The effect of ergonomic laparoscopic tool handle design on performance and efficiency. Surg Endosc 29, 2500–2505 (2015). https://doi.org/10.1007/s00464-014-4005-9
Received:

Accepted:

Published:

Issue Date:
Keywords
Ergonomics

MIS tool design

Laparoscopy