Abstract
Background
Dual-Knife® (Olympus) and Hydride-Knife® are new needle knives frequently used for submucosal dissection because of their safety and precision. In this study we aimed to evaluate the efficacy and safety of such devices in the diverticulopexy by flexible endoscopy.
Methods
From February 2009 to March 2013, 42 patients (25 men), mean age 74.5, with symptomatic Zenker's diverticulum, were included in a non-randomized prospective multicenter study. The symptoms described by all patients include dysphagia, regurgitation and/or swallowing disorders. The diverticulopexy was performed with the Dual-Knife® or Hydrid-Knife®, after septum exposure with the diverticuloscope, and terminated with distal tip clips positioning. All complications were noted. Patients' symptoms were regularly assessed during follow-up visits or telephone interviews.
Results
The first endoscopy treatment was successful for all patients. Thirty-seven patients (88 %) had symptoms improvement after the first treatment. The recurrence rate was 14 % (6 patients); a second endoscopic treatment was required 12 months on average after the first treatment, with 100 % efficiency. Mid-term (16 months) efficiency was 91.67 % after 1 to 3 endoscopic treatments. A total of 55 procedures were performed without perforation or significant bleeding and 3 patients underwent surgery. In multivariate analysis, the diverticulum size and the type of dissection knife were not risks factors for recurrence.
Conclusions
Endoscopic diverticuloscope-assisted diverticulotomy with submucosal dissection knives is a safe and effective alternative treatment for patients with a symptomatic Zenker's diverticulum measuring between 2 and 10 cm.
This is a preview of subscription content, log in to check access.
Access options
Buy single article
Instant unlimited access to the full article PDF.
US$ 39.95
Price includes VAT for USA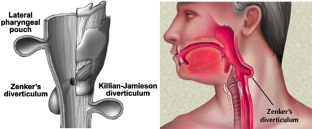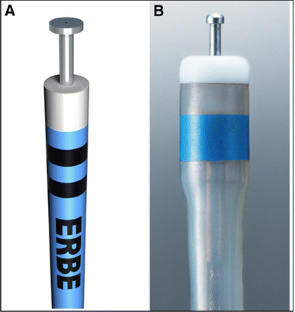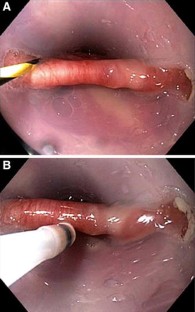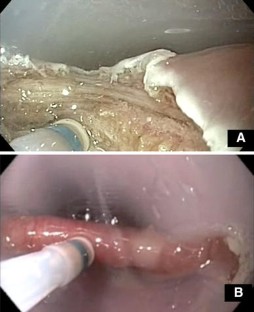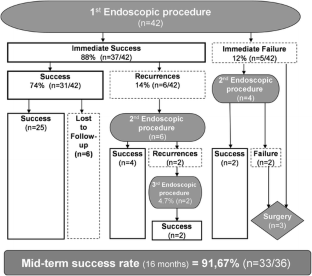 References
1.

Watemberg S, Landau O, Avrahami R (1996) Zenker's diverticulum: reappraisal. Am J Gastroenterol 91(8):1494–1498

2.

Peters JH, Mason R (1999) The physiopathological basis for Zenker's diverticulum. Chirurgfévr 70(7):741–746

3.

Smith SR, Genden EM, Urken ML (2002) Endoscopic stapling technique for the treatment of Zenker diverticulum vs standard open-neck technique: a direct comparison and charge analysis. Arch Otolaryngol Head Neck Surg 128(2):141–144

4.

Chang CY, Payyapilli RJ, Scher RL (2003) Endoscopic staple diverticulostomy for Zenker's diverticulum: review of literature and experience in 159 consecutive cases. Laryngoscope 113(6):957–965

5.

Mulder CJ, den Hartog G, Robijn RJ, Thies JE (1995) Flexible endoscopic treatment of Zenker's diverticulum: a new approach. Endoscopy 27(6):438–442

6.

Costamagna G, Iacopini F, Tringali A, Marchese M, Spada C, Familiari P et al (2007) Flexible endoscopic Zenker's diverticulotomy: cap-assisted technique vs. diverticuloscope-assisted technique. Endoscopy 39(2):146–152

7.

Dakkak M, Bennett JR (1992) A new dysphagia score with objective validation. J Clin Gastroenterol 14(2):99–100

8.

Ishioka S, Sakai P, Maluf Filho F, Melo J (1995) Endoscopic incision of Zenker's diverticula. Endoscopy 27:433–437

9.

Evrard S, Le Moine O, Hassid S, Devière J (2003) Zenker's diverticulum: a new endoscopic treatment with a soft diverticuloscope. Gastrointest Endosc 58(1):116–120

10.

Sakai P, Ishioka S, Maluf-Filho F, Chaves D, Moura EG (2001) Endoscopic treatment of Zenker's diverticulum with an oblique-end hood attached to the endoscope. Gastrointest Endosc 54(6):760–763

11.

Hashiba K, de Paula AL, da Silva JG, Cappellanes CA, Moribe D, Castillo CF et al (1999) Endoscopic treatment of Zenker's diverticulum. Gastrointest Endosc 49(1):93–97

12.

Vogelsang A, Preiss C, Neuhaus H, Schumacher B (2007) Endotherapy of Zenker's diverticulum using the needle-knife technique: long-term follow-up. Endoscopy 39(2):131–136

13.

Huberty V, El Bacha S, Blero D, Le Moine O, Hassid S, Devière J (2013) Endoscopic treatment for Zenker's diverticulum: long-term results (with video). Gastrointest Endosc 77(5):701–707

14.

Christiaens P, De Roock W, Van Olmen A, Moons V, D'Haens G (2007) Treatment of Zenker's diverticulum through a flexible endoscope with a transparent oblique-end hood attached to the tip and a monopolar forceps. Endoscopy 39(2):137–140

15.

Mulder CJ (1999) Zapping Zenker's diverticulum: gastroscopic treatment. Can J Gastroenterol 13(5):405–407

16.

Pech O, May A, Gossner L, Mayer G, Abdollahnia R, Ell C (2002) Endoscopic therapy for Zenkers's diverticulum by means of argon plasma coagulation. Z Gastroenterol 40(7):517–520

17.

Rabenstein T, May A, Michel J, Manner H, Pech O, Gossner L et al (2007) Argon plasma coagulation for flexible endoscopic Zenker's diverticulotomy. Endoscopy 39(2):141–145

18.

Repici A, Pagano N, Romeo F, Danese S, Arosio M, Rando G et al (2010) Endoscopic flexible treatment of Zenker's diverticulum: a modification of the needle-knife technique. Endoscopy 42(7):532–535

19.

Richtsmeier WJ (2005) Myotomy length determinants in endoscopic staple-assisted esophagodiverticulostomy for small Zenker's diverticula. Ann Otol Rhinol Laryngol 114(5):341–346

20.

Cotton PB, Eisen GM, Aabakken L, Baron TH, Hutter MM, Jacobson BC et al (2010) A lexicon for endoscopic adverse events: report of an ASGE workshop. Gastrointest Endosc 71(3):446–454

21.

Katzka DA, Baron TH (2013) Transoral flexible endoscopic therapy of Zenker's diverticulum: is it time for gastroenterologists to stick their necks out? Gastrointest Endosc 77(5):708–710

22.

Koch M, Mantsopoulos K, Velegrakis S, Iro H, Zenk J (2011) Endoscopic laser-assisted diverticulotomy versus open surgical approach in the treatment of Zenker's diverticulum. Laryngoscope 121(10):2090–2094

23.

Yuan Y, Zhao Y-F, Hu Y, Chen L-Q (2013) Surgical treatment of Zenker's diverticulum. Dig Surg 30(3):207–218

24.

Repici A, Pagano N, Fumagalli U, Peracchia A, Narne S, Malesci A et al (2011) Transoral treatment of Zenker diverticulum: flexible endoscopy versus endoscopic stapling. A retrospective comparison of outcomes. Dis Esophagus 24(4):235–239
Acknowledgments
We thank the patients, the nurses for their important contribution, Terri Galli for the English review and Laurence Lecomte for her support during the study and the publication process.
Disclosures
A. Laquière, P. Gerandal, J. P. Arpurt, J. Boulant, S. Belon, S. Aboukheir, R. Laugier, G. Penaranda, L. Curel, and C. Boustière have no conflicts of interest.
Electronic supplementary material
Below is the link to the electronic supplementary material.
Supplementary material 1 (MOV 57494 kb)
Supplementary material 2 (MOV 31003 kb)
About this article
Cite this article
Laquière, A., Grandval, P., Arpurt, J.P. et al. Interest of submucosal dissection knife for endoscopic treatment of Zenker's diverticulum. Surg Endosc 29, 2802–2810 (2015). https://doi.org/10.1007/s00464-014-3976-x
Received:

Accepted:

Published:

Issue Date:
Keywords
Flexible endoscopy

Zenker's diverticulum

Submucosal dissection knives