Abstract
Introduction
Enteric fistulas are a recognised complication of various diseases and surgical interventions. Non-operative medical management will result in closure of 60–70 % of all fistulas over a six- to eight-week period, those that fail non-operative management will require operative intervention if they are to close. We present a series of upper gastrointestinal fistula managed with endoscopic intervention and insertion of biological fistula plug over a 3-year period across three Hospitals, both public and private, in Western Australia.
Methods
Over a three-year period, 14 patients were referred for treatment of acute or persistent foregut fistulas. All fistulas were managed with endoscopic intervention and insertion of a porcine small intestine sub-mucosa plug (Biodesign ® Cook medical Inc., Bloomington, IN, USA). No patients with fistula were excluded. Data were collected on patient demographics and underlying diagnosis. The biological plugs were deployed using three different endoscopic techniques (direct deployment via the endoscope, catheter-assisted endoscopic deployment, or a pull through via a guide wire using a rendezvous technique).
Results
Fourteen patients with foregut fistula were treated using biological plugs. The age of the fistulas treated ranged from 14 days to 3 years. The fistulas were predominantly gastric in origin (eight cases). Three oesophageal, one gastro-pleural-bronchial, and two jejunal fistulas were also managed using this technique. Of the 14 fistulas treated using this method, 13 resolved following the treatment. Median time to closure of the fistula was 2 days (range 1–120 days). Three patients required more than one intervention to complete closure.
Conclusion
Biological plugs offer a further option for management of the traditionally difficult foregut fistula, without major morbidity associated with other treatment modalities. It is limited to the ability to deploy the plug endoscopically.
This is a preview of subscription content, log in to check access.
Access options
Buy single article
Instant unlimited access to the full article PDF.
US$ 39.95
Price includes VAT for USA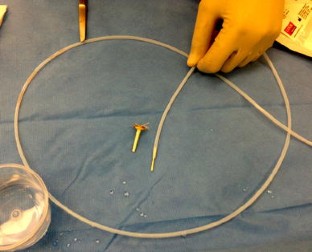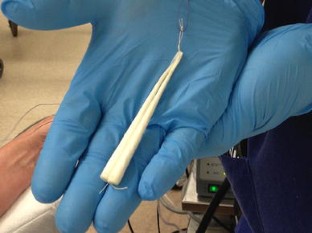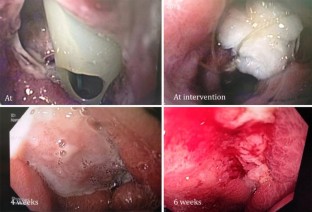 References
1.

Metcalf C (1999) Enterocutaneous fistulae. J Wound Care 8:141–142

2.

Duncan CO, Earley MJ, O'Connell PR (1998) Enterocutaneous fistula: a reconstructive dilemma. Ir J Med Sci 167:9–10

3.

Evenson AR, Fischer JE (2006) Current management of enterocutaneous fistula. J Gastrointestin Surg 10:455–464

4.

Berry SM, Fischer JE (1996) Classification and pathophysiology of enterocutaneous fistulas. Surg Clin North Am 76:1009–1018

5.

Edmunds H Jr, Williams GM, Welch CE (2003) External fistulas arising from the gastrointestinal tract. And prospective overview. 1960. Nutrition 19:182–186

6.

McIntyre PB, Ritchie JK, Hawley PR, Bartram CI, Lennard-Jones JE (1984) Management of enterocutaneous fistulas: a review of 132 cases. Br J Surg 71:293–296

7.

Avalos-Gonzalez J, Portilla-deBuen E, Leal-Cortes CA, Orozco-Mosqueda A, Estrada-Aguilar Mdel C, Velazquez-Ramirez GA, Ambriz-Gonzalez G, Fuentes-Orozco C, Guzman-Gurrola AE, Gonzalez-Ojeda A (2010) Reduction of the closure time of postoperative enterocutaneous fistulas with fibrin sealant. World J Gastroenterol 16:2793–2800

8.

Schecter WP, Hirshberg A, Chang DS, Harris HW, Napolitano LM, Wexner SD, Dudrick SJ (2009) Enteric fistulas: principles of management. J Am Coll Surg 209:484–491

9.

Rubelowsky J, Machiedo GW (1991) Reoperative versus conservative management for gastrointestinal fistulas. Surg Clin North Am 71:147–157

10.

Cellier C, Landi B, Faye A, Wind P, Frileux P, Cugnenc PH, Barbier JP (1996) Upper gastrointestinal tract fistulae: endoscopic obliteration with fibrin sealant. Gastrointest Endosc 44:731–733

11.

Dunn CJ, Goa KL (1999) Fibrin sealant: a review of its use in surgery and endoscopy. Drugs 58:863–886

12.

Familiari P, Macri A, Consolo P, Angio L, Scaffidi MG, Famulari C, Familiari L (2003) Endoscopic clipping of a colocutaneous fistula following necrotizing pancreatitis: case report. Dig Liver Dis 35:907–910

13.

Miranda LE, Sabat BD, Carvalho EA (2009) A low-output colocutaneous fistula healed by surgisis anal plug. Tech Coloproctol 13:315–316

14.

Papavramidis ST, Eleftheriadis EE, Apostolidis DN, Kotzampassi KE (2001) Endoscopic fibrin sealing of high-output non-healing gastrocutaneous fistulas after vertical gastroplasty in morbidly obese patients. Obes Surg 11:766–769

15.

Papavramidis ST, Eleftheriadis EE, Papavramidis TS, Kotzampassi KE, Gamvros OG (2004) Endoscopic management of gastrocutaneous fistula after bariatric surgery by using a fibrin sealant. Gastrointest Endosc 59:296–300

16.

Rabago LR, Ventosa N, Castro JL, Marco J, Herrera N, Gea F (2002) Endoscopic treatment of postoperative fistulas resistant to conservative management using biological fibrin glue. Endoscopy 34:632–638

17.

Ruttenstock E, Saxena AK, Hollwarth ME (2012) Closure of bronchopleural fistula with porcine dermal collagen and fibrin glue in an infant. Annals Thorac Surg 94:659–660

18.

Shand A, Pendlebury J, Reading S, Papachrysostomou M, Ghosh S (1997) Endoscopic fibrin sealant injection: a novel method of closing a refractory gastrocutaneous fistula. Gastrointest Endosc 46:357–358

19.

Simon F, Siciliano I, Gillet A, Castel B, Coffin B, Msika S (2013) Gastric leak after laparoscopic sleeve gastrectomy: early covered self-expandable stent reduces healing time. Obes Surg 23:687–692

20.

Thurairajah P, Hawthorne AB (2004) Endoscopic clipping of a nonhealing gastrocutaneous fistula following gastrostomy removal. Endoscopy 36:834

21.

Ansaloni L, Cambrini P, Catena F, Di Saverio S, Gagliardi S, Gazzotti F, Hodde JP, Metzger DW, D'Alessandro L, Pinna AD (2007) Immune response to small intestinal submucosa (surgisis) implant in humans: preliminary observations. J Invest Surg 20:237–241

22.

Franklin ME Jr, Trevino JM, Portillo G, Vela I, Glass JL, Gonzalez JJ (2008) The use of porcine small intestinal submucosa as a prosthetic material for laparoscopic hernia repair in infected and potentially contaminated fields: long-term follow-up. Surg Endosc 22:1941–1946

23.

Maluf-Filho F, Hondo F, Halwan B, de Lima MS, Giordano-Nappi JH, Sakai P (2009) Endoscopic treatment of Roux-en-Y gastric bypass-related gastrocutaneous fistulas using a novel biomaterial. Surg Endosc 23:1541–1545

24.

Cintron JR, Abcarian H, Chaudhry V, Singer M, Hunt S, Birnbaum E, Mutch MG, Fleshman J (2013) Treatment of fistula-in-ano using a porcine small intestinal submucosa anal fistula plug. Tech Coloproctol 17:187–191

25.

Hesse U, Ysebaert D, de Hemptinne B (2001) Role of somatostatin-14 and its analogues in the management of gastrointestinal fistulae: clinical data. Gut 49 Suppl 4:iv11–21

26.

Martineau P, Shwed JA, Denis R (1996) Is octreotide a new hope for enterocutaneous and external pancreatic fistulas closure? Am J Surg 172:386–395

27.

Casella G, Soricelli E, Rizzello M, Trentino P, Fiocca F, Fantini A, Salvatori FM, Basso N (2009) Nonsurgical treatment of staple line leaks after laparoscopic sleeve gastrectomy. Obes Surg 19:821–826

28.

Farrag TY, Boahene KD, Agrawal N, Turner L, Byrne PJ, Earnest L, Koch WM, Tufano RP (2007) Use of fibrin sealant in closing mucocutaneous fistulas following head and neck cancer surgery. Otolaryngol Head Neck Surg 137:159–161

29.

Fischer A, Bausch D, Richter-Schrag HJ (2013) Use of a specially designed partially covered self-expandable metal stent (PSEMS) with a 40-mm diameter for the treatment of upper gastrointestinal suture or staple line leaks in 11 cases. Surg Endosc 27:642–647

30.

Kim Z, Kim YJ, Kim YJ, Goo DE, Cho JY (2011) Successful management of staple line leak after laparoscopic sleeve gastrectomy with vascular plug and covered stent. Surg Laparosc Endosc Percutan Tech 21:e206–e208

31.

Truong S, Bohm G, Klinge U, Stumpf M, Schumpelick V (2004) Results after endoscopic treatment of postoperative upper gastrointestinal fistulas and leaks using combined vicryl plug and fibrin glue. Surg Endosc 18:1105–1108

32.

Tulloch-Reid M, Pyne D, Baker T, Ebanks F, Sterman D (2006) Tracheobronchial stenting for management of bronchopleural fistula: a novel solution to an old problem. West Indian Med J 55:288–290

33.

Shand A, Reading S, Ewing J, Neil B, Welsh D, Parker A, Ghosh S (1997) Palliation of a malignant gastrocolic fistula by endoscopic human fibrin sealant injection. Eur J Gastroenterol Hepatol 9:1009–1011

34.

Sakran N, Goitein D, Raziel A, Keidar A, Beglaibter N, Grinbaum R, Matter I, Alfici R, Mahajna A, Waksman I, Shimonov M, Assalia A (2013) Gastric leaks after sleeve gastrectomy: a multicenter experience with 2,834 patients. Surg Endosc 27:240–245

35.

Kissane NA, Itani KM (2012) A decade of ventral incisional hernia repairs with biologic acellular dermal matrix: what have we learned? Plast Reconstr Surg 130:194S–202S
Disclosures
Mr Alan Thomas and Associate Professor Mohammed Ballal have been sponsored by Cook medical to attend, teach and participate in courses and workshops conducted by the company. The sponsorship included travel and accommodation grants. Dr. Rhys Filgate has no conflicts of interest or financial ties to disclose.
Electronic supplementary material
Below is the link to the electronic supplementary material.
Supplementary material 1 (MOV 9018 kb)
About this article
Cite this article
Filgate, R., Thomas, A. & Ballal, M. Treatment of foregut fistula with biologic plugs. Surg Endosc 29, 2006–2012 (2015) doi:10.1007/s00464-014-3903-1
Received:

Accepted:

Published:

Issue Date:
Keywords
Technical < Endoscopy

Abdominal

Digestive

Fistula

Complications