Abstract
Introduction
There is no question that Roux-en-Y gastric bypass (RYGB) is the best treatment option for obesity combined with GERD. However, the influence of laparoscopic sleeve gastrectomy (LSG) on this disease remains controversial. It has been said that LSG could induce de novo GERD or worsen it. The aim of our study was to evaluate the influence of LSG on GERD.
Methods and procedures
Candidates for LSG underwent esophageal manometry (EM) and 24 h pH monitoring before and 1 year after LSG. Symptoms were evaluated using a validated score. Esophageal function test (EFT's) results and symptoms were compared before and after surgery.
Results
Between 4/12 and 9/13, 118 patients underwent LSG. EFT's were performed in 92 (78 %) of them preoperatively. From the 19 patients 1 year out of surgery, 14 (73 %) completed their EFT's postop. There were 13 women, age 42 ± 12 years, BMI 40 ± 6 kg/m2. At 14 months, % excess weight loss (EWL) was 74. EM: lower esophageal sphincter (LES) length increased from 2.7 to 3.2 cm (p = NS), and LES pressure decreased from 17.1 to 12.4 mmHg (p ≤ 0.05). Preoperatively, LES was normotensive in 13 (93 %) patients; postoperatively, LES was normal in 10 (71 %) (p = NS). DeMeester score increased from 12.6 to 28.4 (p ≤ 0.05). Postoperatively, 5 (36 %) patients had de novo GERD, in 3 (21 %) GERD worsened, 1 (7 %) remained with GERD and 5 (36 %) remained without reflux. No difference was seen between preop. and postop. symptoms score.
Conclusion
Our preliminary data showed that after LSG LESP significantly decreased, and the DeMeester score significantly increased. Although LSG results appear appealing in terms of weight loss, patients should be warned that they might need proton pump inhibitors after the operation. Surgeons should probably lower their threshold for indicating RYGB in patients with known preoperative GERD.
This is a preview of subscription content, log in to check access.
Access options
Buy single article
Instant access to the full article PDF.
US$ 39.95
Price includes VAT for USA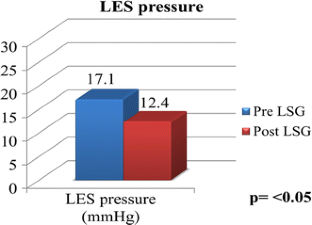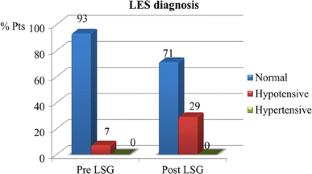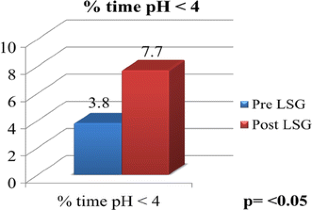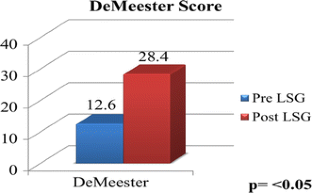 References
1.

Suter M, Dorta G, Giusti V, Calmes JM (2010) Gastro-esophageal reflux and esophageal motility disorders in morbidly obese patients. Obes Surg 14:959–966

2.

Madalosso CA, Gurski RR, Callegari-Jacques SM, Navarini D, Thiesen V, Fornari F (2010) The impact of gastric bypass on gastroesophageal reflux disease in patients with morbid obesity: a prospective study based on the Montreal Consensus. Ann Surg 251:244–248

3.

Nelson LG, Gonzalez R, Haines K, Gallagher SF, Murr MM (2005) Amelioration of gastroesophageal reflux symptoms following Roux-en-Y gastric bypass for clinically significant obesity. Am Surg 71:950–953 discussion 953-954

4.

Clinical Issues Committee of the American Society for Metabolic and Bariatric Surgery (2010) Updated position statement on sleeve gastrectomy as a bariatric procedure. Surg Obes Relat Dis 6(1):1–5

5.

Braghetto I, Csendes A, Korn O, Valladares H, Gonzalez P, Henriquez (2010) Gastroesophageal reflux disease after sleeve gastrectomy. Surg Laparosc Endosc Percutan Tech 20(3):148–153

6.

Prachand VN, Alverdy JC (2010) Gastroesophageal reflux disease and severe obesity: fundoplication or bariatric surgery? World J Gastroenterol 16(30):3757–3761

7.

Gastrointestinal Surgery for Obesity (1992) National institutes of health consensus development conference statement. Am J Clin Nutr 55:615S–619S

8.

Lundell LR, Dent J, Bennett JR et al (1999) Endoscopic assessment of oesophagitis: clinical and functional correlates and further validation of the Los Angeles classification. Gut 45(2):172–180

9.

Allen CJ, Parameswaran K, Belda J, Anvari M (2000) Reproducibility, validity, and responsiveness of a disease-specific symptom questionnaire for gastroesophageal reflux disease. Dis Esophagus 13:265–270

10.

Castell D (2000) Esophageal motility and pH testing. Technique and interpretation (chap. 16), 3rd edn. Sandhill Scientific, Colorado, pp 197–216

11.

Galvani C, Fisichella M, Gorodner MV, Perretta S, Patti MG (2003) Symptoms are poor indicators of reflux status after fundoplication for gastroesophageal reflux disease. Arch Surg 138:514–519

12.

Jobe BA, Richter JE, Hoppo T, Peters JH, Bell R (2013) Preoperative diagnostic workup before antireflux surgery: an evidence and experience-based consensus of the esophageal diagnostic advisory panel. J Am Coll Surg 217:586–597

13.

Richter JE (1996) Typical and atypical presentations of gastroesophageal reflux disease: the role of esophageal testing in diagnosis and management. Gastroenterol Clin North Am 25:75–102

14.

Patti MG, Diener U, Tamburini A, Molena D, Way LW (2001) Role of esophageal function tests in diagnosis of gastroesophageal reflux disease. Dig Dis Sci 46:597–602

15.

Xu DT, Feng GJ, Zhao LL, Liu YL (2013) Relationship among symptoms, mucosal injury and acid exposure in gastroesophageal reflux disease. Chin Med J 126(23):4430

16.

Braghetto I, Lanzarini E, Korn O, Valladares H, Molina JC et al (2010) Manometric changes of the lower esophageal sphincter after sleeve gastrectomy in obese patients. Obes Surg 20:357–362

17.

Himpens J, Dobbeleir J, Peeters G (2010) Long term results of laparoscopic sleeve gastrectomy for obesity. Ann Surg 252(2):319–324

18.

Himpens J, Dapri G, Cadière GB (2006) A prospective randomized study between laparoscopic gastric banding and laparoscopic isolated sleeve gastrectomy: results after 1 and 3 years. Obes Surg 16:1450–1456

19.

Carter P, LeBlanc KA, Hausmann MG, Kleinpeter KP, deBarros SN et al (2011) Association between gastroesophageal reflux disease and laparoscopic sleeve gastrectomy. Surg Obes Relat Dis 7:569–574

20.

Howard DD, Caban AM, Cendan CJ, Ben-David K (2011) Gastroesophageal reflux after sleeve gastrectomy in morbidly obese patients. Surg Obes Relat Dis 7:709–713

21.

Burgerhart JS, Charlotte AI, Schotborgh, Schoon EJ, Smulders JF, van de Meeberg PC, Siersema PD, Smout AJ (2014) Effect of sleeve gastrectomy on gastroesophageal reflux. Obes Surg 24:1436

22.

Melissas J, Koukouraki S, Askoxylakis J, Stathaki M, Daskalakis M et al (2007) Sleeve gastrectomy—a restrictive procedure? Obes Surg 17:57–62

23.

Weiner R, Weiner S, Pomhoff I, Jacobi C, Makarewicz W, Weigand G (2007) Laparoscopic sleeve gastrectomy—influence of sleeve size and resected gastric volume. Obes Surg 17:1297–1305

24.

Petersen W, Meile T, Küper MA, Zdichavsky M, Königsrainer A, Schneider JH (2012) Functional importance of laparoscopic sleeve gastrectomy for the lower esophageal sphincter in patients with morbid obesity. Obes Surg 22:360–366
Disclosures
Drs Verónica Gorodner, Rudolf Buxhoeveden, Gastón Clemente, Laura Solé, Luis Caro, and Alejandro Grigaites have no conflict of interests or financial ties to disclose.
About this article
Cite this article
Gorodner, V., Buxhoeveden, R., Clemente, G. et al. Does laparoscopic sleeve gastrectomy have any influence on gastroesophageal reflux disease? Preliminary results. Surg Endosc 29, 1760–1768 (2015). https://doi.org/10.1007/s00464-014-3902-2
Received:

Accepted:

Published:

Issue Date:
Keywords
Bariatric surgery

Gastroesophageal reflux disease (GERD)

Obesity

Laparoscopic sleeve gastrectomy