Abstract
Background
Robotic-assisted general and bariatric surgery is gaining popularity among surgeons. The aim of this study was to analyze the utilization and outcome of laparoscopic versus robotic-assisted laparoscopic techniques for common elective general and bariatric surgical procedures performed at Academic Medical Centers.
Methods
We analyzed data from University HealthSystem Consortium clinical database from October 2010 to February 2014 for all patients who underwent laparoscopic versus robotic techniques for eight common elective general and bariatric surgical procedures: gastric bypass, sleeve gastrectomy, gastric band, antireflux surgery, Heller myotomy (HM), cholecystectomy (LC), colectomy, rectal resection (RR). Utilization and outcome measures including demographics, in-hospital mortality, major complications, 30-day readmission, length of stay (LOS), and costs were compared between techniques.
Results
96,694 laparoscopic and robotic procedures were analyzed. Utilization of the robotic approach was the highest for RR (21.4 %), followed by HM (9.1 %). There was no significant difference in in-hospital mortality or major complications between laparoscopic versus robotic techniques for all procedures. Only two procedures had improved outcome associated with the robotic approach: robotic HM and robotic LC had a shorter LOS compared to the laparoscopic approach (2.8 ± 3.6 vs. 2.3 ± 2.1; respectively, p < 0.05 for HM and 2.9 ± 2.4 vs. 2.3 ± 1.7; respectively, p < 0.05 for LC). Costs were significantly higher (21 %) in the robotic group for all procedures. A subset analysis of patients with minor/moderate severity of illness showed similar results.
Conclusion
This national analysis of academic centers showed a low utilization of robotic-assisted laparoscopic elective general and bariatric surgical procedures with the highest utilization for rectal resection. Compared to conventional laparoscopy, there were no observed clinical benefits associated with the robotic approach, but there was a consistently higher cost.
This is a preview of subscription content, log in to check access.
Access options
Buy single article
Instant access to the full article PDF.
US$ 39.95
Price includes VAT for USA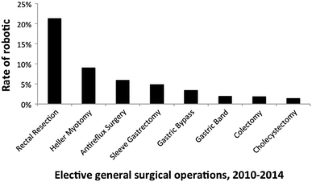 References
1.

US Food and Drug Administration, July 2000 510(k) clearances

2.

Yu HY, Hevelone ND, Lipsitz SR, Kowalczyk KJ, Hu LC (2012) Use, cost and comparative effectiveness of robotic assisted laparoscopic and open urological surgery. J Urol 187:1392–1398

3.

Mack MJ (2001) Minimally invasive and robotic surgery. JMA 285:568–572

4.

Nguyen NT, Nguyen B, Shih A, Smith B, Hohmann S (2013) Use of laparoscopy in general surgical operations at academic centers. Surg Obes Relat Dis 9:15–20

5.

American Hospital Association (2008) AHA coding clinic for ICD-9-CM. AHA, Chicago

6.

Anderson JE, Chang DC, Parsons JK, Talamini MA (2012) The first national examination of outcomes and trends in robotic surgery in the United States. J Am Coll Surg 215:107–114

7.

Wilson EB (2009) The evolution of robotic general surgery. Scand J Surg 98:125–129

8.

Horgan S, Galvani C, Gorodner MV, Omelanczuck P, Elli F, Moser F, Durand L, Caracoche M, Nefa J, Bustos S, Donahue P, Ferraina P (2005) Robotic-assisted Heller myotomy versus laparoscopic Heller myotomy for the treatment of esophageal achalasia: multicenter study. J Gastrointest Surg 9:1020–1030

9.

Melvin WS, Dundon JM, Talamin M, Horgan S (2005) Computer-enhanced robotic telesurgery minimizes esophageal perforation during Heller myotomy. Surgery 138:553–558

10.

Wormer BA, Dacey KT, Williams KB, Bradley JF 3rd, Walkers AL, Augenstein VA, Stefandidis D, Heniford BT (2014) The first nationwide evaluation of robotic general surgery: a regionalized, small but safe start. Surg Endosc 28:767–776

11.

Bailey JG, Hayden JA, Davis PJ, Liu RY, Haardt D, Ellsmere J (2014) Robotic versus laparoscopic Rou-en-Y gastric bypass (RYGB) in obese adults ages 18 to 65 years: a systematic review and economic analysis. Surg Endosc 28:414–426

12.

Tyler JA, Fox JP, Desai MM, Perry WB, Glasgow SC (2013) Outcomes and costs associated with robotic colectomy in the minimally invasive era. Dis Colon Rectum 56:458–466

13.

Shaligram A, Unnirevi J, Simorov A, Kothari VM, Oleynikov D (2012) How does the robot affect outcomes? A retrospective review of open, laparoscopic, and robotic Heller myotomy for achalasia. Surg Endosc 26:1047–1050

14.

Halabi WJ, Kang CY, Jafari MD, Nguyen VQ, Carmichael JC, Mills S, Stamos MJ, Pigazzi A (2013) Robotic-assisted colorectal surgery in the United States: a nationwide analysis of trends and outcomes. World J Surg 37:2782–2790

15.

Myers SR, McGuirl J, Wang J (2013) Robot-assisted versus laparoscopic gastric bypass: comparison of short-term outcomes. Obes Surg 23:467–473

16.

Park CW, Lam EC, Walsh TM, Karimoto M, Ma AT, Koo M, Hammill C, Murayama K, Lorenzo CS, Bueno R (2011) Robotic-assisted Roux-en-Y gastric bypass performed in a community hospital setting: the future of bariatric surgery? Surg Endosc 25:3312–3321

17.

Romero RJ, Kosanovic R, Rabaza JR, Seetharamaiah R, Donkor C, Gallas M, Gonzalez AM (2013) Robotic sleeve gastrectomy: experience of 134 cases and comparison with a systematic review of the laparoscopic approach. Obes Surg 23:1743–1752

18.

Trastulli S, Farinella E, Cirocchi R, Cavaliere D, Avenia N, Sciannameo F, Gulla N, Noya G, Boselli C (2012) Robotic resection compared with laparoscopic rectal resection for cancer: systematic review and meta-analysis of short-term outcome. Colorectal Dis 14:134–156

19.

Markar SR, Karthikesalingam AP, Hagen ME, Talamini M, Horgan S, Wagner OJ (2010) Robotic vs. laparoscopic Nissen fundoplication for gastro-oesophageal reflux disease: systematic review and meta-analysis. Int J Mod Robot 6:125–131

20.

Morino M, Pellegrino L, Giaccone C, Garrone C, Rebecchi F (2006) Randomized clinical trial of robot-assisted versus laparoscopic Nissen fundoplication. Br J Surg 93:553–558

21.

Barbash GI, Glied SA (2010) New technology and health care cost: the case of robotic-assisted surgery. N Engl J Med 363:701–704
Disclosures
Dr. James Villamere, Alana Gebhart, Stephen Vu, and Dr. Ninh T. Nguyen have no conflicts of interest or financial ties to disclose.
About this article
Cite this article
Villamere, J., Gebhart, A., Vu, S. et al. Utilization and outcome of laparoscopic versus robotic general and bariatric surgical procedures at Academic Medical Centers. Surg Endosc 29, 1729–1736 (2015). https://doi.org/10.1007/s00464-014-3886-y
Received:

Accepted:

Published:

Issue Date:
Keywords
Robotic surgery

Laparoscopy

General surgery

Bariatric surgery