Abstract
Background and study aims
An over-the-scope clip (OTSC) device was designed for closure of acute perforations, fistulas, leaks, and non-variceal gastrointestinal bleeding. Previous data show a high rate of early fistula closure using the OTSC; however, data on long-term fistula closure are scant. We report our experience using an OTSC for closure of chronic gastrointestinal fistulas.
Patients and methods
Retrospective review of all patients, who underwent OTSC placement at Mayo Clinic Rochester and Virginia Mason Medical Center for closure of chronic fistulas from October 2011 to September 2012, was performed. Initial technical success was defined by lack of contrast extravasation immediately after OTSC placement. Delayed success was defined by resolution of the fistula without the need for additional therapies. Recurrent fistula was defined by the recurrence of symptoms and/or re-demonstration of fistula after initial success.
Results
Forty-seven unique patients (24 men; mean age 57 ± 14 years) underwent 60 procedures using the OTSC for closure of gastrointestinal fistulas. Fistula locations were: small bowel (n = 18), stomach (n = 16), colo-rectum (n = 10), and esophagus (n = 3). Fistulas related to previous percutaneous endoscopic gastrostomy/jejunostomy (n = 10) or prior bariatric procedure (n = 10) were the most common etiologies. Initial technical success occurred in 42/47 (89 %) index cases; however, 19/41 (46 %) patients developed fistula recurrence at a median of 39 days (IQR 26–86 days). The retained OTSC was present adjacent to the fistula in 16/19 (84 %) at repeat intervention. Patients were followed for a median length of 178 days (IQR 63–326 days), and only 25/47 (53 %) patients demonstrated delayed clinical success using OTSC.
Conclusions
Initial technical fistula closure can be achieved using OTSCs. Recurrent fistulas at the same location occur in approximately 50 % of cases despite frequent OTSC clip retention.
This is a preview of subscription content, log in to check access.
Access options
Buy single article
Instant access to the full article PDF.
US$ 39.95
Price includes VAT for USA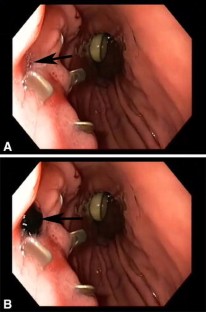 Abbreviations
TTS:

Through-the-scope

SEMS:

Self-expandable metal stent

OTSC:

Over-the-scope clip

IQR:

Interquartile range

PEG:

Percutaneous endoscopic gastrostomy

PEJ:

Percutaneous endoscopic jejunostomy
References
1.

Sleisenger MH, Feldman M, Friedman LS, Brandt LJ (2010) Sleisenger and Fordtran's gastrointestinal and liver disease : pathophysiology, diagnosis, management, 9th edn. Saunders/Elsevier, Philadelphia

2.

Berry SM, Fischer JE (1996) Classification and pathophysiology of enterocutaneous fistulas. Surg Clin North Am 76:1009–1018

3.

Deen OJ, Parisian KR, Harris C 3rd, Kirby DF (2013) A novel procedure for gastrocutaneous fistula closure. J Clin Gastroenterol 47:608–611

4.

John BK, Cortes RA, Feinerman A, Somnay K (2008) Successful closure of a rectovaginal fistula by using an endoscopically placed resolution clip. Gastrointest Endosc 67:1192–1195

5.

Kouklakis G, Zezos P, Liratzopoulos N, Pitiakoudis M, Efremidou E, Giatromanolaki A, Courcoutsakis N, Simopoulos C (2010) Billroth II gastrectomy complicated by gastrojejunocolonic fistulas, treated endoscopically with a cardiac septal defect closure device. Endoscopy 42(Suppl 2):E134–E135

6.

Wood J, Leong S, McCarter M, Pearlman N, Stiegmann G, Gonzalez RJ (2010) Endoscopic-assisted closure of persistent gastrocutaneous fistula with a porcine fistula plug: report of a new technique. Surg Innov 17:53–56

7.

Rao AS, LeRoy AJ, Bonin EA, Sweetser SR, Baron TH, UCTN (2012) Novel technique for placement of overlapping self-expandable metal stents to close a massive pancreatitis-induced duodenal fistula. Endoscopy 44(Suppl 2 UCTN):E163–E164

8.

Armengol-Miro JR, Dot J, Abu-Suboh Abadia M, Masachs M, Salord JC, Armengol Bertroli J, Benages A, Kantsevoy SV (2011) New endoscopic suturing device for closure of chronic gastrocutaneous fistula in an immunocompromised patient. Endoscopy 43(Suppl 2 UCTN):E403–E404

9.

Gonzalez-Ojeda A, Avalos-Gonzalez J, Mucino-Hernandez MI, Lopez-Ortega A, Fuentes-Orozco C, Sanchez-Hochoa M, Anaya-Prado R, Arenas-Marquez H (2004) Fibrin glue as adjuvant treatment for gastrocutaneous fistula after gastrostomy tube removal. Endoscopy 36:337–341

10.

Vandenplas Y, Helven R, Derop H, Malfroot A, De Backer T, Beyens T, Vandevelde A, Desprechins B, Laureys W, Devis G et al (1993) Endoscopic obliteration of recurrent tracheoesophageal fistula. Dig Dis Sci 38:374–377

11.

Daram SR, Tang SJ, Wu R, To SD (2013) Benchtop testing and comparisons among three types of through-the-scope endoscopic clipping devices. Surg Endosc 27:1521–1529

12.

Weiland T, Fehlker M, Gottwald T, Schurr MO (2012) Performance of the OTSC System in the endoscopic closure of gastrointestinal fistulae: a meta-analysis. Minim Invasive Ther Allied Technol 21:249–258

13.

Arezzo A, Verra M, Reddavid R, Cravero F, Bonino MA, Morino M (2012) Efficacy of the over-the-scope clip (OTSC) for treatment of colorectal postsurgical leaks and fistulas. Surg Endosc 26:3330–3333

14.

Manta R, Galloro G, Mangiavillano B, Conigliaro R, Pasquale L, Arezzo A, Masci E, Bassotti G, Frazzoni M (2013) Over-the-scope clip (OTSC) represents an effective endoscopic treatment for acute GI bleeding after failure of conventional techniques. Surg Endosc 27:3162–3164

15.

Baron TH, Song LM, Ross A, Tokar JL, Irani S, Kozarek RA (2012) Use of an over-the-scope clipping device: multicenter retrospective results of the first U.S. experience (with videos). Gastrointest Endosc 76:202–208

16.

Gubler C, Bauerfeind P (2012) Endoscopic closure of iatrogenic gastrointestinal tract perforations with the over-the-scope clip. Digestion 85:302–307

17.

Albert JG, Friedrich-Rust M, Woeste G, Strey C, Bechstein WO, Zeuzem S, Sarrazin C (2011) Benefit of a clipping device in use in intestinal bleeding and intestinal leakage. Gastrointest Endosc 74:389–397

18.

Kirschniak A, Subotova N, Zieker D, Konigsrainer A, Kratt T (2011) The over-The-scope clip (OTSC) for the treatment of gastrointestinal bleeding, perforations, and fistulas. Surg Endosc 25:2901–2905

19.

von Renteln D, Denzer UW, Schachschal G, Anders M, Groth S, Rosch T (2010) Endoscopic closure of GI fistulae by using an over-the-scope clip (with videos). Gastrointest Endosc 72:1289–1296

20.

Mercky P, Gonzalez JM, Aimore Bonin E, Emungania O, Brunet J, Grimaud JC, Barthet M (2014) Usefulness of over-the-scope clipping system for closing digestive fistulas. Dig Endosc. doi:10.1111/den.12295
Disclosures
Drs. Law, Wong Kee Song, Irani, and Baron have no financial disclosures or conflicts of interest related to this manuscript.
About this article
Cite this article
Law, R., Wong Kee Song, L.M., Irani, S. et al. Immediate technical and delayed clinical outcome of fistula closure using an over-the-scope clip device. Surg Endosc 29, 1781–1786 (2015). https://doi.org/10.1007/s00464-014-3860-8
Received:

Accepted:

Published:

Issue Date:
Keywords
Over-the-scope clip

Gastrointestinal fistula

Fistula closure