Abstract
Background
Several studies suggest that preoperative functional health status (FHS) affects postoperative outcomes after ventral hernia repair, hepatic resections, and infrainguinal by-pass surgery. However, little is known about the proficiency of FHS in terms of preoperative outcome prediction of patients who undergo elective resection for colorectal cancer.
Methods
All patients who underwent elective colorectal resections for malignancy between 2005 and 2009 were identified from the American College of Surgeons National Surgical Quality Improvement Program. We classified patients into three groups according to their preoperative FHS: independent (IND), partially dependent (PDN), and totally dependent (TDN). Multivariable techniques were used to evaluate the impact of FHS on postoperative outcomes. Outcomes of laparoscopic and open procedures in patients with dependent FHS were also compared.
Results
In total, 25,591 patients included (94.2 % IND, 5.1 % PDN, and 0.71 % TDN). Surgical, infectious, pulmonary, cardiovascular, renal, neurological complications, and mortality rate showed a linear progression that paralleled a decline in preoperative FHS of the patients (p < 0.05). Laparoscopic technique was associated with better outcomes in terms of reduced length of total hospital stay, decreased infectious complication rate, and mortality with comparable operating time in patients with dependent (PDN and TDN) FHS (p < 0.05).
Conclusions
Functional health status may predict postoperative outcomes after colorectal cancer surgery. A detailed preoperative evaluation, providing an optimization period before surgery if necessary, and increased utilization of laparoscopic technique may improve outcomes after elective colorectal resections for malignancy in patients who are partially or TDN.
This is a preview of subscription content, log in to check access.
Access options
Buy single article
Instant access to the full article PDF.
US$ 39.95
Price includes VAT for USA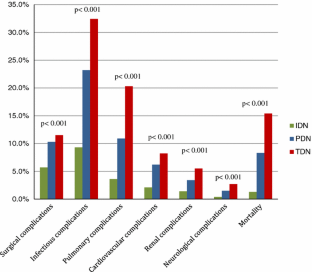 References
1.

Nakamura T, Sato T, Miura H, Ikeda A, Tsutsui A, Naito M, Ogura N, Watanabe M (2014) Feasibility and outcomes of surgical therapy in very elderly patients with colorectal cancer. Surg Laparosc Endosc Percutan Tech 24:85–88

2.

Dimick JB, Chen SL, Taheri PA, Henderson WG, Khuri SF, Campbell DA Jr (2004) Hospital costs associated with surgical complications: a report from the private-sector National Surgical Quality Improvement Program. J Am Coll Surg 199:531–537

3.

American College of Surgeons National Quality Improvement Program (2010) User guide for the 2009 participant use data file. American College of Surgeons, Chicago

4.

Albright EL, Davenport DL, Roth JS (2012) Preoperative functional health status impacts outcomes after ventral hernia repair. Am Surg 78:230–234

5.

de la Fuente SG, Bennett KM, Scarborough JE (2013) Functional status determines postoperative outcomes in elderly patients undergoing hepatic resections. J Surg Oncol 107:865–870

6.

Crawford RS, Cambria RP, Abularrage CJ, Conrad MF, Lancaster RT, Watkins MT, LaMuraglia GM (2010) Preoperative functional status predicts perioperative outcomes after infrainguinal bypass surgery. J Vasc Surg 51:351–358

7.

Hall BL, Hamilton BH, Richards K, Bilimoria KY, Cohen ME, Ko CY (2009) Does surgical quality improve in the American College of Surgeons National Surgical Quality Improvement Program: an evaluation of all participating hospitals. Ann Surg 250:363–376

8.

Makary MA, Segev DL, Pronovost PJ, Syin D, Bandeen-Roche K, Patel P, Takenaga R, Devgan L, Holzmueller CG, Tian J, Fried LP (2010) Frailty as a predictor of surgical outcomes in older patients. J Am Coll Surg 210:901–908

9.

(2000) Surgery for colorectal cancer in elderly patients: a systematic review. Colorectal Cancer Collaborative Group. Lancet 356:968–974

10.

Koroukian SM, Murray P, Madigan E (2006) Comorbidity, disability, and geriatric syndromes in elderly cancer patients receiving home health care. J Clin Oncol 24:2304–2310

11.

Fazio VW, Tekkis PP, Remzi F, Lavery IC (2004) Assessment of operative risk in colorectal cancer surgery: the cleveland clinic foundation colorectal cancer model. Dis Colon Rectum 47:2015–2024

12.

Alves A, Panis Y, Mantion G, Slim K, Kwiatkowski F, Vicaut E (2007) The AFC score: validation of a 4-item predicting score of postoperative mortality after colorectal resection for cancer or diverticulitis: results of a prospective multicenter study in 1,049 patients. Ann Surg 246:91–96

13.

Senagore AJ, Warmuth AJ, Delaney CP, Tekkis PP, Fazio VW (2004) POSSUM, p-POSSUM, and Cr-POSSUM: implementation issues in a United States health care system for prediction of outcome for colon cancer resection. Dis Colon Rectum 47:1435–1441

14.

Fujii S, Ishibe A, Ota M, Yamagishi S, Watanabe K, Watanabe J, Kanazawa A, Ichikawa Y, Oba M, Morita S, Hashiguchi Y, Kunisaki C, Endo I (2013) Short-term results of a randomized study between laparoscopic and open surgery in elderly colorectal cancer patients. Surg Endosc. doi:10.1007/s00464-013-3223-x

15.

Miyasaka Y, Mochidome N, Kobayashi K, Ryu S, Akashi Y, Miyoshi A (2013) Efficacy of laparoscopic resection in elderly patients with colorectal cancer. Surg Today. doi:10.1007/s00595-013-0753-8

16.

Aaldriks AA, van der Geest LG, Giltay EJ, le Cessie S, Portielje JE, Tanis BC, Nortier JW, Maartense E (2013) Frailty and malnutrition predictive of mortality risk in older patients with advanced colorectal cancer receiving chemotherapy. J Geriatr Oncol 4:218–226
Acknowledgments
We would like to thank Amy Moore for her contribution in redaction process of the manuscript. American College of Surgeons National Surgical Quality Improvement Program and the hospitals participating in the ACS-NSQIP are the source of the data used herein; they have not verified and are not responsible for the statistical validity of the data analysis or the conclusions derived by the authors.
Disclosures
Drs. Isik, Okkabaz, Remzi, and Gorgun and Mr. Hammel have no conflicts of interest or financial ties to disclose.
Appendix
Appendix
See Table 4.
About this article
Cite this article
Isik, O., Okkabaz, N., Hammel, J. et al. Preoperative functional health status may predict outcomes after elective colorectal surgery for malignancy. Surg Endosc 29, 1051–1056 (2015). https://doi.org/10.1007/s00464-014-3777-2
Received:

Accepted:

Published:

Issue Date:
Keywords
Functional health status

Colorectal cancer

Laparoscopy