Abstract
Background
The creation of an adequate peritoneal flap during laparoscopic transabdominal preperitoneal (TAPP) inguinal hernia repair, while avoiding injuring surrounding structures can be technically challenging. Liquid infiltration of the preperitoneal space can help facilitate dissection and avoid inadvertent injuries. We describe a novel technique for TAPP inguinal hernia repair using liquid-injection for preperitonal dissection and report our initial experience.
Methods
TAPP inguinal hernia repair using a liquid-injection technique during preperitoneal dissection was performed by a single surgical resident without prior TAPP repair experience from July 2013 to January 2014. After trocar placement, 60 mL of 0.3 % lidocaine with 1:300,000 dilution of epinephrine was injected percutaneously using a blunt needle under laparoscopic visualization into the preperitoneal space to assist with the dissection and parietalization of the vas deferens, spermatic vessels, and epigastric vessels. The initial peritoneal incision is performed at the lateral side of the inguinal canal, followed by blunt dissection of the preperitoneal space.
Results
Eleven patients (median age: 69; 8 male) with a total of 12 inguinal hernias underwent a TAPP repair using a liquid-injection preperitoneal dissection technique. Ten patients had unilateral hernias (4 indirect, 6 direct), and one patient had bilateral direct hernias. The median operative time, median injection time, and median dissection time were 116, 3.5, and 42 min, respectively. Estimated blood loss was less than 10 mL for all cases. No intraoperative injuries, conversions to open repair, or 30-day postoperative complications occurred. There were no hernia recurrences after a median follow-up of 143 days.
Conclusion
Our preliminary experience suggests that liquid-injection to assist preperitoneal dissection during TAPP inguinal hernia repair appears to be safe and feasible. This novel method facilitates the dissection of spermatic cord structures, and can be used to minimize trauma to surrounding structures, especially when performed by trainees with limited operative experience.
This is a preview of subscription content, log in to check access.
Access options
Buy single article
Instant unlimited access to the full article PDF.
US$ 39.95
Price includes VAT for USA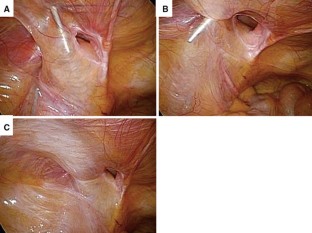 References
1.

Lovisetto F, Zonta S, Rota E, Bottero L, Faillace G, Turra G, Fantini A, Longoni M (2007) Laparoscopic transabdonimal preperitoneal (TAPP) hernia repair: surgical phases and complications. Surg Endosc 21:646–652

2.

Bittner R, Arregui ME, Bisgaard T, Dudai M, Ferzli GS, Fitzgibbons RJ, Fortelny RH, Klinge U, Kockerling F, Kuhry E, Kukleta J, Lomanto D, Misra MC, Montgomery A, Morales-Conde S, Reinpold W, Rosenberg J, Sauerland S, Schug-Pass C, Singh K, Timoney M, Weyhe D, Chowbey P (2011) Guidelines for laparoscopic (TAPP) and endoscopic (TEP) treatment of inguinal Hernia [International Endohernia Society (IEHS)]. Surgical Endoscopy, doi:10.1007/s00464-011-1799-6, 13 July 2011

3.

Edwards CC 2nd, Bailey RW (2000) Laparoscopic hernia repair: the learning curve.Surg Laparosc Endosc Percutan Tech 10:149–153

4.

Wake BL, McCormack K, Fraser C, Vale L, Perez J, Grant AM (2005) Transabdominal pre-peritoneal (TAPP) versus totally extraperitoneal (TEP) laparoscopic techniques for inguinal hernia repair.(Review) Cochrane Database Syst Rev, doi:10.1002/14651858, 24 Jan 2005

5.

Bittner R, Schmedt CG, Schwarz J, Kraft K, Leibl BJ (2002) Laparoscopic transperitonal procedure for routine repair of groin hernia. Br J Surg 89:1062–1066

6.

Felix EL, Harbertson N, Vartanian S (1999) Laparoscopic hernioplasty: significant complications. Surg Endosc 13:328–331

7.

Quinn TH, Annibali R, Dalley AF 2nd, Fitzgibbons RJ Jr (1995) Dissection of the anterior abdominal wall and the deep inguinal region from a laparoscopic perspective. Clin Anat 8:245–251

8.

Tokumura H, Nomura R, Saijo F, Naoki M, Yasumoto A, Musha H (2011) Laparoscopic transabdominal preperitoneal inguinal hernia repair with tumescent local anesthesia (Tumescent TAPP). J Jpn Surg Assoc 72:2204–2208

9.

Tong YS, Wu CC, Bai CH, Lee HC, Ling HH, Kuo LJ, Wei PL, Tam KW (2013) Effect of extraperitonel bupivacaine analgesia in laparoscopic inguinal hernia repair: a meta-analysis of randomized controlled trials. Hernia, doi:10.1007/s10029-013-1100-0, 5 May 2013
Acknowledgments
The authors thank Elif Bilgic for her help with the narration of the videos.
Disclosures
Dr. Yo Kurashima is a consultant for Medicon.
Electronic supplementary material
Below is the link to the electronic supplementary material.
Supplementary material 1 (WMV 13157 kb)
Supplementary material 2 (WMV 7683 kb)
About this article
Cite this article
Mizota, T., Watanabe, Y., Madani, A. et al. Liquid-injection for preperitoneal dissection of transabdominal preperitoneal (TAPP) inguial hernia repair. Surg Endosc 29, 516–520 (2015) doi:10.1007/s00464-014-3703-7
Received:

Accepted:

Published:

Issue Date:
Keywords
Laparoscopic inguinal hernia repair

Endoscopic hernia repair

Preperitoneal dissection

Dissection technique