Abstract
Introduction
Paraesophageal hernia (PEH) repair has a high radiologic recurrence rate, even with the use of biologic mesh as a prosthetic buttress to reinforce the primary crural repair. This review was done to evaluate outcomes after PEH repair with mesh.
Methods
A retrospective analysis was done of all patients who underwent PEH repair with mesh at our institution between December 2004 and March 2013. Patients were reviewed for evidence of recurrence on upper gastrointestinal studies (UGI). Time-specific, mesh-specific, and size-specific recurrence was analyzed as well as pre- and postoperative symptom scores.
Results
A total of 209 patients underwent PEH repair with mesh. Mean follow-up was 25 months (range 0–101). In all cases, an absorbable mesh was used (159 Alloderm, 35 BioA, 15 Strattice). One hundred and fifty-six (75 %) were 5 cm or larger. Of the patients, 166 (79 %) had UGIs available to review for radiologic recurrence. Total recurrence was 21 % (n = 35). No mesh erosions were seen. Recurrence rates increased over time from 16 % (n = 23) at 1 year up to 39 % after 5-year follow-up (n = 11). Recurrence rates were higher for large hernias (23 vs. 16 %). The median size of the recurrence was 4 cm (range 2–7 cm). Overall, patients showed significant improvement in their symptom scores. At long-term follow-up, heartburn had 70.6 % reduction (p < 0.05) and regurgitation had 76.5 % reduction (p < 0.05). There was no significant difference in postoperative symptom scores between patients with or without radiologic recurrence.
Conclusions
In this study, PEH repair with mesh was safe and effective at controlling symptoms over the long term. Radiologic recurrence rate increased over time and was highest in patients with hernias >5 cm. Therefore, in our experience, PEH repair with mesh is a safe therapy and though radiologic recurrence does increase with time, symptom resolution is maintained.
This is a preview of subscription content, log in to check access.
Access options
Buy single article
Instant access to the full article PDF.
US$ 39.95
Price includes VAT for USA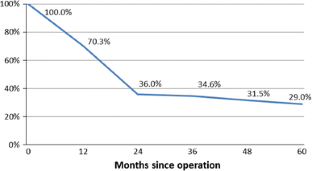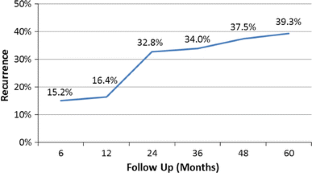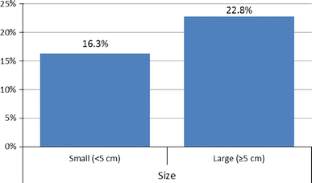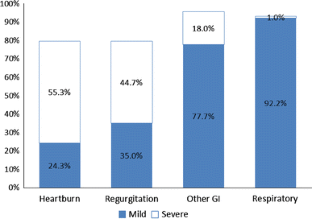 References
1.

Nason KS, Luketich JD, Witteman BP et al (2012) The laparoscopic approach to paraesophageal hernia repair. J Gastrointest Surg 16:417–426

2.

Oelschlager BK, Pellegrini CA, Hunter JG, Brunt ML, Soper NJ, Sheppard BC, Polissar NL, Neradilek MB, Mitsumori LM, Rohrmann CA, Swanstrom LL (2011) Biologic prosthesis to prevent recurrence after laparoscopic paraesophageal hernia repair: long-term follow-up from a multicenter, prospective, randomized trial. J Am Coll Surg 213(4):461–468

3.

Hashemi M, Peters JH, DeMeester TR et al (2000) Laparoscopic repair of large type III hiatal hernia: objective follow-up reveals high recurrence rate. J Am Coll Surg 190:554–561

4.

Mattar SG, Bowers SP, Galloway KD et al (2002) Long-term outcome of laparoscopic repair of paraesophageal hernia. Surg Endosc 16:745–749

5.

Furnee E, Hazebroek E (2013) Mesh in laparoscopic large hiatal hernia repair: a systematic review of the literature. Surg Endosc 27(11):3998–4008

6.

Oelschlager BK, Pellegrini CA, Hunter JG, Brunt ML, Soper NJ, Brunt M, Sheppard BC, Jobe B, Polissar NL, Mitsumori LM, Nelson J, Swanstrom LL (2006) Biologic prosthesis reduces recurrence after laparoscopic paraesophageal hernia repair. Ann Surg 244:481–490

7.

Kohn GP, Price RR, DeMeester SR, Zehetner J, Oliver JM, Awad Z, Mittal SK, Richardson WS, Stefaidis D, Fanelli RD (2013) Guidelines for the management of hiatal hernia. Surg Endosc 27:4409–4428

8.

Simorov A, Ranade A, Jones R, Tadaki, C, Shostrom V, Boilsen E, Oleynikov D (2013) Long term patient outcomes after laparoscopic anti-reflux procedures. J Gastrointes Surg 18(1):157–162

9.

Ringley CD, Bochkarev V, Ahmed SI, Vitamvas ML, Oleynikov D (2006) Laparoscopic hiatal hernia repair with human acellular dermal matrix patch: our initial experience. Am J Surg 192(6):767–772

10.

Lee YK, James E, Bochkarev V, Vitamvas M, Oleynikov D (2008) Long-term outcome of cruroplasty reinforcement with human acellular dermal matrix in large paraesophageal hiatal hernia. J Gastrointest Surg 12:811–815

11.

Choban PS, Heckler R, Burge JC, Flancbaum L (1995) Increased incidence of nosocomial infections in obese surgical patients. Am Surg 61(11):1001–1005

12.

DeMaria EJ, Carmody BJ (2005) Perioperative management of special populations: obesity. Surg Clin North Am 85(6):1283–1289

13.

Schmidt E, Shaligram A, Reynoso JF, Kothari V, Oleynikov D (2014) Hiatal hernia repair with biologic mesh reinforcement reduces recurrence rate in small hiatal hernias. Dis Esophagus 27(1):13–17

14.

Stadlhuber RJ, Sherif AE, Mittal SK, Fitzgibbons RJ Jr, Michael Brunt L, Hunter JG, Demeester TR, Swanstrom LL, Daniel Smith C, Filipi CJ (2009) Mesh complications after prosthetic reinforcement of hiatal closure: a 28-case series. Surg Endosc 23(6):1219–1226

15.

Patti MG, Arcerito M, Tamburini A, Diener U, Feo CV, Safadi B, Fisichella P, Way LW (2000) Effect of laparoscopic fundoplication on gastroesophageal reflux disease-induced respiratory symptoms. J Gastrointest Surg 4:143–149

16.

Williamson WA, Ellis FH Jr, Streitz JM, Shahian DM (1993) Paraesophageal hiatal hernia: is an antireflux procedure necessary? Ann Thorac Surg 56:447–451

17.

Swanstrom LL, Jobe BA, Kinzie LR, Horvath KD (1999) Esophageal motility and outcomes following laparoscopic paraesophageal hernia repair and fundoplication. Am J Surg 177:359–363

18.

Casabella F, Sinanan M, Horgan S, Pellegrini CA (1996) Systematic use of gastric fundoplication in laparoscopic repair of paraesophageal hernias. Am J Surg 171:485–489

19.

Targarona EM, Grisales S, Uyanik O, Balague C, Pernas JC, Trias M (2013) Long-term outcome and quality of life after laparoscopic treatment of large paraesophageal hernia. World J Surg 37:1878–1882
Disclosures
Dr's Jones, Simorov, Tadaki and Daniel Lomelin have nothing to disclose. Dr Oleynikov is a principal investigator for research involving LifeCell Corporation.
About this article
Cite this article
Jones, R., Simorov, A., Lomelin, D. et al. Long-term outcomes of radiologic recurrence after paraesophageal hernia repair with mesh. Surg Endosc 29, 425–430 (2015). https://doi.org/10.1007/s00464-014-3690-8
Received:

Accepted:

Published:

Issue Date:
Keywords