Abstract
Background
Frameless stereotaxy is an established method for real-time image-guided surgical navigation in neurological surgery. Though this is capable of providing sub-millimeter accuracy, it has not been used by other surgical specialists.
Methods and procedure
A patient with locally advanced, distal rectal cancer and tumor abutting the prostate was selected for transanal TME using TAMIS, with intra-operative CT-guided navigation to ensure an R0 resection.
Results
The use of stereotactic TAMIS-TME was successfully performed with an accuracy of ±4 mm. The surgical specimen revealed an R0 resection, and this new approach aided in achieving adequate resection margins.
Conclusion
This is the first report of the use of frameless stereotactic navigation beyond the scope of neurosurgery. Stereotactic navigation for transanal total mesorectal excision is shown to be feasible. Stereotactic navigation may potentially be applied toward other pelvic and fixed abdominal organs, thereby opening the gateway for a broader use by the general surgeon.
This is a preview of subscription content, log in to check access.
Access options
Buy single article
Instant unlimited access to the full article PDF.
US$ 39.95
Price includes VAT for USA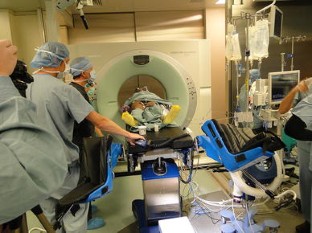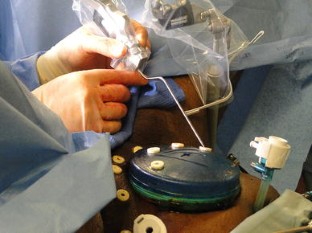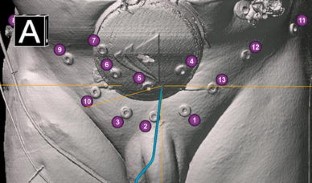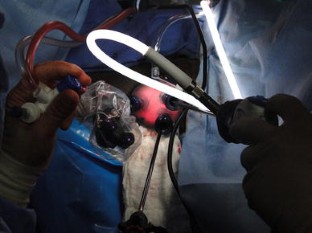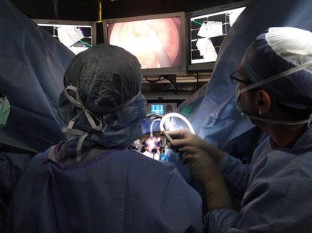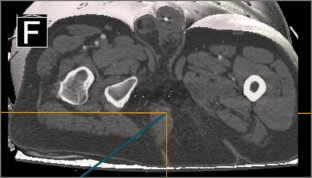 References
1.

Schols RM, Bouvy ND, van Dam RM, Stassen LP (2013) Advanced intraoperative imaging methods for laparoscopic anatomy navigation: an overview. Surg Endosc 27(6):1851–1859. doi:10.1007/s00464-012-2701-x

2.

Roberts DW, Strohbehn JW, Hatch JF, Murray W, Kettenberger H (1986) A frameless stereotaxic integration of computerized tomographic imaging and the operating microscope. J Neurosurg 65(4):545–549

3.

Roessler K, Ungersboeck K, Dietrich W, Aichholzer M, Hittmeir K, Matula C, Czech T, Koos WT (1997) Frameless stereotactic guided neurosurgery: clinical experience with an infrared based pointer device navigation system. Acta Neurochir (Wien) 139(6):551–559

4.

Guthrie BL, Adler JR Jr (1992) Computer-assisted preoperative planning, interactive surgery, and frameless stereotaxy. Clin Neurosurg 38:112–131

5.

Barnett GH, Kormos DW, Steiner CP, Weisenberger J (1993) Intraoperative localization using an armless, frameless stereotactic wand. J Neurosurg 78(3):510–514

6.

Barnett GH, Kormos DW, Steiner CP, Weisenberger J (1993) Use of a frameless, armless stereotactic wand for brain tumor localization with two-dimensional and three-dimensional neuroimaging. Neurosurgery 33(4):674–678

7.

Kato A, Yoshimine T, Hayakawa T, Tomita Y, Ikeda T, Mitomo M, Harada K, Mogami H (1991) A frameless, armless navigational system for computer-assisted neurosurgery. Technical note. J Neurosurg 74(5):845–849

8.

Atallah S, Albert M, Larach S (2010) Transanal minimally invasive surgery: a giant leap forward. Surg Endosc 24(9):2200–2205

9.

Atallah S, Albert M, Debeche-Adams T, Nassif G, Polavarapu H, Larach S (2013) Transanal minimally invasive surgery for total mesorectal excision (TAMIS-TME): a stepwise description of the surgical technique with video demonstration. Tech Coloproctol 17(3):321–325

10.

Heald RJ (2013) A new solution to some old problems: transanal TME. Tech Coloproctol 17(3):257–258

11.

McLemore EC, Coker AM, Devaraj B, Chakedis J, Maawy A, Inui T, Talamini MA, Horgan S, Peterson MR, Sylla P, Ramamoorthy S (2013) TAMIS-assisted laparoscopic low anterior resection with total mesorectal excision in a cadaveric series. Surg Endosc 27(9):3478–3484

12.

Sylla P, Bordeianou LG, Berger D, Han KS, Lauwers GY, Sahani DV, Sbeih MA, Lacy AM, Rattner DW (2013) A pilot study of natural orifice transanal endoscopic total mesorectal excision with laparoscopic assistance for rectal cancer. Surg Endosc 27(9):3396–3405

13.

Lacy AM, Adelsdorfer C, Delgado S, Sylla P, Rattner DW (2013) Minilaparoscopy-assisted transrectal low anterior resection (LAR): a preliminary study. Surg Endosc 27(1):339–346
Acknowledgments
Thanks to Ross Lumsden and David Rosen MD for his instruction regarding frameless navigation. Assistance with surgical logistics and photographic documentation provided by Denise Roebuck, L. Randy Andrus, Sohaib Shamsi, Nancy Sanfrancesco, Brandon Nieves, and Ashley Watson.
Disclosure
Dr. S. Atallah is a paid consultant for Applied Medical, Inc. and Life Cell. Dr. S. Larach is a paid consultant for Applied Medical, Inc. Dr. G. Nassif has no financial disclosures. This study received no funding.
Electronic supplementary material
Below is the link to the electronic supplementary material.
Supplementary material 1 (MOV 223274 kb)
About this article
Cite this article
Atallah, S., Nassif, G. & Larach, S. Stereotactic navigation for TAMIS-TME: opening the gateway to frameless, image-guided abdominal and pelvic surgery. Surg Endosc 29, 207–211 (2015) doi:10.1007/s00464-014-3655-y
Received:

Accepted:

Published:

Issue Date:
Keywords
TAMIS

Stereotactic surgery

Transanal stereotaxy

Transanal TME

Image-guided surgery

Navigation