Abstract
Introduction
Technological innovation in surgical science and healthcare is vital and calls for close collaboration between engineering and surgery. To meet this objective, BEST was designed as a free sustainable innovative teaching method for young professionals, combining surgery, engineering, and business in a multidisciplinary, high-quality, low-cost, and learning-by-doing philosophy.
Aims
This paper reviews the initial outcomes of the program and discusses lessons learned and future directions of this innovative educational method.
Methods
BEST educational method is delivered in two parts: the first component consisting of live streaming or pre-recorded online lectures, with an interdisciplinary profile focused on surgery, engineering, and business. The second component is an annual 5-day on-site course, organized at IRCAD-IHU, France. The program includes workshops in engineering, entrepreneurship team projects, and in-depth hands-on experience in laparoscopy, robotic surgery, interventional radiology, and flexible endoscopy with special emphasis on the interdisciplinary aspect of the training. A panel of surgeons, engineers, well-established entrepreneurs, and scientists assessed the team projects for potential patent application.
Results
From November 2011 till September 2013, 803 individual and institutional users from 79 different countries attended the online course. In total, 134 young professionals from 32 different countries applied to the onsite course. Sixty participants were selected each year for the onsite course. In addition, five participants were selected for a web-based team. Thirteen provisional patents were filed for the most promising projects.
Conclusion
BEST proved to be a global talent incubator connecting students to high-quality education despite institutional and economical boundaries. Viable and innovative ideas arose from this revolutionary approach which is likely to spin-off significant technology transfer and lead the way for future interdisciplinary hybrid surgical education programs and career paths.
This is a preview of subscription content, log in to check access.
Access options
Buy single article
Instant access to the full article PDF.
US$ 39.95
Price includes VAT for USA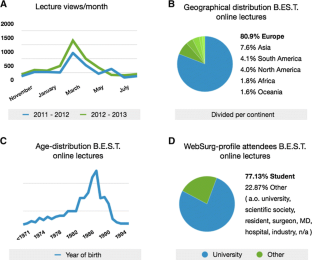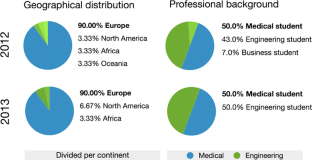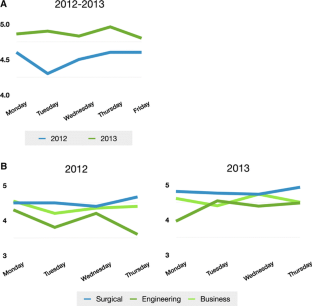 References
1.

Elfert AA, El-Kalla FS (2011) Gastroenterologists and interventional radiologists: friends or foes? A multidisciplinary approach for solving gastrointestinal problems. Arab J Gastroenterol 12:5–10

2.

Kozarek RA (2010) The society for gastrointestinal intervention. Are we, as an organization of disparate disciplines, cooperative or competitive? Gut Liver 4(Suppl 1):S1–S8

3.

Smythe WR (2010) The future of academic surgery. Acad Med 85:768–774

4.

Nugent E, Traynor O, Neary P (2011) Technical skill set training in natural orifice transluminal endoscopic surgery: how should we approach it? J Laparoendosc Adv Surg Tech A 21:107–111

5.

Frenk J, Chen L, Bhutta ZA, Cohen J, Crisp N, Evans T, Fineberg H, Garcia P, Ke Y, Kelley P, Kistnasamy B, Meleis A, Naylor D, Pablos-Mendez A, Reddy S, Scrimshaw S, Sepulveda J, Serwadda D, Zurayk H (2010) Health professionals for a new century: transforming education to strengthen health systems in an interdependent world. Lancet 376:1923–1958

6.

Harder B (2013) Are MOOCs the future of medical education? BMJ 346:f2666

7.

Brinton TJ, Kurihara CQ, Camarillo DB, Pietzsch JB, Gorodsky J, Zenios SA, Yock PG (2013) Outcomes from a postgraduate biomedical technology innovation training program: the first 12 years of Stanford Biodesign. Ann Biomed Eng 41(9):1803–1810

8.

Kukulska-Hulme A (2012) How should the higher education workforce adapt to advancements in technology for teaching and learning? Internet High Educ 15(4):247–254

9.

Barkun JS, Aronson JK, Feldman LS, Maddern GJ, Strasberg SM (2009) Evaluation and stages of surgical innovations. Lancet 374(9695):1089–1096

10.

Stafinski T, Topfer LA, Zakariasen K, Menon D (2010) The role of surgeons in identifying emerging technologies for health technology assessment. Can J Surg 53(2):86

11.

Vecht JA, von Segesser LK, Ashrafian H, Rao C, Skapinakis P, Saso S, Athanasiou T (2010) Translation to success of surgical innovation. Eur J Cardiothorac Surg 37(3):613–625

12.

Drucker PF (1998) The discipline of innovation. Harv Bus Rev 76(6):149–157

13.

He B, Baird R, Butera RJ, Datta A, George S, Hecht B, Zhang YT (2013) Grand Challenges in Interfacing Engineering With Life Sciences and Medicine. IEEE Trans Biomed Eng 60(3):589–598

14.

Zuckerman B, Margolis PA, Mate KS (2013) Health services innovation: the time is now. JAMA 309(11):1113–1114

15.

Krummel TM, Gertner M, Makower J, Milroy C, Gurtner G, Woo R, Yock PG (2006) Inventing our future: training the next generation of surgeon innovators. Semin pediatr surg 15(4):309–318

16.

Gertner M (2005) Biomedical innovation, surgical innovation, and beyond. In: Proceedings from the National Collegiate Inventors and Innovators Alliance, pp 17–19

17.

Gelijns AC, Thier SO (2002) Medical innovation and institutional interdependence: rethinking university-industry connections. JAMA 287(1):72–77

18.

Lee WT, Rocke D, Holsinger FC (2014) Surgical innovation, industry partnership, and the enemy within. Head neck 36:461–465
Acknowledgments
This work was supported by the IHU and the IRCAD France with technical and financial resources to create and support the BEST educational method. We would like to thank Bruno Mutet, Antoine Agathon, Jean-Luc Dimarq, Thomas Parent, Pietro Riva, and the BEST faculty for the tremendous support, contribution, and work done.
Disclosures
Vivian de Ruijter, Peter Halvax, Bernard Dallemagne, Lee Swanström, Jacques Marescaux, and Silvana Perretta have no conflicts of interest or financial ties to disclose.
About this article
Cite this article
de Ruijter, V., Halvax, P., Dallemagne, B. et al. The Business Engineering Surgical Technologies (BEST) teaching method: incubating talents for surgical innovation. Surg Endosc 29, 48–54 (2015). https://doi.org/10.1007/s00464-014-3652-1
Received:

Accepted:

Published:

Issue Date:
Keywords
Surgical innovation

Hybrid surgery

Education

Medical device development