Abstract
Study objective
The objective of this study was to evaluate and compare the impact of three-dimensional (3D) imaging system on the performance of basic laparoscopic tasks in a test model by novice and experienced surgeons.
Design
Three tasks were performed in a test model by 30 surgeons, 15 experienced surgeons, and 15 with minimal laparoscopic experience. The tasks were performed using 2D and 3D vision systems.
Design classification
Canadian Task Force II-1.
Subjects
Fifteen experienced laparoscopic surgeons and fifteen novices with minimal laparoscopic experience.
Measurements
Performance times were recorded using both two-dimensional and 3D imaging system for each task.
Main results
Performance time for all skills was significantly (P < 0.02) shorter when using 3D imaging system. Performance times were reduced by 18–31 % using 3D imaging for all participants. Experienced surgeons performed the tasks faster and showed similar improvement while using 3D imaging system.
Conclusion
3D vision systems allow for significant improvement in performance times of basic laparoscopic tasks in a test model for both inexperienced and advanced laparoscopic surgeons. Experienced surgeons benefit as much as novices from 3D imaging system.
This benefit should be weighed against the disadvantages of the 3D vision systems, mainly cost, decreased light, eye strain, headaches, and shorter focal lengths.
This is a preview of subscription content, log in to check access.
Access options
Buy single article
Instant access to the full article PDF.
US$ 39.95
Price includes VAT for USA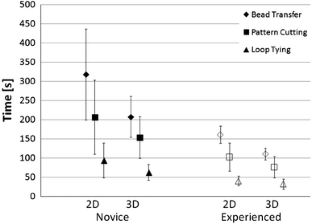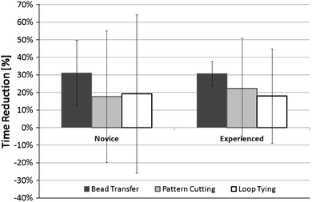 References
1.

Byrn JC, Schluender S, Divino CM, Conrad J, Gurland B, Shlasko E, Szold A (2007) Three-dimensional imaging improves surgical performance for both novice and experienced operators using the da Vinci Robot System. Am J Surg 193(4):519–522

2.

Bhayani SB, Andriole GL (2005) Three-dimensional (3D) vision: does it improve laparoscopic skills? an assessment of a 3D head-mounted visualization system. Rev Urol 7:211–214

3.

Buess GF, van Bergen P, Kunert W, Schurr MO (1996) Comparative study of various 2-D and 3-D vision systems in minimally invasive surgery. Chirurg 67:1041–1046

4.

Chan AC, Chung SC, Yim AP, Lau JY, Ng EK, Li AK (1997) Comparison of two-dimensional vs three-dimensional camera systems in laparoscopic surgery. Surg Endosc 11:438–440

5.

Dion YM, Gaillard F (1997) Visual integration of data and basic motor skills under laparoscopy: influence of 2-D and 3-D videocamera systems. Surg Endosc 11:995–1000

6.

Hanna GB, Cuschieri A (2000) Influence of two-dimensional and three-dimensional imaging on endoscopic bowel suturing. World J Surg 24:444–448

7.

Hanna GB, Shimi SM, Cuschieri A (1998) Randomised study of influence of two-dimensional versus three-dimensional imaging on performance of laparoscopic cholecystectomy. Lancet 351:248–251

8.

Herron DM, Lantis JC II, Maykel J, Basu C, Schwaitzberg SD (1999) The 3-D monitor and head-mounted display: a quantitative evaluation of advanced laparoscopic viewing technologies. Surg Endosc 13:751–755

9.

Jones DB, Brewer JD, Soper NJ (1996) The influence of threedimensional video systems on laparoscopic task performance. Surg Laparosc Endosc 6:191–197

10.

McDougall EM, Soble JJ, Wolf JS Jr, Nakada SY, Elashry OM, Clayman RV (1996) Comparison of three-dimensional and two-dimensional laparoscopic video systems. J Endourol 10:371–374

11.

Peitgen K, Walz MV, Walz MV, Holtmann G, Eigler FW (1996) A prospective randomized experimental evaluation of three-dimensional imaging in laparoscopy. Gastrointest Endosc 44:262–267

12.

Pietrabissa A, Scarcello E, Carobbi A, Mosca F (1994) Threedimensional versus two-dimensional video system for the trained endoscopic surgeon and the beginner. Endosc Surg Allied Technol 2:315–317

13.

Falk V, Mintz D, Grunenfelder J, Fann JI, Burdon TA (2001) Influence of three-dimensional vision on surgical telemanipulator performance. Surg Endosc 15:1282–1288

14.

Mueller MD, Camartin C, Dreher E, Hanggi W (1999) Threedimensional laparoscopy: gadget or progress? a randomized trial on the efficacy of three-dimensional laparoscopy. Surg Endosc 13:469–472

15.

Patel HR, Ribal MJ, Arya M, Nauth-Misir R, Joseph JV (2007) Is it worth revisiting laparoscopic three-dimensional visualization? a validated assessment. Urology 70:47–49

16.

Smith R, Day A, Rockall T, Ballard K, Bailey M, Jourdan I (2012) Advanced stereoscopic projection technology significantly improves novice performance of minimally invasive surgical skills. Surg Endosc 26(6):1522–1527

17.

Derossis AM, Antoniuk M, Fried GM (1999) Evaluation of laparoscopic skills: a 2-year follow-up during residency training. Can J Surg 42(4):293–296

18.

Wright JD, Ananth CV, Lewin SN, Burke WM, Lu YS, Neugut AI, Herzog TJ, Hershman DL (2013) Robotically assisted vs laparoscopic hysterectomy among women with benign gynecologic disease. JAMA 309(7):689–698

19.

Wagner OJ, Hagen M, Kurmann A, Horgan S, Candinas D, Vorburger SA (2012) Three-dimensional vision enhances task performance independently of the surgical method. Surg Endosc 26(10):2961–2968

20.

Honeck P, Wendt-Nordahl G, Rassweiler J, Knoll T (2012) Three-dimensional laparoscopic imaging improves surgical performance on standardized ex vivo laparoscopic tasks. J Endourol 26(8):1085–1088

21.

Tanagho YS, Andriole GL, Paradis AG, Madison KM, Sandhu GS, Varela JE, Benway BM (2012) 2D versus 3D visualization: impact on laparoscopic proficiency using the fundamentals of laparoscopic surgery skill set. J Laparoendosc Adv Surg Tech A 22(9):865–870
Disclosures
Drs. Roy Mashiach, Vadym Mezhybovsky, Avinoam Nevler, Mordechai Gutman, Amitai Ziv and Marat Khaikin have no conflicts of interest or financial ties to disclose.
About this article
Cite this article
Mashiach, R., Mezhybovsky, V., Nevler, A. et al. Three-dimensional imaging improves surgical skill performance in a laparoscopic test model for both experienced and novice laparoscopic surgeons. Surg Endosc 28, 3489–3493 (2014). https://doi.org/10.1007/s00464-014-3635-2
Received:

Accepted:

Published:

Issue Date:
Keywords
Two-dimensional vision

Three-dimensional vision

Novice

Experienced

Laparoscopy