Abstract
Background
Testicular survival following second-stage Fowler–Stephens (FS) procedure depends upon adequate arterial supply. There is evidence that testicular survival rates are greater following gubernaculum-sparing second-stage FS procedure. The importance of collateral vessels in preservation of the testis has been hypothesised, but never shown in the literature. We aim to map the collateral blood supply to the testicle in gubernaculum-sparing, laparoscopic-assisted, second-stage FS procedure for intra-abdominal testicles.
Methods
Selected patients undergoing a second-stage FS procedure were photographed prior to pexy in the Dartos pouch. Photographs were evaluated for the extent of vascular collateralisation between gubernacular, deferential and the ligated spermatic artery.
Research
Twenty-five patients with 28 undescended testicles underwent staged FS procedure over a 7.5-year period between 2005 and April 2013. Mean age at operation was 2.44 years, and all testicles were delivered to the scrotum. Mean follow-up was 3.29 years, and all patients were reviewed by the operating consultant. Testicular survival rate was 100 %. Representative photographs clearly demonstrate substantial cremasteric vessels running along the gubernaculum with robust collateralisation to the deferential vessel and the spermatic arterial stump.
Conclusion
These images confirm the presence of robust collateral between the cremasteric and deferential vessels at second-stage FS procedure. Preservation of these collaterals in a gubernaculum-sparing approach may explain the excellent results seen in this series.
This is a preview of subscription content, log in to check access.
Access options
Buy single article
Instant access to the full article PDF.
US$ 39.95
Price includes VAT for USA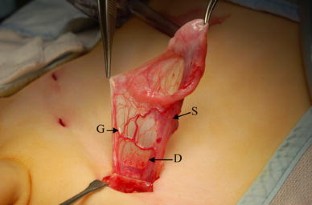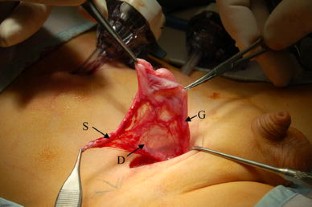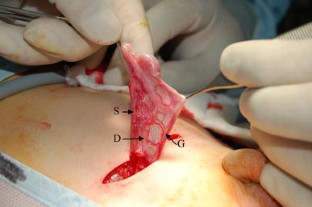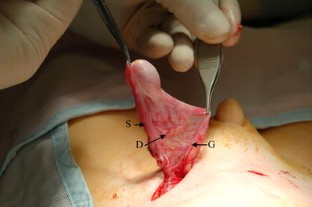 References
1.

Yalcin B, Komesli GH, Ozgok Y, Ozan H (2005) Vascular anatomy of normal and undescended testes: surgical assessment of anastomotic channels between testicular and deferential arteries. Urology 66(4):854–857

2.

Sampaio FJ, Favorito LA, Freitas MA, Damião R, Gouveia E (1999) Arterial supply of the human fetal testis during its migration. J Urol 161(5):1603–1605

3.

Mahomed A, Adams S, Islam S (2012) Initial success with gubernacular-sparing laparoscopic-assisted Fowler–Stephens orchidopexy for intra-abdominal testes. J Laparoendosc Adv Surg Tech Part A 22(2):192–194

4.

Robertson SA, Munro FD, Mackinlay GA (2007) Two-stage Fowler–Stephens orchidopexy preserving the gubernacular vessels and a purely laparoscopic second stage. J Laparoendosc Adv Surg Tech Part A 17(1):101–107

5.

Yamataka A, Kobayashi H, Okada Y, Tsukamoto K, Lane GJ, Miyano T (2003) A novel technique for reinforcing the neourethra in hypospadias associated with bilateral undescended testis: use of the gubernaculum. J Pediatr Surg 38(12):1799–1801

6.

Wang KS, Shaul DB (2004) Two-stage laparoscopic orchidopexy with gubernacular preservation: preliminary report of a new approach to the intra-abdominal testis. Pediatr Endosurg Innov Tech 8(3):250–253

7.

Taran I, Elder JS (2006) Results of orchiopexy for the undescended testis. World J Urol 24:231–239
Acknowledgment
No funding was required for the production of this manuscript.
Disclosures
Dr. Rebecca Ellis, Mr. Rajiv Lahiri and Mr. Anies Mahomed have no conflict of interests or financial ties to disclose.
About this article
Cite this article
Ellis, R., Lahiri, R. & Mahomed, A. Mapping testicular blood supply in gubernaculum-sparing second-stage Fowler–Stephens procedure. Surg Endosc 28, 3158–3161 (2014). https://doi.org/10.1007/s00464-014-3574-y
Received:

Accepted:

Published:

Issue Date:
Keywords
Paediatric

Urology

Orchidopexy