Abstract
Background
Though theoretically superior to standard 2D visualization, 3D video systems have not yet achieved a breakthrough in laparoscopy. The latest 3D monitors, including autostereoscopic displays and high-definition (HD) resolution, are designed to overcome the existing limitations.
Methods
We performed a randomized study on 48 individuals with different experience levels in laparoscopy. Three different 3D displays (glasses-based 3D monitor, autostereoscopic display, and a mirror-based theoretically ideal 3D display) were compared to a 2D HD display by assessing multiple performance and mental workload parameters and rating the subjects during a laparoscopic suturing task. Electromagnetic tracking provided information on the instruments' pathlength, movement velocity, and economy. The usability, the perception of visual discomfort, and the quality of image transmission of each monitor were subjectively rated.
Results
Almost all performance parameters were superior with the conventional glasses-based 3D display compared to the 2D display and the autostereoscopic display, but were often significantly exceeded by the mirror-based 3D display. Subjects performed a task faster and with greater precision when visualization was achieved with the 3D and the mirror-based display. Instrument pathlength was shortened by improved depth perception. Workload parameters (NASA TLX) did not show significant differences. Test persons complained of impaired vision while using the autostereoscopic monitor. The 3D and 2D displays were rated user-friendly and applicable in daily work. Experienced and inexperienced laparoscopists profited equally from using a 3D display, with an improvement in task performance about 20 %.
Conclusion
Novel 3D displays improve laparoscopic interventions as a result of faster performance and higher precision without causing a higher mental workload. Therefore, they have the potential to significantly impact the further development of minimally invasive surgery. However, as shown by the custom-built 3D mirror display, this effect can be improved, thus stimulating further research.
This is a preview of subscription content, log in to check access.
Access options
Buy single article
Instant access to the full article PDF.
US$ 39.95
Price includes VAT for USA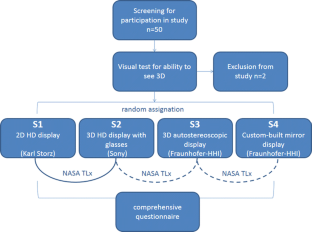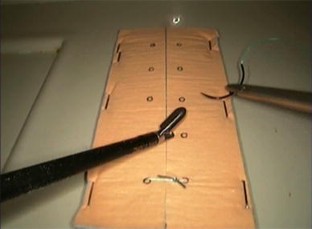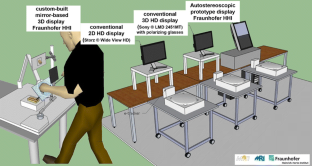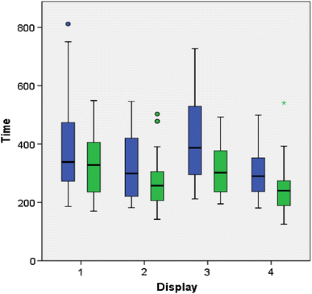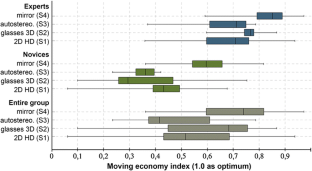 References
1.

Hubber JW, Taffinder N, Russell RC, Darzi A (2003) The effects of different viewing conditions on performance in simulated minimal access surgery. Ergonomics 46(10):999–1016

2.

Kunert W, Storz P, Muller S, Axt S, Kirschniak A (2013) [3D in laparoscopy: state of the art]. Chirurg 84(3):202–207

3.

Buess GF, van Bergen P, Kunert W, Schurr MO (1996) Comparative study of various 2-D and 3-D vision systems in minimally invasive surgery. Chirurg 67(10):1041–1046

4.

Dion YM, Gaillard F (1997) Visual integration of data and basic motor skills under laparoscopy. Influence of 2-D and 3-D video-camera systems. Surg Endosc 11(10):995–1000

5.

Pietrabissa A, Scarcello E, Carobbi A, Mosca F (1994) Three-dimensional versus two-dimensional video system for the trained endoscopic surgeon and the beginner. Endosc Surg Allied Technol 2(6):315–317

6.

Feng C, Rozenblit JW, Hamilton AJ (2010) A computerized assessment to compare the impact of standard, stereoscopic, and high-definition laparoscopic monitor displays on surgical technique. Surg Endosc 24(11):2743–2748

7.

Jourdan IC, Dutson E, Garcia A, Vleugels T, Leroy J, Mutter D, Marescaux J (2004) Stereoscopic vision provides a significant advantage for precision robotic laparoscopy. Br J Surg 91(7):879–885

8.

Taffinder N, Smith SG, Huber J, Russell RC, Darzi A (1999) The effect of a second-generation 3D endoscope on the laparoscopic precision of novices and experienced surgeons. Surg Endosc 13(11):1087–1092

9.

van Bergen P, Kunert W, Buess GF (1999) Three-dimensional (3-D) video systems: bi-channel or single-channel optics? Endoscopy 31(9):732–737

10.

Kong SH, Oh BM, Yoon H, Ahn HS, Lee HJ, Chung SG, Shiraishi N, Kitano S, Yang HK (2010) Comparison of two- and three-dimensional camera systems in laparoscopic performance: a novel 3D system with one camera. Surg Endosc 24(5):1132–1143

11.

Hofmeister J, Frank TG, Cuschieri A, Wade NJ (2001) Perceptual aspects of two-dimensional and stereoscopic display techniques in endoscopic surgery: review and current problems. Semin Laparosc Surg 8(1):12–24

12.

McLachlan G (2011) From 2D to 3D: the future of surgery? Lancet 378(9800):1368

13.

Cohen J (1977) Statistical power analysis for the behavioral sciences. Academic Press, London

14.

Mather G, Smith DR (2004) Combining depth cues: effects upon accuracy and speed of performance in a depth-ordering task. Vision Res 44(6):557–562

15.

Schulz CM, Skrzypczak M, Schneider E, Hapfelmeier A, Martin J, Kochs EF, Schneider G (2011) Assessment of subjective workload in an anaesthesia simulator environment: reliability and validity. Eur J Anaesthesiol 28(7):502–505

16.

Hagiike M, Phillips EH, Berci G (2007) Performance differences in laparoscopic surgical skills between true high-definition and three-chip CCD video systems. Surg Endosc 21(10):1849–1854

17.

van Bergen P, Kunert W, Buess GF (2000) The effect of high-definition imaging on surgical task efficiency in minimally invasive surgery: an experimental comparison between three-dimensional imaging and direct vision through a stereoscopic TEM rectoscope. Surg Endosc 14(1):71–74

18.

Gallagher AG, Ritter EM, Lederman AB, McClusky DA 3rd, Smith CD (2005) Video-assisted surgery represents more than a loss of three-dimensional vision. Am J Surg 189(1):76–80

19.

Wagner OJ, Hagen M, Kurmann A, Horgan S, Candinas D, Vorburger SA (2012) Three-dimensional vision enhances task performance independently of the surgical method. Surg Endosc 26(10):2961–2968

20.

Kunert W, Storz P, Kirschniak A (2013) For 3D laparoscopy: a step toward advanced surgical navigation: how to get maximum benefit from 3D vision. Surg Endosc 27(2):696–699

21.

Storz P, Buess GF, Kunert W, Kirschniak A (2012) 3D HD versus 2D HD: surgical task efficiency in standardised phantom tasks. Surg Endosc 26(5):1454–1460

22.

Sun CC, Chiu AW, Chen KK, Chang LS (2000) Assessment of a three-dimensional operating system with skill tests in a pelvic trainer. Urol Int 64(3):154–158

23.

Falk V, Mintz D, Grunenfelder J, Fann JI, Burdon TA (2001) Influence of three-dimensional vision on surgical telemanipulator performance. Surg Endosc 15(11):1282–1288

24.

Grantcharov TP, Kristiansen VB, Bendix J, Bardram L, Rosenberg J, Funch-Jensen P (2004) Randomized clinical trial of virtual reality simulation for laparoscopic skills training. Br J Surg 91(2):146–150

25.

Servos P (2000) Distance estimation in the visual and visuomotor systems. Exp Brain Res 130(1):35–47

26.

Otto KJ, Hapner ER, Baker M, Johns MM 3rd (2006) Blinded evaluation of the effects of high definition and magnification on perceived image quality in laryngeal imaging. Ann Otol Rhinol Laryngol 115(2):110–113

27.

Thomsen MN, Lang RD (2004) An experimental comparison of 3-dimensional and 2-dimensional endoscopic systems in a model. Arthroscopy 20(4):419–423

28.

Rabin J (1995) Two eyes are better than one: binocular enhancement in the contrast domain. Ophthal Physiol Opt 15(1):45–48

29.

Hoffman DM, Girshick AR, Akeley K, Banks MS (2008) Vergence-accommodation conflicts hinder visual performance and cause visual fatigue. J Vision 8(3):1–30

30.

Hanna GB, Cresswell AB, Cuschieri A (2002) Shadow depth cues and endoscopic task performance. Arch Surg 137(10):1166–1169

31.

Hanna GB, Shimi SM, Cuschieri A (1998) Randomised study of influence of two-dimensional versus three-dimensional imaging on performance of laparoscopic cholecystectomy. Lancet 351(9098):248–251

32.

Mueller-Richter UD, Limberger A, Weber P, Spitzer W, Schilling M (2003) Comparison between three-dimensional presentation of endoscopic procedures with polarization glasses and an autostereoscopic display. Surg Endosc 17(3):502–504

33.

Silvestri M, Simi M, Cavallotti C, Vatteroni M, Ferrari V, Freschi C, Valdastri P, Menciassi A, Dario P (2011) Autostereoscopic three-dimensional viewer evaluation through comparison with conventional interfaces in laparoscopic surgery. Surg Innov 18(3):223–230

34.

Computer Assisted Radiology and Surgery (2013) Special Session on Medical 3D Visualization on June 27, 2013 and related discussion during the session. In: The 27th International Congress and Exhibition of Computer Assisted Radiology and Surgery, Heidelberg, Germany

35.

Rogers B (2009) Motion parallax as an independent cue for depth perception: a retrospective. Perception 38(6):907–911
Acknowledgments
This study was supported financially by Fraunhofer Heinrich Hertz Institute (HHI). HHI also provided the autostereoscopic display and the mirror-based display.
Disclosures
M. Witte, U. Leiner, L. Mühlbach, D. Ruschin, W. Reiner are salaried personnel of Fraunhofer Heinrich Hertz Institute. D. Wilhelm, S. Reiser, N. Kohn, and H. Feussner have no conflicts of interest or financial ties to disclose.
About this article
Cite this article
Wilhelm, D., Reiser, S., Kohn, N. et al. Comparative evaluation of HD 2D/3D laparoscopic monitors and benchmarking to a theoretically ideal 3D pseudodisplay: even well-experienced laparoscopists perform better with 3D. Surg Endosc 28, 2387–2397 (2014). https://doi.org/10.1007/s00464-014-3487-9
Received:

Accepted:

Published:

Issue Date:
Keywords
Imaging

Laparoscopic monitors

Training courses