Abstract
Background
Leaks following oesophageal surgery are considered to be amongst the most dreaded complications and contributory to postoperative mortality. Controversies still exist regarding the best option for the management of oesophageal leaks due to lack of standardized treatment protocols. This study was designed to analyse the feasibility outcome and complications associated with placement of removable, fully covered, self-expanding metallic stents for oesophageal leaks with concomitant minimally invasive drainage when appropriate.
Methods
The study group included 32 patients from a prospectively maintained database of oesophageal leaks, with the majority being anastomotic leaks after minimally invasive oesophagectomy (n = 28), followed by laparoscopic cardiomyotomy (n = 3) and extended total gastrectomy (n = 1). The procedures took place between March 2007 and April 2013.
Results
Most patients had an intrathoracic leak (n = 22), with a mean time to detection of the leak following surgery of 7.50 days (SD = 2.23). Subsequent to endoscopic stenting, enteral feeding via a nasojejunal tube was started on the second day and oral feeding was delayed until the 14th day (n = 31). Six patients underwent thoracoscopic (n = 5) or laparoscopic drainage (n = 1) along with stenting for significant mediastinal and intra-abdominal contamination. The stent migration rate of our study was 8.54 %. The overall success in terms of preventing mortality was 96 %.
Conclusion
Endoscopic stenting should be considered a primary option for managing oesophageal leaks. Delayed oral intake may reduce the incidence of stent migration. Larger stents (bariatric or colorectal stents) serve as a useful option in case of migrated stents. Combined minimally invasive procedures can be safely adapted in appropriate clinical circumstances and may contribute to better outcomes.
This is a preview of subscription content, log in to check access.
Access options
Buy single article
Instant access to the full article PDF.
US$ 39.95
Price includes VAT for USA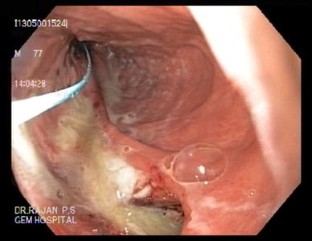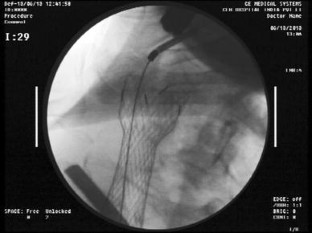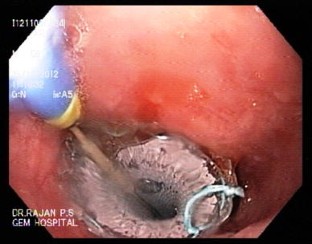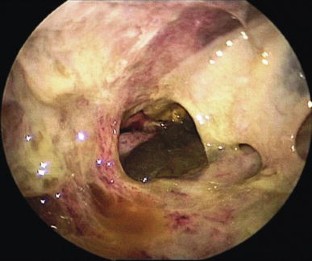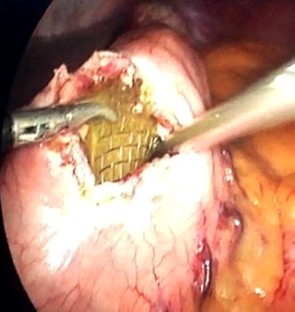 References
1.

Uttley L, Campbell F, Rhodes M, Cantrell A, Stegenga H, Lloyd-Jones M (2013) Minimally invasive oesophagectomy versus open surgery: is there an advantage? Surg Endosc 27:724–731

2.

Kauer WK, Stein HJ, Dittler HJ, Stewart JR (2008) Stent implantation as a treatment option in patients with thoracic anastomosis leaks after esophagectomy. Surg Endosc 22:50–53

3.

Dai YY, Gretschel S, Dudeck O (2009) Treatment of oesophageal leaks by temporary stenting with self expanding plastic stents. Br J Surg 96:887–891

4.

Lerut T, Coosemans W, Decker G, De Leyn P, Nafteux P, van Raemdonck D (2002) Anastomotic complications after esophagectomy. Dig Surg 19(2):92–98

5.

Whooley BP, Law S, Alexandrou A, Murthy SC, Wong J (2001) Critical appraisal of the significance of intrathoracic anastomotic leakage after esophagectomy for cancer. Am J Surg 181(3):198–203

6.

Alanezi K, Urschel JD (2004) Mortality secondary to oesophageal anastomatic leak. Ann Thorac Cardiovasc Surg 10:71–75

7.

Urschel JD (1995) Esophagogastrostomy anastomatic leaks complicating esophagectomy: a review. Am J Surg 169:634–679

8.

Brinster CJ, Singhal S, Lawrence L et al (2004) Evolving options in the management of esophageal perforation. Ann Thorac Surg 77:1475–1489

9.

Amir AI, van Dullemen H, Plukker JT (2004) Selective approach in the treatment of esophageal perforations. Scand J Gastroenterol 39:418–422

10.

Vogel SB, Rout WR, Martin TD et al (2005) Esophageal perforation in adults: aggressive conservative treatment lowers morbidity and mortality. Ann Surg 241:1016–1021

11.

Hünerbein M, Stroszczynski C, Moesta KT, Schlag PM (2004) Treatment of thoracic anastomotic leaks after esophagectomy with self-expanding plastic stents. Ann Surg 240(5):801–807

12.

Schweigert M, Dubecz A, Stadlhuber RJ, Muschweck H, Stein HJ (2011) Treatment of intrathoracic esophageal anastomotic leaks by means of endoscopic stent implantation. Interact Cardiovasc Thorac Surg 12(2):147–151

13.

Freeman RK, Vyverberg A, Ascioti AJ (2011) Esophageal stent placement for the treatment of acute intrathoracic anastomotic leak after esophagectomy. Ann Thorac Surg 92(1):204–208

14.

Siersema PD, Homs MY, Haringsma J, Tilanus HW, Kuipers EJ (2003) Use of large-diameter metallic stents to seal traumatic nonmalignant perforations of the esophagus. Gastrointest Endosc 58(3):356–361

15.

Eisendrath P, Cremer M, Himpens J, Cadière GB, Le Moine O, Devière J (2007) Endotherapy including temporary stenting of fistulas of the upper gastrointestinal tract after laparoscopic bariatric surgery. Endoscopy 39(7):625–630

16.

Langer FB, Wenzl E, Prager G, Salat A, Miholic J, Mang T, Zacherl J (2005) Management of postoperative esophageal leaks with the Polyflex self-expanding covered plastic stent. Ann Thorac Surg 79(2):398–403

17.

Leers JM, Vivaldi C, Schäfer H, Bludau M, Brabender J, Lurje G, Herbold T, Hölscher AH, Metzger R (2009) Endoscopic therapy for esophageal perforation or anastomotic leak with a self-expandable metallic stent. Surg Endosc 23(10):2258–2262

18.

Dai Y, Chopra SS, Kneif S, Hünerbein M (2011) Management of oesophageal anastomotic leaks, perforations, and fistulae with self-expanding plastic stents. J Thorac Cardiovasc Surg 141(5):1213

19.

Salminen P, Gullichsen R, Laine S (2009) Use of self-expandable metal stents for the treatment of oesophageal perforations and anastomotic leaks. Surg Endosc 23(7):1526–1530

20.

Tuebergen D, Rijcken E, Mennigen R, Hopkins AM, Senninger N, Bruewer M (2008) Treatment of thoracic esophageal anastomotic leaks and esophageal perforations with endoluminal stents: efficacy and current limitations. J Gastrointest Surg 12(7):1168–1176

21.

Blackmon SH, Santora R, Schwarz P, Barroso A, Dunkin BJ (2010) Utility of removable esophageal covered self-expanding metal stents for leak and fistula management. Ann Thorac Surg 89(3):931–936

22.

Dai Y, Chopra SS, Steinbach M, Kneif S, Hünerbein M (2011) Esophageal stents for leaks and perforations. Semin Thorac Surg 23:159–162

23.

Leenders BJ, Stronkhorst A, Smulders FJ, Nieuwenhuijzen GA, Gilissen LP (2013) Removable and repositionable covered metal self-expandable stents for leaks after upper gastrointestinal surgery: experiences in a tertiary referral hospital. Surg Endosc 27:2751–2759

24.

Bona D, Laface L, Bonavina L, Abate E, Schaffer M, Ugenti I, Siboni S, Carrinola R (2010) Covered nitinol stents for the treatment of esophageal strictures and leaks. World J Gastroenterol 16(18):2260–2264

25.

Eubanks S, Edwards CA, Fearing NM, Ramaswamy A, De la Torre RA, Thaler KJ, Miedema BW, Scott JS (2008) Use of endoscopic stents to treat anastomotic complications after bariatric surgery. J Am Coll Surg 206(5):935–938

26.

Schweigert M, Solymosi N, Dubecz A, Stadlhuber RJ, Muschweck H, Ofner D, Stein HJ (2013) Endoscopic stent insertion for anastomotic leakage following oesophagectomy. Ann R Coll Surg Engl 95:43–47
Disclosures
Drs. Rajan, Bansal, Balaji, Rajapandian, Parthasarathi, Senthilnathan, Praveenraj, and Palanivelu have no conflicts of interest or financial ties to disclose.
About this article
Cite this article
Rajan, P.S., Bansal, S., Balaji, N.S. et al. Role of endoscopic stents and selective minimal access drainage in oesophageal leaks: feasibility and outcome. Surg Endosc 28, 2368–2373 (2014). https://doi.org/10.1007/s00464-014-3471-4
Received:

Accepted:

Published:

Issue Date:
Keywords
Minimally invasive oesophagectomy

Anastomotic leaks

Endoscopic stent placement

Stent migration

Oesophageal leak