Abstract
Background
Total laparoscopic hysterectomy (TLH) is becoming an increasingly popular treatment in endometrial cancer. Intra-abdominal or vaginal uterus morcellation are well described and routinely practiced techniques in removing a benign bulky uterus but contraindicated in endometrial cancer. In malignancy, the uterus needs to be removed intact to avoid intraperitoneal spillage of the endometrial cancer cells, and a uterine size of 12 gestational weeks (g.w.) or larger has been considered a contraindication for the laparoscopic approach. The aim of our study was to evaluate the feasibility and safety of a sealed vaginal morcellation technique in a bag for endometrial cancer laparoscopic treatment.
Methods
We prospectively scheduled 12 patients affected by endometrial cancer with uterus bigger than 12 g.w. for endometrial cancer laparoscopic treatment. After performing TLH, a sterile plastic wrapping bag was inserted by a 12 mm camera port by rolling it onto the blunt probe. The uterus was covered from the fundus to the cervix, placing the free edges of the bag down into the manipulator cup with two blunt graspers. The specimen completely covered by the bag was then pushed down under direct laparoscopic vision through colpotomy and pulled out from the vagina. The uterus was morcellated by the vaginal route.
Results
All patients underwent laparoscopic treatment with vaginal uterine morcellation. The mean uterus weight was 290.8 ± 79.7 g with a mean morcellation operative time of 12.1 min. All vaginal morcellations were completed successfully. All patients were without evidence of local or distant recurrence at the median follow-up time of 18 months.
Conclusions
This technique allows the surgeon to morcellate a bulky uterus in cases of endometrial cancer and reduces the chance of neoplastic cell spillage during debulking at TLH. Vaginal morcellation following oncologic rules permits a rapid uterine extraction and may avoid a number of unnecessary laparotomies.
This is a preview of subscription content, log in to check access.
Access options
Buy single article
Instant access to the full article PDF.
US$ 39.95
Price includes VAT for USA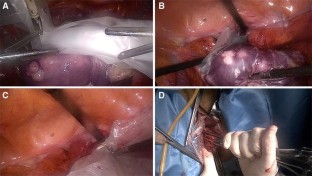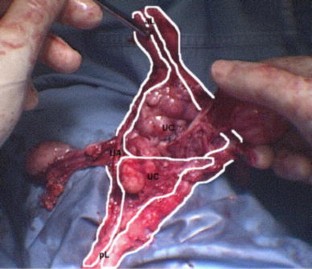 References
1.

Obermair A, Manolitsas TP, Leung Y, Hammond IG, McCartney AJ (2005) Total laparoscopic hysterectomy versus total abdominal hysterectomy for obese women with endometrial cancer. Int J Gynecol Cancer 15:319–324

2.

Walker JL, Piedmonte MR, Spirtos NM, Eisenkop SM, Schlaerth JB, Mannel RS, Spiegel G, Barakat R, Pearl ML, Sharma SK (2009) Laparoscopy compared with laparotomy for comprehensive surgical staging of uterine cancer: Gynecol Oncol Group Study LAP2. J Clin Oncol 27:5331–5336

3.

Favero G, Anton C, Silva e Silva A, Ribeiro A, Pereira Araújo M, Miglino G, Baracat EC, Carvalho JP (2012) Vaginal morcellation: a new strategy for large gynecological malignant tumor extraction. A pilot study. Gynecol Oncol 126:443–447

4.

Condous G, Bignardi T, Alhamdan D, Van Calster B, Van Huffel S, Timmerman D, Lam A (2009) What determines the need to morcellate the uterus during total laparoscopic hysterectomy? J Minim Invasive Gynecol 16:52–55

5.

Serur E, Lakhi N (2011) Laparoscopic hysterectomy with manual morcellation of the uterus: an original technique that permits the safe and quick removal of a large uterus. Am J Obstet Gynecol 204:566

6.

Zhang P, Song K, Li L, Yukuwa K, Kong B (2011) Application of simultaneous morcellation in situ in laparoscopic myomectomy of larger uterine leiomyomas. Med Princ Pract 20:455–458

7.

Wong WS, Lee TC, Lim CE (2010) Novel vaginal "paper roll" uterinemorcellation technique for removal of large (>500 g) uterus. J Minim Invasive Gynecol 17:374–378

8.

Park JY, Kim DY, Kim JH, Kim YM, Kim YT, Nam JH (2011) The impact of tumor morcellation during surgery on the outcomes of patients with apparently early low-grade endometrial stromal sarcoma of the uterus. Ann Surg Oncol 18:3453–3461

9.

Kill LM, Kapetanakis V, McCullough AE, Magrina JF (2011) Progression of pelvic implants to complex atypical endometrial hyperplasia after uterine morcellation. Obstet Gynecol 117:447–449

10.

Della Badia C, Karini H (2010) Endometrial stromal sarcoma diagnosed after uterine morcellation in laparoscopic supracervical hysterectomy. J Minim Invasive Gynecol 17:791–793

11.

Hagemann IS, Hagemann AR, LiVolsi VA, Montone KT, Chu CS (2011) Risk of occult malignancy in morcellated hysterectomy: a case series. Int J Gynecol Pathol 30:476–483

12.

Tinelli R, Malzoni M, Cicinelli E, Fiaccavento A, Zaccoletti R, Barbieri F, Tinelli A, Perone C, Cosentino F (2011) Is early stage endometrial cancer safely treated by laparoscopy? Complications of a multicenter study and review of recent literature. Surg Oncol 20:80–87

13.

Mariani A, Dowdy SC, Keeney GL, Long HJ, Lesnick TG, Podratz KC (2004) High-risk endometrial cancer subgroups: candidates for target-based adjuvant therapy. Gynecol Oncol 95:120–126

14.

Harb TS, Adam RA (2005) Predicting uterine weight before hysterectomy: ultrasound measurements versus clinical assessment. Am J Obstet Gynecol 193:2122–2125

15.

National Comprehensive Cancer Network (2011) Guidelines for uterine neoplasms

16.

Neppe C, Land R, Obermair A (2005) Wrigley forceps to deliver a bulky uterus following a total laparoscopic hysterectomy for endometrial cancer. ANZ J Obstet Gynaecol 45:444–445

17.

Serur E, Lakhi N (2013) Tips and tricks for successful manual morcellation: a response to "vaginal morcellation: a new strategy for large gynaecological malignant tumor extraction". Gynecol Oncol 128:150

18.

Lee M, Kim YT, Kim SW, Kim S, Kim JH, Nam EJ (2013) Effects of uterine manipulation on surgical outcomes in laparoscopic management of endometrial cancer: a prospective randomized clinical trial. Int J Gynecol Cancer 23:372–379

19.

Frimer M, Khoury-Collado F, Murray MP, Barakat RR, Abu-Rustum NR (2010) Micrometastasis of endometrial cancer to sentinel lymph nodes: is it an artifact of uterine manipulation? Gynecol Oncol 119:496–499

20.

Rivard C, Salhadar A, Kenton K (2012) New challenges in detecting, grading, and staging endometrial cancer after uterine morcellation. J Minim Invasive Gynecol 19:313–316

21.

Fiaccavento A, Landi S, Barbieri F, Zaccoletti R, Tricolore C, Ceccaroni M, Pomini P, Bruni F, Soriano D, Stepniewska A, Selvaggi L, Zanolla L, Minelli L (2007) Total laparoscopic hysterectomy in cases of very large uteri: a retrospective comparative study. J Minim Invasive Gynecol 14:559–563

22.

Wattiez A, Soriano D, Fiaccavento A, Canis M, Botchorishvili R, Pouly J, Mage G, Bruhat MA (2002) Total laparoscopic hysterectomy for very enlarged uteri. J Am Assoc Gynecol Laparosc 9:125–130
Disclosures
Drs. Fabio Montella, Francesca Riboni, Stefano Cosma, Davide Dealberti, Stefano Prigione, Carla Pisani, and Enrico Rovetta have no conflicts of interest or financial ties to disclose.
About this article
Cite this article
Montella, F., Riboni, F., Cosma, S. et al. A safe method of vaginal longitudinal morcellation of bulky uterus with endometrial cancer in a bag at laparoscopy. Surg Endosc 28, 1949–1953 (2014). https://doi.org/10.1007/s00464-014-3422-0
Received:

Accepted:

Published:

Issue Date:
Keywords
Endometrial cancer

Hysterectomy

Laparoscopy

Vaginal morcellation