Abstract
Background
Video-assisted thoracic surgery is gradually replacing conventional open thoracotomy as the method of choice for the treatment of early-stage non-small cell lung cancers, and thoracic surgical trainees must learn and master this technique. Simulation-based training could help trainees overcome the first part of the learning curve, but no virtual-reality simulators for thoracoscopy are commercially available. This study aimed to investigate whether training on a laparoscopic simulator enables trainees to perform a thoracoscopic lobectomy.
Methods
Twenty-eight surgical residents were randomized to either virtual-reality training on a nephrectomy module or traditional black-box simulator training. After a retention period they performed a thoracoscopic lobectomy on a porcine model and their performance was scored using a previously validated assessment tool.
Results
The groups did not differ in age or gender. All participants were able to complete the lobectomy. The performance of the black-box group was significantly faster during the test scenario than the virtual-reality group: 26.6 min (SD 6.7 min) versus 32.7 min (SD 7.5 min). No difference existed between the two groups when comparing bleeding and anatomical and non-anatomical errors.
Conclusion
Simulation-based training and targeted instructions enabled the trainees to perform a simulated thoracoscopic lobectomy. Traditional black-box training was more effective than virtual-reality laparoscopy training. Thus, a dedicated simulator for thoracoscopy should be available before establishing systematic virtual-reality training programs for trainees in thoracic surgery.
This is a preview of subscription content, log in to check access.
Access options
Buy single article
Instant access to the full article PDF.
US$ 39.95
Price includes VAT for USA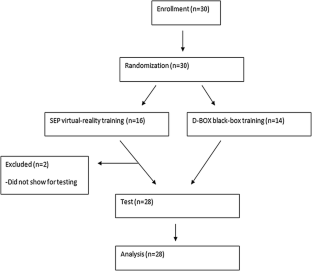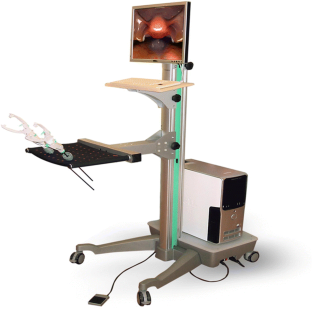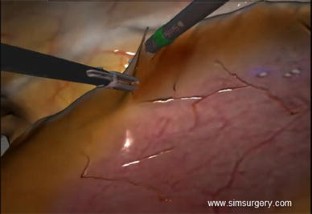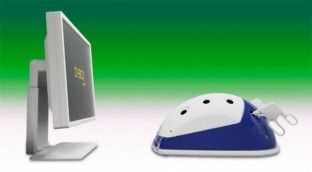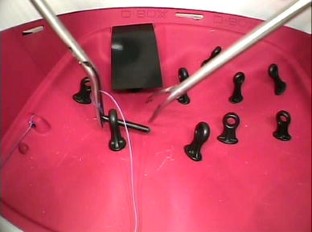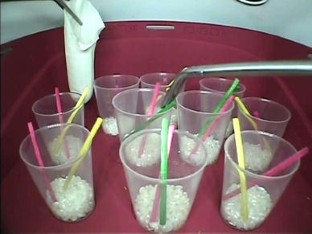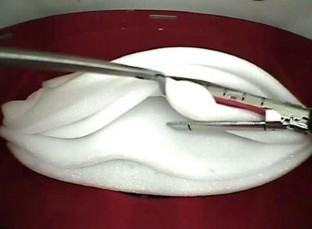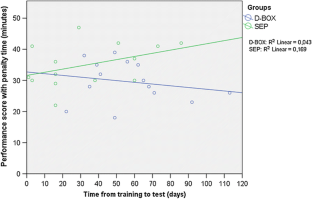 References
1.

Fingerhut A, Millat B, Borrie F (1999) Laparoscopic versus open appendectomy: time to decide. World J Surg 23:835–845

2.

Livingston EH, Rege RV (2004) A nationwide study of conversion from laparoscopic to open cholecystectomy. Am J Surg 188:205–211

3.

Cheng D, Downey RJ, Kernstine K, Stanbridge R, Shennib H, Wolf R et al (2007) Video-assisted thoracic surgery in lung cancer resection: a meta-analysis and systematic review of controlled trials. Innovations 2:261–292

4.

Reznick KR, MacRae H (2006) Teaching surgical skills: changes in the wind. N Engl J Med 355:2664–2669

5.

Aggarwal R, Moorthy K, Darzi A (2004) Laparoscopic skills training and assessment. Br J Surg 91:1549–1558

6.

Van Sickle KR, Ritter EM, Smith CD (2006) The pretrained novice: using simulation-based training to improve learning in the operating room. Surg Innov 13:198–204

7.

Eversbusch A, Grantcharov T (2004) Learning curves and impact of psychomotor training on performance in simulated colonoscopy: a randomized trial using a virtual reality endoscopic trainer. Surg Endosc 18:1514–1518

8.

Gallagher AG, Ritter EM, Champion H, Higgins G, Friend MP, Moses G et al (2005) Virtual reality simulation for the operating room: proficiency-based training as a paradigm shift in surgical skills training. Ann Surg 241:364–372

9.

Cook DA, Hatala R, Brydges R, Zendejas B, Szostek JH, Wang AT et al (2011) Technology-enhanced simulation for health professions education: a systematic review and meta-analysis. JAMA 306:978–988

10.

Burkhart HM, Riley JB, Hendrickson SE, Glenn GF, Lynch JJ, Arnold JJ et al (2010) The successful application of simulation-based training in thoracic surgery residency. J Thorac Cardiovasc Surg 139:707–712

11.

Ringsted C, Hodges B, Scherpbier A (2011) 'The research compass': an introduction to research in medical education. AMEE Guide no. 56. Med Teach 33:695–709

12.

Meyerson SL, LoCascio F, Balderson SS, D'Amico TA (2010) An inexpensive, reproducible tissue simulator for teaching thoracoscopic lobectomy. Ann Thorac Surg 89:594–597

13.

Bjurström JM, Konge L, Lehnert P, Loumann C, Hansen HJ, Petersen RH et al (2013) Simulation-based training for thoracoscopy. Sim Healthc 8(5):317–323

14.

Tong BC, Gustafson MR, Balderson SS, D'Amico TA, Meyerson SL (2012) Validation of a thoracoscopic lobectomy simulator. Eur J Cardiothorac Surg 42:364–369

15.

Botden SM, Torab F, Buzink SN, Jakimowicz JJ (2008) The importance of haptic feedback in laparoscopic suturing training and the additive value of virtual reality simulation. Surg Endosc 22:122–1214

16.

Bonrath EM, Weber BK, Fritz M, Mees ST, Wolters HH, Senninger N et al (2012) Laparoscopic simulation training: testing for skill acquisition and retention. Surgery 152:12–20

17.

Jiang G, Chen H, Wang S, Zhou Q, Li X, Chen K et al (2011) Learning curves and long-term outcome of simulation-based thoracentesis training for medical students. BMC Med Educ 22:11–39

18.

Kahol K, Ashby A, Smith M, Ferrara JJ (2010) Quantitative evaluation of retention of surgical skills learned in simulation. J Surg Educ 67:421–426

19.

Snyder CW, Vandromme MJ, Tyra SL, Hawn MT (2010) Retention of colonoscopy skills after virtual reality simulator training by independent and proctored methods. Am Surg 76:743–746

20.

Verdaasdonk EG, Dankelman J, Lange JF, Stassen LP (2008) Incorporation of proficiency criteria for basic laparoscopic skills training: how does it work? Surg Endosc 22:2609–2615

21.

Wulf G, Shea C, Lewthwaite R (2010) Motor skill learning and performance: a review of influential factors. Med Educ 44:75–84

22.

Shea CH, Wulf G, Whitacre C (1999) Enhancing training efficiency and effectiveness through the use of Dyad training. J Mot Behav 31:119–125

23.

Granados C, Wulf G (2007) Enhancing motor learning through dyad practice: contributions of observation and dialogue. Res Q Exerc Sport 78:197–203

24.

Buzink SN, Goossens RH, De Ridder H, Jakimowicz JJ (2010) Training of basic laparoscopy skills on SimSurgery SEP. Minim Invasive Ther Allied Technol 19:35–41

25.

Stefanidis D, Arora S, Parrack DM, Hamad GG, Capella J, Grantcharov T, Association for Surgical Education Simulation Committee (2012) Research priorities in surgical simulation for the 21st century. Am J Surg. 203:49–53

26.

Konge L, Lehnert P, Hansen HJ, Petersen RH, Ringsted C (2012) Reliable and valid assessment of performance in thoracoscopy. Surg Endosc 26:1624–1628

27.

Debes AJ, Aggarwal R, Balasundaram I, Jacobsen MB (2010) A tale of two trainers: virtual reality versus a video trainer for acquisition of basic laparoscopic skills. Am J Surg 99:840–845

28.

Stefanidis D, Hope WW, Korndorffer JR Jr, Markley S, Scott DJ (2010) Initial laparoscopic basic skills training shortens the learning curve of laparoscopic suturing and is cost-effective. J Am Coll Surg 210:436–440

29.

Strandbygaard J, Bjerrum F, Maagaard M, Winkel P, Larsen CR, Ringsted C et al (2013) Instructor feedback versus no instructor feedback on performance in a laparoscopic virtual reality simulator: a randomized trial. Ann Surg 257:839–844

30.

Bonrath EM, Fritz M, Mees ST, Weber BK, Grantcharov TP, Senninger N et al (2012) Laparoscopic simulation training: does timing impact the quality of skills acquisition? Surg Endosc 27:888–894
Acknowledgments
Covidien supported the study by providing the staplers free of charge for the test-scenario.
Disclosures
Katrine Jensen, Lars Konge and Charlotte Ringsted have no conflicts of interests to report.
Additional information
Henrik Jessen Hansen and René Horsleben Petersen are consultants for Covidien.
About this article
Cite this article
Jensen, K., Ringsted, C., Hansen, H.J. et al. Simulation-based training for thoracoscopic lobectomy: a randomized controlled trial. Surg Endosc 28, 1821–1829 (2014). https://doi.org/10.1007/s00464-013-3392-7
Received:

Accepted:

Published:

Issue Date:
Keywords
Simulation

Thoracoscopy

VATS lobectomy

Virtual-reality

Simulator training