Abstract
Background
Symptomatic gallstone disease is considered an indication for cholecystectomy. A considerable proportion of patients may experience persistent symptoms after surgery. The purpose of the present study was to find out the rate of symptom persistence after elective laparoscopic cholecystectomy (LC) performed for symptomatic uncomplicated gallstone disease and, in particular, to clarify whether the recurrence rate differs according to the severity of preoperative symptoms.
Methods
During a 10-year period (1992–2001), 1,101 patients underwent elective LC at Turku City Hospital for Surgery. A questionnaire concerning the intensity of preoperative symptoms, persistence of symptoms postoperatively, and overall satisfaction with the outcome of the procedure was sent to patients. A total of 677 patients [mean age (range) 59 (21–94) years; 554 (83.1 %) females] with uncomplicated gallstone disease returned the completed form.
Results
Overall, 380 (57 %) patients reported attacks of intense upper abdominal pain, and 287 (43 %) reported episodic mild abdominal symptoms as the prevailing preoperative symptom. Two hundred and forty-eight (37 %) patients continued to have abdominal symptoms after the operation. Among those with predominantly mild abdominal symptoms preoperatively, 119 (41 %) reported the persistence of symptoms after the operation, while in the group with mainly severe upper abdominal pain attacks, 129 (33 %) patients had recurrences (p = 0.052).
Conclusions
According to our data, more than one-third of patients with symptomatic uncomplicated gallstone disease experienced persistent symptoms after elective LC. Patients with mild preoperative symptoms seemed to have more recurrences than those with severe symptoms, although the difference was not statistically significant.
This is a preview of subscription content, log in to check access.
Access options
Buy single article
Instant access to the full article PDF.
US$ 39.95
Price includes VAT for USA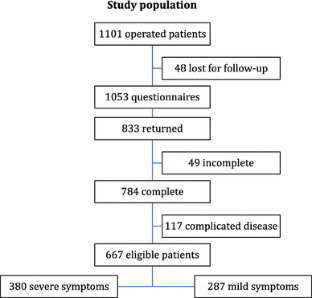 References
1.

Shaffer EA (2006) Gallstone disease: epidemiology of gallbladder stone disease. Best Pract Res Clin Gastroenterol 20(6):981–996

2.

Portincasa P, Moschetta A, Petruzzelli M, Palasciano G, Di Ciaula A, Pezzolla A (2006) Gallstone disease: symptoms and diagnosis of gallbladder stones. Best Pract Res Clin Gastroenterol 20(6):1017–1029

3.

Fenster LF, Lonborg R, Thirlby RC, Traverso LW (1995) What symptoms does cholecystectomy cure? Insights from an outcomes measurement project and review of the literature. Am J Surg 169(5):533–538

4.

Luman W, Adams WH, Nixon SN, Mcintyre IM, Hamer-Hodges D, Wilson G et al (1996) Incidence of persistent symptoms after laparoscopic cholecystectomy: a prospective study. Gut 39(6):863–866

5.

Gui GP, Cheruvu CV, West N, Sivaniah K, Fiennes AG (1998) Is cholecystectomy effective treatment for symptomatic gallstones? Clinical outcome after long-term follow-up. Ann R Coll Surg Engl 80(1):25–32

6.

Berger MY, Olde Hartman TC, Bohnen AM (2003) Abdominal symptoms: do they disappear after cholecystectomy? Surg Endosc 17(11):1723–1728

7.

Lublin M, Crawford DL, Hiatt JR, Phillips EH (2004) Symptoms before and after laparoscopic cholecystectomy for gallstones. Am Surg 70(10):863–866

8.

Behar J, Corazziari E, Guelrud M, Hogan W, Sherman S, Toouli J (2006) Functional gallbladder and sphincter of oddi disorders. Gastroenterology 130(5):1498–1509

9.

Mertens MC, De Vries J, Scholtes VP, Jansen P, Roukema JA (2009) Prospective 6 weeks follow-up post-cholecystectomy: the predictive value of pre-operative symptoms. J Gastrointest Surg 13(2):304–311

10.

Jørgensen T (1989) Abdominal symptoms and gallstone disease: an epidemiological investigation. Hepatology 9(6):856–860

11.

Glambek I, Arnesjø B, Søreide O (1989) Correlation between gallstones and abdominal symptoms in a random population: results from a screening study. Scand J Gastroenterol 24(3):277–281

12.

Mertens MC, Roukema JA, Scholtes VP, De Vries J (2010) Risk assessment in cholelithiasis: is cholecystectomy always to be preferred? J Gastrointest Surg 14(8):1271–1279

13.

Thistle JL, Longstreth GF, Romero Y, Arora AS, Simonson JA, Diehl NN et al (2011) Factors that predict relief from upper abdominal pain after cholecystectomy. Clin Gastroenterol Hepatol 9(10):891–896

14.

Weinert CR, Arnett D, Jacobs D, Kane RL (2000) Relationship between persistence of abdominal symptoms and successful outcome after cholecystectomy. Arch Intern Med 160(7):989–995

15.

Finan KR, Leeth RR, Whitley BM, Klapow JC, Hawn MT (2006) Improvement in gastrointestinal symptoms and quality of life after cholecystectomy. Am J Surg 192(2):196–202
About this article
Cite this article
Lill, S., Rantala, A., Karvonen, J. et al. Elective laparoscopic cholecystectomy for symptomatic uncomplicated gallstone disease: do the symptoms disappear?. Surg Endosc 28, 1816–1820 (2014). https://doi.org/10.1007/s00464-013-3391-8
Received:

Accepted:

Published:

Issue Date:
Keywords
Gallstones

Laparoscopic cholecystectomy

Pain

Persistent symptoms