Abstract
Background
Anastomotic leakage of esophagogastric and esophagojejunal anastomoses is a severe complication after esophagectomy and gastrectomy associated with a high mortality. We conducted this non-randomized observational study to evaluate the outcomes and clinical effectiveness of covered self-expanding stents (CSESs) in treating esophageal anastomotic leakage.
Methods
From 2002 to 2013, consecutive patients with anastomotic leakage after esophagogastrostomy or esophagojejunostomy who received CSESs were analyzed concerning leakage characteristics, leakage sealing rate, success and failure rates of CSES treatment, stent-related complications, and mortality.
Results
In 35 patients, anastomotic leakage originating from 5 cervical esophagogastrostomies, 6 thoracic esophagogastrostomies, 12 mediastinal esophagojejunostomies and 12 abdominal esophagojejunostomies were treated with 48 CSESs (16 fully CSES, 32 partially CSES). Of 35 patients, 24 received one stent, 9 received two consecutive stents, and 2 received three consecutive stents. Stent-related complications occurred in 71 % of patients (25/35). The most frequent complications were leakage persistence (44 %) and stent dislocation (19 %). Sealing of the anastomotic leakage was achieved in 24 (69 %) patients after a median (range) stenting time of 19 (1–78) days. Sealing rates differed significantly with 20 % (cervical esophagogastrostomies), 50 % (thoracic esophagogastrostomies), 92 % (mediastinal esophagojejunostomies) and 67 % (abdominal esophagojejunostomies) of patients (p = 0.023). Moreover, clinical success rates differed among these groups (60 vs. 67 vs. 92 vs. 58 %; p = 0.247). Clinical failure of stent treatment was more likely to be recognized in early postoperative leakage (median postoperative day 3 vs. 8; p = 0.098) compared with successful treatment, whereas no difference for clinical success rates was found comparing leakage ≤10 versus >10 mm (68 vs. 64 %; p = 0.479).
Conclusion
CSESs are an effective treatment for anastomotic leakage in patients with esophagogastrostomies and esophagojejunostomies. Best results can be achieved in patients with anastomotic leakages following mediastinal esophagojejunostomy, and in leakages occurring after the very early postoperative phase.
This is a preview of subscription content, log in to check access.
Access options
Buy single article
Instant access to the full article PDF.
US$ 39.95
Price includes VAT for USA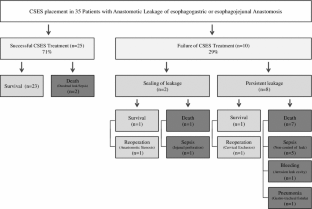 References
1.

Migita K, Takayama T, Matsumoto S, Wakatsuki K, Enomoto K, Tanaka T et al (2012) Risk factors for esophagojejunal anastomotic leakage after elective gastrectomy for gastric cancer. J Gastrointest Surg 16(9):1659–1665

2.

Lang H, Piso P, Stukenborg C, Raab R, Jahne J (2000) Management and results of proximal anastomotic leaks in a series of 1,114 total gastrectomies for gastric carcinoma. Eur J Surg Oncol 26(2):168–171

3.

Turkyilmaz A, Eroglu A, Aydin Y, Tekinbas C, Muharrem Erol M, Karaoglanoglu N (2009) The management of esophagogastric anastomotic leak after esophagectomy for esophageal carcinoma. Dis Esophagus 22(2):119–126

4.

Cafarotti S, Cesario A, Porziella V, Leuzzi G, Vita ML, Meacci E et al (2013) Post esophagectomy anastomotic leaks: the role of the anastomotic location. Ann Ital Chir 84:137–141

5.

Lee S, Ahn JY, Jung HY, Lee JH, Choi KS, Kim DH et al (2013) Clinical outcomes of endoscopic and surgical management for postoperative upper gastrointestinal leakage. Surg Endosc 27(11):4232–4240

6.

Rodella L, Laterza E, De Manzoni G et al (1998) Endoscopic clipping of anastomotic leakages in esophagogastric surgery. Endoscopy 30(5):453–456

7.

Loske G, Schorsch T, Müller C (2011) Intraluminal and intracavitary vacuum therapy for esophageal leakage: a new endoscopic minimally invasive approach. Endoscopy 43(6):540–544

8.

Infante M, Valente M, Andreani S, Catanese C, Dal Fante M, Pizzetti P et al (1996) Conservative management of esophageal leaks by transluminal endoscopic drainage of the mediastinum or pleural space. Surgery 119(1):46–50

9.

Böhm G, Mossdorf A, Klink C, Klinge U, Jansen M, Schumpelick V et al (2010) Treatment algorithm for postoperative upper gastrointestinal fistulas and leaks using combined vicryl plug and fibrin glue. Endoscopy 42(7):599–602

10.

Schweigert M, Solymosi N, Dubecz A, Stadlhuber RJ, Muschweck H, Ofner D et al (2013) Endoscopic stent insertion for anastomotic leakage following oesophagectomy. Ann R Coll Surg Engl 95(1):43–47

11.

van Boeckel PG, Dua KS, Weusten BL, Schmits RJ, Surapaneni N, Timmer R et al (2012) Fully covered self-expandable metal stents (SEMS), partially covered SEMS and self-expandable plastic stents for the treatment of benign esophageal ruptures and anastomotic leaks. BMC Gastroenterol 12:19

12.

Freeman RK, Ascioti AJ, Giannini T, Mahidhara RJ (2012) Analysis of unsuccessful esophageal stent placements for esophageal perforation, fistula, or anastomotic leak. Ann Thorac Surg 94(3):959–964

13.

Swinnen J, Eisendrath P, Rigaux J, Kahegeshe L, Lemmers A, Le Moine O et al (2011) Self-expandable metal stents for the treatment of benign upper GI leaks and perforations. Gastrointest Endosc 73(5):890–899

14.

Fischer A, Bausch D, Richter-Schrag HJ (2013) Use of a specially designed partially covered self-expandable metal stent (PSEMS) with a 40-mm diameter for the treatment of upper gastrointestinal suture or staple line leaks in 11 cases. Surg Endosc 27(2):642–647

15.

McKeown KC (1976) Total three-stage oesophagectomy for cancer of the oesophagus. Br J Surg 63(4):259–262

16.

Orringer MB, Sloan H (1978) Esophagectomy without thoracotomy. J Thorac Cardiovasc Surg 76(5):643–654

17.

Lewis I (1946) The surgical treatment of carcinoma of the oesophagus with special reference to a new operation for growths of the middle third. Br J Surg 34:18–31

18.

Siersema PD, Homs MY, Haringsma J, Tilanus HW, Kuipers EJ (2003) Use of large-diameter metallic stents to seal traumatic nonmalignant perforations of the esophagus. Gastrointest Endosc 58:356–361

19.

Tuebergen D, Rijcken E, Mennigen R, Hopkins AM, Senninger N, Bruewer M (2008) Treatment of thoracic esophageal anastomotic leaks and esophageal perforations with endoluminal stents: efficacy and current limitations. J Gastrointest Surg 12(7):1168–1176

20.

Roy-Choudhury SH, Nicholson AA, Wedgwood KR, Mannion RA, Sedman PC, Royston CM et al (2001) Symptomatic malignant gastroesophageal anastomotic leak: management with covered metallic esophageal stents. AJR Am J Roentgenol 176(1):161–165

21.

D'Cunha J, Rueth NM, Groth SS, Maddaus MA, Andrade RS (2011) Esophageal stents for anastomotic leaks and perforations. J Thorac Cardiovasc Surg 142(1):39.e1–46.e1

22.

Langer FB, Wenzl E, Prager G, Salat A, Miholic J, Mang T et al (2005) Management of postoperative esophageal leaks with the polyflex self-expanding covered plastic stent. Ann Thorac Surg 79:398–403

23.

Gelbmann CM, Ratiu NL, Rath HC, Rogler G, Lock G, Schölmerich J et al (2004) Use of self-expandable plastic stents for the treatment of esophageal perforations and symptomatic anastomotic leaks. Endoscopy 36:695–699

24.

Doniec JM, Schniewind B, Kahlke V, Kremer B, Grimm H (2003) Therapy of anastomotic leaks by means of covered self-expanding metallic stents after esophagogastrectomy. Endoscopy 35:652–658

25.

Schubert D, Scheidbach H, Kuhn R, Wex C, Weiss G, Eder F et al (2005) Endoscopic treatment of thoracic esophageal anastomotic leaks by using silicone-covered, self-expanding polyester stents. Gastrointest Endosc 61(7):891–896

26.

Dai Y, Chopra SS, Kneif S, Hünerbein M (2011) Management of esophageal anastomotic leaks, perforations, and fistulae with self-expanding plastic stents. J Thorac Cardiovasc Surg 141(5):1213–1217

27.

Pallotta N, Baccini F, Corazziari E (1999) Contrast ultrasonography of the normal small bowel. Ultrasound Med Biol 25(9):1335–1340

28.

Lee J, Huprich J, Kujath C, Ravi K, Enders F, Smyrk TC et al (2012) Esophageal diameter is decreased in some patients with eosinophilic esophagitis and might increase with topical corticosteroid therapy. Clin Gastroenterol Hepatol 10(5):481–486

29.

Knoop H, Knoop U, Martini HC, Heining L, Wolf R, Ewig S et al (2012) Tracheal perforation by an oesophageal stent. Pneumologie 66(10):607–609

30.

Crestanello JA, Deschamps C, Cassivi SD, Nichols FC, Allen MS, Schleck C et al (2005) Selective management of intrathoracic anastomotic leak after esophagectomy. J Thorac Cardiovasc Surg 129(2):254–260

31.

Schniewind B, Schafmayer C, Voehrs G, Egberts J, von Schoenfels W, Rose T et al (2013) Endoscopic endoluminal vacuum therapy is superior to other regimens in managing anastomotic leakage after esophagectomy: a comparative retrospective study. Surg Endosc 27(10):3883–3890

32.

Weidenhagen R, Hartl WH, Gruetzner KU, Eichhorn ME, Spelsberg F, Jauch KW (2010) Anastomotic leakage after esophageal resection: new treatment options by endoluminal vacuum therapy. Ann Thorac Surg 90(5):1674–1681
Disclosures
Jens Hoeppner, Birte Kulemann, Garbriel Seifert, Goran Marjanovic, Andreas Fischer, Ulrich Theodor Hopt, and Hans-Jürgen Richter-Schrag have no conflicts of interest or financial ties to disclose.
About this article
Cite this article
Hoeppner, J., Kulemann, B., Seifert, G. et al. Covered self-expanding stent treatment for anastomotic leakage: outcomes in esophagogastric and esophagojejunal anastomoses. Surg Endosc 28, 1703–1711 (2014). https://doi.org/10.1007/s00464-013-3379-4
Received:

Accepted:

Published:

Issue Date:
Keywords
Anastomotic leakage

Esophageal stent

Esophagectomy

Gastrectomy