Abstract
Background
Despite improvements in surgical techniques and postoperative care, morbidity associated with pancreatoduodenectomy (PD) is still high. Grade B pancreatic fistula (PF) requires a specific combination of radiologically guided external drainage and medical support. This treatment is effective but requires prolonged hospitalization and maintenance of external drainage. The objective of this study was to evaluate the feasibility and efficacy of a double-pigtail stent (DPS) to treat grade B PF after PD with pancreatogastric anastomosis.
Methods
Between January 2008 and October 2011, all patients who presented grade B PF after PD (n = 6) were included in the study. The PF was diagnosed according to the criteria of the International Study Group on Pancreatic Fistula. Endoscopic treatment was standardized with a DPS. The primary efficacy end point was the feasibility and efficacy of DPS placement. Secondary end points included data on the PF, the DPS placement procedure, and long-term outcome.
Results
Endoscopic DPS placement was achieved in all patients with no complications. The median time to onset of PF after PD was 14 days. Closure of the external PF was obtained 7 days after the introduction of the DPS. The median time to external drain removal was 7 days after DPS placement, and the median time to oral refeeding was 7 days after DPS placement for all patients. The median time to DPS removal was 60 days. The median length of hospital stay after DPS placement was 10 days. During a median follow-up period of 21 months, there was no recurrence of PF after removal of the DPS.
Conclusion
Endoscopic treatment of grade B PF after PD appears to be effective and safe and is associated with shorter hospitalization.
This is a preview of subscription content, log in to check access.
Access options
Buy single article
Instant access to the full article PDF.
US$ 39.95
Price includes VAT for USA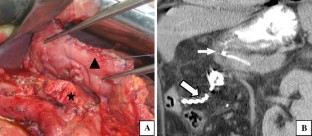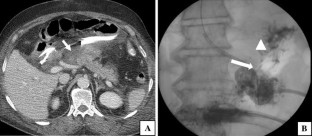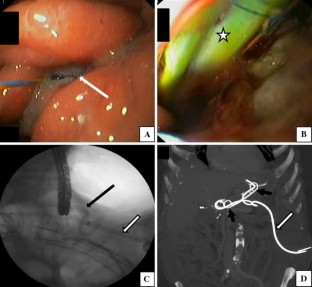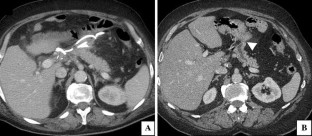 Abbreviations
PD:

Pancreatoduodenectomy

PF:

Pancreatic fistula

DPS:

Double-pigtail stent

LOS:

Length of hospital stay

CR-POPF:

Clinically relevant postoperative pancreatic fistula
References
1.

Delpero JR, Paye F, Bachellier Ph, Boher JM (2010) Cancer du Pancréas. Monographies de l'Association Française de Chirurgie. Rapport présenté au 112e Congrès français de chirurgie. Paris, 6–8 October 2010. Paris: Wolters Kluwer

2.

Pessaux P, Sauvanet A, Mariette C, Paye F, Muscari F, Cunha AS, Sastre B, Arnaud JP, Fédération Recherche de en Chirurgie (2011) External pancreatic duct stent decreases pancreatic fistula rate after pancreaticoduodenectomy: prospective multicenter randomized trial. Ann Surg 253:879–885

3.

Montorsi M, Zerbi A, Bassi C, Capussotti L, Coppola R, Sacchi M, Group Italian Tachosil Study (2012) Efficacy of an absorbable fibrin sealant patch (TachoSil) after distal pancreatectomy: a multicenter, randomized, controlled trial. Ann Surg 256:853–859; discussion 859–860

4.

Tranchart H, Gaujoux S, Rebours V, Vullierme MP, Dokmak S, Levy P, Couvelard A, Belghiti J, Sauvanet A (2012) Preoperative CT scan helps to predict the occurrence of severe pancreatic fistula after pancreaticoduodenectomy. Ann Surg 256:139–145

5.

Gebauer F, Kloth K, Tachezy M, Vashist YK, Cataldegirmen G, Izbicki JR, Bockhorn M (2012) Options and limitations in applying the fistula classification by the International Study Group for Pancreatic Fistula. Ann Surg 256:130–138

6.

Fuks D, Piessen G, Huet E, Tavernier M, Zerbib P, Michot F, Scotte M, Triboulet JP, Mariette C, Chiche L, Salame E, Segol P, Pruvot FR, Mauvais F, Roman H, Verhaeghe P, Regimbeau JM (2009) Life-threatening postoperative pancreatic fistula (grade C) after pancreaticoduodenectomy: incidence, prognosis, and risk factors. Am J Surg 197:702–709

7.

Callery MP, Pratt WB, Kent TS, Chaikof EL, Vollmer CM Jr (2013) A prospectively validated clinical risk score accurately predicts pancreatic fistula after pancreatoduodenectomy. J Am Coll Surg 216:1–14

8.

Makni A, Bedioui H, Jouini M, Chebbi F, Ksantini R, Fetirich F, Rebai W, Daghfous A, Ayedi S, Kacem M, Safta ZB (2011) Pancreaticojejunostomy vs. pancreaticogastrostomy following pancreaticoduodenectomy: results of comparative study. Minerva Chir 66:295–302

9.

Gurusamy KS, Koti R, Fusai G, Davidson BR (2012) Somatostatin analogues for pancreatic surgery. Cochrane Database Syst Rev 6:CD008370

10.

Gans SL, van Westreenen HL, Kiewiet JJ, Rauws EA, Gouma DJ, Boermeester MA (2012) Systematic review and meta-analysis of somatostatin analogues for the treatment of pancreatic fistula. Br J Surg 99:754–760

11.

Zhou Y, Yang C, Wang S, Chen J, Li B (2011) Does external pancreatic duct stent decrease pancreatic fistula rate after pancreatic resection? A meta-analysis. Pancreatology 11:362–370

12.

Bassi C, Molinari E, Malleo G, Crippa S, Butturini G, Salvia R, Talamini G, Pederzoli P (2010) Early versus late drain removal after standard pancreatic resections: results of a prospective randomized trial. Ann Surg 252:207–214

13.

Facy O, Chalumeau C, Poussier M, Binquet C, Rat P, Ortega-Deballon P (2012) Diagnosis of postoperative pancreatic fistula. Br J Surg 99:1072–1075

14.

Kawai M, Kondo S, Yamaue H, Wada K, Sano K, Motoi F, Unno M, Satoi S, Kwon AH, Hatori T, Yamamoto M, Matsumoto J, Murakami Y, Doi R, Ito M, Miyakawa S, Shinchi H, Natsugoe S, Nakagawara H, Ohta T, Takada T (2011) Predictive risk factors for clinically relevant pancreatic fistula analyzed in 1, 239 patients with pancreaticoduodenectomy: multicenter data collection as a project study of pancreatic surgery by the Japanese Society of Hepato-Biliary-Pancreatic Surgery. J Hepatobiliary Pancreat Sci 18:601–608

15.

Haddad LB, Scatton O, Randone B, Andraus W, Massault PP, Dousset B, Soubrane O (2009) Pancreatic fistula after pancreaticoduodenectomy: the conservative treatment of choice. HPB (Oxford) 11:203–209

16.

Le Moine O, Matos C, Closset J, Devière J (2004) Endoscopic management of pancreatic fistula after pancreatic and other abdominal surgery. Best Pract Res Clin Gastroenterol 18:957–975

17.

Bartoli E, Delcenserie R, Yzet T, Brazier F, Geslin G, Regimbeau JM, Dupas JL (2005) Endoscopic treatment of chronic pancreatitis. Gastroenterol Clin Biol 29:515–521

18.

Pequignot A, Fuks D, Verhaeghe P, Dhahri A, Brehant O, Bartoli E, Delcenserie R, Yzet T, Regimbeau JM (2012) Is there a place for pigtail drains in the management of gastric leaks after laparoscopic sleeve gastrectomy? Obes Surg 22:712–720

19.

Bassi C, Dervinis C, Butturini G, Fingerhut A, Yeo C, Izbicki J, Neoptolemos J, Sarr M, Traverso W, Buchler M (2005) Postoperative pancreatic fistula: an international study group (ISGPF) definition. Surgery 138:8–13

20.

Huguier M, Mason NP (1999) Treatment of cancer of the exocrine pancreas. Am J Surg 177:257–265

21.

Melis M, Marcon F, Masi A, Pinna A, Sarpel U, Miller G, Moore H, Cohen S, Berman R, Pachter HL, Newman E (2012) The safety of a pancreaticoduodenectomy in patients older than 80 years: risk vs. benefits. HPB (Oxford) 14:583–588

22.

Fuks D, Sabbagh C, Yzet T, Delcenserie R, Chatelain D, Regimbeau JM (2012) Cirrhosis should not be considered as an absolute contraindication for pancreatoduodenectomy. Hepatogastroenterology 59:881–883

23.

Duffas JP, Suc B, Msika S, Fourtanier G, Muscari F, Hay JM, Fingerhut A, Millat B, Radovanowic A, Fagniez PL, French Associations for Research in Surgery (2005) A controlled randomized multicenter trial of pancreatogastrostomy or pancreatojejunostomy after pancreatoduodenectomy. Am J Surg 189:720–729

24.

Lin JW, Cameron JL, Yeo CJ, Riall TS, Lillemoe KD (2004) Risk factors and outcomes in postpancreaticoduodenectomy pancreaticocutaneous fistula. J Gastrointest Surg 8:951–959

25.

Poon RT, Lo SH, Fong D, Fan ST, Wong J (2002) Prevention of pancreatic anastomotic leakage after pancreaticoduodenectomy. Am J Surg 183:42–52

26.

Gayral F, Campion JP, Regimbeau JM, Blumberg J, Maisonobe P, Topart P, Wind P, Lanreotide Digestive Fistula (2009) Randomized, placebo-controlled, double-blind study of the efficacy of lanreotide 30 mg PR in the treatment of pancreatic and enterocutaneous fistulae. Ann Surg 250:872–877

27.

Motoi F, Egawa S, Rikiyama T, Katayose Y, Unno M (2012) Randomized clinical trial of external stent drainage of the pancreatic duct to reduce postoperative pancreatic fistula after pancreaticojejunostomy. Br J Surg 99:524–531

28.

Frozanpor F, Loizou L, Ansorge C, Segersvärd R, Lundell L, Albiin N (2012) Preoperative pancreas CT/MRI characteristics predict fistula rate after pancreaticoduodenectomy. World J Surg 36:1858–1865

29.

Munoz-Bongrand N, Sauvanet A, Denys A, Sibert A, Vilgrain V, Belghiti J (2004) Conservative management of pancreatic fistula after pancreaticoduodenectomy with pancreaticogastrostomy. J Am Coll Surg 199:198–203

30.

Yekebas EF, Wolfram L, Cataldegirmen G, Habermann CR, Bogoevski D, Koenig AM, Kaifi J, Schurr PG, Bubenheim M, Nolte-Ernsting C, Adam G, Izbicki JR (2007) Postpancreatectomy hemorrhage: diagnosis and treatment: an analysis in 1669 consecutive pancreatic resections. Ann Surg 246:269–280

31.

Sanjay P, Kellner M, Tait IS (2012) The role of interventional radiology in the management of surgical complications after pancreatoduodenectomy. HPB (Oxford) 14:812–817

32.

Rebibo L, Fuks D, Blot C, Robert B, Boulet PO, Dhahri A, Verhaeghe P, Regimbeau JM (2013) Gastrointestinal bleeding complication of gastric fistula after sleeve gastrectomy: consider pseudoaneurysms. Surg Endosc 27(8):2849–2855

33.

Zink SI, Soloff EV, White RR, Clary BM, Tyler DS, Pappas TN, Paulson EK (2009) Pancreaticoduodenectomy: frequency and outcome of post-operative imaging-guided percutaneous drainage. Abdom Imaging 34:767–771
Disclosures
Eric Bartoli, Lionel Rebibo, Brice Robert, Mathurin Fumery, Richard Delcenserie, and Jean-Marc Regimbeau have no conflicts of interest or financial ties to disclose.
About this article
Cite this article
Bartoli, E., Rebibo, L., Robert, B. et al. Efficacy of the double-pigtail stent as a conservative treatment for grade B pancreatic fistula after pancreatoduodenectomy with pancreatogastric anastomosis. Surg Endosc 28, 1528–1534 (2014). https://doi.org/10.1007/s00464-013-3347-z
Received:

Accepted:

Published:

Issue Date:
Keywords
Pancreatoduodenectomy

Pancreatic fistula

Endoscopically guided drainage

Double-pigtail stent

Pancreatogastric anastomosis