Abstract
Background
Incisional hernias in old stoma wounds occur in one-third of former stoma patients and pose a significant clinical problem. Parastomal hernias can be prevented by prophylactic mesh placement; however, no trial results are available for incisional hernia prevention after stoma reversal. In this feasibility study, we explore the safety of placing an intraperitoneal mesh to prevent incisional herniation after temporary stoma reversal.
Methods
Ten patients who underwent a low anterior resection with a deviating double-loop stoma for rectal cancer received an intraperitoneal parastomal mesh at the time of stoma formation. At stoma reversal, laparoscopy was performed and adhesions were scored. After reversal, the mesh defect was closed. Mesh and stoma complications were closely monitored. Incisional herniation was assessed at the 2-year follow-up after stoma reversal using ultrasonography.
Results
No infections occurred after mesh placement. After a median of 6 months, stomas were reversed. Laparoscopy could be performed in seven patients; all patients had adhesions (median of 25 % of mesh surface). In three patients, the bowel was involved; one required a laparotomy for bowel mobilization during stoma reversal. No adhesion-related morbidity was noted at any time. Except for one superficial wound infection after stoma reversal, no infectious complications were observed. After a median follow-up of 26 months, no incisional herniations were demonstrated.
Conclusions
Prophylactic mesh placement in temporary stoma formations seems safe and feasible and prevents incisional herniation 2 years after stoma reversal.
This is a preview of subscription content, log in to check access.
Access options
Buy single article
Instant access to the full article PDF.
US$ 39.95
Price includes VAT for USA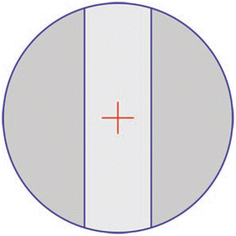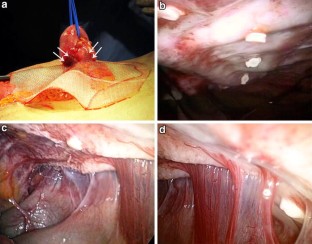 References
1.

Tan WS, Tang CL, Shi L, Eu KW (2009) Meta-analysis of defunctioning stomas in low anterior resection for rectal cancer. Br J Surg 96:462–472

2.

Pilgrim CHC, McIntyre R, Bailey M (2010) Prospective audit of parastomal hernia: prevalence and associated comorbidities. Dis Colon Rectum 53:71–76

3.

Kald A, Juul KN, Hjortsvang H, Sjödahl RI (2008) Quality of life is impaired in patients with peristomal bulging of a sigmoid colostomy. Scand J Gastroenterol 43:627–633

4.

Bhangu A, Nepogodiev D, Futaba K, West Midlands Research Collaborative (2012) Systematic review and meta-analysis of the incidence of incisional hernia at the site of stoma closure. World J Surg 36:973–983

5.

Schreinemacher MH, Vijgen GH, Dagnelie PC et al (2011) Incisional hernias in temporary stoma wounds: a cohort study. Arch Surg 146:94–99

6.

Shabbir J, Chaudhary BN, Dawson R (2012) A systematic review on the use of prophylactic mesh during primary stoma formation to prevent parastomal hernia formation. Colorectal Dis 14:931–936

7.

Hammond TM, Chin-Aleong J, Navsaria H, Williams NS (2008) Human in vivo cellular response to a cross-linked acellular collagen implant. Br J Surg 95:438–446

8.

Vijayasekar C, Marimuthu K, Jadhav V, Mathew G (2008) Parastomal hernia: is prevention better than cure? Use of preperitoneal polypropylene mesh at the time of stoma formation. Tech Coloproctol 12:309–313

9.

Hansson BM, Slater NJ, van der Velden AS et al (2012) Surgical techniques for parastomal hernia repair: a systematic review of the literature. Ann Surg 255:685–695

10.

Gögenur I, Mortensen J, Harvald T et al (2006) Prevention of parastomal hernia by placement of a polypropylene mesh at the primary operation. Dis Colon Rectum 49:1131–1135

11.

Berger D (2007) Prevention of parastomal hernias by prophylactic use of a specially designed intraperitoneal onlay mesh (Dynamesh IPST®). Hernia 12:243–246

12.

López-Cano M, Lozoya-Trujillo R, Quiroga S et al (2012) Use of a prosthetic mesh to prevent parastomal hernia during laparoscopic abdominoperineal resection: a randomized controlled trial. Hernia 16:661–667

13.

Kurmann A, Barnetta C, Candinas D, Beldi G (2013) Implantation of prophylactic nonabsorbable intraperitoneal mesh in patients with peritonitis is safe and feasible. World J Surg 37:1656–1660

14.

Choi JJ, Palaniappa NC, Dallas KB et al (2012) Use of mesh during ventral hernia repair in clean-contaminated and contaminated cases: outcomes of 33,832 cases. Ann Surg 255:176–180

15.

Engelsman AF, van der Mei HC, Ploeg RJ, Busscher HJ (2007) The phenomenon of infection with abdominal wall reconstruction. Biomaterials 28:2314–2327

16.

Shankaran V, Weber DJ, Reed RL, Luchette FA (2011) A review of available prosthetics for ventral hernia repair. Ann Surg 253:16–26

17.

Ventral Hernia Working Group, Breuing K, Butler CE et al (2010) Incisional ventral hernias: review of the literature and recommendations regarding the grading and technique of repair. Surgery 148:544–558

18.

Montgomery A (2013) The battle between biological and synthetic meshes in ventral hernia repair. Hernia 17:3–11

19.

Primus FE, Harris HW (2013) A critical review of biologic mesh use in ventral hernia repairs under contaminated conditions. Hernia 17:21–30

20.

Engelsman AF, van Dam GM, van der Mei HC et al (2010) In vivo evaluation of bacterial infection involving morphologically different surgical meshes. Ann Surg 251:133–137

21.

Engelsman AF, van der Mei HC, Busscher HJ, Ploeg RJ (2008) Morphological aspects of surgical meshes as a risk factor for bacterial colonization. Br J Surg 95:1051–1059

22.

Deerenberg EB, Mulder IM, Grotenhuis N et al (2012) Experimental study on synthetic and biological mesh implantation in a contaminated environment. Br J Surg 99:1734–1741

23.

Ditzel M, Deerenberg EB, Grotenhuis N et al (2013) Biologic meshes are not superior to synthetic meshes in ventral hernia repair: an experimental study with long-term follow-up evaluation. Surg Endosc 27(10):3654–3662

24.

Schreinemacher MH, Emans PJ, Gijbels MJ et al (2009) Degradation of mesh coatings and intraperitoneal adhesion formation in an experimental model. Br J Surg 96:305–313

25.

Deeken CR, Faucher KM, Matthews BD (2012) A review of the composition, characteristics, and effectiveness of barrier mesh prostheses utilized for laparoscopic ventral hernia repair. Surg Endosc 26:566–575

26.

Chelala E, Debardemaeker Y, Elias B et al (2010) Eighty-five redo surgeries after 733 laparoscopic treatments for ventral and incisional hernia: adhesion and recurrence analysis. Hernia 14:123–129

27.

Tjandra JJ, Chan MK (2008) A sprayable hydrogel adhesion barrier facilitates closure of defunctioning loop ileostomy: a randomized trial. Dis Colon Rectum 51:956–960

28.

Janson AR, Jänes A, Israelsson LA (2010) Laparoscopic stoma formation with a prophylactic prosthetic mesh. Hernia 14:495–498

29.

Franz MG (2008) The biology of hernia formation. Surg Clin North Am 88:1–15 vii

30.

Höer J, Lawong G, Klinge U, Schumpelick V (2002) Factors influencing the development of incisional hernia. A retrospective study of 2,983 laparotomy patients over a period of 10 years. Chirurg 73:474–480

31.

Bloemen A, van Dooren P, Huizinga BF, Hoofwijk AGM (2011) Randomized clinical trial comparing polypropylene or polydioxanone for midline abdominal wall closure. Br J Surg 98:633–639
Disclosures
Drs. Van Barneveld, Vogels, Beets, Breukink, Greve, Bouvy, and Schreinemacher have no conflicts of interest or financial ties to disclose.
About this article
Cite this article
van Barneveld, K.W.Y., Vogels, R.R.M., Beets, G.L. et al. Prophylactic intraperitoneal mesh placement to prevent incisional hernia after stoma reversal: a feasibility study. Surg Endosc 28, 1522–1527 (2014). https://doi.org/10.1007/s00464-013-3346-0
Received:

Accepted:

Published:

Issue Date:
Keywords
Parastomal hernia

Incisional hernia

Prosthetic mesh

Prophylactic stoma prevention