Abstract
Background
Despite the importance of efficient grasping during laparoscopic surgery, the published literature on jaw features, e.g., fenestrations and surface profiling on grasping efficiency defined as resistance to slip without inflicting trauma, is limited.
Methods
Various surface geometries of the jaws were tested with respect to (i) inclusion of fenestrations; (ii) surface contact to fenestration area ratio, and (iii) surface profiling of the jaws. Various loads were applied to the tissue which was subsequently pulled at a constant rate until free from the jaws. The maximal force necessary to pull the tissue free was recorded. The jaws were designed for use in parallel-occlusion graspers to avoid the well documented high pinch forces encountered with pivoted occlusion.
Results
At all applied forces the force needed to pull tissue from any fenestration design was significantly higher than the force necessary to pull tissue from non-fenestrated jaws (p < 0.05) with no significant differences between the three fenestration designs. The ratio of surface contact to fenestration area must exceed 1:0.4 to achieve a significant increase in the tissue retention. All the profiles studied were made using a single fenestration and with a surface contact to fenestration area ratio of 1:0.8. All such profile designs studied performed significantly better than the control (p < 0.005). The ratio of the mean retraction to applied force across all load conditions tested were 1.23:1.0 and 1.7:1.0 for the waved and toothed profile respectively, with standard deviations for the corresponding retraction force of ±0.45 and ±0.38 respectively.
Conclusions
The retention efficiency of laparoscopic graspers is improved by fenestration which must, however, exceed a certain ratio (>1.0:0.4). Likewise surface profiling of the jaws enhances retention efficiency and its design (tooth, waved, mixed) directly influences the amount of pressure needed to retain tissue.
This is a preview of subscription content, log in to check access.
Access options
Buy single article
Instant access to the full article PDF.
US$ 39.95
Price includes VAT for USA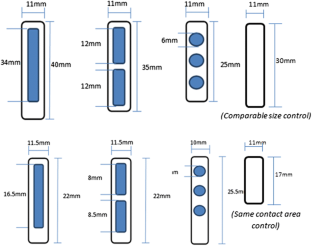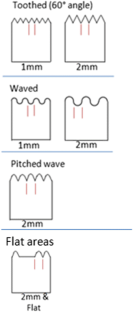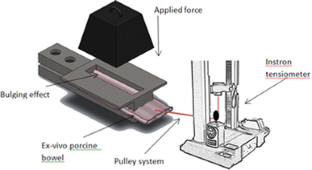 References
1.

Shakeshaft AJ et al (2001) A curved edge moderates high pressure generated by a laparoscopic grasper. Surg Endosc 15(10):1232–1234

2.

Cartmill JA et al (1999) High pressures are generated at the tip of laparoscopic graspers. Aust N Z J Surg 69(2):127–130

3.

Heijnsdijk EAM, Dankelman J, Gouma DJ (2002) Effectiveness of grasping and duration of clamping using laparoscopic graspers. Surg Endosc 16(9):1329–1331

4.

van der Voort M, Heijnsdijk EAM, Gouma DJ (2004) Bowel injury as a complication of laparoscopy. Br J Surg 91(10):1253–1258

5.

Visser H et al (2002) Forces and displacements in colon surgery. Surg Endosc 16(10):1430–14263

6.

Heijnsdijk EAM et al (2005) Fenestrations in the jaws of laparoscopic graspers. Minim Invasive Ther Allied Technol 14(1):45–48

7.

Marucci DD et al (2000) Patterns of failure at the instrument–tissue interface. J Surg Res 93(1):16–20

8.

Heijnsdijk EAM et al (2004) Slip and damage properties of jaws of laparoscopic graspers. Surg Endosc 18(6):974–979

9.

Frank TG, Cuschieri A (1997) Prehensile atraumatic grasper with intuitive ergonomics. Surg Endosc 11(10):1036–1039

10.

Heijnsdijk EAM et al (2003) Inter- and intraindividual variabilities of perforation forces of human and pig bowel tissue. Surg Endosc 17(12):1923–1926

11.

Brown A et al (2012) PVDF to detect and autonomously prevent slip during retraction in laparoscopic surgery. Society for American Gastrointestinal and Endoscopic Surgeons, San Diego, CA, 3–7 March 2012
Acknowledgments
The authors gratefully acknowledge the grant support from the Engineering and Physics Research Council of the UK, under Grant EP/HO 10033/1.
Disclosures
Andrew W. Brown, Stuart I. Brown, Donald Mclean, Zhigang Wang, Alfred Cuschieri have no conflicts of interest or financial ties to disclose.
About this article
Cite this article
Brown, A.W., Brown, S.I., Mclean, D. et al. Impact of fenestrations and surface profiling on the holding of tissue by parallel occlusion laparoscopic graspers. Surg Endosc 28, 1277–1283 (2014). https://doi.org/10.1007/s00464-013-3323-7
Received:

Accepted:

Published:

Issue Date:
Keywords
Laparoscopic graspers

Fenestrations

Surface contact to fenestration area

Surface profiling

Parallel occlusion