Abstract
Background
The accuracy of a three-dimensional robotic-assisted videothoracoscopic approach may favor a radical resection of thymomas. The aim of this study was to demonstrate the feasibility of the robotic approach by reporting 8 years experience in a single referral center of surgical treatment of thymomas.
Methods
We retrospectively analyzed all consecutive patients who underwent a thymectomy from April 2004 to April 2012. We analyzed the procedure time, morbidity, mortality, conversions, hospitalization, freedom from recurrence, time to progression, and overall survival.
Results
From 2004 until 2012, a total of 138 robotic procedures for mediastinal tumors were performed in our center, of which 37 patients with a mean age of 57.3 years underwent a thymectomy for a thymoma. Histological analysis revealed four type A thymomas (10.8 %), seven type AB thymomas (18.9 %), seven type B1 thymomas (18.9 %), fourteen type B2 thymomas (37.8 %), four type B3 thymomas (10.8 %), and one thymus carcinoma (2.7 %). The Masaoka–Koga stages were as follows: stage I in twenty patients (54 %), stage IIA in five patients (13.5 %), stage IIB in eight patients (21.6 %), stage III in three patients (8.1 %), and stage IVa in one patient (2.7 %). The mean overall procedure time was 149 min (range 88–353). No surgical mortality was reported, and there were no peri-operative complications. No conversions were needed for surgical complications. In three cases, a conversion to sternotomy was preferred by the surgeon because tumor invasion in greater vessels was suspected. Two patients (5.4 %) suffered from a myasthenic crisis postoperatively and required prolonged mechanical ventilation. One patient (2.7 %) underwent a procedure for a thoracic herniation 6 months following thymectomy. The median hospitalization was 3 days. The follow-up analysis showed an overall survival of 100 % and tumor recurrence in one patient (2.7 %).
Conclusions
Robotic thymectomies are safe in patients with early-stage thymomas. Robotic surgery may also be feasible for some selected advanced thymomas.
This is a preview of subscription content, log in to check access.
Access options
Buy single article
Instant access to the full article PDF.
US$ 39.95
Price includes VAT for USA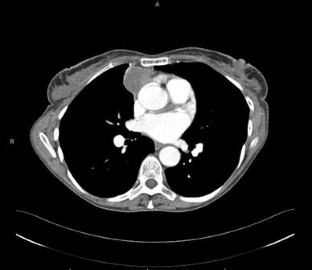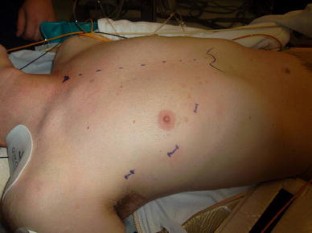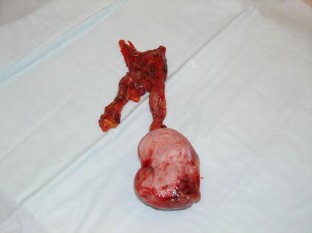 References
1.

Dmitriev EG, Sigal EI (1996) Thoracoscopic surgery in the management of mediastinal masses. Indications, complications, limitations. Surg Endosc 10(7):718–720

2.

Rückert JC, Ismail M, Swierzy M, Sobel H, Rogalla P, Meisel A et al (2008) Thoracoscopic thymectomy with the da Vinci robotic system for myasthenia gravis. Ann N Y Acad Sci 1132:329–335

3.

Ishikawa N, Sun YS, Nifong LW, Oda M, Watanabe G, Chitwood WR Jr (2009) Thoracoscopic robot-assisted extended thymectomy in the human cadaver. Surg Endosc 23(2):459–461

4.

Freeman RK, Ascioti AJ, Van Woerkom JM, Vyverberg A, Robison RJ (2011) Long-term follow-up after robotic thymectomy for nonthymomatous myasthenia gravis. Ann Thorac Surg 92(3):1018–1022 discussion 22–23

5.

Mussi A, Fanucchi O, Davini F, Lucchi M, Picchi A, Ambrogi MC et al (2012) Robotic extended thymectomy for early-stage thymomas. Eur J Cardiothorac Surg 41(4):e43–e46 discussion e7

6.

Marulli G, Rea F, Melfi F, Schmid TA, Ismail M, Fanucchi O et al (2012) Robot-aided thoracoscopic thymectomy for early-stage thymoma: a multicenter European study. J Thorac Cardiovasc Surg 144(5):1125–1130

7.

Huang J, Detterbeck FC, Wang Z, Loehrer PJ Sr (2010) Standard outcome measures for thymic malignancies. J Thorac Oncol 5(12):2017–2023

8.

Masaoka A (2010) Staging system of thymoma. J Thorac Oncol 5(10 Suppl 4):S304–S312

9.

Jaretzki A 3rd, Barohn RJ, Ernstoff RM, Kaminski HJ, Keesey JC, Penn AS et al (2000) Myasthenia gravis: recommendations for clinical research standards. Task Force of the Medical Scientific Advisory Board of the Myasthenia Gravis Foundation of America. Ann Thorac Surg 70(1):327–334

10.

Toker A, Sonett J, Zielinski M, Rea F, Tomulescu V, Detterbeck FC (2011) Standard terms, definitions, and policies for minimally invasive resection of thymoma. J Thorac Oncol 6(7 Suppl 3):S1739–S1742

11.

Dylewski MR, Ohaeto AC, Pereira JF (2011) Pulmonary resection using a total endoscopic robotic video-assisted approach. Semin Thorac Cardiovasc Surg 23(1):36–42

12.

Nakamura H, Taniguchi Y, Fujioka S, Miwa K, Haruki T, Takagi Y et al (2012) First experience of robotic extended thymectomy in Japan for myasthenia gravis with thymoma. Gen Thorac Cardiovasc Surg 60(3):183–187

13.

Roviaro G, Varoli F, Nucca O, Vergani C, Maciocco M (2000) Videothoracoscopic approach to primary mediastinal pathology. Chest 117(4):1179–1183

14.

Pennathur A, Qureshi I, Schuchert MJ, Dhupar R, Ferson PF, Gooding WE et al (2011) Comparison of surgical techniques for early-stage thymoma: feasibility of minimally invasive thymectomy and comparison with open resection. J Thorac Cardiovasc Surg 141(3):694–701

15.

Cheng YJ, Kao EL, Chou SH (2005) Videothoracoscopic resection of stage II thymoma: prospective comparison of the results between thoracoscopy and open methods. Chest 128(4):3010–3012

16.

Ruckert JC, Swierzy M, Ismail M (2011) Comparison of robotic and nonrobotic thoracoscopic thymectomy: a cohort study. J Thorac Cardiovasc Surg 141(3):673–677

17.

Phillips LH 2nd (2003) The epidemiology of myasthenia gravis. Ann N Y Acad Sci 998:407–412

18.

Tormoehlen LM, Pascuzzi RM (2008) Thymoma, myasthenia gravis, and other paraneoplastic syndromes. Hematol Oncol Clin North Am 22(3):509–526

19.

Lucchi M, Ricciardi R, Melfi F, Duranti L, Basolo F, Palmiero G et al (2009) Association of thymoma and myasthenia gravis: oncological and neurological results of the surgical treatment. Eur J Cardiothorac Surg 35(5):812–816 discussion 6

20.

Lopez-Cano M, Ponseti-Bosch JM, Espin-Basany E, Sanchez-Garcia JL, Armengol-Carrasco M (2003) Clinical and pathologic predictors of outcome in thymoma-associated myasthenia gravis. Ann Thorac Surg 76(5):1643–1649 discussion 9

21.

Vachlas K, Zisis C, Rontogianni D, Tavernarakis A, Psevdi A, Bellenis I (2012) Thymoma and myasthenia gravis: clinical aspects and prognosis. Asian Cardiovasc Thorac Ann 20(1):48–52

22.

Bhamidipati CM, Iyalla KI, Seymour KA, Lutz CJ (2012) Lung hernia following robotic-assisted mitral valve repair. J Cardiac Surg 27(4):460–463

23.

Athanassiadi K, Bagaev E, Simon A, Haverich A (2008) Lung herniation: a rare complication in minimally invasive cardiothoracic surgery. Eur J Cardiothorac Surg 33(5):774–776
Disclosures
M.J. Keijzers MD, A.M. Dingemans MD, PhD, H. Blaauwgeers MD, R.J. van Suylen MD, PhD, M. Hochstenbag MD, PhD, L. van Garsse MD, PhD, R. Accord MD, M. de Baets MD, PhD and J. Maessen MD, PhD have no conflicts of interest or financial ties to disclose related to this manuscript.
About this article
Cite this article
Keijzers, M., Dingemans, A.C., Blaauwgeers, H. et al. 8 Years' experience with robotic thymectomy for thymomas. Surg Endosc 28, 1202–1208 (2014). https://doi.org/10.1007/s00464-013-3309-5
Received:

Accepted:

Published:

Issue Date:
Keywords
Thymoma

Minimally invasive surgery

Thymectomy

Robotic surgery