Abstract
Background
Large polyps and early carcinomas of the rectum may be excised with transanal endoscopic surgery (TES). Single-port techniques are emerging in the field of colorectal surgery and have been adapted to many colorectal procedures so far. In this article, we aimed to present our initial experience with TES using a single access port with its technical details.
Patients and methods
Patients undergoing TES using a single access port between July 2010 and January 2013 were included in the study. Patient demographics, operative technique, and both operative and postoperative outcomes were evaluated and presented.
Results
A total of 12 patients (ten males) were included in our study. The median age was 63.5 years (50–84), median American Society of Anesthesiologists (ASA) score was 3 (2–4), and median body mass index was 28.8 kg/m2 (17.4–55.6). Median operating time was 79 min (43–261). Histopathological diagnoses were as follows: tubulovillous adenoma (n = 6), tubular adenoma (n = 4), adenocarcinoma (n = 1), and neuroendocrine tumor (n = 1). Five patients were sent home on the day of surgery and the median postoperative hospital stay was 1 day (0–38). Median estimated blood loss was 22.5 ml (5–150). A transient urinary retention was developed in one patient postoperatively, and two patients had postoperative bleeding. The first of these patients with a long history of anticoagulant usage had rectal bleeding 13 days after surgery, which was successfully managed with medical treatment. The second patient was morbidly obese, had multiple comorbidities, and had rectal bleeding on postoperative day 7 which was managed with local epinephrine injection. He suffered unrelated cardiac death on postoperative day 38.
Conclusions
TES is safe and feasible when using a single port and in the standard laparoscopic setting. The single-port technique may play a major role in the widespread utilization of TES as a treatment for large adenomas and early rectal cancers.
This is a preview of subscription content, log in to check access.
Access options
Buy single article
Instant unlimited access to the full article PDF.
US$ 39.95
Price includes VAT for USA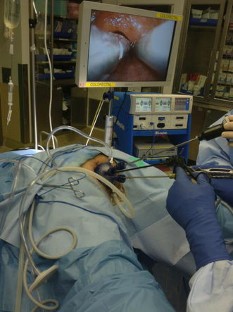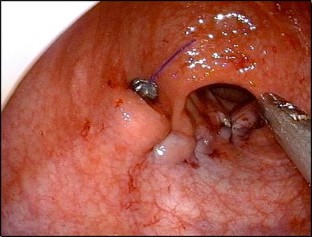 References
1.

Middleton PF, Sutherland LM, Maddern GJ (2005) Transanal endoscopic microsurgery: a systematic review. Dis Colon Rectum 48:270–284

2.

Doornebosch PG, Gosselink MP, Neijenhuis PA, Schouten WR, Tollenaar RA, de Graaf EJ (2008) Impact of transanal endoscopic microsurgery on functional outcome and quality of life. Int J Colorectal Dis 23:709–713

3.

Buess G, Hutterer F, Theiss J, Böbel M, Isselhard W, Pichlmaier H (1984) A system for a transanal endoscopic rectum operation [in German]. Chirurg 55:677–680

4.

Akasu T, Kondo H, Moriya Y, Sugihara K, Gotoda T, Fujita S, Muto T, Kakizoe T (2000) Endorectal ultrasonography and treatment of early stage rectal cancer. World J Surg 24:1061–1068

5.

Ramirez JM, Aguilella V, Valencia J, Ortego J, Gracia JA, Escudero P, Esco R, Martinez M (2011) Transanal endoscopic microsurgery for rectal cancer: long-term oncologic results. Int J Colorectal Dis 26:437–443

6.

Lezoche E, Guerrieri M, Paganini AM, Feliciotti F (2002) Long-term results of patients with pT2 rectal cancer treated with radiotherapy and transanal endoscopic microsurgical excision. World J Surg 26:1170–1174

7.

Buess G, Becerra-Garcia F, Misra MC (2008) Instruments for transluminal laparoscopic surgery or "NOTES". Minim Invasive Ther Allied Technol 17:331–335

8.

van den Boezem PB, Kruyt PM, Stommel MW, Tobon Morales R, Cuesta MA, Sietses C (2011) Transanal single-port surgery for the resection of large polyps. Dig Surg 28:412–416

9.

Atallah S, Albert M, Larach S (2010) Transanal minimally invasive surgery: a giant leap forward. Surg Endosc 24:2200–2205

10.

Khoo RE (2010) Transanal excision of a rectal adenoma using single-access laparoscopic port. Dis Colon Rectum 53:1078–1079

11.

Michalik M, Bobowicz M, Orlowski M (2011) Transanal endoscopic microsurgery via TriPort Access System with no general anesthesia and without sphincter damage. Surg Laparosc Endosc Percutan Tech 21:308–310

12.

Matz J, Matz A (2012) Use of a SILS port in transanal endoscopic microsurgery in the setting of a community hospital. J Laparoendosc Adv Surg Tech A 22:93–96

13.

Lorenz C, Nimmesgern T, Back M, Langwieler TE (2010) Transanal single port microsurgery (TSPM) as a modified technique of transanal endoscopic microsurgery (TEM). Surg Innov 17:160–163

14.

Canda AE, Terzi C, Sagol O, Sarioglu S, Obuz F, Fuzun M (2012) Transanal single-port access microsurgery (TSPAM). Surg Laparosc Endosc Percutan Tech 22:349–353

15.

Ragupathi M, Vande Maele D, Nieto J, Pickron TB, Haas EM (2012) Transanal endoscopic video-assisted (TEVA) excision. Surg Endosc 26:3528–3535

16.

Lim SB, Seo SI, Lee JL, Kwak JY, Jang TY, Kim CW, Yoon YS, Yu CS, Kim JC (2012) Feasibility of transanal minimally invasive surgery for mid-rectal lesions. Surg Endosc 26:3127–3132

17.

Atallah S, Albert M, Debeche-Adams T, Larach S (2013) Transanal minimally invasive surgery (TAMIS): applications beyond local excision. Tech Coloproctol 17:239–243

18.

Maslekar S, Pillinger SH, Sharma A, Taylor A, Monson JR (2007) Cost analysis of transanal endoscopic microsurgery for rectal tumors. Colorectal Dis 9:229–234

19.

Dionigi G, Rovera F, Boni L, Dionigi R (2008) Video-assisted hyroidectomy performed in a one-day surgery setting. Int J Surg 6(Suppl 1):S4–S6

20.

Albert MR, Atallah SB, deBeche-Adams TC, Izfar S, Larach SW (2013) Transanal minimally invasive surgery (TAMIS) for local excision of benign neoplasms and early-stage rectal cancer: efficacy and outcomes in the first 50 patients. Dis Colon Rectum 56:301–307
Acknowledgments
The study was supported by the Ed and Joey Story Endowed Chair in Colorectal Surgery.
Disclosure
I. Emre Gorgun, Erman Aytac, Meagan M. Costedio, Hasan H. Erem, Michael A. Valente, and Luca Stocchi have no conflicts of interest or financial ties to disclose.
Electronic supplementary material
Below is the link to the electronic supplementary material.
Supplementary material 1 (MOV 28250 kb)
Supplementary material 2 (MOV 56082 kb)
Supplementary material 3 (MOV 50633 kb)
About this article
Cite this article
Emre Gorgun, I., Aytac, E., Costedio, M.M. et al. Transanal endoscopic surgery using a single access port: a practical tool in the surgeon's toybox. Surg Endosc 28, 1034–1038 (2014) doi:10.1007/s00464-013-3267-y
Received:

Accepted:

Published:

Issue Date:
Keywords
Transanal endoscopic surgery

Single-port access

Rectal surgery