Abstract
Background
Laparoscopic appendectomy is the treatment of choice for appendicitis provided sufficient laparoscopic expertise is available. The endostapler possibly provides an easier and safer closure of the appendiceal stump, but at greater expense. This study aimed to compare two strategies for closure of the appendiceal stump in a large retrospective cohort of patients.
Methods
This study reviewed patients who underwent laparoscopic appendectomy for acute appendicitis in three academic hospitals and two regional hospitals in The Netherlands during the period 1 January 2007 to 30 June 2011. The endostapler was routinely used in two hospitals and selectively used in the remaining three hospitals. Both strategies were compared for complications according to the Clavien–Dindo classification.
Results
A total of 1,036 patients were analyzed according to the strategy followed. The 571 patients in the first group were routinely treated with the endostapler. For the 465 patients in the second group, the intentional method of stump closure was with endoloops. The endostapler was used when indicated for 69 of these patients. The patient characteristics did not differ between the two groups. The groups also did not differ significantly in number of intra- and postoperative complications. In both groups, 4.3 % of the patients had complications classified as grade 3 or higher. There were no significant differences in the prevalence of intraabdominal abscesses (3.2 % vs. 4.3) or wound infections (0.4 and 1.5 %). In a multivariate analysis, the chosen strategy for stump closure was not a significant predictor for postoperative complications.
Conclusion
Routine use of the endostapler showed no clinical advantages over the use of endoloops with selective endostapler closure. The latter strategy is preferable because it is more cost effective.
This is a preview of subscription content, log in to check access.
Access options
Buy single article
Instant access to the full article PDF.
US$ 39.95
Price includes VAT for USA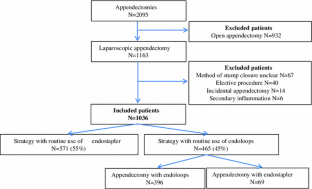 References
1.

Sauerland S, Jaschinski T, Neugebauer EA (2010) Laparoscopic versus open surgery for suspected appendicitis. Cochrane Database Syst Rev 4(10):CD001546

2.

Kazemier G, In't Hof KH, Saad S, Bonjer HJ, Sauerland S (2006) Securing the appendiceal stump in laparoscopic appendectomy: evidence for routine stapling? Surg Endosc 20:1473–1476

3.

Beldi G, Vorburger SA, Bruegger LE, Kocher T, Inderbitzin D, Candinas D (2006) Analysis of stapling versus endoloops in appendiceal stump closure. Br J Surg 93:1390–1393

4.

Nottingham JM (2002) Mechanical small bowel obstruction from a loose linear cutter staple after laparoscopic appendectomy. Surg Laparosc Endosc Percutan Tech 12:289–290

5.

Kuehnel F, Marusch F, Koch A, Gastinger I (2007) Retained loose linear cutter staples after laparoscopic appendectomy as the cause of mechanical small bowel obstruction. Int J Colorectal Dis 22:717–718

6.

Sajid MS, Rimple J, Cheek E, Baig MK (2009) Use of endo-GIA versus endo-loop for securing the appendicular stump in laparoscopic appendicectomy: a systematic review. Surg Laparosc Endosc Percutan Tech 19:11–15

7.

von Elm E, Altman DG, Egger M, Pocock SJ, Gøtzsche PC, Vandenbroucke JP (2007) STROBE initiative. The Strengthening the Reporting of Observational Studies in Epidemiology (STROBE) statement: guidelines for reporting observational studies. Lancet 370:1453–1457

8.

Clavien PA, Barkun J, de Oliviera ML, Vauthey JN, Dindo D et al (2009) The Clavien–Dindo classification of surgical complications: five-year experience. Ann Surg 250:187–196

9.

Sahm M, Kube R, Schmidt S, Ritter C, Pross M, Lippert H (2011) Current analysis of endoloops in appendiceal stump closure. Surg Endosc 25:124–129
Disclosures
Hilko A. Swank, Charles C. van Rossem, A. A. W. van Geloven, Klaas H. in't Hof, Geert Kazemier, W. J. H. J. Meijerink, Johan F. Lange, and Willem A. Bemelman have no conflicts of interest or financial ties to disclose.
About this article
Cite this article
Swank, H.A., van Rossem, C.C., van Geloven, A.A.W. et al. Endostapler or endoloops for securing the appendiceal stump in laparoscopic appendectomy: a retrospective cohort study. Surg Endosc 28, 576–583 (2014). https://doi.org/10.1007/s00464-013-3207-x
Received:

Accepted:

Published:

Issue Date:
Keywords
Appendectomy

Endoloop

Endostapler

Laparoscopic