Abstract
Background
Endoscopic submucosal dissection (ESD) offers en bloc resection of early cancer or precancerous lesions, potentially saving patients from major organ resection, such as gastrectomy, colectomy, and esophagectomy. Japan now leads the world in ESD due to its high rate of gastric cancer. Western countries, with their lower gastric cancer rates, do not get as much experience with the technique. Training in ESD utilizing both in vivo and ex vivo porcine stomach has been shown to decrease rates of perforation and operative time. Both models can be prohibitively expensive or not generally available to the majority of endoscopists on a regular basis. This study describes the framework for using human gastric remnants from sleeve gastrectomy patients for ESD training.
Methods
Patients undergoing sleeve gastrectomy for morbid obesity were consented for use of their gastric specimen before surgery. The specimen was weighed and measured by the pathologist and then used for ESD training. The specimen was mounted to a 15-mm laparoscopic port and secured using a pursestring suture. ESD was then performed through this port.
Results
We were able to successfully use this model to resect multiple marked out lesions in an en bloc fashion. Training using this model has improved our dissection times from approximately 2 h to 30 min for a 2-cm simulated lesion.
Conclusions
ESD requires the endoscopist to perform a surgical dissection. Until now, development of these skills required intensive training on porcine models that are not widely available. We were able to create a method using the excised portion from sleeve gastrectomy patients, providing a more accessible and cost-effective model for ESD training and potentially other endoscopic therapeutic modalities.
This is a preview of subscription content, log in to check access.
Access options
Buy single article
Instant access to the full article PDF.
US$ 39.95
Price includes VAT for USA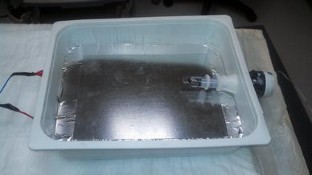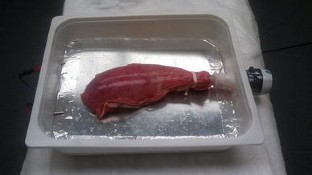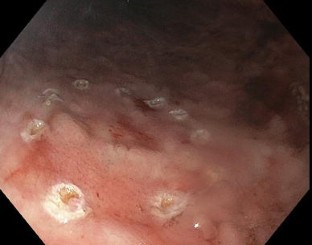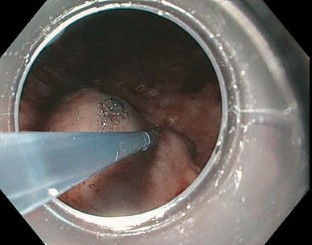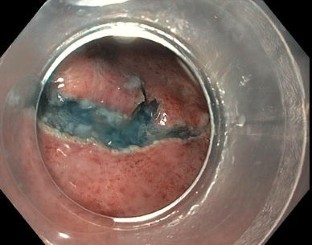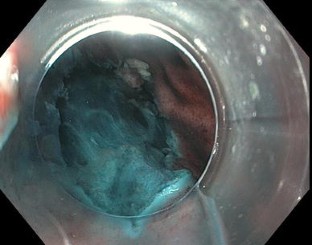 References
1.

Parra-Blanco A, Gonzalez N, Arnau MR (2012) Ex vivo and in vivo models for endoscopic submucosal dissection training. Clin Endosc 45:350–357

2.

Kakushima N, Fujishiro M (2008) Endoscopic submucosal dissection for gastrointestinal neoplasms. World J Gastroenterol 14:2962–2967

3.

ASGE Technology Committee, Kantsevoy SV, Adler DG, Conway JD, Diehl DL, Farraye FA, Kwon R, Mamula P, Rodriguez S, Shah RJ, Song LM, Tierney WM (2008) Technology status evaluation report: endomucosal resection and endoscopic submucosal dissection. Gastrointest Endosc 68:11–18

4.

Oka S, Tanaka S, Kaneko I, Mouri R, Hirata M, Kawamura T, Yoshihara M, Chayama K (2006) Advantage of endoscopic submucosal dissection compared with EMR for early gastric cancer. Gastrointest Endosc 64:877–883

5.

Chung IK, Lee JH, Lee SH, Kim SJ, Cho JY, Cho WY, Hwangbo Y, Keum BR, Park JJ, Chun HJ, Kim HJ, Kim JJ, Ji SR, Seol SY (2009) Therapeutic outcomes in 1000 cases of endoscopic submucosal dissection for early gastric neoplasms: Korean ESD Study Group multicenter study. Gastrointest Endosc 69:1228–1235

6.

Oda I, Goyoda T, Hamanaka H, Eguchi T, Saito Y, Matsuda T, Bhandari P, Emura F, Saito D, Ono H (2005) Endoscopic submucosal dissection for early gastric cancer: technical feasibility, operation time and complications from a large consecutive series. Dig Endosc 17:54–58

7.

Onozato Y, Ishihara H, Iizuka H, Sohara N, Kakizaki S, Okamura S, Mori M (2006) Endoscopic submucosal dissection for early gastric cancers and large flat adenomas. Endoscopy 38:980–986

8.

Berr F, Ponchon T, Neureiter D, Kiesslich T, Haringsma J, Kaehler GF, Schmoll F, Messmann H, Yahagi N, Oyama T (2011) Experimental endoscopic submucosal dissection training in a porcine model: learning experience of skilled Western endoscopists. Dig Endosc 23:281–289

9.

Kumano I, Ishihara M, Nakamura S, Kishimoto S, Fujita M, Hattori H, Horio T, Tanaka Y, Hase K, Maehara T (2012) Endoscopic submucosal dissection for pig esophagus by using photocrosslinkable chitosan hydrogel as submucosal fluid cushion. Gastrointest Endosc 75:841–848

10.

Yamamoto Y, Fujisaki J, Ishiyama A, Hirasawa T, Igarashi M (2012) Current status of training for endoscopic submucosal dissection for gastric epithelial neoplasm at Cancer Institute Hospital, Japanese Foundation for Cancer Research, a famous Japanese hospital. Dig Endosc 24:148–153

11.

Gotoda T, Friedland S, Hamanaka H, Soetikno R (2005) A learning curve for advanced endoscopic resection. Gastrointest Endosc 62:866–867

12.

Kato M, Gromski M, Jung Y, Chuttani R, Matthes K (2013) The learning curve for endoscopic submucosal dissection in an established experimental setting. Surg Endosc 27:154–161

13.

Bok GH, Cho JY (2012) ESD hands-on course using ex vivo and in vivo models in South Korea. Clin Endosc 45:358–361

14.

Tanaka S, Morita Y, Fujita T, Wakahara C, Ikeda A, Toyonaga T, Azuma T (2012) Ex vivo pig training model for esophageal endoscopic submucosal dissection (ESD) for endoscopists with experience in gastric ESD. Surg Endosc 26:1579–1586

15.

Wang TE, Wang HY, Lin CC, Chen TY, Chang CW, Chen CJ, Chen MJ (2011) Simulating a target lesion for endoscopic submucosal dissection training in an ex vivo pig model. Gastrointest Endosc 74:398–402

16.

Kim SG (2011) Endoscopic treatment for early gastric cancer. J Gastric Cancer 11:146–154

17.

Ohta T, Ishihara R, Uedo N, Takeuchi Y, Nagai K, Matsui F, Kawada N, Yamashina T, Kanzaki H, Hanafusa M, Yamamoto S, Hanaoka N, Higashino K, Iishi H (2012) Factors predicting perforation during endoscopic submucosal dissection for gastric cancer. Gastrointest Endosc 75:1159–1165

18.

Oda I, Suzuki H, Nonaka S, Yoshinaga S (2013) Complications of gastric endoscopic submucosal dissection. Dig Endosc 25:71–78

19.

Imagawa A, Okada H, Kawahara Y, Takenaka R, Kato J, Kawamoto H, Fujiki S, Takata R, Yoshino T, Shiratori Y (2006) Endoscopic submucosal dissection for early gastric cancer: results and degrees of technical difficulty as well as success. Endoscopy 38:987–990

20.

Ahn JY, Choi KD, Choi JY, Kim MY, Lee JH, Choi KS, Kim do H, Song HJ, Lee GH, Jung HY, Kim JH (2011) Procedure time of endoscopic submucosal dissection according to the size and location of early gastric cancers: analysis of 916 dissections performed by 4 experts. Gastrointest Endosc 73:911–916

21.

Minami S, Gotoda T, Ono H, Oda I, Hamanaka H (2006) Complete endoscopic closure of gastric perforation induced by endoscopic resection of early gastric cancer using endoclips can prevent surgery. Gastrointest Endosc 63:596–601

22.

Bergman JJ (2009) How to justify endoscopic submucosal dissection in the Western world. Endoscopy 41:988–990

23.

Kim EY, Jeon SW, Kim GH (2011) Chicken soup for teaching and learning ESD. World J Gastroenterol 17:2618–2622
Acknowledgments
The authors thank the patients who allowed us to use their resected gastric specimens for the development of this new training model and also the endoscopy team for their help and use of the endoscopy equipment.
Disclosures
David V. Pham, Anand Shah, Frank J. Borao, and Steven Gorcey have no conflict of interest or financial ties to disclose.
About this article
Cite this article
Pham, D.V., Shah, A., Borao, F.J. et al. Endoscopic submucosal dissection training with ex vivo human gastric remnants. Surg Endosc 28, 222–226 (2014). https://doi.org/10.1007/s00464-013-3164-4
Received:

Accepted:

Published:

Issue Date:
Keywords
Endoscopic submucosal dissection

Porcine

Gastric remnant

Ex vivo

En bloc