Abstract
Background
Laparoscopic sleeve gastrectomy (LSG) is a promising procedure for the treatment of morbid obesity. The stomach is usually transected near the angle of His; hence, the lower esophageal sphincter (LES) may be affected with consequences on postoperative gastroesophageal reflux disease (GERD). The purpose of this study was to examine the effect of LSG on the LES and postoperative GERD.
Methods
Severely obese asymptomatic patients submitted to LSG underwent esophageal manometry and GERD evaluation preoperatively and at least 6 weeks postoperatively. Data reviewed included patient demographics, manometric measurements, GERD symptoms, and pathology. Statistical analysis was performed by SPSS software.
Results
Twelve male and eleven female patients participated in the study. Mean age was 38.5 ± 10.9 years, and initial body mass index was 47.9 ± 5.1 kg/m2. At follow-up examination, mean excess body mass index loss was 32.3 ± 12.7 %. The LES total and abdominal length increased significantly postoperatively, whereas the contraction amplitude in the lower esophagus decreased. There was an increase in reflux symptoms postoperatively (p < 0.009). The operating surgeon who mostly approximated the angle of His resulted in an increased abdominal LES length (p < 0.01). The presence of esophageal tissue in the specimen correlated with increased total GERD score (p < 0.05).
Conclusions
LSG weakens the contraction amplitude of the lower esophagus, which may contribute to postoperative reflux deterioration. It also increases the total and the abdominal length of the LES, especially when the angle of His is mostly approximated. However, if this approximation leads to esophageal tissue excision, reflux is again aggravated. Thus, stapling too close to the angle of His should be done cautiously.
This is a preview of subscription content, log in to check access.
Access options
Buy single article
Instant access to the full article PDF.
US$ 39.95
Price includes VAT for USA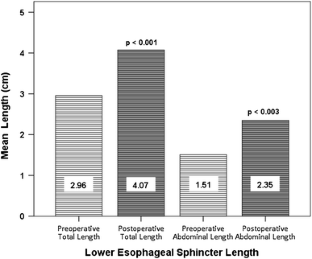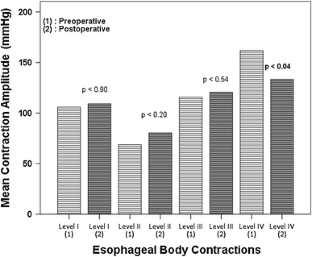 References
1.

Padwal R, Klarenbach S, Wiebe N, Birch D, Karmali S, Manns B, Hazel M, Sharma AM, Tonelli M (2011) Bariatric surgery: a systematic review and network meta-analysis of randomized trials. Obes Rev 12:602–621

2.

Buchwald H, Oien DM (2009) Metabolic/bariatric surgery worldwide 2008. Obes Surg 19:1605–1611

3.

Hutter MM, Schirmer BD, Jones DB, Ko CY, Cohen ME, Merkow RP, Nguyen NT (2011) First report from the American College of Surgeons Bariatric Surgery Center Network: laparoscopic sleeve gastrectomy has morbidity and effectiveness positioned between the band and the bypass. Ann Surg 254:410–420

4.

Zhang N, Maffei A, Cerabona T, Pahuja A, Omana J, Kaul A (2013) Reduction in obesity-related comorbidities: is gastric bypass better than sleeve gastrectomy? Surg Endosc 27:1273–1280

5.

McBride PJ, Hinder RA, Raiser F, Katada N (1997) Lower esophageal sphincter as an anti-reflux barrier: a review. Dis Esophagus 10:101–104

6.

Delattre JF, Avisse C, Marcus C, Flament JB (2000) Functional anatomy of the gastroesophageal junction. Surg Clin North Am 80:241–260

7.

Chiu S, Birch DW, Shi X, Sharma AM, Karmali S (2011) Effect of sleeve gastrectomy on gastroesophageal reflux disease: a systematic review. Surg Obes Relat Dis 7:510–515

8.

Carter PR, LeBlanc KA, Hausmann MG, Kleinpeter KP, deBarros SN, Jones SM (2011) Association between gastroesophageal reflux disease and laparoscopic sleeve gastrectomy. Surg Obes Relat Dis 7:569–572

9.

Howard DD, Caban AM, Cendan JC, Ben-David K (2011) Gastroesophageal reflux after sleeve gastrectomy in morbidly obese patients. Surg Obes Relat Dis 7:709–713

10.

Yehoshua RT, Eidelman LA, Stein M, Fichman S, Mazor A, Chen J, Bernstine H, Singer P, Dickman R, Beglaibter N, Shikora SA, Rosenthal RJ, Rubin M (2008) Laparoscopic sleeve gastrectomy—volume and pressure assessment. Obes Surg 18:1083–1088

11.

Shah S, Shah P, Todkar J, Gagner M, Sonar S, Solav S (2010) Prospective controlled study of effect of laparoscopic sleeve gastrectomy on small bowel transit time and gastric emptying half-time in morbidly obese patients with type 2 diabetes mellitus. Surg Obes Relat Dis 6:152–157

12.

Daes J, Jimenez ME, Said N, Daza JC, Dennis R (2012) Laparoscopic sleeve gastrectomy: symptoms of gastroesophageal reflux can be reduced by changes in surgical technique. Obes Surg 22:1874–1879

13.

Menenakos E, Stamou KM, Albanopoulos K, Papailiou J, Theodorou D, Leandros E (2010) Laparoscopic sleeve gastrectomy performed with intent to treat morbid obesity: a prospective single-center study of 261 patients with a median follow-up of 1 year. Obes Surg 20:276–282

14.

Tai CM, Huang CK, Lee YC, Chang CY, Lee CT, Lin JT (2013) Increase in gastroesophageal reflux disease symptoms and erosive esophagitis 1 year after laparoscopic sleeve gastrectomy among obese adults. Surg Endosc 27(4):1260–1266

15.

Braghetto I, Lanzarini E, Korn O, Valladares H, Molina JC, Henriquez A (2010) Manometric changes of the lower esophageal sphincter after sleeve gastrectomy in obese patients. Obes Surg 20:357–362

16.

Petersen WV, Schneider JH (2012) Functional importance of laparoscopic sleeve gastrectomy for the lower esophageal sphincter in patients with morbid obesity. Obes Surg 22:949

17.

Consensus Development Conference Panel; NIH Conference (1991) Gastrointestinal surgery for severe obesity. Ann Intern Med 115:956–961

18.

Dent J, Kahrilas PJ, Vakil N, Van Zanten SV, Bytzer P, Delaney B, Haruma K, Hatlebakk J, McColl E, Moayyedi P, Stanghellini V, Tack J, Vaezi M (2008) Clinical trial design in adult reflux disease: a methodological workshop. Aliment Pharmacol Ther 28:107–126

19.

Hampel H, Abraham NS, El-Serag HB (2005) Meta-analysis: obesity and the risk for gastroesophageal reflux disease and its complications. Ann Intern Med 143:199–211

20.

Küper MA, Kramer KM, Kirschniak A, Zdichavsky M, Schneider JH, Stüker D, Kratt T, Königsrainer A, Granderath FA (2009) Dysfunction of the lower esophageal sphincter and dysmotility of the tubular esophagus in morbidly obese patients. Obes Surg 19:1143–1149

21.

Mercer CD, Rue C, Hanelin L, Hill LD (1985) Effect of obesity on esophageal transit. Am J Surg 149:177–181

22.

El-Serag HB, Graham DY, Satia JA, Rabeneck L (2005) Obesity is an independent risk factor for GERD symptoms and erosive esophagitis. Am J Gastroenterol 100:1243–1250

23.

Schauer PR, Kashyap SR, Wolski K, Brethauer SA, Kirwan JP, Pothier CE, Thomas S, Abood B, Nissen SE, Bhatt DL (2012) Bariatric surgery versus intensive medical therapy in obese patients with diabetes. N Engl J Med 366:1567–1576

24.

Brethauer SA, Hammel JP, Schauer PR (2009) Systematic review of sleeve gastrectomy as staging and primary bariatric procedure. Surg Obes Relat Dis 5:469–475

25.

Gagner M, Deitel M, Kalberer TL, Erickson AL, Crosby RD (2009) The second international consensus summit for sleeve gastrectomy, March 19–21, 2009. Surg Obes Relat Dis 5:476–485

26.

Deitel M, Gagner M, Erickson AL, Crosby RD (2011) Third international summit. Current status of sleeve gastrectomy. Surg Obes Relat Dis 7:749–759

27.

Arias E, Martinez PR, Ka Ming Li V, Szomstein S, Rosenthal RJ (2009) Mid-term follow-up after sleeve gastrectomy as a final approach for morbid obesity. Obes Surg 19:544–548

28.

Weiner RA, Weiner S, Pomhoff I, Jacobi C, Makarewicz W, Weigand G (2007) Laparoscopic sleeve gastrectomy—influence of sleeve size and resected gastric volume. Obes Surg 17:1297–1305

29.

Melissas J, Daskalakis M, Koukouraki S, Askoxylakis I, Metaxari M, Dimitriadis E, Stathaki M, Papadakis JA (2008) Sleeve gastrectomy—a "food limiting" operation. Obes Surg 18:1251–1256

30.

Himpens J, Dapri G, Cadiere GB (2006) A prospective randomized study between laparoscopic gastric banding and laparoscopic isolated sleeve gastrectomy: results after 1 and 3 years. Obes Surg 16:1450–1456

31.

Himpens J, Dobbeleir J, Peeters G (2010) Long-term results of laparoscopic sleeve gastrectomy for obesity. Ann Surg 252:319–324

32.

Rosenthal RJ, International Sleeve Gastrectomy Expert Panel, Diaz AA, Arvidsson D, Baker RS, Basso N, Bellanger D, Boza C, El Mourad H, France M, Gagner M, Galvao-Neto M, Higa KD, Himpens J, Hutchinson CM, Jacobs M, Jorgensen JO, Jossart G, Lakdawala M, Nguyen NT, Nocca D, Prager G, Pomp A, Ramos AC, Rosenthal RJ, Shah S, Vix M, Wittgrove A, Zundel N (2012) International sleeve gastrectomy expert panel consensus statement: best practice guidelines based on experience of >12,000 cases. Surg Obes Relat Dis 8:8–19

33.

Bansal A, Kahrilas PJ (2010) Has high-resolution manometry changed the approach to esophageal motility disorders? Curr Opin Gastroenterol 26:344–351
Disclosures
Drs. E. Kleidi, D. Theodorou, K. Albanopoulos, E. Menenakos, MA. Karvelis, J. Papailiou, K. Stamou, G. Zografos, S. Katsaragakis, and E. Leandros have no conflicts of interest or financial ties to disclose.
About this article
Cite this article
Kleidi, E., Theodorou, D., Albanopoulos, K. et al. The effect of laparoscopic sleeve gastrectomy on the antireflux mechanism: can it be minimized?. Surg Endosc 27, 4625–4630 (2013). https://doi.org/10.1007/s00464-013-3083-4
Received:

Accepted:

Published:

Issue Date:
Keywords
Laparoscopic sleeve gastrectomy

Gastroesophageal reflux

Lower esophageal sphincter

Manometry