Abstract
Introduction
Portal and mesenteric vein thrombosis are relatively uncommon surgical complications, with difficult diagnosis and potentially severe consequences due to higher risk of bowel infarction. The purpose of this study was to present a series of patients who developed postoperative portal vein thrombosis after laparoscopic sleeve gastrectomy.
Methods
This is a retrospective analysis of patients who underwent sleeve gastrectomy between June 2005 and June 2011 who developed portal vein thrombosis. Demographic data, personal risk factors, family history of thrombosis, and postoperative results of thrombophilia study were analyzed in this study.
Results
A total of 1,713 laparoscopic sleeve gastrectomies were performed. Seventeen patients (1 %) developed portal vein thrombosis after surgery. Of the 17 patients, 16 were women, 8 had a history of smoking, 7 used oral contraceptives, and 2 had a family history of deep vein thrombosis of the lower limbs. All patients were discharged on the third day of surgery with no immediate complications. Symptoms presented at a median of 15 (range, 8–43) days after surgery with abdominal pain in most cases. One case required emergency laparotomy and splenectomy because of an active bleeding hematoma with massive portomesenteric vein thrombosis. In 11 cases, a thrombosis of the main portal vein was identified, in 15 the right portal branch was compromised, and in 10 the left portal branch. Eleven patients presented thrombosis of the superior mesenteric vein, and ten patients presented a concomitant thrombosis of the splenic vein. A massive PMVT was presented in six cases. Seven patients had a positive thrombophilia study.
Conclusions
Portal vein thrombosis and/or mesenteric thrombosis are relatively uncommon complications in patients undergoing bariatric surgery. In this series, the portomesenteric vein thrombosis was the most common complication after LSG in a high-volume center.
This is a preview of subscription content, log in to check access.
Access options
Buy single article
Instant access to the full article PDF.
US$ 39.95
Price includes VAT for USA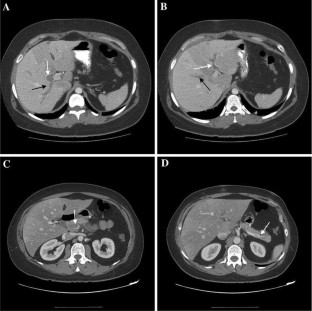 References
1.

Ogren M, Bergqvist D, Björck AcostaS, Eriksson H, Sternby NH (2006) Portal vein thrombosis: prevalence, patient characteristics and lifetime risk: a population study based on 23,796 consecutive autopsies. World J Gastroenterol 12:2115–2119

2.

Webster GJ, Burroughs AK, Riordan SM (2005) Review article: portal vein thrombosis—new insights into aetiology and management. Aliment Pharmacol Ther 21:1–9

3.

Ikeda M, Sekimoto M, Takiguchi S, Kubota M, Ikenaga M, Yamamoto H et al (2005) High incidence of thrombosis of the portal venous system after laparoscopic splenectomy: a prospective study with contrast-enhanced CT scan. Ann Surg 241:208–216

4.

Winslow ER, Brunt LM, Drebin JA, Soper NJ, Klingensmith ME (2002) Portal vein thrombosis after splenectomy. Am J Surg 184:631–636

5.

Hassn AM, al-Fallouji FM, Ouf TI et al (2000) Portal vein thrombosis following splenectomy. Br J Surg 87:367–368

6.

Targarona EM, Espert JJ, Bombuy E, Vidal O, Cerdán G, Artigas V et al (2000) Complications of laparoscopic splenectomy. Arch Surg 135:1137–1140

7.

Stieber AC, Zetti G, Todo S, Tzakis AG, Fung JJ, Marino I et al (1990) The spectrum of portal vein thrombosis in liver transplantation. Ann Surg 213:199

8.

Yerdel M, Gunson B, Mirza D, Karayalçin K, Olliff S, Buckels J et al (2000) Portal vein thrombosis in adults undergoing liver transplantation risk factors, screening, management, and outcome. Transplantation 69:1873

9.

Takagi S (1998) Hepatic and portal vein blood flow during carbon dioxide pneumoperitoneum for laparoscopic hepatectomy. Surg Endosc 12:427–431

10.

Baixauli J, Delaney CP, Senagore AJ, Remzi FH, Fazio VW (2003) Portal vein thrombosis after laparoscopic sigmoid colectomy for diverticulitis: report of a case. Dis Colon Rectum 46:550–553

11.

Millikan KW, Szczerba SM, Dominguez JM, McKenna R, Rorig JC (1996) Superior mesenteric and portal vein thrombosis following laparoscopic-assisted right hemicolectomy. Report of a case. Dis Colon Rectum 39:1171–1175

12.

Kemppainen E, Kokkola A, Siren J, Kiviluoto T (2000) Superior mesenteric and portal vein thrombosis following laparoscopic Nissen fundoplication. Dig Surg 17:279–281

13.

Steele SR, Martin MJ, Garafolo T, Ko TM, Place RJ (2003) Superior mesenteric vein thrombosis following laparoscopic Nissen fundoplication. JSLS 7:159–163

14.

Samama MM (2000) An epidemiologic study of risk factors for deep vein thrombosis in medical outpatients: the Sirius study. Arch Intern Med 160:3415–3420

15.

Hansson PO, Eriksson H, Welin L, Eriksson H (1999) Smoking and abdominal obesity: risk factors for venous thromboembolism among middle-aged men: "the study of men born in 1913.". Arch Intern Med 159:1886–1890

16.

Huerta S, Li Z, Livingston EH (2006) Outcome of portal injuries following bariatric operations. Obes Surg 16(1):105–109

17.

Denne JL, Kowalski C (2005) Portal vein thrombosis after laparoscopic gastric bypass. Obes Surg 15:886–889

18.

Johnson CM, de la Torre RA, Scott JS, Johansen T (2005) Mesenteric venous thrombosis after laparoscopic Roux-en-Y gastric bypass. Surg Obes Relat Dis 1(6):580–582

19.

De Roover A, Detry O, Coimbra C, Hamoir E, Honoré P, Meurisse M (2006) Pylephlebitis of the portal vein complicating intragastric migration of an adjustable gastric band. Obes Surg 16:369–371

20.

Calmes JM, Bettschart V, Raffoul W, Suter M (2002) Band infection with splenoportal venous thrombosis: an unusual but severe complication of gastric banding. Obes Surg 12(5):699–702

21.

Swartz DE, Felix EL (2004) Acute mesenteric venous thrombosis following laparoscopic Roux-en-Y gastric bypass. JSLS 8:165–169

22.

Sonpal IM, Patterson L, Schreiber H, BenMeir A (2004) Mesenteric venous thrombosis after gastric bypass. Obes Surg 14:419–421

23.

Bellanger DE, Hardgroder AG, Greenway FL (2009) Mesenteric venous thrombosis following sleeve gastrectomy. Soard. doi:101016/j.soard.2009.08.004

24.

Singh P, Sharma M, Gandhi K, Nelson J, Kaul A (2009) Acute mesenteric vein thrombosis after laparoscopic gastric sleeve surgery for morbid obesity. Soard. doi:101016/j.soard.2009.08.003

25.

Marceau P, Biron S, Bourque R-A, Potvin M, Hould F-S, Simard S (1993) Biliopancreatic diversion with a new type of gastrectomy. Obes Surg 3:29–35

26.

Gagner M, Boza C (2006) Laparoscopic duodenal switch for morbid obesity. Expert Rev Med Devices 3:105–112

27.

Regan JP, Inabnet WB, Gagner M, Pomp A (2003) Early experience with two-stage laparoscopic Roux-en-Y gastric bypass as an alternative in the super–super obese patient. Obes Surg 13:861–864

28.

Silecchia G, Boru C, Pecchia A, Rizzello M, Casella G, Leonetti F et al (2006) Effectiveness of laparoscopic sleeve gastrectomy (first stage of biliopancreatic diversion with duodenal switch) on comorbidities in super-obese high-risk patients. Obes Surg 16:1138–1144

29.

Han SM, Kim W, Oh JH (2005) Results of laparoscopic sleeve gastrectomy (LSG) at 1 year in morbidly obese Korean patients. Obes Surg 15:1469–1475

30.

Lee C, Cirangle P, Jossart G (2007) Vertical gastrectomy for morbid obesity in 216 patients: report of two-year results. Surg Endosc 21:1810–1816

31.

Gumbs A, Gagner M, Dakin G, Pomp A (2007) Sleeve gastrectomy for morbid obesity. Obes Surg 17:962–969

32.

Salgado N, Becerra E, Briceño E, Sharp A, Raddatz A (2012) Splenic rupture as complication of sleeve gastrectomy. Surg Obes Relat Dis 8:72–74

33.

Abdollahi M, Cushman M, Rosendaal FR (2003) Obesity: risk of venous thrombosis and the interaction with coagulation factor levels and oral contraceptive use. Thromb Haemost 89:493–498

34.

Rocha AT, de Vasconcellos AG, da Luz Neto ER, Araújo DM, Alves ES, Lopes AA (2006) Risk of venous thromboembolism and efficacy of thromboprophylaxis in hospitalized obese medical patients and in obese patients undergoing bariatric surgery. Obes Surg 16(12):1645–1655

35.

Ay C, Tengler T, Vormittag R, Simanek R, Dorda W, Vukovich T et al (2007) Venous thromboembolism—a manifestation of the metabolic syndrome. Haematologica 92:374–380

36.

Dentali F, Romualdi E, Ageno W (2007) The metabolic syndrome and the risk of thrombosis. Haematologica 92:297–299

37.

Ishizaki Y, Bandai Y, Shimomura K, Abe H, Ohtomo Y, Idezuki Y (1993) Changes in splanchnic blood flow and cardiovascular effects following peritoneal insufflation of carbon dioxide. Surg Endosc 7:420–423

38.

Jakimowicz J, Stultiëns G, Smulders F (1998) Laparoscopic insufflation of abdomen reduces portal venous flow. Surg Endosc 12:129–132

39.

Sternberg A, Alfici R, Bronek S, Kimmel B (1998) Laparoscopic surgery and splanchnic vessel thrombosis. J Laparoendosc Adv Surg Tech A 8:65–68

40.

Bradbury MS, Kavanagh PV, Bechtold RE, Chen MY, Ott DJ, Regan JD et al (2002) Mesenteric venous thrombosis: diagnosis and noninvasive imaging. Radiographics 34:680–684

41.

Morasch MD, Ebaugh JL, Chiou AC, Matsumura JS, Pearce WH, Yao JS (2001) Mesenteric venous thrombosis: a changing clinical entity. J Vasc Surg 34:680–684

42.

Valla DC, Condat B (2000) Portal vein thrombosis in adults: pathophysiology, pathogenesis and management. J Hepatol 32(5):865–871
Disclosures
Drs. Salinas, Barros, Salgado, Viscido, Funke, Pérez, Pimentel, and Boza have no conflicts of interest or financial ties to disclose.
About this article
Cite this article
Salinas, J., Barros, D., Salgado, N. et al. Portomesenteric vein thrombosis after laparoscopic sleeve gastrectomy. Surg Endosc 28, 1083–1089 (2014). https://doi.org/10.1007/s00464-013-3055-8
Received:

Accepted:

Published:

Issue Date:
Keywords
Bariatric

Sleeve gastrectomy

Thrombosis

Portal

Mesenteric