Abstract
Background
Determining resection margins for gastric cancer, which generally is not exposed to the serosal surface of the stomach, is the most important priority during totally laparoscopic gastrectomy (TLG). This study aimed to evaluate the usefulness of intraoperative gastroscopy for direct marking of tumors during TLG for gastric cancer in the middle third of the stomach.
Methods
From May 2011 through July 2012, 20 patients with a diagnosis of adenocarcinoma in the middle third of the stomach were enrolled in this case series. Preoperative gastroscopy for tumor localization was not performed for these patients. After the first portion of the duodenum was mobilized from the pancreas and clamped with a laparoscopic intestinal clamp, 2–3 ml of indigo carmine was administered through an endoscopic injector into the gastric muscle layer at the proximal margin of the tumor.
Results
Based on intraoperative gastroscopic findings, distal subtotal gastrectomy was performed for 18 patients, with the authors deciding to perform total gastrectomy for two patients. A specimen was extracted after distal gastrectomy to confirm sufficient distance from the resection margin to the tumor before reconstruction. All the patients had tumor-free margins and required no additional resection. No morbidity related to gastroscopic procedure occurred, and the time required has been gradually decreased to about 5 min.
Conclusions
Intraoperative gastroscopy for tumor localization is an accurate and comfortable method for gastric cancer patients undergoing totally laparoscopic distal gastrectomy.
This is a preview of subscription content, log in to check access.
Access options
Buy single article
Instant unlimited access to the full article PDF.
US$ 39.95
Price includes VAT for USA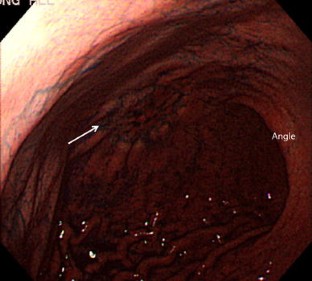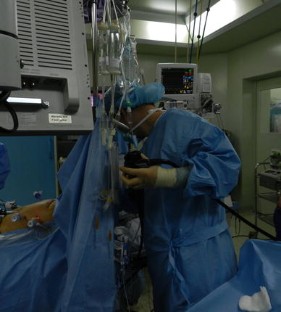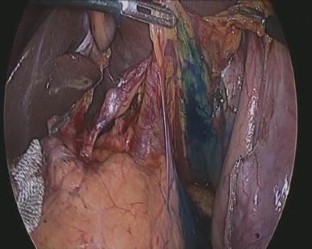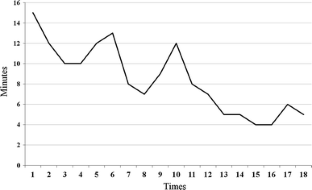 References
1.

Shin A, Kim J, Park S (2011) Gastric cancer epidemiology in Korea. J Gastric Cancer 11:135–140

2.

Hochwald SN, Brennan MF, Klimstra DS, Kim S, Karpeh MS (1999) Is lymphadenectomy necessary for early gastric cancer? Ann Surg Oncol 6:664–670

3.

An JY, Cheong JH, Hyung WJ, Noh SH (2011) Recent evolution of surgical treatment for gastric cancer in Korea. J Gastric Cancer 11:1–6

4.

Kitano S, Shiraishi N (2004) Current status of laparoscopic gastrectomy for cancer in Japan. Surg Endosc 18:182–185

5.

Kim YW, Yoon HM, Eom BW, Park JY (2012) History of minimally invasive surgery for gastric cancer in Korea. J Gastric Cancer 12:13–17

6.

Kinoshita T, Shibasaki H, Oshiro T, Ooshiro M, Okazumi S, Katoh R (2011) Comparison of laparoscopy-assisted and total laparoscopic Billroth-I gastrectomy for gastric cancer: a report of short-term outcomes. Surg Endosc 25:1395–1401

7.

Song KY, Park CH, Kang HC, Kim JJ, Park SM, Jun KH, Chin HM, Hur H (2008) Is totally laparoscopic gastrectomy less invasive than laparoscopy-assisted gastrectomy? Prospective, multicenter study. J Gastrointest Surg 12:1015–1021

8.

Hyung WJ, Lim JS, Cheong JH, Kim J, Choi SH, Song SY, Noh SH (2005) Intraoperative tumor localization using laparoscopic ultrasonography in laparoscopic-assisted gastrectomy. Surg Endosc 19:1353–1357

9.

Jeong O, Cho SB, Joo YE, Ryu SY, Park YK (2012) Novel technique for intraoperative tumor localization during totally laparoscopic distal gastrectomy: endoscopic autologous blood tattooing. Surg Endosc 26:1778–1783

10.

Kim HI, Hyung WJ, Lee CR, Lim JS, An JY, Cheong JH, Choi SH, Noh SH (2011) Intraoperative portable abdominal radiograph for tumor localization: a simple and accurate method for laparoscopic gastrectomy. Surg Endosc 25:958–963

11.

Japanese Gastric Cancer Association (2011) Japanese gastric cancer treatment guidelines 2010 (version 3). Gastric Cancer 14:113–123

12.

Bozzetti F, Marubini E, Bonfanti G, Miceli R, Piano C, Gennari L (1999) Subtotal versus total gastrectomy for gastric cancer: 5-year survival rates in a multicenter randomized Italian trial. Italian gastrointestinal tumor study group. Ann Surg 230:170–178

13.

Buhl K, Schlag P, Herfarth C (1990) Quality of life and functional results following different types of resection for gastric carcinoma. Eur J Surg Oncol 16:404–409

14.

Cascinu S, Giordani P, Catalano V, Agostinelli R, Catalano G (1999) Resection-line involvement in gastric cancer patients undergoing curative resections: implications for clinical management. Jpn J Clin Oncol 29:291–293

15.

Morgagni P, Garcea D, Marrelli D, De Manzoni G, Natalini G, Kurihara H, Marchet A, Saragoni L, Scarpi E, Pedrazzani C, Di Leo A, De Santis F, Panizzo V, Nitti D, Roviello F (2008) Resection line involvement after gastric cancer surgery: clinical outcome in nonsurgically retreated patients. World J Surg 32:2661–2667

16.

Feingold DL, Addona T, Forde KA, Arnell TD, Carter JJ, Huang EH, Whelan RL (2004) Safety and reliability of tattooing colorectal neoplasms prior to laparoscopic resection. J Gastrointest Surg 8:543–546

17.

Fu KI, Fujii T, Kato S, Sano Y, Koba I, Mera K, Saito H, Yoshino T, Sugito M, Yoshida S (2001) A new endoscopic tattooing technique for identifying the location of colonic lesions during laparoscopic surgery: a comparison with the conventional technique. Endoscopy 33:687–691

18.

Matsui H, Okamoto Y, Nabeshima K, Kondoh Y, Ogoshi K, Makuuchi H (2009) Endoscopy-assisted gastric resection: a safe and reliable procedure for tumor clearance during laparoscopic high distal or proximal gastrectomy. Surg Endosc 23:1146–1149

19.

Park DJ, Lee HJ, Kim SG, Jung HC, Song IS, Lee KU, Choe KJ, Yang HK (2005) Intraoperative gastroscopy for gastric surgery. Surg Endosc 19:1358–1361

20.

Lee HH, Song KY, Park CH, Jeon HM (2012) Training of surgical endoscopists in Korea: assessment of the learning curve using a cumulative sum model. J Surg Educ 69:559–563

21.

Cho WY, Kim YJ, Cho JY, Bok GH, Jin SY, Lee TH, Kim HG, Kim JO, Lee JS (2011) Hybrid natural orifice transluminal endoscopic surgery: endoscopic full-thickness resection of early gastric cancer and laparoscopic regional lymph node dissection: 14 human cases. Endoscopy 43:134–139

22.

Abe N, Takeuchi H, Yanagida O, Masaki T, Mori T, Sugiyama M, Atomi Y (2009) Endoscopic full-thickness resection with laparoscopic assistance as hybrid NOTES for gastric submucosal tumor. Surg Endosc 23:1908–1913

23.

Mhaskar R, Mhaskar AM (2002) Methemoglobinemia following chromopertubation in treated pelvic tuberculosis. Int J Gynaecol Obstet 77:41–42

24.

Nolan DG (1995) Inflammatory peritonitis with ascites after methylene blue dye chromopertubation during diagnostic laparoscopy. J Am Assoc Gynecol Laparosc 2:483–485

25.

Trikha A, Mohan V, Kashyap L, Saxena A (1996) Pulmonary edema following intrauterine methylene blue injection. Acta Anaesthesiol Scand 40:382–384
Acknowledgments
The authors thank the resident surgeons and surgical nurses in the Ajou University Hospital, who aided the performance of intraoperative gastroscopy in this study, and Dr. Joo Hyun Shim, who recorded the narration for the videos in this report. This work was supported by a grant of the Korea Healthcare technology R&D project, Ministry of Health, Welfare, & Family Affairs, Republic of Korea (1320270).
Disclosures
Yi Xuan, Hoon Hur, Cheul Su Byun, Sang-Uk Han, and Yong Kwan Cho have no conflicts of interest or financial ties to disclosure.
Electronic supplementary material
Below is the link to the electronic supplementary material.
Supplementary material 1 (WMV 3054 kb)
Supplementary material 2 (WMV 2766 kb)
Supplementary material 3 (WMV 2844 kb)
About this article
Cite this article
Xuan, Y., Hur, H., Byun, C.S. et al. Efficacy of intraoperative gastroscopy for tumor localization in totally laparoscopic distal gastrectomy for cancer in the middle third of the stomach. Surg Endosc 27, 4364–4370 (2013) doi:10.1007/s00464-013-3042-0
Received:

Accepted:

Published:

Issue Date:
Keywords
Gastric neoplasm

Intraoperative gastroscopy

Laparoscopic gastrectomy

Tumor localization