Abstract
Background
Groin hernia repair may be associated with long-term complications such as chronic pain, believed to result from damage to regional nerves by tissue penetrating mesh fixation. Studies have shown that mesh fixation with fibrin sealant reduces the risk of these long-term complications, but data on recurrence and reoperation rates after the use of fibrin sealant compared with tacks are not available. This study aimed to determine whether fibrin sealant is a safe and feasible alternative to tacks with regard to reoperation rates after laparoscopic groin hernia repair.
Methods
The current study compared reoperation rates after laparoscopic groin hernia repair between fibrin sealant and tacks used for mesh fixation. The study used data collected prospectively from The National Danish Hernia Database and analyzed 8,314 laparoscopic groin hernia repairs for reoperation rates. Mesh fixation was performed with fibrin sealant (n = 784) or tacks (n = 7,530).
Results
The findings showed a significantly lower reoperation rate for the fibrin sealant than for the tacks (0.89 vs 2.94 %, p = 0.031). The median follow-up period was 17 months (range, 0–44 months) for the fibrin sealant group and 21 months (range, 0–44 months) for the tacks group.
Conclusions
Fibrin sealant was superior to tacks for mesh fixation in laparoscopic groin hernia repair with regard to reoperation rates. The study could not differentiate between different hernia defect sizes, and future studies should therefore explore whether the superior effect of fibrin sealant applies for all hernia types and sizes.
This is a preview of subscription content, log in to check access.
Access options
Buy single article
Instant access to the full article PDF.
US$ 39.95
Price includes VAT for USA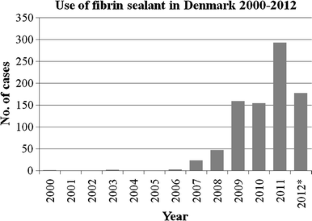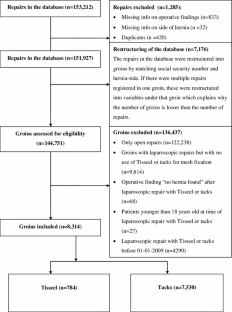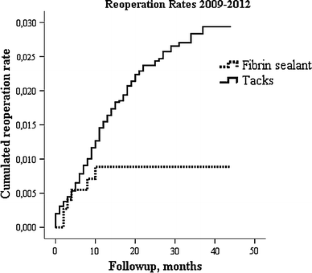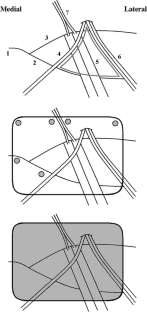 References
1.

Matthews RD, Neumayer L (2008) Inguinal hernia in the 21st century: an evidence-based review. Curr Probl Surg 45:261–312

2.

Primatesta P, Goldacre MJ (1996) Inguinal hernia repair: incidence of elective and emergency surgery, readmission, and mortality. Int J Epidemiol 25:835–839

3.

Scott NW, McCormack K, Graham P, Go PM, Ross SJ, Grant AM (2002) Open mesh versus nonmesh for repair of femoral and inguinal hernia. Cochrane Database Syst Rev 4:CD002197

4.

Poobalan AS, Bruce J, Smith WCS, King PM, Krukowski ZH, Chambers WA (2003) A review of chronic pain after inguinal herniorrhaphy. Clin J Pain 19:48–54

5.

Heise CP, Starling JR (1998) Mesh inguinodynia: a new clinical syndrome after inguinal herniorrhaphy? J Am Coll Surg 187:514–518

6.

Fortelny RH, Petter-Puchner AH, Glaser KS, Redl H (2012) Use of fibrin sealant (Tisseel/Tissucol) in hernia repair: a systematic review. Surg Endosc 26:249–254

7.

Topart P, Vandenbroucke F, Lozac'h P (2005) Tisseel versus tack staples as mesh fixation in totally extraperitoneal laparoscopic repair of groin hernias: a retrospective analysis. Surg Endosc 19:724–727

8.

Campanelli G, Pascual MH, Hoeferlin A, Rosenberg J, Champault G, Kingsnorth A, Miserez M (2012) Randomized, controlled, blinded trial of Tisseel/Tissucol for mesh fixation in patients undergoing Lichtenstein technique for primary inguinal hernia repair: results of the TIMELI trial. Ann Surg 255:650–657

9.

Kaul A, Hutfless S, Le H, Hamed S, Tymitz K, Nguyen H, Marohn MR (2012) Staple versus fibrin sealant fixation in laparoscopic total extraperitoneal repair of inguinal hernia: a systematic review and metaanalysis. Surg Endosc 26:1269–1278

10.

Schwab R, Willms a, Kröger a, Becker HP (2006) Less chronic pain following mesh fixation using a fibrin sealant in TEP inguinal hernia repair. Hernia 10:272–277

11.

Bittner R, Arregui ME, Bisgaard T, Bisgaard T, Dudai M, Ferzli GS, Fitzgibbons RJ, Fortelny RH, Klinge U, Kockerling F, Kuhry E, Kukleta J, Lomanto D, Misra MC, Montgomery A, Morales-Conde S, Reinpold W, Rosenberg J, Sauerland S, Schug-Pass C, Singh K, Timoney M, Weyhe D, Chowbey P (2011) Guidelines for laparoscopic (TAPP) and endoscopic (TEP) treatment of inguinal hernia. International Endohernia Society (IEHS). Surg Endosc 25:2773–2843

12.

Bay-Nielsen M, Kehlet H, Strand L, Malmstrøm J, Andersen FH, Wara P, Juul P, Callesen T (2001) Quality assessment of 26,304 herniorrhaphies in Denmark: a prospective nationwide study. Lancet 358:1124–1128

13.

Katkhouda N, Mavor E, Friedlander MH, Mason RJ, Kiyabu M, Grant SW, Achanta K, Kirkman EL, Narayanan K, Essani R (2001) Use of fibrin sealant for prosthetic mesh fixation in laparoscopic extraperitoneal inguinal hernia repair. Ann Surg 233:18–25

14.

Busuttil RW (2003) A comparison of antifibrinolytic agents used in hemostatic fibrin sealants. J Am Coll Surg 197:1021–1028

15.

Canonico S, Sciaudone G, Pacifico F, Santoriello A (1999) Inguinal hernia repair in patients with coagulation problems: prevention of postoperative bleeding with human fibrin sealant. Surgery 125:315–317

16.

Novik B, Hagedorn S, Mörk U-B, Dahlin K, Skullman S, Dalenbäck J (2006) Fibrin sealant for securing the mesh in laparoscopic totally extraperitoneal inguinal hernia repair: a study with a 40-month prospective follow-up period. Surg Endosc 20:462–467

17.

Neumayer L, Giobbie-Hurder A, Jonasson O, Fitzgibbons R, Dunlop D, Gibbs J, Reda D, Henderson W (2004) Open mesh versus laparoscopic mesh repair of inguinal hernia. N Engl J Med 350:1819–1827

18.

Petter-Puchner AH, Walder N, Redl H, Schwab R, Ohlinger W, Gruber-Blum S, Fortelny RH (2008) Fibrin sealant (Tissucol) enhances tissue integration of condensed polytetrafluoroethylene meshes and reduces early adhesion formation in experimental intraabdominal peritoneal onlay mesh repair. J Surg Res 150:190–195

19.

Paajanen H (2007) A single-surgeon randomized trial comparing three composite meshes on chronic pain after Lichtenstein hernia repair in local anesthesia. Hernia 11:335–339

20.

Olcucuoglu E, Kulacoglu H, Ensari CO, Yavuz A, Albayrak A, Ergul Z, Evirgen O (2011) Fibrin sealant effects on the ilioinguinal nerve. J Invest Surg 24:267–272

21.

Junge K, Binnebösel M, Rosch R, Ottinger A, Stumpf M, Mühlenbruch G, Schumpelick V, Klinge U (2008) Influence of mesh materials on the integrity of the vas deferens following Lichtenstein hernioplasty: an experimental model. Hernia 12:621–626

22.

Lau H (2005) Fibrin sealant versus mechanical stapling for mesh fixation during endoscopic extraperitoneal inguinal hernioplasty. Ann Surg 242:670–675

23.

Tolver M, Rosenberg J, Juul P, Bisgaard T (2013) Randomized clinical trial of fibrin glue versus tacked fixation in laparoscopic groin hernia repair. Surg Endosc. doi:10.1007/s00464-012-2766-6&gt

24.

Bischoff JM, Linderoth G, Aasvang EK, Werner MU, Kehlet H (2012) Dysejaculation after laparoscopic inguinal herniorrhaphy: a nationwide questionnaire study. Surg Endosc 26:979–983

25.

Kald A, Nilsson E, Anderberg B, Bragmark M, Engström P, Gunnarsson U, Haapaniemi S, Lindhagen J, Nilsson P (1998) Reoperation as surrogate endpoint in hernia surgery: a three-year follow-up of 1,565 herniorrhaphies. Eur J Surg 164:45–50

26.

Leibl BJ, Schmedt C, Schwarz J, Da P, Kraft K, Schloßnickel B, Bittner R (1998) A single institution's experience with transperitoneal laparoscopic hernia repair. Am J Surg 175:446–451

27.

Duffy AJ, Hogle NJ, LaPerle KM, Fowler DL (2004) Comparison of two composite meshes using two fixation devices in a porcine laparoscopic ventral hernia repair model. Hernia 8:358–364

28.

Lepere M, Benchetrit S, Bertrand JC, Chalbet JY, Combier JP, Detruit B, Herbault G, Jarsaillon P, Lagoutte J, Levard H, Rignier P (2008) Laparoscopic resorbable mesh fixation: assessment of an innovative disposable instrument delivering resorbable fixation devices: I-Clip™: final results of a prospective multicentre clinical trial. Hernia 12:177–181

29.

Schwab R, Schumacher O, Junge K, Binnebösel M, Klinge U, Becker HP, Schumpelick V (2008) Biomechanical analyses of mesh fixation in TAPP and TEP hernia repair. Surg Endosc 22:731–738
Acknowledgments
Baxter Health Care Corp. provided funding by an unrestricted educational grant for data extraction and analysis but had no influence on the analysis or interpretation of results.
Disclosures
Jacob Rosenberg has received funding for research from Baxter and Johnson & Johnson and payment for lectures and expert testimony from Baxter, Bard, and Merck. All authors have no conflicts of interest or financial ties to disclose.
Funding
The study was funded by the Baxter Healthcare Corporation, CA, USA.
About this article
Cite this article
Helvind, N.M., Andresen, K. & Rosenberg, J. Lower reoperation rates with the use of fibrin sealant versus tacks for mesh fixation. Surg Endosc 27, 4184–4191 (2013). https://doi.org/10.1007/s00464-013-3018-0
Received:

Accepted:

Published:

Issue Date:
Keywords
Fibrin sealant

Groin hernia

Inguinal hernia

Laparoscopy

Reoperation

Surgical outcome