Abstract
Background
Various surgical procedures for hysterectomy exist; with laparoscopic supracervical hysterectomy (LASH) becoming an established option in recent years. Therefore, energy-based technologies for rapid tissue sealing and cutting are in the focus of surgeons. The aim of this trial was to prove or disprove investigated noninferiority of the novel device BiCision in comparison to the widely used UltraCision in a routine procedure (www.clinicaltrials.gov; study identifier NCT01806012).
Methods
Thirty LASH procedures were performed with UltraCision and BiCision after randomization of the preparation sides. The primary end point was the resection time per side and instrument. The instruments were also compared concerning blood loss and coagulation and cutting qualities as well as postoperative complications. The patients were followed for 3 months.
Results
Mean preparation time per side was 8.8 ± 1.8 min for BiCision and 8.3 ± 1.9 min for UltraCision (p = 0.31), which was not significantly different. Both instruments achieved complete transection without the need of additional cutting attempts. BiCision was significantly superior regarding the number of coagulations for complete hemostasis before and after the removal of the uterine corpus (before: 6.9 ± 4.8 for BiCision and 8.6 ± 4.1 for UltraCision, p = 0.047; after: 5.4 ± 1.2 for BiCision and 8.6 ± 3.2 for UltraCision, p < 0.0001) and intraoperative blood loss (score 1.07 ± 0.25 for BiCision vs. 1.63 ± 0.49 for UltraCision, p < 0.0001). Tissue sticking to the instrument occurred less often on the BiCision side (score 0.14 ± 0.35 for BiCision vs. 0.60 ± 0.81 for UltraCision, p = 0.015). BiCision showed a significantly better fixation of the tissue (grip score 0.23 ± 0.43 for BiCision vs. 1.00 ± 0.74 for UltraCision, p < 0.0001). No intraoperative or postoperative complications were seen for both instruments.
Conclusions
The efficacy and quality of vessel sealing and cutting with BiCision is not inferior to the UltraCision device. Resection time was comparable, and complete hemostasis could be achieved faster in a clinical setting. Therefore, BiCision is at least as reliable as UltraCision for laparoscopic indications.
This is a preview of subscription content, log in to check access.
Access options
Buy single article
Instant access to the full article PDF.
US$ 39.95
Price includes VAT for USA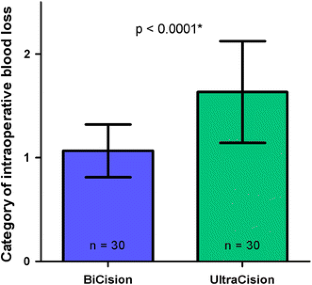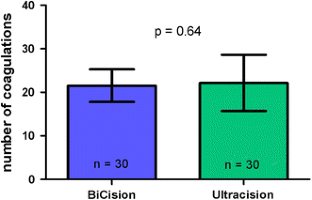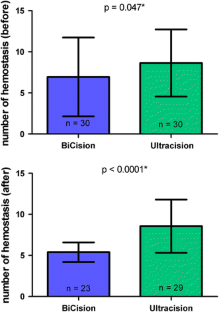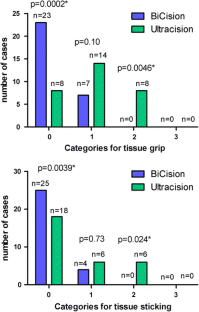 References
1.

Abdelmonem A, Wilson H, Pasic R (2006) Observational comparison of abdominal, vaginal and laparoscopic hysterectomy as performed at a university teaching hospital. J Reprod Med 51:945–954

2.

Hobson DT, Imudia AN, Al-Safi ZA, Shade G, Kruger M, Diamond MP, Awonuga AO (2012) Comparative analysis of different laparoscopic hysterectomy procedures. Arch Gynecol Obstet 285:1353–1361

3.

Harrell AG, Kercher KW, Heniford BT (2004) Energy sources in laparoscopy. Semin Laparosc Surg 11:201–209

4.

Richter S, Kollmar O, Schilling MK, Pistorius GA, Menger MD (2006) Efficacy and quality of vessel sealing: comparison of a reusable with a disposable device and effects of a clmap surface geometry and structure. Surg Endosc 20:890–894

5.

Wallwiener CW, Rajab TK, Zubke W, Isaacson KB, Enderle MD, Schäller D, Wallwiener M (2008) Thermal conduction, compression, and electrical current—an ecaluation of major parameters of electrosurgical vessel sealing in a porcine in vitro model. J Minim Invasive Gynecol 15:605–610

6.

Rimonda R, Arezzo A, Garrone C, Allaix ME, Giraudo G, Morino M (2009) Electrothermal bipolar vessel sealing system vs harmonic scalpel in colorectal laparoscopic surgery: a prospective, randomized study. Dis Colon Rectum 52:657–661

7.

Kunde D, Welch C (2003) UltraCision in gynaecological laparoscopic surgery. J Obstet Gynaecol 23:347–352

8.

Schmidbauer S, Hallfeldt KK, Sitzmann G, Kantelhardt T, Trupka A (2002) Experience with ultrasound scissors and blades (UltraCision) in open and laparoscopic liver resection. Ann Surg 235:27–30

9.

Rothmund R, Kraemer B, Neis F, Brucker S, Wallwiener M, Rada A, Hausch A, Scharpf M, Szyrach MN (2012) Efficacy and safety of the novel electrosurgical vessel sealing and cutting instrument BiCision®. Surg Endosc 26:3334–3343

10.

Harold KL, Pollinger H, Matthews BD, Kercher KW, Sing RF, Heniford BT (2003) Comparison of ultrasonic energy, bipolar thermal energy, and vascular clips for the hemostasis of small-, medium-, and large-sized arteries. Surg Endosc 17:1228–1230

11.

Lamberton GR, Hsi RS, Jin DH, Lindler TU, Jellison FC, Baldwin DD (2008) Prospective comparison of four laparoscopic vessel ligation devices. J Endourol 22:2307–2312

12.

Mantke R, Halangk W, Habermann A, Peters B, Konrad S, Guenther M, Lippert H (2011) Efficacy and safety of 5-mm-diameter bipolar and ultrasonic shears for cutting carotid arteries of the hybrid pig. Surg Endosc 25:577–585

13.

Newcomb WL, Hope WW, Schmelzer TM, Heath JJ, Norton HJ, Lincourt AE, Heniford BT, Iannitti DA (2009) Comparison of blood vessel sealing among new electrosurgical and ultrasonic devices. Surg Endosc 23:90–96

14.

Person B, Vivas DA, Ruiz D, Talcott M, Coad JE, Wexner SD (2008) Comparison of four energy-based vascular sealing and cutting instruments: a porcine model. Surg Endosc 22:534–538

15.

Ou CS, Harper A, Liu YH, Rowbotham R (2002) Laparoscopic myomectomy technique. Use of colpotomy and the harmonic scalpel. J Reprod Med 47:849–853

16.

Demirturk F, Aytan H, Caliskan AC (2007) Comparison of the use of electrothermal bipolar vessel sealer with harmonic scalpel in total laparoscopic hysterectomy. J Obstet Gynaecol Res 33:341–345

17.

Barnacle SJ, Robinson RD, Malinowski MJ (2007) Laparoscopic resection of a noncommunicating, rudimentary uterine horn using the harmonic scalpel: a report of 3 cases. J Reprod Med 52:570–574

18.

Bessa SS, Abdel-Razek AH, Sharaan MA, Bassiouni AE, El-Khishen MA, El-Kayal el SA (2011) Laparoscopic cholecystectomy in cirrhotics: a prospective randomized study comparing the conventional diathermy and the harmonic scalpel for gallbladder dissection. J Laparoendosc Adv Surg Tech A 21:1–5

19.

Schwartz RO (1994) Laparoscopic hysterectomy. Supracervical vs assisted vaginal. J Reprod Med 39:625–630

20.

Müller A, Thiel FC, Renner SP, Winkler M, Häberle L, Beckmann MW (2010) Hysterectomy—a comparison of approaches. Dtsch Arztebl Int 107:353–359

21.

Brill AI (2011) Electrosurgery: principles and practice to reduce risk and maximize efficacy. Obstet Gynecol Clin North Am 38:687–702

22.

Ramsay CR, Grant AM, Wallace SA, Garthwaite PH, Monk AF, Russell IT (2001) Statistical assessment of the learning curves of health technologies. Health Technol Assess 5:1–79

23.

Janetschek G, Hobisch A, Peschel R, Bartsch G (2000) Laparoscopic retroperitoneal lymph node dissection. Urology 55:136–140

24.

Sakurai N, Yamamoto Y, Asakawa Y, Taoka H, Takahashi K, Kubushiro K (2011) Laparoscopically resected uterine adenomatoid tumor with coexisting endometriosis: case report. J Minim Invasive Gynecol 18:257–261

25.

Fitzgerald JEF, Malik M, Ahmed I (2012) A single blind controlled study of electrocautery and ultrasonic scalpel smoke plumes in laparoscopic surgery. Surg Endosc 26:337–342

26.

Sindram D, Martin K, Meadows JP, Prabhu AS, Heath JJ, McKillop IH, Iannitti DA (2011) Collagen-elastin ratio predicts burst pressure of arterial seals created using a bipolar vessel sealing device in a porcine model. Surg Endosc 25:2604–2612

27.

Richter S, Kollmar O, Neunhoeffer E, Schilling MK, Menger MD, Pistorius G (2006) Differential response of arteries and veins to bipolar vessel sealing: evaluation of a novel reusable device. J Laparoendosc Adv Surg Tech A 16:149–155

28.

Ghomi A, Hantes J, Lotze EC (2005) Incidence of cyclical bleeding after laparoscopic supracervical hysterectomy. J Minim Invasive Gynecol 12:201–205

29.

Schmidt T, Eren Y, Breidenbach M, Fehr D, Volkmer A, Fleisch M, Rein DT (2011) Modifications of laproscopic supracervical hysterectomy technique significantly reduce postoperative spotting. J Minim Invasive Gynecol 18:81–84

30.

Lieng M, Qvigstad E, Istre O, Langebrekke A, Ballard K (2008) Long-term outcomes following laparoscopic supracervical hysterectomy. BJOG 115:1605–1610

31.

Jenkins TR (2004) Laparoscopic supracervical hysterectomy. Am J Obstet Gynecol 191:1875–1884
Disclosures
R. Rothmund, M. Szyrach, A. Reda, M. D. Enderle, A. Neugebauer, F.-A. Taran, S. Brucker, A. Hausch, C. Wallwiener, and B. Kraemer have no conflicts of interest or financial ties to disclose.
About this article
Cite this article
Rothmund, R., Szyrach, M., Reda, A. et al. A prospective, randomized clinical comparison between UltraCision and the novel sealing and cutting device BiCision in patients with laparoscopic supracervical hysterectomy . Surg Endosc 27, 3852–3859 (2013). https://doi.org/10.1007/s00464-013-2994-4
Received:

Accepted:

Published:

Issue Date:
Keywords
Bipolar electrocoagulation

Supracervical hysterectomy

Vessel sealing