Abstract
Background
A grading system for postoperative complications is important for quality control and comparison among investigations. The objective of the current study was to evaluate complications associated with laparoscopic colorectal surgery according to a standardized grading system, and to examine risk factors associated with different complication grades.
Methods
Data of all patients who underwent elective laparoscopic colorectal surgery at two medical centers between September 2003 and January 2011 were collected prospectively. Complications were graded retrospectively into five categories based on a previously proposed grading system for colorectal operations. Age, gender, BMI, Charlson comorbidity score, indication for surgery, pathology site, conversion rate, learning curve, operative times, previous abdominal surgery, concurrent surgical procedures performed, and length of hospital stay were evaluated as risk factors and outcome measures for complications.
Results
A total of 501 patients were included in the study. Of them, 30.5 % suffered at least one complication and 6.5 % more than one. Complications that were mainly medical or surgical site infections requiring minor intervention (grades 1 and 2) occurred in 22.9 % of patients. Surgical complications requiring invasive interference (grades 3 and 4) occurred in 7.4 % of patients and mortality (grade 5) occurred in 0.2 % (1 patient). Length of hospital stay was directly related to complication grade. Average hospital stay was 6.8 ± 3.5, 10.5 ± 5.1, and 20.2 ± 12.3 days for patients with no complications, grade 1–2 complications, and grade 3–4 complications, respectively (p < 0.01). Minor complications (grades 1–2) were associated with conversion (p < 0.01), high Charlson score (p = 0.004), and additional surgical procedures (p = 0.04). Major complications (grades 3–4) were associated solely with conversion (p < 0.01) and rectal pathology (p < 0.01).
Conclusion
This study demonstrates the use of a uniform grading system for complications in laparoscopic colorectal surgery. Conversion was found to be associated with all grades of complications.
This is a preview of subscription content, log in to check access.
Access options
Buy single article
Instant access to the full article PDF.
US$ 39.95
Price includes VAT for USA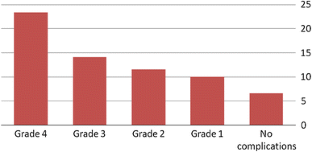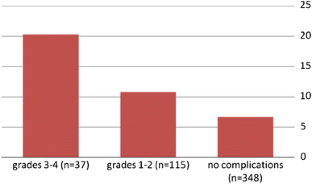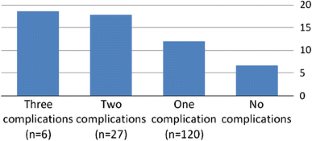 References
1.

Dindo D, Demartines N, Clavien PA (2004) Classification of surgical complications: a new proposal with evaluation in a cohort of 6336 patients and results of a survey. Ann Surg 240:205–213

2.

Mazeh H, Samet Y, Abu-Wasel B, Beglaibter N, Grinbaum R, Cohen T, Pinto M, Hamburger T, Freund HR, Nissan A (2009) Application of a novel severity grading system for surgical complications after colorectal resection. J Am Coll Surg 208:355–361

3.

Charlson ME, Pompei P, Ales KL, MacKenzie CR (1987) A new method of classifying prognostic comorbidity in longitudinal studies: development and validation. J Chronic Dis 40:373–383

4.

Clavien PA, Barkun J, de Oliveira ML, Vauthey JN, Dindo D, Schulick RD, de Santibañes E, Pekolj J, Slankamenac K, Bassi C, Graf R, Vonlanthen R, Padbury R, Cameron JL, Makuuchi M (2009) The Clavien–Dindo classification of surgical complications: five-year experience. Ann Surg 250:187–196

5.

Clavien P, Sanabria J, Strasberg S (1992) Proposed classification of complication of surgery with examples of utility in cholecystectomy. Surgery 111:518–526

6.

Frank SM, Savage WJ, Rothschild JA, Rivers RJ, Ness PM, Paul SL, Ulatowski JA (2012) Variability in blood and blood component utilization as assessed by an anesthesia information management system. Anesthesiology 17:99–106

7.

Ohtani H, Tamamori Y, Arimoto Y, Nishiguchi Y, Maeda K, Hirakawa KA (2012) A meta-analysis of the short- and long-term results of randomized controlled trials that compared laparoscopy-assisted and open colectomy for colon cancer. J Cancer 3:49–57

8.

Kirchhoff P, Clavien PA, Hahnloser D (2010) Complications in colorectal surgery: risk factors and preventive strategies. Patient Saf Surg 4:5

9.

Guillou PJ, Quirke P, Thorpe H, Walker J, Jayne DG, Smith AM, Heath RM, Brown JM, MRC CLASICC Trial Group (2005) Short-term endpoints of conventional versus laparoscopic-assisted surgery in patients with colorectal cancer (MRC CLASICC trial): multicentre, randomised controlled trial. Lancet 365:1718–1726

10.

Tekkis PP, Senagore AJ, Delaney CP, Fazio VW (2005) Evaluation of the learning curve in laparoscopic colorectal surgery: comparison of right-sided and left-sided resections. Ann Surg 242:83–91

11.

Waters JA, Chihara R, Moreno J, Robb BW, Wiebke EA, George VV (2010) Laparoscopic colectomy: does the learning curve extend beyond colorectal surgery fellowship? JSLS 14:325–331

12.

Kirchhoff P, Dincler S, Buchmann P (2008) A multivariate analysis of potential risk factors for intra- and postoperative complications in 1316 elective laparoscopic colorectal procedures. Ann Surg 248:259–265

13.

Person B, Cera SM, Sands DR, Weiss EG, Vernava AM, Nogueras JJ, Wexner SD (2008) Do elderly patients benefit from laparoscopic colorectal surgery? Surg Endosc 22:401–405

14.

Tei M, Ikeda M, Haraguchi N, Takemasa I, Mizushima T, Ishii H, Yamamoto H, Sekimoto M, Doki Y, Mori M (2009) Postoperative complications in elderly patients with colorectal cancer: comparison of open and laparoscopic surgical procedures. Surg Laparosc Endosc Percutan Tech 19:488–492

15.

Roscio F, Bertoglio C, De Luca A, Frigerio A, Galli F, Scandroglio I (2011) Outcomes of laparoscopic surgery for colorectal cancer in elderly patients. JSLS 15:315–321
Disclosures
Ziv Asa, Ron Greenberg, Ronen Ghinea, Roy Inbar, Nir Wasserberg, and Shmuel Avital have no conflicts of interest or financial ties to disclose.
About this article
Cite this article
Asa, Z., Greenberg, R., Ghinea, R. et al. Grading of complications and risk factor evaluation in laparoscopic colorectal surgery. Surg Endosc 27, 3748–3753 (2013). https://doi.org/10.1007/s00464-013-2960-1
Received:

Accepted:

Published:

Issue Date:
Keywords
Complications

Grading

Laparoscopic colorectal surgery