Abstract
Background
Transluminal retroperitoneal endoscopic necrosectomy (TREN) is an attractive NOTES technique alternative to surgery for treatment of walled-off pancreatic necrosis (WOPN). The main limitations to this technique are the need for repeated sessions, prolonged external irrigation, and EUS availability. In our study, we introduced new modifications, including the use of hydrogen peroxide, and abandoning the use of EUS and external irrigation.
Methods
This is a retrospective study of outcome of consecutive patients who underwent TREN for WOPN between April 2011 and August 2012. The technique included (1) non-EUS–guided transluminal drainage, and (2) direct endoscopic debridement using hydrogen peroxide and different accessories. No external irrigation was used.
Results
Ten patients were included. Initial clinical and technical success was achieved in all patients. Complete radiological success and long-term clinical efficacy was achieved in nine patients (1 patient had an inaccessible left paracolic gutter collection and died 62 days after endotherapy). Mean number of sessions was 1.4 (range 1–2). Complications included bleeding, which was self-limited in three patients and endoscopically controlled in one. All patients avoided surgery, and no recurrence was reported during median follow-up of 289 (range 133–429) days.
Conclusions
TREN is a safe and effective treatment for WOPN and could be performed safely without EUS guidance in selected cases. Hydrogen peroxide played a major role in reduction of number of sessions and timing. External irrigation of WOPN is not necessary, if adequate debridement could be achieved.
This is a preview of subscription content, log in to check access.
Access options
Buy single article
Instant unlimited access to the full article PDF.
US$ 39.95
Price includes VAT for USA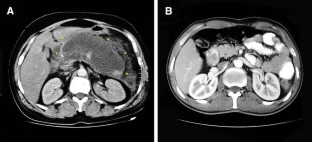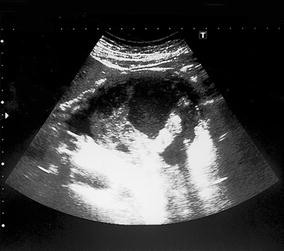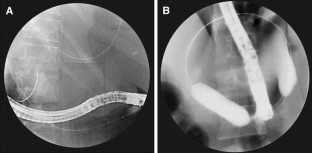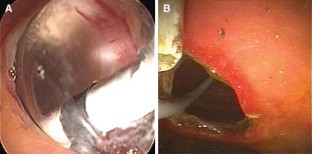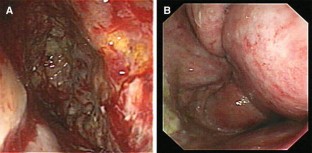 References
1.

Bradely El III (1993) A clinically based classification system for acute pancreatitis. Summary of the International Symposium on Acute pancreatitis, Atlanta, GA, September 11 through 13, 1992. Arch Surg 128:586–590

2.

Stamatakos M, Stefanaki C, Kontzoglou K, Stergiopoulos S, Giannopoulos G, Safioleas M (2010) Walled-off pancreatic necrosis. World J Gastroenterol 16(14):1707–1712

3.

Papachristou GI, Takahashi N, Chahal P, Sarr MG, Baron TH (2007) Peroral endoscopic drainage/debridement of walled-off pancreatic necrosis. Ann Surg 245(6):943–951

4.

Baron TH, Morgan DE (1999) Acute necrotizing pancreatitis. N Engl J Med 340(18):1412–1417

5.

Fernández-del Castillo C, Rattner DW, Makary MA, Mostafavi A, McGrath D, Warshaw AL (1998) Debridement and closed packing for the treatment of necrotizing pancreatitis. Ann Surg 228(5):676–684

6.

Mier J, León EL, Castillo A, Robledo F, Blanco R (1997) Early versus late necrosectomy in severe necrotizing pancreatitis. Am J Surg 173(2):71–75

7.

Besselink MG, Verwer TJ, Schoenmaeckers EJ, Buskens E, Ridwan BU, Visser MR, Nieuwenhuijs VB, Gooszen HG (2007) Timing of surgical intervention in necrotizing pancreatitis. Arch Surg 142(12):1194–1201

8.

Tsiotos GG, Luque-de León E, Söreide JA, Bannon MP, Zietlow SP, Baerga-Varela Y, Sarr MG (1998) Management of necrotizing pancreatitis by repeated operative necrosectomy using a zipper technique. Am J Surg 175(2):91–98

9.

Branum G, Galloway J, Hirchowitz W, Fendley M, Hunter J (1998) Pancreatic necrosis: results of necrosectomy, packing, and ultimate closure over drains. Ann Surg 227(6):870–877

10.

Hartwig W, Werner J, Müller CA, Uhl W, Büchler MW (2002) Surgical management of severe pancreatitis including sterile necrosis. J Hepatobiliary Pancreat Surg 9(4):429–435

11.

Zorger N, Hamer OW, Feuerbach S, Borisch I (2005) Percutaneous treatment of a patient with infected necrotizing pancreatitis. Nat Clin Pract Gastroenterol Hepatol 21(1):54–57

12.

Cheung MT, Ho CN, Siu KW, Kwok PC (2005) Percutaneous drainage and necrosectomy in the management of pancreatic necrosis. ANZ J Surg 75(4):204–207

13.

Endlicher E, Völk M, Feuerbach S, Schölmerich J, Schäffler A, Messmann H (2003) Long-term follow-up of patients with necrotizing pancreatitis treated by percutaneous necrosectomy. Hepatogastroenterology 50(54):2225–2228

14.

Zhu JF, Fan XH, Zhang XH (2001) Laparoscopic treatment of severe acute pancreatitis. Surg Endosc 15(2):146–148

15.

Parekh D (2006) Laparoscopic-assisted pancreatic necrosectomy: a new surgical option for treatment of severe necrotizing pancreatitis. Arch Surg 141(9):895–903

16.

Alverdy J, Vargish T, Desai T, Frawley B, Rosen B (2000) Laparoscopic intracavitary debridement of peripancreatic necrosis: preliminary report and description of the technique. Surgery 127(1):112–114

17.

Carter CR, McKay CJ, Imrie CW (2000) Percutaneous necrosectomy and sinus tract endoscopy in the management of infected pancreatic necrosis: an initial experience. Ann Surg 232(2):175–180

18.

Risse O, Auguste T, Delannoy P, Cardin N, Bricault I, Létoublon C (2004) Percutaneous video-assisted necrosectomy for infected pancreatic necrosis. Gastroenterol Clin Biol 28(10 pt 1):868–871

19.

de la Fuente SG, Demaria EJ, Reynolds JD, Portenier DD, Pryor AD (2007) New developments in surgery: natural orifice transluminal endoscopic surgery (NOTES). Arch Surg 142(3):295–297

20.

Isayama H, Yamamoto K, Mizuno S, Yashima Y, Togawa O, Kogure H, Sasaki T, Sasahira N, Nakai Y, Hirano K, Tsujino T, Tada M, Kawabe T, Omata M (2009) NOTES and endoscopic pancreatic necrosectomy for the GI endoscopist. J Hepatobiliary Pancreat Surg 16(3):270–273

21.

Seifert H, Wehrmann T, Schmitt T, Zeuzem S, Caspary WF (2000) Retroperitoneal endoscopic debridement for infected peripancreatic necrosis. Lancet 356(9230):653–655

22.

Seewald S, Groth S, Omar S, Imazu H, Seitz U, de Weerth A, Soetikno R, Zhong Y, Sriram PV, Ponnudurai R, Sikka S, Thonke F, Soehendra N (2005) Aggressive endoscopic therapy for pancreatic necrosis and pancreatic abscess: a new safe and effective treatment algorithm. Gastrointest Endosc 62(1):92–100

23.

Voermans RP, Veldkamp MC, Rauws EA, Bruno MJ, Fockens P (2007) Endoscopic transmural debridement of symptomatic organized pancreatic necrosis. Gastrointest Endosc 66(5):909–916

24.

Seifert H, Biermer M, Schmitt W, Jürgensen C, Will U, Gerlach R, Kreitmair C, Meining A, Wehrmann T, Rösch T (2009) Transluminal endoscopic necrosectomy after acute pancreatitis: a multicentre study with long-term follow-up (the GEPARD Study). Gut 58(9):1260–1266

25.

Baron TH, Morgan DE (1997) The diagnosis and management of fluid collections associated with pancreatitis. Am J Med 102(6):555–563

26.

Ranson JH, Balthazar E, Caccavale R, Cooper M (1985) Computed tomography and the prediction of pancreatic abscess in acute pancreatitis. Ann Surg 201(5):656–665

27.

Cahen D, Rauws E, Fockens P, Weverling G, Huibregtse K, Bruno M (2005) Endoscopic drainage of pancreatic pseudocysts: long-term outcome and procedural factors associated with safe and successful treatment. Endoscopy 37(10):977–983

28.

Hookey LC, Debroux S, Delhaye M, Arvanitakis M, Le Moine O, Devière J (2006) Endoscopic drainage of pancreatic-fluid collections in 116 patients: a comparison of etiologies, drainage techniques, and outcomes. Gastrointest Endosc 63(4):635–643

29.

Baron TH, Harewood GC, Morgan DE, Yates MR (2002) Outcome differences after endoscopic drainage of pancreatic necrosis, acute pancreatic pseudocysts, and chronic pancreatic pseudocysts. Gastrointest Endosc 56(1):7–17

30.

Gardner TB, Chahal P, Papachristou GI, Vege SS, Petersen BT, Gostout CJ, Topazian MD, Takahashi N, Sarr MG, Baron TH (2009) A comparison of direct endoscopic necrosectomy with transmural endoscopic drainage for the treatment of walled-off pancreatic necrosis. Gastrointest Endosc 69(6):1085–1094

31.

Hariri M, Slivka A, Carr-Locke DL, Banks PA (1994) Pseudocyst drainage predisposes to infection when pancreatic necrosis is unrecognized. Am J Gastroenterol 89(10):1781–1784

32.

Gardner TB, Coelho-Prabhu N, Gordon SR, Gelrud A, Maple JT, Papachristou GI, Freeman ML, Topazian MD, Attam R, Mackenzie TA, Baron TH (2011) Direct endoscopic necrosectomy for the treatment of walled-off pancreatic necrosis: results from a multicenter U.S. series. Gastrointest Endosc 73(4):718–726

33.

Mathew A, Biswas A, Meitz KP (2008) Endoscopic necrosectomy as primary treatment for infected peripancreatic fluid collections. Gastrointest Endosc 68(4):776–782

34.

Gruber RP, Vistnes L, Pardoe R (1975) The effect of commonly used antiseptics on wound healing. Plast Reconstr Surg 55(4):472–476

35.

Howell JM, Chisholm CD (1992) Outpatient wound preparation and care: a national survey. Ann Emerg Med 21(8):976–981

36.

Despond O, Fiset P (1997) Oxygen venous embolism after the use of hydrogen peroxide during lumbar discectomy. Can J Anaesth 44(4):410–413

37.

Ijichi T, Itoh T, Sakai R, Nakaji K, Miyauchi T, Takahashi R (1997) Multiple brain gas embolism after ingestion of concentrated hydrogen peroxide. Neurology 48(1):277–279

38.

Sherman SJ, Boyer LV, Sibley WA (1994) Cerebral infarction immediately after ingestion of hydrogen peroxide solution. Stroke 25(5):1065–1067

39.

Dickson KF, Caravati EM (1994) Hydrogen peroxide exposure–325 exposures reported to a regional poison control center. J Toxicol Clin Toxicol 32(6):705–7014

40.

Kalloo AN, Canto MI, Wadwa KS, Smith CL, Gislason GT, Okolo PI 3rd, Pasricha PJ (1999) Clinical usefulness of 3% hydrogen peroxide in acute upper GI bleeding: a pilot study. Gastrointest Endosc 49(4 Pt 1):518–521

41.

Aoun E (2010) Endoscopic management of iatrogenic peripancreatic abscess. DAVE Project. http://daveproject.org/endoscopic-management-of-iatrogenic-peripancreatic-abscess/2010-05-03/. Accessed 29 July 2012

42.

Charnley RM, Lochan R, Gray H, O'Sullivan CB, Scott J, Oppong KE (2006) Endoscopic necrosectomy as primary therapy in the management of infected pancreatic necrosis. Endoscopy 38(9):925–928

43.

Escourrou J, Shehab H, Buscail L, Bournet B, Andrau P, Moreau J, Fourtanier G (2008) Peroral transgastric/transduodenal necrosectomy: success in the treatment of infected pancreatic necrosis. Ann Surg 248(6):1074–1080

44.

Kahaleh M, Shami VM, Conaway MR, Tokar J, Rockoff T, De La Rue SA, de Lange E, Bassignani M, Gay S, Adams RB, Yeaton P (2006) Endoscopic ultrasound drainage of pancreatic pseudocyst: a prospective comparison with conventional endoscopic drainage. Endoscopy 38(4):355–359

45.

Baron TH (2007) Drainage of pancreatic fluid collections: is EUS really necessary? Gastrointest Endosc 66(6):1123–1125

46.

Jürgensen C, Neser F, Boese-Landgraf J, Schuppan D, Stölzel U, Fritscher-Ravens A (2012) Endoscopic ultrasound-guided endoscopic necrosectomy of the pancreas: is irrigation necessary? Surg Endosc 26(5):1359–1363
Acknowledgments
Special thanks to the team nurse Nema Mahdy for her excellent and dedicated work.
Disclosures
Drs. Mohamed Abdelhafez, Mayada Elnegouly, M. S. Hasab Allah, Mostafa Elshazli, Hany M. S. Mikhail, and Ayman Yosry have no conflict of interest or financial ties to disclose.
Electronic supplementary material
Below is the link to the electronic supplementary material.
Supplementary material 1 (MPG 13094 kb)
Supplementary material 2 (MPG 13050 kb)
Supplementary material 3 (MPG 12988 kb)
Supplementary material 4 (MPG 11104 kb)
About this article
Cite this article
Abdelhafez, M., Elnegouly, M., Hasab Allah, M.S. et al. Transluminal retroperitoneal endoscopic necrosectomy with the use of hydrogen peroxide and without external irrigation: a novel approach for the treatment of walled-off pancreatic necrosis. Surg Endosc 27, 3911–3920 (2013). https://doi.org/10.1007/s00464-013-2948-x
Received:

Accepted:

Published:

Issue Date:
Keywords
Endoscopic necrosectomy

Walled-off pancreatic necrosis

NOTES

Debridement

Hydrogen peroxide

Acute pancreatitis