Abstract
Background
Gastrectomy remains the mainstay of curative treatment for gastric cancer, yet it is associated with significant postoperative mortality. The laparoscopic approach has been introduced in an attempt to improve surgical outcomes. This study examines the uptake of laparoscopic gastrectomy in England and quantifies postoperative mortality and morbidity following gastrectomy for cancer.
Methods
A population-based study of a national administrative database was undertaken. Patients undergoing gastrectomy for cancer in any National Health Services hospital in England between April 2000 and March 2010 were included. The main outcome measures were mortality, morbidity and length of stay.
Results
A total of 10,713 patients underwent gastrectomy, of which 10,233 (95.5 %) underwent open gastrectomy (OG), and 480 (4.5 %) underwent laparoscopic gastrectomy (LG). There was no significant difference in 30-day in-hospital mortality between OG and LG (5.6 % vs. 4.8 %; p = 0.461). Medical complications occurred in 2,311 (22.6 %) and 120 (25 %) patients from OG and LG groups respectively (p = 0.217). Patients in the LG groups had a shorter hospital stay than OG with median (interquartile range) of 11 (8–17) versus 14 (11–19) days respectively (p < 0.001). Readmission and reoperation rates were 10.2 versus 12.1 % (p = 0.175) and 4 versus 4.6 % (p = 0.523) for OG and LG respectively.
Conclusions
LG is increasingly being performed in England. Postoperative morbidity and mortality of LG is similar to that of OG, but it is associated with a shorter hospital stay. Data from randomised controlled trials evaluating long term survival and patients' reported outcomes are essential before the final judgement on the value of LG in the management of gastric cancer.
This is a preview of subscription content, log in to check access.
Access options
Buy single article
Instant access to the full article PDF.
US$ 39.95
Price includes VAT for USA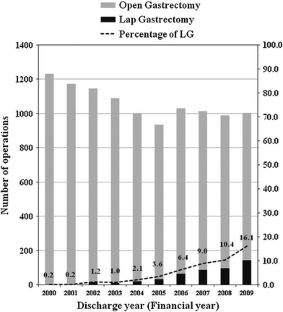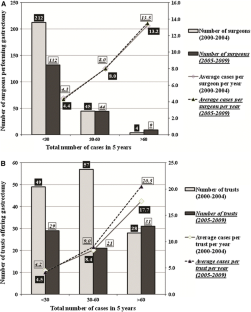 References
1.

Ferlay J, Parkin DM, Steliarova-Foucher E (2010) Estimates of cancer incidence and mortality in Europe in 2008. Eur J Cancer 46:765–781

2.

Cancer Research UK Statistical Information Team (2011) UK Stomach Cancer Statistics. http://infocancerresearchukorg/prod_consump/groups/cr_common/@nre/@sta/documents/generalcontent/018070pdf. Accessed 26 July 2011

3.

Degiuli M, Sasako M, Calgaro M, Garino M, Rebecchi F, Mineccia M, Scaglione D, Andreone D, Ponti A, Calvo F (2004) Morbidity and mortality after D1 and D2 gastrectomy for cancer: interim analysis of the Italian Gastric Cancer Study Group (IGCSG) randomised surgical trial. Eur J Surg Oncol 30:303–308

4.

Songun I, Putter H, Kranenbarg EM, Sasako M, van de Velde CJ (2010) Surgical treatment of gastric cancer: 15-year follow-up results of the randomised nationwide Dutch D1D2 trial. Lancet Oncol 11:439–449

5.

Wu CW, Hsiung CA, Lo SS, Hsieh MC, Chen JH, Li AF, Lui WY, Whang-Peng J (2006) Nodal dissection for patients with gastric cancer: a randomised controlled trial. Lancet Oncol 7:309–315

6.

Hanna GB, Boshier PR, Knaggs A, Goldin R, Sasako M (2012) Improving outcomes after gastro-esophageal cancer resection: can Japanese results be reproduced in Western centers? Arch Surg 147(8):738–745

7.

Cunningham D, Allum WH, Stenning SP, Thompson JN, Van de Velde CJ, Nicolson M, Scarffe JH, Lofts FJ, Falk SJ, Iveson TJ, Smith DB, Langley RE, Verma M, Weeden S, Chua YJ, Participants MT (2006) Perioperative chemotherapy versus surgery alone for resectable gastroesophageal cancer. N Engl J Med 355:11–20

8.

Macdonald JS, Smalley SR, Benedetti J, Hundahl SA, Estes NC, Stemmermann GN, Haller DG, Ajani JA, Gunderson LL, Jessup JM, Martenson JA (2001) Chemoradiotherapy after surgery compared with surgery alone for adenocarcinoma of the stomach or gastroesophageal junction. N Engl J Med 345:725–730

9.

Anderson O, Ni Z, Moller H, Coupland VH, Davies EA, Allum WH, Hanna GB (2011) Hospital volume and survival in oesophagectomy and gastrectomy for cancer. Eur J Cancer 47:2408–2414

10.

Bonjer HJ, Hop WC, Nelson H, Sargent DJ, Lacy AM, Castells A, Guillou PJ, Thorpe H, Brown J, Delgado S, Kuhrij E, Haglind E, Pahlman L (2007) Laparoscopically assisted vs open colectomy for colon cancer: a meta-analysis. Arch Surg 142:298–303

11.

Cuschieri A, Dubois F, Mouiel J, Mouret P, Becker H, Buess G, Trede M, Troidl H (1991) The European experience with laparoscopic cholecystectomy. Am J Surg 161:385–387

12.

Ohtani H, Tamamori Y, Arimoto Y, Nishiguchi Y, Maeda K, Hirakawa K (2011) A meta-analysis of the short- and long-term results of randomized controlled trials that compared laparoscopy-assisted and conventional open surgery for colorectal cancer. J Cancer 2:425–434

13.

Mamidanna R, Burns EM, Bottle A, Aylin P, Stonell C, Hanna GB, Faiz O (2011) Reduced risk of medical morbidity and mortality in patients selected for laparoscopic colorectal resection in England: a population-based study. Arch Surg 147(3):219–227

14.

Chen XZ, Hu JK, Yang K, Wang L, Lu QC (2009) Short-term evaluation of laparoscopy-assisted distal gastrectomy for predictive early gastric cancer: a meta-analysis of randomized controlled trials. Surg Laparosc Endosc Percutan Tech 19:277–284

15.

Ohtani H, Tamamori Y, Noguchi K, Azuma T, Fujimoto S, Oba H, Aoki T, Minami M, Hirakawa K (2010) A meta-analysis of randomized controlled trials that compared laparoscopy-assisted and open distal gastrectomy for early gastric cancer. J Gastrointest Surg 14:958–964

16.

Yakoub D, Athanasiou T, Tekkis P, Hanna GB (2009) Laparoscopic assisted distal gastrectomy for early gastric cancer: is it an alternative to the open approach? Surg Oncol 18:322–333

17.

Japanese Gastric Cancer Association (2011) Japanese gastric cancer treatment guidelines 2010 (ver. 3). Gastric Cancer 14:113–123

18.

Varela JE, Hiyashi M, Nguyen T, Sabio A, Wilson SE, Nguyen NT (2006) Comparison of laparoscopic and open gastrectomy for gastric cancer. Am J Surg 192:837–842

19.

Weber KJ, Reyes CD, Gagner M, Divino CM (2003) Comparison of laparoscopic and open gastrectomy for malignant disease. Surg Endosc 17:968–971

20.

Strong VE, Devaud N, Allen PJ, Gonen M, Brennan MF, Coit D (2009) Laparoscopic versus open subtotal gastrectomy for adenocarcinoma: a case–control study. Ann Surg Oncol 16:1507–1513

21.

Huscher CG, Mingoli A, Sgarzini G, Sansonetti A, Di Paola M, Recher A, Ponzano C (2005) Laparoscopic versus open subtotal gastrectomy for distal gastric cancer: five-year results of a randomized prospective trial. Ann Surg 241:232–237

22.

WHO (1994) International statistical classification of diseases and related health problems (ICD-10), 10th edn. World Health Organisation, Geneva

23.

Health Cf (2007) Classification of interventions and procedures version 4.4. The Stationery Office, Norwich

24.

Carstairs V, Morris R (1989) Deprivation: explaining differences in mortality between Scotland and England and Wales. BMJ 299:886–889

25.

Aylin P, Bottle A, Elliott P, Jarman B (2007) Surgical mortality: hospital episode statistics v central cardiac audit database. BMJ 335:839; author reply 839–840

26.

Faiz O, Warusavitarne J, Bottle A, Tekkis PP, Clark SK, Darzi AW, Aylin P (2010) Nonelective excisional colorectal surgery in English National Health Service Trusts: a study of outcomes from Hospital Episode Statistics Data between 1996 and 2007. J Am Coll Surg 210:390–401

27.

Judge A, Chard J, Learmonth I, Dieppe P (2006) The effects of surgical volumes and training centre status on outcomes following total joint replacement: analysis of the Hospital Episode Statistics for England. J Public Health (Oxf) 28:116–124

28.

Kim HH, Hyung WJ, Cho GS, Kim MC, Han SU, Kim W, Ryu SW, Lee HJ, Song KY (2010) Morbidity and mortality of laparoscopic gastrectomy versus open gastrectomy for gastric cancer: an interim report—a phase III multicenter, prospective, randomized trial (KLASS trial). Ann Surg 251:417–420

29.

Mamidanna R, Bottle A, Aylin P, Faiz O, Hanna GB (2011) Short-term outcomes following open versus minimally invasive esophagectomy for cancer in England: a population-based national study. Ann Surg 255(2):197–203

30.

Grossmann EM, Longo WE, Virgo KS, Johnson FE, Oprian CA, Henderson W, Daley J, Khuri SF (2002) Morbidity and mortality of gastrectomy for cancer in Department of Veterans Affairs Medical Centers. Surgery 131:484–490

31.

Smith JK, McPhee JT, Hill JS, Whalen GF, Sullivan ME, Litwin DE, Anderson FA, Tseng JF (2007) National outcomes after gastric resection for neoplasm. Arch Surg 142:387–393

32.

Hwang SI, Kim HO, Yoo CH, Shin JH, Son BH (2009) Laparoscopic-assisted distal gastrectomy versus open distal gastrectomy for advanced gastric cancer. Surg Endosc 23:1252–1258

33.

Jeong GA, Cho GS, Kim HH, Lee HJ, Ryu SW, Song KY (2009) Laparoscopy-assisted total gastrectomy for gastric cancer: a multicenter retrospective analysis. Surgery 146:469–474

34.

Kim MC, Kim W, Kim HH, Ryu SW, Ryu SY, Song KY, Lee HJ, Cho GS, Han SU, Hyung WJ (2008) Risk factors associated with complication following laparoscopy-assisted gastrectomy for gastric cancer: a large-scale Korean multicenter study. Ann Surg Oncol 15:2692–2700

35.

Kitano S, Shiraishi N, Uyama I, Sugihara K, Tanigawa N (2007) A multicenter study on oncologic outcome of laparoscopic gastrectomy for early cancer in Japan. Ann Surg 245:68–72

36.

Kuwabara K, Matsuda S, Fushimi K, Ishikawa KB, Horiguchi H, Fujimori K, Yasunaga H, Miyata H (2011) Quantitative assessment of the advantages of laparoscopic gastrectomy and the impact of volume-related hospital characteristics on resource use and outcomes of gastrectomy patients in Japan. Ann Surg 253:64–70

37.

Park DJ, Lee HJ, Kim HH, Yang HK, Lee KU, Choe KJ (2005) Predictors of operative morbidity and mortality in gastric cancer surgery. Br J Surg 92:1099–1102

38.

Sue-Ling HM, Johnston D, Martin IG, Dixon MF, Lansdown MR, McMahon MJ, Axon AT (1993) Gastric cancer: a curable disease in Britain. BMJ 307:591–596

39.

Kunisaki C, Makino H, Yamamoto N, Sato T, Oshima T, Nagano Y, Fujii S, Akiyama H, Otsuka Y, Ono HA, Kosaka T, Takagawa R, Shimada H (2008) Learning curve for laparoscopy-assisted distal gastrectomy with regional lymph node dissection for early gastric cancer. Surg Laparosc Endosc Percutan Tech 18:236–241

40.

Jin SH, Kim DY, Kim H, Jeong IH, Kim MW, Cho YK, Han SU (2007) Multidimensional learning curve in laparoscopy-assisted gastrectomy for early gastric cancer. Surg Endosc 21:28–33

41.

Zhang X, Tanigawa N (2009) Learning curve of laparoscopic surgery for gastric cancer, a laparoscopic distal gastrectomy-based analysis. Surg Endosc 23:1259–1264

42.

The NHS Information Centre: National Oesophago-Gastric Cancer Audit (2009) http://wwwbsgorguk/images/stories/docs/clinical/publications/oesophageal_audit2_final_09pdf. Accessed 5 Mar 2012

43.

Almoudaris AM, Burns EM, Mamidanna R, Bottle A, Aylin P, Vincent C, Faiz O (2011) Value of failure to rescue as a marker of the standard of care following reoperation for complications after colorectal resection. Br J Surg 98:1775–1783

44.

Burns EM, Rigby E, Mamidanna R, Bottle A, Aylin P, Ziprin P, Faiz OD (2011) Systematic review of discharge coding accuracy. J Public Health (Oxf) 34(1):138–148

45.

Campbell SE, Campbell MK, Grimshaw JM, Walker AE (2001) A systematic review of discharge coding accuracy. J Public Health Med 23:205–211
Disclosures
  Ravikrishna Mamidanna, Alex M, Almoudaris, Omar Faiz, and George Hanna have no conflict of interest or financial ties to report. Paul Aylin and Alex Bottle are part of the Dr. Foster Unit at Imperial College, which is affiliated with the Centre for Patient Safety and Service Quality at Imperial College Healthcare NHS Trust funded by the National Institute of Health Research. The Unit is largely funded by a research grant from Dr. Foster Intelligence (an independent health service research organisation).
Ethics approval
  We have approval under Section 251 (formerly Section 60) granted by the National Information Governance Board for Health and Social Care (formerly the Patient Information Advisory Group). We have had approval for using these data for research from the South East Research Ethics Committee.
About this article
Cite this article
Mamidanna, R., Almoudaris, A.M., Bottle, A. et al. National outcomes and uptake of laparoscopic gastrectomy for cancer in England. Surg Endosc 27, 3348–3358 (2013). https://doi.org/10.1007/s00464-013-2916-5
Received:

Accepted:

Published:

Issue Date:
Keywords
Gastrectomy

Laparoscopy

Surgery

Outcome

Cancer