Abstract
Background
The submucosal endoscopy provide not only a reliable methods of access and closure for peritoneoscopy, but also an endoscopic working space for full-thickness resection. The aim of this study was to report the clinical outcome of submucosal endoscopy for pure natural orifice transluminal endoscopic surgery.
Methods
We prospectively evaluated 10 patients who received submucosal endoscopies. The indications of submucosal endoscopy were transgastric peritoneoscopy (TGP) and endoscopic full-thickness resection (EFTR) of a gastric subepithelial tumor. All procedures were performed with a standard gastroscope under conscious sedation with the balanced propofol method in the endoscopic unit. After a 40 mm submucosal tunnel was created using an endoscopic submucosal dissection technique, (1) in TGP, balloon dilation of a serosal puncture and intraperitoneal exploration was performed; (2) in EFTR, a full-thickness incision and snaring resection was performed. Closure of the mucosal incision was performed by endoclips.
Results
All cases were technically feasible. The mean times for creating the submucosal tunnel, main procedure (peritoneal exploration or resection), and closure were acceptable (10.44 ± 2.42 minutes, 18.80 ± 9.41 minutes, and 5.63 ± 2.17 minutes, respectively). The mean hospital stay was 3.8 ± 1.48 days. All TGPs were diagnostic (4 peritoneal carcinomatosis and 1 tuberculosis). En bloc and complete resections were possible in all EFTRs (3 gastrointestinal stromal tumors and 2 schwannomas; mean tumor size, 20.8 ± 3.27 mm). There were no procedure-related complications, such as significant bleeding or peritonitis.
Conclusions
Human applications of submucosal endoscopy under conscious sedation for pure NOTES were feasible and safe.
This is a preview of subscription content, log in to check access.
Access options
Buy single article
Instant unlimited access to the full article PDF.
US$ 39.95
Price includes VAT for USA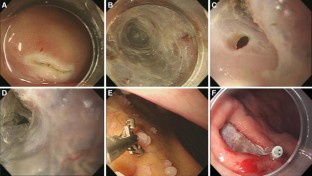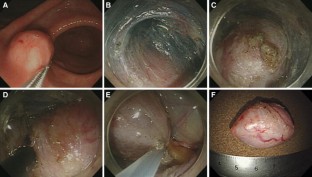 References
1.

Kalloo AN, Singh VK, Jagannath SB, Niiyama H, Hill SL, Vaughn CA, Magee CA, Kantsevoy SV (2004) Flexible transgastric peritoneoscopy: a novel approach to diagnostic and therapeutic interventions in the peritoneal cavity. Gastrointest Endosc 60:114–117

2.

Lee CK, Lee SH, Chung IK, Lee TH, Lee SH, Kim HS, Park SH, Kim SJ, Kang GH, Cho HD (2010) Human diagnostic transgastric peritoneoscopy with the submucosal tunnel technique performed with the patient under conscious sedation (with video). Gastrointest Endosc 72:889–891

3.

Lee CK, Lee SH, Chung IK, Lee TH, Park SH, Kim EO, Chung MS, Cho HD, Kim SJ (2012) Endoscopic full-thickness resection of a gastric subepithelial tumor using the submucosal tunnel technique under conscious sedation (with video). Gastrointest Endosc 75:457–459

4.

Inoue H, Minami H, Kobayashi Y, Sato Y, Kaga M, Suzuki M, Satodate H, Odaka N, Itoh H, Kudo S (2010) Peroral endoscopic myotomy (POEM) for esophageal achalasia. Endoscopy 42:265–271

5.

Sumiyama K, Gostout CJ, Rajan E, Bakken TA, Knipschield MA (2007) Transesophageal mediastinoscopy by submucosal endoscopy with mucosal flap safety valve technique. Gastrointest Endosc 65:679–683

6.

Yoshizumi F, Yasuda K, Kawaguchi K, Suzuki K, Shiraishi N, Kitano S (2009) Submucosal tunneling using endoscopic submucosal dissection for peritoneal access and closure in natural orifice transluminal endoscopic surgery: a porcine survival study. Endoscopy 41:707–711

7.

Elmunzer BJ, Schomisch SJ, Trunzo JA, Poulose BK, Delaney CP, McGee MF, Faulx AL, Marks JM, Ponsky JL, Chak A (2009) EUS in localizing safe alternate access sites for natural orifice transluminal endoscopic surgery: initial experience in a porcine model. Gastrointest Endosc 69:108–114

8.

Nakajima K, Nishida T, Milsom JW, Takahashi T, Souma Y, Miyazaki Y, Iijima H, Mori M, Doki Y (2010) Current limitations in endoscopic CO2 insufflation for NOTES: flow and pressure study. Gastrointest Endosc 72:1036–1042

9.

Pauli EM, Haluck RS, Ionescu AM, Rogers AM, Shope TR, Moyer MT, Biswas A, Mathew A (2010) Directed submucosal tunneling permits in-line endoscope positioning for transgastric natural orifice translumenal endoscopic surgery (NOTES). Surg Endosc 24:1474–1481
Acknowledgments
Supported in part by the Soonchunhyang University Research Fund.
Disclosures
Suck-Ho Lee, Sun-Joo Kim, Tae Hoon Lee, Il-Kwun Chung, Sang-Heum Park, Eun Ok Kim, Hyo Jin Lee, and Hyun Deuk Cho have no conflicts of interest or financial ties to disclose.
Electronic supplementary material
Below is the link to the electronic supplementary material.
Video 1 Transgastric peritoneoscopy (WMV 5931 kb)
Video 2 Endoscopic full-thickness resection of subepithelial tumor (WMV 10253 kb)
About this article
Cite this article
Lee, S., Kim, S., Lee, T.H. et al. Human applications of submucosal endoscopy under conscious sedation for pure natural orifice transluminal endoscopic surgery. Surg Endosc 27, 3016–3020 (2013). https://doi.org/10.1007/s00464-013-2844-4
Received:

Accepted:

Published:

Issue Date:
Keywords
Conscious

Endoscopy

NOTES

Sedation

Submucosa