Abstract
Background
Splenic artery aneurysms (SAA) are a rare entity most commonly diagnosed incidentally. Their association with pregnancy increases the risk of rupture resulting in a disproportionately high maternal and fetal mortality. Accordingly, elective surgical treatment is recommended in asymptomatic patients with aneurysms less than 2 cm. In this case, we present a patient during her third trimester of pregnancy with a SAA who was treated by laparoscopic aneurysm resection and splenectomy.
Methods
The patient is a 38-year-old multiparous woman, with an incidental diagnosis of a SAA in 2010. Subsequently, the patient became pregnant and at 27 weeks started to develop abdominal pain. Failed embolization was attempted with worsening of the patient's symptoms. A CT angiogram revealed a 1.6 cm distal third SAA without any evidence of rupture. Due to the localization of the lesion, the patient was offered a laparoscopic aneurysm resection and splenectomy.
Results
Operating time was 90 min and estimated blood loss was 5 cc. Postoperative fetal monitoring was normal. No perioperative complications were observed. The patient was discharged on postoperative day 3. Two months after laparoscopic splenectomy, the patient delivered a male infant in perfect health.
Conclusions
Although this is a rare disease, the risk of aneurysmal rupture is increased during pregnancy. As a result of high maternal and fetal mortality, elective surgery should be performed. Laparoscopic surgery is the technique of choice.
This is a preview of subscription content, log in to check access.
Access options
Buy single article
Instant unlimited access to the full article PDF.
US$ 39.95
Price includes VAT for USA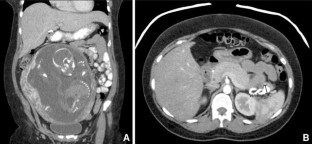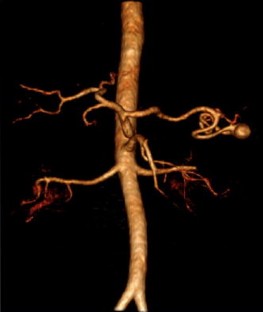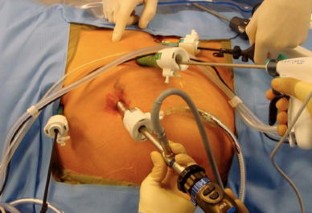 References
1.

Lang W, Strobel D, Beinder E, Raab M (2002) Surgery of the splenic artery aneurysm during pregnancy. Eur J Obstet Gynecol Reprod Biol 102:215–216

2.

Sadat U, Dar O, Walsh S, Varty K (2008) Splenic artery aneurysms in pregnancy: a systematic review. Int J Surg 6(3):261–265

3.

Selo-Ojeme DO, Welch CC (2003) Review: spontaneous rupture of splenic artery aneurysm in pregnancy. Eur J Obstet Gynecol Reprod Biol 109:124–127

4.

Fong Ha J, Phillipd M, Faulkner K (2009) Splenic artery aneurysm rupture in pregnancy. Eur J Obstet Gynecol Reprod Biol 146:133–137

5.

McMahon DP, Ward WH, Harwood JL, Moore EM (2012) An institutional review of splenic artery aneurysm in childbearing-aged females and splenic artery aneurysm rupture during pregnancy. Is screening justified? Mil Med 177(1):96–98

6.

Al-Habbal Y, Christophi C, Muralidharan V (2010) Aneurysms of the splenic artery: a review. Surgeon 8:223–231

7.

Algudkar A (2010) Unruptured splenic artery aneurysm presenting as epigastric pain. JRSM Short Rep 1(3):24

8.

Trastek VF, Pairolero FC, Joyce JW et al (1982) Splenic artery aneurysms. Surgery 91:694–699

9.

Groussolles M, Merveille M, Alacoque X et al (2011) Rupture of a splenic artery aneurysm in the first trimester of pregnancy. J Emerg Med 41(1):e13–e16

10.

Chookun J, Bounes V, Ducassé JL, Fourcade O (2009) Rupture of splenic artery aneurysm during early pregnancy: a rare and catastrophic event. Am J Emerg Med 27(7):898.e5–898.e6

11.

Chen CW, Chen CP, Wang KG (1995) Splenic artery aneurysm rupture in the second trimester. Int J Gynaecol Obstet 49(2):199–200

12.

Ha JF, Sieunarine K (2009) Laparoscopic splenic artery aneurysm resection. Review of current trends in management. Surg Laparosc Endosc Percutan Tech 19(2):e67–e70

13.

Piffaretti G, Tozzi M, Lomazzi Ch et al (2007) Splenic artery aneurysms: postembolization syndrome and surgical complications. Am J Surg 193(2):166–170

14.

Tiberio GAM, Bonardelli S, Gheza F et al. (2012) Prospective randomized comparison of open versus laparoscopic management of splenic artery aneurysms: a 10-year study. Surg Endosc Jun 30 [Epub ahead of print]

15.

Reardon PR, Otah E, Craig ES et al (2005) Laparoscopic resection of a splenic artery aneurysms. Surg Endosc 19(4):488–493
Acknowledgments
Special thanks to Ms. Melissa Carton for her careful proofreading of the manuscript.
Disclosures
Dr. Carlos Galvani has received educational grants from Covidien, KARL STORZ Endoscopy, W.L. Gore, Baxter, and Aesculap, equipment grant from Olympus America, Inc., and consulting fees from Covidien and Aesculap. Drs. Julia Samamé, Amit Kaul, Ulises Garza, and Angela Echeverria have no conflict of interest or financial ties to disclose.
Electronic supplementary material
Below is the link to the electronic supplementary material.
Supplementary material 1 (MOV 46252 kb)
About this article
Cite this article
Samamé, J., Kaul, A., Garza, U. et al. Laparoscopic aneurysm resection and splenectomy for splenic artery aneurysm in the third trimester of pregnancy. Surg Endosc 27, 2988–2991 (2013) doi:10.1007/s00464-013-2822-x
Received:

Accepted:

Published:

Issue Date:
Keywords
Embolization

Laparoscopic splenectomy

Pregnancy

Splenic artery aneurism