Abstract
Background
Minimally invasive components separation (MICS) is believed to decrease wound complications by reducing local tissue damage and eliminating the interruption of blood supply to the overlying skin and soft tissue. One drawback to the MICS technique is the difficulty with identifying the correct location for entry into the anterior abdominal wall. We believe that ultrasound can be used to visually assist identification of the correct surgical entry site (the avascular space between the external and internal abdominal oblique muscles, lateral to the linea semilunaris).
Purpose
The purpose of this study was to assess if novices can readily learn an ultrasound technique for identifying abdominal wall myofascial components via a video education tool.
Methods
This research was an institutional review board-approved, prospective, observational study. Ten surgical residents were asked to watch a 1-min training video containing basic instructions on ultrasound technique for identifying the myofascial anatomy of the anterior abdominal wall. After watching the educational video, the subjects were asked to identify the linea semilunaris first by external anatomy, then by ultrasound. A grader, blinded to the identification of the subject, recorded if the subject correctly identified the location of the linea semilunaris by each method (external anatomy only versus ultrasound guided).
Results
Ten subjects were evaluated. Nine of ten (90 %) subjects correctly identified the linea semilunaris with ultrasound. Only three of ten (30 %) subjects correctly identified the linea semilunaris by physical exam.
Conclusions
Ultrasound technology can aid in identification of the abdominal wall musculofascial units in MICS and be easily taught via short video instruction to novices with excellent results. Further studies will be necessary to prove that ultrasound use can decrease complications associated with entry into the appropriate avascular space between the external and internal abdominal oblique muscles, lateral to the linea semilunaris.
This is a preview of subscription content, log in to check access.
Access options
Buy single article
Instant access to the full article PDF.
US$ 39.95
Price includes VAT for USA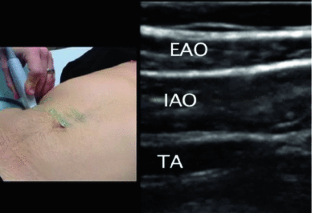 References
1.

Young D (1961) Repair of epigastric incisional hernia. Br J Surg 48:514–516

2.

Ramirez OM, Ruas E, Dellon AL (1990) "Components separation" method for closure of abdominal-wall defects: an anatomic and clinical study. Plast Reconstr Surg 86(3):519–526

3.

Yegiyants S, Tam M, Lee DJ, Abbas MA (2011) Outcome of components separation for contaminated complex abdominal wall defects. Hernia. doi:10.1007/s10029-011-0857-2 November 2, 2011

4.

Hultman CS, Tong WM, Kittinger BJ, Cairns B, Overby DW, Rich PB (2011) Management of recurrent hernia after components separation: 10-year experience with abdominal wall reconstruction at an academic medical center. Ann Plast Surg 66(5):504–507

5.

DiCocco JM, Magnotti LJ, Emmett KP, Zarzaur BL, Croce MA, Sharpe JP, Shahan CP, Jiao H, Goldberg SP, Fabian TC (2010) Long-term follow-up of abdominal wall reconstruction after planned ventral hernia: a 15-year experience. J Am Coll Surg 210(5):686–695, 695–698

6.

Sailes FC, Walls J, Guelig D, Mirzabeigi M, Long WD, Crawford A, Moore JH Jr, Copit SE, Tuma GA, Fox J (2011) Ventral hernia repairs: 10-year single-institution review at Thomas Jefferson University Hospital. J Am Coll Surg 212(1):119–123

7.

Ko JH, Salvay DM, Paul BC, Wang EC, Dumanian GA (2009) Soft polypropylene mesh, but not cadaveric dermis, significantly improves outcomes in midline hernia repairs using the components separation technique. Plast Reconstr Surg 124(3):836–847

8.

Moore M, Bax T, MacFarlane M, McNevin MS (2008) Outcomes of the fascial component separation technique with synthetic mesh reinforcement for repair of complex ventral incisional hernias in the morbidly obese. Am J Surg 195(5):575–579

9.

Espinosa-de-los-Monteros A, de la Torre JI, Marrero I, Andrades P, Davis MR, Vásconez LO (2007) Utilization of human cadaveric acellular dermis for abdominal hernia reconstruction. Ann Plast Surg 58(3):264–267

10.

Gonzalez R, Rehnke RD, Ramaswamy A, Smith CD, Clarke JM, Ramshaw BJ (2005) Components separation technique and laparoscopic approach: a review of two evolving strategies for ventral hernia repair. Am Surg 71(7):598–605

11.

Jernigan TW, Fabian TC, Croce MA, Moore N, Pritchard FE, Minard G, Bee TK (2003) Staged management of giant abdominal wall defects: acute and long-term results. Ann Surg 238(3):349–355 discussion 355-357

12.

de Vries Reilingh TS, van Goor H, Rosman C, Bemelmans MH, de Jong D, van Nieuwenhoven EJ, van Engeland MI, Bleichrodt RP (2003) "Components separation technique" for the repair of large abdominal wall hernias. J Am Coll Surg 196(1):32–37

13.

Girotto JA, Chiaramonte M, Menon NG, Singh N, Silverman R, Tufaro AP, Nahabedian M, Goldberg NH, Manson PN (2003) Recalcitrant abdominal wall hernias: long-term superiority of autologous tissue repair. Plast Reconstr Surg 112(1):106–114

14.

Lowe JB, Garza JR, Bowman JL, Rohrich RJ, Strodel WE (2000) Endoscopically assisted "components separation" for closure of abdominal wall defects. Plast Reconstr Surg 05(2):720–729 quiz 730

15.

Girotto JA, Ko MJ, Redett R, Muehlberger T, Talamini M, Chang B (1999) Closure of chronic abdominal wall defects: a long-term evaluation of the components separation method. Ann Plast Surg 42(4):385–394 discussion 394-395

16.

DiBello JN Jr, Moore JH Jr (1996) Sliding myofascial flap of the rectus abdominus muscles for the closure of recurrent ventral hernias. Plast Reconstr Surg 98(3):464–469

17.

Maas SM, van Engeland M, Leeksma NG, Bleichrodt RP (1999) A modification of the "components separation" technique for closure of abdominal wall defects in the presence of an enterostomy. J Am Coll Surg 189(1):138–140

18.

Maas SM, de Vries RS, van Goor H, de Jong D, Bleichrodt RP (2002) Endoscopically assisted "components separation technique" for the repair of complicated ventral hernias. J Am Coll Surg 194(3):388–390

19.

Harth KC, Rosen MJ (2010) Endoscopic versus open component separation in complex abdominal wall reconstruction. Am J Surg 199(3):342–346 discussion 346-347

20.

Parra MW, Rodas EB (2011) Minimally invasive components separation–an updated method for closure of abdominal wall defects. J Laparoendosc Adv Surg Tech A 21(7):621–623
Disclosures
Drs. Sucher, Lyons, Salas, Sherman, and Dunkin have no conflicts of interest or financial ties to disclose.
About this article
Cite this article
Sucher, J.F., Lyons, C., Salas, N. et al. Evaluation of Ultrasound for Identification of Abdominal Wall Myofascial Components by Novice Learners. Surg Endosc 27, 1953–1956 (2013). https://doi.org/10.1007/s00464-012-2693-6
Received:

Accepted:

Published:

Issue Date:
Keywords
Abdominal

Education

Hernia

Plastic surgery

Training/courses

Ultrasonography