Abstract
Background
Laparoscopic antireflux surgery is highly effective in patients with uncomplicated gastroesophageal reflux disease (GERD). However, long-term failure rates in paraesophageal hernia (PEH) and Barrett's metaplasia (BE) are higher and warrant a more durable repair. Outcomes for the laparoscopic Nissen fundoplication (LNF) and Hill repair (LHR) are equivalent, but their anatomic components are different and may complement each other (Aye R Ann Thorac Surg, 2012). We designed and tested the feasibility and safety of an operation that combines the essential components of each repair.
Methods
A prospective, phase II pilot study was performed on patients with symptomatic giant PEH hernias and/or GERD with nondysplastic Barrett's metaplasia. Pre- and postoperative esophagogastroduodenoscopy (EGD), upper gastrointestinal study (UGI), 48-hour pH testing, manometry, and three quality-of-life metrics were obtained.
Results
Twenty-four patients were enrolled in the study. Three patients did not complete the planned procedure, leaving 21 patients, including 12 with PEH, 7 with BE, and 2 with both. There were no 30-day or in-hospital mortalities. At a median follow-up of 13 (range 6.4–30.2) months, there were no reoperations or clinical recurrences. Two patients required postoperative dilation for dysphagia, with complete resolution. Mean DeMeester scores improved from 54.3 to 7.5 (p < 0.0036). Mean lower esophageal sphincter pressures (LESP) increased from 8.9 to 21.3 mmHg (p < 0.013). Mean short-term and long-term QOLRAD scores improved from 4.09 at baseline to 6.04 and 6.48 (p < 0.0001). Mean short-term and long-term GERD-HQRL scores improved from 22.9 to 7.5 and 6.9 (p < 0.03). Mean long-term Dysphagia Severity Score Index improved from 33.3 to 40.6 (p < 0.064).
Conclusions
The combination of a Nissen plus Hill hybrid reconstruction of the gastroesophageal junction (GEJ) is technically feasible, safe, and not associated with increased side effects. Short-term clinical results in PEH and BE suggest that this may be an effective repair, supporting the value of further study.
This is a preview of subscription content, log in to check access.
Access options
Buy single article
Instant access to the full article PDF.
US$ 39.95
Price includes VAT for USA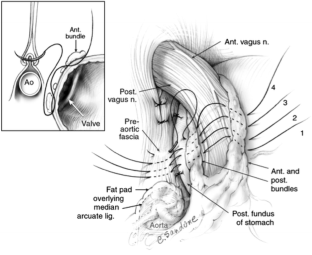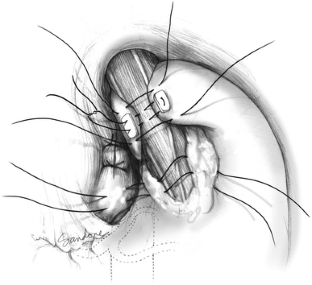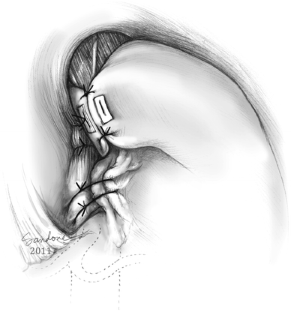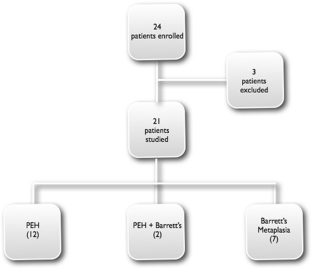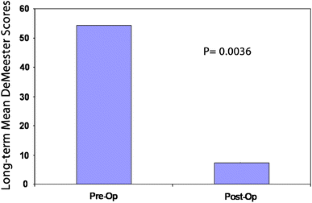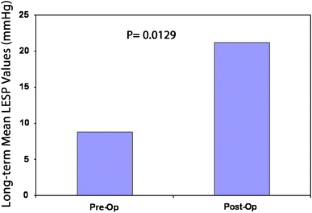 References
1.

Lundell L, Attwood S, Ell C, Fiocca R, Galmiche J-P, Hatlebakk J, Lind T, Junghard O (2008) Comparing laparoscopic antireflux surgery with esomeprazole in the management of patients with chronic gastro-oesophageal reflux disease: a 3-year interim analysis of the LOTUS trial. Gut 57(9):1207–1213

2.

Anvari M, Allen C, Marshall J, Armstrong D, Goeree R, Ungar W, Goldsmith C (2006) A randomized controlled trial of laparoscopic nissen fundoplication versus proton pump inhibitors for treatment of patients with chronic gastroesophageal reflux disease: one-year follow-up. Surg Innov 13:238–249

3.

Csendes A, Braghetto I, Burdiles P, Puente G, Korn O, Diaz JC, Maluenda F (1998) Long-term results of classic antireflux surgery in 152 patients with Barrett's esophagus: clinical, radiologic, endoscopic, manometric, and acid reflux test analysis before and late after operation. Surgery 123:645–657

4.

Oelschlager BK, Pellegrini CA, Hunter J, Soper N, Brunt M, Sheppard B, Jobe B, Polissar N, Mitsumori L, Nelson J, Swanstrom L (2006) Biologic prosthesis reduces recurrence after laparoscopic paraesophageal hernia repair: a multicenter, prospective, randomized trial. Ann Surg 244:481–490

5.

Oelschlager BK, Petersen RP, Brunt LM, Soper NJ, Sheppard BC, Mitsumori L, Rohrmann C, Swanstrom LL, Pellegrini CA (2012) Laparoscopic paraesophageal hernia repair: defining long-term clinical and anatomic outcomes. J Gastrointest Surg 16:453–459

6.

Jobe BA, Aye RW, Deveney CW, Domreis JS, Hill LD (2002) Laparoscopic management of giant type III hiatal hernia and short esophagus. Objective follow-up at 3 years. J Gastrointest Surg 6:181–188; discussion 188

7.

Luketich JD, Nason KS, Christie NA, Pennathur A, Jobe BA, Landreneau RJ, Schuchert MJ (2010) Outcomes after a decade of laparoscopic giant paraesophageal hernia repair. J Thorac Cardiovasc Surg 139:395–404, 404 e391

8.

Horgan S, Pohl D, Bogetti D, Eubanks T, Pellegrini C (1999) Failed antireflux surgery: what have we learned from reoperations? Arch Surg 134:809–815; discussion 815–807

9.

Aye RW, Kapur S, Buduhan G, Dunst CM, Knight A, Malmgren JA, Louie BL (2012) A prospective randomized multicenter trial comparing the laparoscopic Nissen fundoplication and the laparoscopic Hill repair for uncomplicated gastroesophageal reflux disease. Ann Thorac Surg

10.

Wiklund IK, Junghard O, Grace E, Talley NJ, Kamm M, Veldhuyzen van Zanten S, Pare P, Chiba N, Leddin DS, Bigard MA, Colin R, Schoenfeld P (1998) Quality of life in reflux and dyspepsia patients. Psychometric documentation of a new disease-specific questionnaire (QOLRAD). Eur J Surg Suppl:41-49

11.

Velanovich V (2007) The development of the GERD-HRQL symptom severity instrument. Dis Esophagus 20:130–134

12.

Dakkak M, Bennett JR (1992) A new dysphagia score with objective validation. J Clin Gastroenterol 14:99–100

13.

Louie BE, Blitz M, Farivar AS, Orlina J, Aye RW (2011) Repair of symptomatic giant paraesophageal hernias in elderly (>70 years) patients results in improved quality of life. J Gastrointest Surg 15:389–396

14.

Aye R (2001) The Hill Procedure for Gastroesophageal Reflux. 1st ed Harcourt Health Sciences 2001

15.

Attwood SE, Lundell L, Ell C, Galmiche JP, Hatlebakk J, Fiocca R, Lind T, Eklund S, Junghard O (2008) Standardization of surgical technique in antireflux surgery: the LOTUS Trial experience. World J Surg 32:995–998

16.

Hunter JG, Smith CD, Branum GD, Waring JP, Trus TL, Cornwell M, Galloway K (1999) Laparoscopic fundoplication failures: patterns of failure and response to fundoplication revision. Ann Surg 230:595–604; discussion 604–596

17.

Dallemagne B, Kohnen L, Perretta S, Weerts J, Markiewicz S, Jehaes C (2011) Laparoscopic repair of paraesophageal hernia: long-term follow-up reveals good clinical outcome despite high radiological recurrence rate. Ann Surg 253:291–296

18.

Iqbal A, Awad Z, Simkins J, Shah R, Haider M, Salinas V, Turaga K, Karu A, Mittal SK, Filipi CJ (2006) Repair of 104 failed anti-reflux operations. Ann Surg 244:42–51

19.

Mehta S, Bennett J, Mahon D, Rhodes M (2006) Prospective trial of laparoscopic nissen fundoplication versus proton pump inhibitor therapy for gastroesophageal reflux disease: Seven-year follow-up. J Gastrointest Surg 10:1312–1316; discussion 1316–1317

20.

Zaninotto G, Portale G, Costantini M, Rizzetto C, Guirroli E, Ceolin M, Salvador R, Rampado S, Prandin O, Ruol A, Ancona E (2007) Long-term results (6–10 years) of laparoscopic fundoplication. J Gastrointest Surg 11:1138–1145

21.

Zaninotto G, Molena D, Ancona E (2000) A prospective multicenter study on laparoscopic treatment of gastroesophageal reflux disease in Italy: type of surgery, conversions, complications, and early results. Study Group for the Laparoscopic Treatment of Gastroesophageal Reflux Disease of the Italian Society of Endoscopic Surgery (SICE). Surg Endosc 14:282–288

22.

Duffy JP, Maggard M, Hiyama DT, Atkinson JB, McFadden DW, Ko CY, Hines OJ (2003) Laparoscopic Nissen fundoplication improves quality of life in patients with atypical symptoms of gastroesophageal reflux. Am Surg 69:833–838

23.

Granderath FA, Schweiger UM, Kamolz T, Pointner R (2005) Dysphagia after laparoscopic antireflux surgery: a problem of hiatal closure more than a problem of the wrap. Surg Endosc 19:1439–1446

24.

Lundell L (2004) Complications after anti-reflux surgery. Best Pract Res Clin Gastroenterol 18:935–945

25.

Soper NJ, Dunnegan D (1999) Anatomic fundoplication failure after laparoscopic antireflux surgery. Ann Surg 229:669–676; discussion 676–667

26.

Aye RW, Hill LD, Kraemer SJ, Snopkowski P (1994) Early results with the laparoscopic Hill repair. Am J Surg 167:542–546
Acknowledgments
The authors acknowledge the contributions of Justine Rees, The Ryan Hill Foundation, and the Swedish Foundation.
Disclosures
Drs. Qureshi, Aye, Buduhan, Orlina, Farivar, Wagner, Louie, Ms. Ariel Knight, and Mr. Sean McHugh have no conflicts of interest or financial ties to disclose.
About this article
Cite this article
Qureshi, A.P., Aye, R.W., Buduhan, G. et al. The laparoscopic nissen-hill hybrid: pilot study of a combined antireflux procedure. Surg Endosc 27, 1945–1952 (2013). https://doi.org/10.1007/s00464-012-2692-7
Received:

Accepted:

Published:

Issue Date:
Keywords
Antireflux surgery

Paraesophageal hernia

Barrett's metaplasia

Laparoscopic

Fundoplication