Abstract
Background
Serrated polyps of the large bowel are potentially premalignant, difficult to see, but important to remove. Few studies describe the technique or outcomes of serrated polypectomy. We sought to present outcomes of a series of polypectomies of large serrated polyps in comparison to a series of endoscopic resections of large adenomas.
Methods
This retrospective, comparative, single endoscopist study was performed in an outpatient colonoscopy department of a tertiary referral medical center. Patients had outpatient colonoscopy where a large (≥2 cm) serrated polyp or adenoma was removed. Outcomes were completeness of excision and complications of polypectomy. A database of endoscopic polypectomies was reviewed. Polypectomy of large serrated polyps was compared with polypectomy of large adenomas.
Results
There were 132 large serrated polyps in 112 patients and 563 adenomas in 428 patients. More serrated polyps were right sided (120 of 130, 92.3 %, vs. 379 of 563, 67 %) (p < 0.0001). The serrated polyps were smaller than the adenomas (mean 25.5 ± 7.9 mm standard deviation) versus 36.8 ± 16.9 mm standard deviation (p < 0.001). There were four complications of serrated polypectomy in four patients (4 % of polyps, 5 % of patients): three postpolypectomy bleeds and one postpolypectomy syndrome. There were 33 complications of adenoma removal (31 postpolypectomy bleeding and two postpolypectomy syndrome) (6.9 % of polyps, p = 0.376, 8.4 % of patients, p = 0.371). On follow-up, 36 of 51 patients (71 %) with serrated polyps had metachronous lesions compared to 133 of 298 patients (45 %) with adenomas (p < 0.0001). There were fewer residual polyps in the serrated group (4 of 47 vs. 64 of 298, p = 0.001).
Conclusions
Removal of large serrated colorectal polyps is no more complicated than polypectomy of similarly sized adenomas. However, large serrated polyps have a higher rate of metachronous polyps than similarly sized adenomas and surveillance should be adapted to reflect these findings.
This is a preview of subscription content, log in to check access.
Access options
Buy single article
Instant access to the full article PDF.
US$ 39.95
Price includes VAT for USA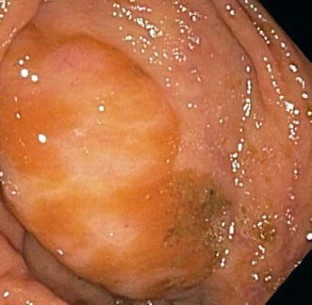 References
1.

Snover DC (2011) Update on the serrated pathway to colorectal carcinoma [review]. Hum Pathol 42:1–10

2.

Kalady MF, Sanchez JA, Manilich E, Hammel J, Casey G, Church JM (2009) Divergent oncogenic changes influence survival differences between colon and rectal adenocarcinomas. Dis Colon Rectum 52:1039–1045

3.

Arain MA, Sawhney M, Sheikh S, Anway R, Thyagarajan B, Bond JH, Shaukat A (2010) CIMP status of interval colon cancers: another piece to the puzzle. Am J Gastroenterol 105:1189–1195

4.

Kedia P, Waye JD (2011) Routine and advanced polypectomy techniques. Curr Gastroenterol Rep 13:506–511

5.

Leonard DF, Dozois EJ, Smyrk TC, Suwanthanma W, Baron TH Sr, Cima RR, Larson DW (2011) Endoscopic and surgical management of serrated colonic polyps. Br J Surg 98:1685–1694

6.

Dell'Abate P, Iosca A, Galimberti A, Piccolo P, Soliani P, Foggi E (2001) Endoscopic treatment of colorectal benign-appearing lesions 3 cm or larger: techniques and outcome. Dis Colon Rectum 44:112–118

7.

Luigiano C, Consolo P, Scaffidi MG, Strangio G, Giacobbe G, Alibrandi A, Pallio S, Tortora A, Melita G, Familiari L (2009) Endoscopic mucosal resection for large and giant sessile and flat colorectal polyps: a single-center experience with long-term follow-up. Endoscopy 41:829–835

8.

Jameel JK, Pillinger SH, Moncur P, Tsai HH, Duthie GS (2006) Endoscopic mucosal resection (EMR) in the management of large colo-rectal polyps. Colorectal Dis 8:497–500

9.

Stergiou N, Riphaus A, Lange P, Menke D, Köckerling F, Wehrmann T (2003) Endoscopic snare resection of large colonic polyps: how far can we go? Int J Colorectal Dis 18:131–135

10.

Doniec JM, Lohnert MS, Schniewind B, Bokelmann F, Kremer B, Grimm H (2003) Endoscopic removal of large colorectal polyps: prevention of unnecessary surgery? Dis Colon Rectum 46:340–348

11.

Hochdorffer R, Eickhoff A, Apel D, Eickhoff JC, Hartmann D, Jakobs R, Riemann JF (2010) Endoscopic resection of "giant" colorectal lesions: long-term outcome and safety. Z Gastroenterol 48:741–747

12.

Binmoeller KF, Bohnacker S, Seifert H, Thonke F, Valdeyar H, Soehendra N (1996) Endoscopic snare excision of "giant" colorectal polyps. Gastrointest Endosc 43:183–188

13.

Kao KT, Giap AQ, Abbas MA (2011) Endoscopic excision of large colorectal polyps as a viable alternative to surgical resection. Arch Surg 146:690–696

14.

Ahlawat SK, Gupta N, Benjamin SB, Al-Kawas FH (2011) Large colorectal polyps: endoscopic management and rate of malignancy: does size matter? J Clin Gastroenterol 45:347–354

15.

Caputi Iambrenghi O, Ugenti I, Martines G, Marino F, Francesco Altomare D, Memeo V (2009) Endoscopic management of large colorectal polyps. Int J Colorect Dis 24:749–753

16.

Church JM (2003) Experience in the endoscopic management of large colonic polyps. ANZ J Surg 73:988–995

17.

Snover DC (2011) Sessile serrated adenoma/polyp of the large intestine: a potentially aggressive lesion in need of a new screening strategy. Dis Colon Rectum 54:1205–1206

18.

Lu FI, de van Niekerk W, Owen D, Tha SP, Turbin DA, Webber DL (2010) Longitudinal outcome study of sessile serrated adenomas of the colorectum: an increased risk for subsequent right-sided colorectal carcinoma. Am J Surg Pathol 34:927–934

19.

Teriaky A, Driman DK, Chande N (2012) Outcomes of a 5-year follow-up of patients with sessile serrated adenomas. Scand J Gastroenterol 47:178–183
Disclosures
Drs. Liang, Kalady, and Church have no conflicts of interest or financial ties to disclose.
Additional information
Presented as a poster at the annual meeting of American Society of Colon and Rectal Surgeons, Vancouver, Canada, May 15–18, 2011.
About this article
Cite this article
Liang, J., Kalady, M.F. & Church, J. Snaring large serrated polyps. Surg Endosc 27, 1622–1627 (2013). https://doi.org/10.1007/s00464-012-2640-6
Received:

Accepted:

Published:

Issue Date:
Keywords
Polypectomy

Sessile serrated polyps

Serrated polyps/adenoma

Endoscopic management