Abstract
Background
In 2009, the rate of thoracoscopic esophagectomy for esophageal cancer was about 20 % in Japan. This low rate may be due to the difficulty in maintaining a good surgical field and the meticulous procedures that are required. The purpose of this study was to establish and evaluate a new procedure for performing a thoracoscopic esophagectomy while the patient is in a prone position using a preceding anterior approach to make the esophagectomy easier to perform.
Methods
We have performed thoracoscopic esophagectomy using our new procedure in 60 patients with esophageal cancer. Each patient was placed in a prone position and five trocars were inserted; only the left lung was ventilated and a pneumothorax was maintained. The esophagus was mobilized from the anterior structure during the first step and from the posterior structure during the second step. The lymph nodes around the esophagus were also dissected anteriorly and posteriorly. The patients were sequentially divided into two groups and their clinical outcomes were evaluated.
Results
The mean operative time for the thoracoscopic procedure for the latter 30 cases (203 min) was shorter than that for the former 30 cases (260 min) (P = 0.001). Among the 52 cases without pleural adhesion, the mean blood loss in the latter 26 cases (18 mL) was also less than that in the former 26 cases (40 mL) (P = 0.027). There were no conversions to a thoracotomy and no operative deaths in this series. Postoperative complications related to the thoracoscopic procedure occurred in 8 cases (27 %) in the former group and in 4 cases (13 %) in the latter group.
Conclusions
Thoracoscopic esophagectomy with the patient in the prone position using a preceding anterior approach is a safe and feasible procedure. As experience performing the procedure increases, the performance of the procedure stabilizes. This method seems to make the esophagectomy easier to perform.
This is a preview of subscription content, log in to check access.
Access options
Buy single article
Instant access to the full article PDF.
US$ 39.95
Price includes VAT for USA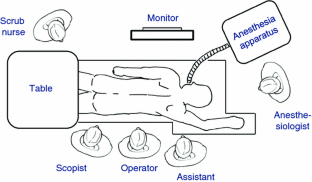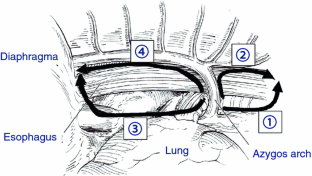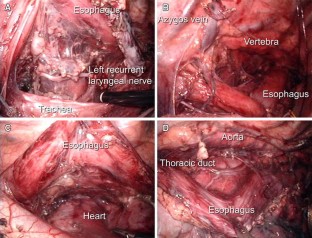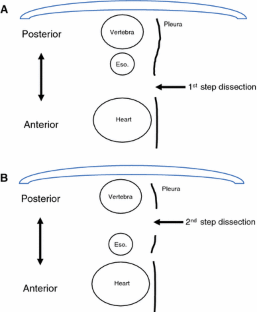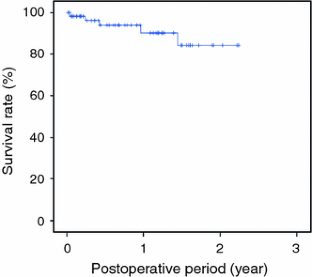 References
1.

Cuschieri A, Shimi S, Banting S (1992) Endoscopic oesophagectomy through a right thoracoscopic approach. J R Coll Surg 37:7–11

2.

McAnena OJ, Rogers J, Williams NS (1994) Right thoracoscopically assisted oesophagectomy for cancer. Br J Surg 81:236–238

3.

Gossot D, Cattan P, Fritsch S, Halimi B, Sarfati E, Celerier M (1995) Can the morbidity of esophagectomy be reduced by the thoracoscopic approach? Surg Endosc 9:1113–1115

4.

Robertson GS, Lloyd DM, Wicks AC, Veitch PS (1996) No obvious advantages for thoracoscopic two-stage oesophagectomy. Br J Surg 83:675–678

5.

Akaishi T, Kaneda I, Higuchi N, Kuriya Y, Kuramoto J, Toyoda T, Wakabayashi A (1996) Thoracoscopic en bloc total esophagectomy with radical mediastinal lymphadenectomy. J Thorac Cardiovasc Surg 112:1533–1540 discussion 1540–1541

6.

Law S, Fok M, Chu KM, Wong J (1997) Thoracoscopic esophagectomy for esophageal cancer. Surgery 122:8–14

7.

Peracchia A, Rosati R, Fumagalli U, Bona S, Chella B (1997) Thoracoscopic esophagectomy: are there benefits? Semin Surg Oncol 13:259–262

8.

Kawahara K, Maekawa T, Okabayashi K, Hideshima T, Shiraishi T, Yoshinaga Y, Shirakusa T (1999) Video-assisted thoracoscopic esophagectomy for esophageal cancer. Surg Endosc 13:218–223

9.

Osugi H, Takemura M, Higashino M, Takada N, Lee S, Kinoshita H (2003) A comparison of video-assisted thoracoscopic oesophagectomy and radical lymph node dissection for squamous cell cancer of the oesophagus with open operation. Br J Surg 90:108–113

10.

Committee for Scientific Affairs, Sakata R, Fujii Y, Kuwano H (2011) Thoracic and cardiovascular surgery in Japan during 2009: annual report by the Japanese Association for Thoracic Surgery. Gen Thorac Cardiovasc Surg 59:636–667

11.

Palanivelu C, Prakash A, Senthilkumar R, Senthilnathan P, Parthasarathi R, Rajan PS, Venkatachlam S (2006) Minimally invasive esophagectomy: thoracoscopic mobilization of the esophagus and mediastinal lymphadenectomy in prone position—experience of 130 patients. J Am Coll Surg 203:7–16

12.

Sobin LH, Gospodarowicz MK, Wittekind C (2009) TNM classification of malignant tumours (UICC international union against cancer), 7th edn. Wiley-Blackwell, Oxford

13.

Japan Esophageal Society (2008) Japanese classification of esophageal cancer, 10th edn. Kanehara & Co, Tokyo

14.

Dindo D, Demartines N, Clavien PA (2004) Classification of surgical complications: a new proposal with evaluation in a cohort of 6336 patients and results of a survey. Ann Surg 240:205–213

15.

Fabian T, Martin J, Katigbak M, McKelvey AA, Federico JA (2008) Thoracoscopic esophageal mobilization during minimally invasive esophagectomy: a head-to-head comparison of prone versus decubitus positions. Surg Endosc 22:2485–2491

16.

Noshiro H, Iwasaki H, Kobayashi K, Uchiyama A, Miyasaka Y, Masatsugu T, Koike K, Miyazaki K (2010) Lymphadenectomy along the left recurrent laryngeal nerve by a minimally invasive esophagectomy in the prone position for thoracic esophageal cancer. Surg Endosc 24:2965–2973

17.

Ozawa S, Tachimori Y, Baba H, Fujishiro M, Matsubara H, Numasaki H, Oyama T, Shinoda M, Takeuchi H, Tanaka O, Teshima T, Udagawa H, Uno T, Barron JP (2011) Comprehensive registry of esophageal cancer in Japan, 2003. Esophagus 8:9–29

18.

Smithers BM, Gotley DC, McEwan D, Martin I, Bessell J, Doyle L (2001) Thoracoscopic mobilization of the esophagus. A 6 year experience. Surg Endosc 15:176–182
Disclosure
Soji Ozawa, Eisuke Ito, Akihito Kazuno, Osamu Chino, Minoru Nakui, Soichiro Yamamoto, Hideo Shimada, and Hiroyasu Makuuchi declare that they have no conflicts of interest or financial ties to disclose.
About this article
Cite this article
Ozawa, S., Ito, E., Kazuno, A. et al. Thoracoscopic esophagectomy while in a prone position for esophageal cancer: a preceding anterior approach method. Surg Endosc 27, 40–47 (2013). https://doi.org/10.1007/s00464-012-2404-3
Received:

Accepted:

Published:

Issue Date:
Keywords
Thoracoscopic esophagectomy

Esophageal cancer

Prone position

Anterior approach