Abstract
Background
Accurate real-time 3D models of the operating field have the potential to enable augmented reality for endoscopic surgery. A new system is proposed to create real-time 3D models of the operating field that uses a custom miniaturized stereoscopic video camera attached to a laparoscope and an image-based reconstruction algorithm implemented on a graphics processing unit (GPU).
Methods
The proposed system was evaluated in a porcine model that approximates the viewing conditions of in vivo surgery. To assess the quality of the models, a synthetic view of the operating field was produced by overlaying a color image on the reconstructed 3D model, and an image rendered from the 3D model was compared with a 2D image captured from the same view.
Results
Experiments conducted with an object of known geometry demonstrate that the system produces 3D models accurate to within 1.5 mm.
Conclusions
The ability to produce accurate real-time 3D models of the operating field is a significant advancement toward augmented reality in minimally invasive surgery. An imaging system with this capability will potentially transform surgery by helping novice and expert surgeons alike to delineate variance in internal anatomy accurately.
This is a preview of subscription content, log in to check access.
Access options
Buy single article
Instant access to the full article PDF.
US$ 39.95
Price includes VAT for USA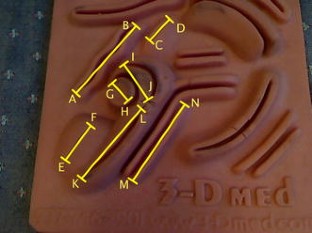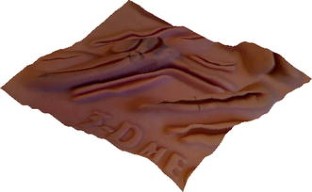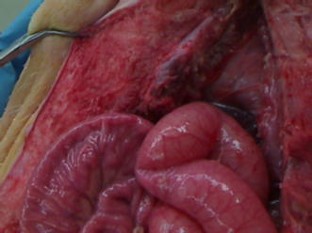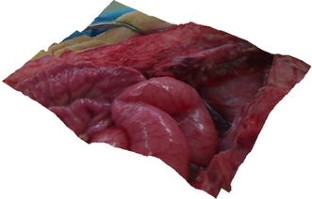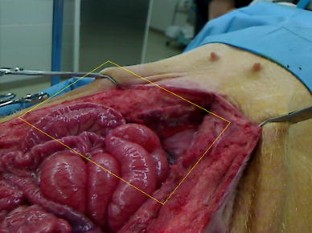 References
1.

Devernay F (2001) 3D Reconstruction of the operating field for image overlay in 3D-endoscopic surgery. In: Proceedings of the IEEE and ACM international symposium on augmented reality (ISAR'01), Washington, DC, pp 191–193

2.

Su LM, Vagvolgyi BP, Agarwal R, Reiley CE, Taylor RH, Hager GD (2009) Augmented reality during robot-assisted laparoscopic partial nephrectomy: toward real-time 3D-CT to stereoscopic video registration. Urology 73:896–900

3.

Bethea B, Okamura A, Kitagawa M, Fitton T, Cattaneo S, Gott V, Baumgartner D, Yuh WA (2004) Application of haptic feedback to robotic surgery. J Laparoendosc Adv Surg Tech 14:191–195

4.

Stoyanov D, Darzi A, Yang GZ (2005) A practical approach towards accurate dense 3D depth recovery for robotic laparoscopic surgery. Comput Aided Surg 10:199–208

5.

Cano González AM, Sánchez-González P, Sánchez-Margallo FM, Oropesa I, Pozo F, Gómez EJ (2009) Video-endoscopic image analysis for 3D reconstruction of the surgical scene. In: 4th European conference of the international federation for medical and biological engineering, vol 22, Antwerp, Belgium, pp 923–926

6.

Stoyanov D, Scarzanella M, Pratt P, Yang GZ (2010) Real-time stereo reconstruction in robotically assisted minimally invasive surgery. Med Image Comput Comput Assist Interv 13:275–282

7.

Taylor R, Stoianovici D (2003) Medical robotics in computer-integrated surgery. IEEE Trans Robot Autom 19:765–781

8.

Hu M, Penney G, Rueckert D, Edwards P, Bello F, Casula R, Figl M, Hawkes D (2009) Nonrigid reconstruction of the beating heart surface for minimally invasive cardiac surgery. In: Proceedings of medical image computing and computer-assisted, London, pp 34–42

9.

Figl M, Rueckert D, Hawkes D, Casula R, Hu M, Pedro O, Zhang DP, Penney D, Bello F, Edwards P (2010) Image guidance for robotic minimally invasive coronary artery bypass. Comput Med Imaging Graphics 34:61–68

10.

Stoyanov D, Darzi A, Yang G (2004) Dense 3D depth recovery for soft tissue deformation during robotically assisted laparoscopic surgery. In: Proceedings of medical image computing and computer-assisted intervention, Springer, Heidelberg, pp 41–48

11.

Lo B, Scarzanella M, Stoyanov D, Yang GZ (2008) Belief propagation for depth cue fusion in minimally invasive surgery. MICCAI 2:104–112

12.

Psota ET, Kowalczuk J, Carlson J, Pérez LC (2011) A local iterative refinement method for adaptive support-weight stereo matching. In: International conference on image processing, computer vision and pattern recognition (IPCV), Las Vegas, pp 271–277
Disclosures
Jędrzej Kowalczuk, Avishai Meyer, Jay Carlson, Eric T. Psota, Shelby Buettner, Lance C. Pérez, Shane M. Farritor, and Dmitry Oleynikov have no conflicts of interest or financial ties to disclose.
About this article
Cite this article
Kowalczuk, J., Meyer, A., Carlson, J. et al. Real-time three-dimensional soft tissue reconstruction for laparoscopic surgery. Surg Endosc 26, 3413–3417 (2012). https://doi.org/10.1007/s00464-012-2355-8
Received:

Accepted:

Published:

Issue Date:
Keywords
Augmented reality

Computer-integrated surgery

Image-based reconstruction

Minimally invasive surgery

Real-time stereo matching

Robotic surgery