Abstract
Background
Perforation after endoscopic retrograde cholangiopancreatography (ERCP) is a rare but severe complication. The purpose of this study was to assess the clinical outcomes with perforations after ERCP from a large number of cases.
Methods
Among 11,048 patients who underwent ERCP during 10 years, medical records from 68 patients (0.62 %) who experienced post-ERCP perforation with radiologic, endoscopic, or surgical evidence were retrospectively reviewed. We assessed the clinical outcomes of patients and analyzed the factors associated with poor outcomes, which were defined as mortality, prolonged hospital stay due to complications, or loss of chance of cure in the case of cancer.
Results
Twenty-nine patients were male, and the median age was 65.0 years. Therapeutic ERCP was performed in 52 cases (77 %). Common mechanisms of perforation were endoscopic sphincterotomy (37 %), catheter or guidewire (34 %), and endoscope (19 %). In contrast to 9 patients who underwent emergent operation, 59 patients (87 %) were conservatively treated. In 44 patients, perforation was detected during the procedure; however, detection after 24 h or permitted oral intake before detection occurred in 18 cases (27 %). Although 58 patients recovered without poor outcomes, 10 patients (15 %) experienced poor outcomes, which consisted of mortality (n = 4), loss of chance of cure (n = 2), and prolonged hospital stay without surgery more than 1 month due to complications (n = 4). By multiple logistic regression analysis, perforation by endoscope and rebound tenderness was statistically associated with poor outcomes (odds ratio: 13.7 and 7.3, respectively).
Conclusions
Most patients fully recovered from perforation; however, some patients experienced grave outcomes, including mortality. Perforation by endoscope and rebound tenderness was significantly associated with poor outcomes.
This is a preview of subscription content, log in to check access.
Access options
Buy single article
Instant access to the full article PDF.
US$ 39.95
Price includes VAT for USA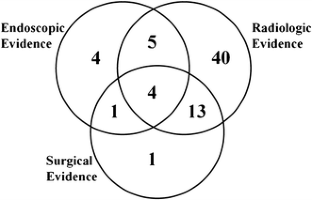 References
1.

Assalia A, Suissa A, Ilivitzki A, Mahajna A, Yassin K, Hashmonai M, Krausz MM (2007) Validity of clinical criteria in the management of endoscopic retrograde cholangiopancreatography related duodenal perforations. Arch Surg 142:1059–1064

2.

Avgerinos DV, Llaguna OH, Lo AY, Voli J, Leitman IM (2009) Management of endoscopic retrograde cholangiopancreatography: related duodenal perforations. Surg Endosc 23:833–838

3.

Booth FV, Doerr RJ, Khalafi RS, Luchette FA, Flint LM Jr (1990) Surgical management of complications of endoscopic sphincterotomy with precut papillotomy. Am J Surg 159:132–135 discussion 135–136

4.

Charlson ME, Pompei P, Ales KL, MacKenzie CR (1987) A new method of classifying prognostic comorbidity in longitudinal studies: development and validation. J Chronic Dis 40:373–383

5.

Christensen M, Matzen P, Schulze S, Rosenberg J (2004) Complications of ERCP: a prospective study. Gastrointest Endosc 60:721–731

6.

Cotton PB, Garrow DA, Gallagher J, Romagnuolo J (2009) Risk factors for complications after ERCP: a multivariate analysis of 11,497 procedures over 12 years. Gastrointest Endosc 70:80–88

7.

Cotton PB, Lehman G, Vennes J, Geenen JE, Russell RC, Meyers WC, Liguory C, Nickl N (1991) Endoscopic sphincterotomy complications and their management: an attempt at consensus. Gastrointest Endosc 37:383–393

8.

Enns R, Eloubeidi MA, Mergener K, Jowell PS, Branch MS, Pappas TM, Baillie J (2002) ERCP-related perforations: risk factors and management. Endoscopy 34:293–298

9.

Fatima J, Baron TH, Topazian MD, Houghton SG, Iqbal CW, Ott BJ, Farley DR, Farnell MB, Sarr MG (2007) Pancreaticobiliary and duodenal perforations after periampullary endoscopic procedures: diagnosis and management. Arch Surg 142:448–454 discussion 454–445

10.

Freeman ML, Nelson DB, Sherman S, Haber GB, Herman ME, Dorsher PJ, Moore JP, Fennerty MB, Ryan ME, Shaw MJ, Lande JD, Pheley AM (1996) Complications of endoscopic biliary sphincterotomy. N Engl J Med 335:909–918

11.

Howard TJ, Tan T, Lehman GA, Sherman S, Madura JA, Fogel E, Swack ML, Kopecky KK (1999) Classification and management of perforations complicating endoscopic sphincterotomy. Surgery 126:658–663 discussion 664–655

12.

Kim JH, Yoo BM, Kim MW, Kim WH (2009) Management of ERCP-related perforations: outcomes of single institution in Korea. J Gastrointest Surg 13:728–734

13.

Krishna RP, Singh RK, Behari A, Kumar A, Saxena R, Kapoor VK (2011) Post-endoscopic retrograde cholangiopancreatography perforation managed by surgery or percutaneous drainage. Surg Today 41:660–666

14.

Morgan KA, Fontenot BB, Ruddy JM, Mickey S, Adams DB (2009) Endoscopic retrograde cholangiopancreatography gut perforations: when to wait! When to operate! Am Surg 75:477–483 discussion 483–474

15.

Stapfer M, Selby RR, Stain SC, Katkhouda N, Parekh D, Jabbour N, Garry D (2000) Management of duodenal perforation after endoscopic retrograde cholangiopancreatography and sphincterotomy. Ann Surg 232:191–198
Acknowledgments
The authors appreciate all of the participating patients. Our study was not supported by any grant.
Disclosures
The authors declared no potential conflicts of interest with respect to this manuscript.
About this article
Cite this article
Kim, J., Lee, S.H., Paik, W.H. et al. Clinical outcomes of patients who experienced perforation associated with endoscopic retrograde cholangiopancreatography. Surg Endosc 26, 3293–3300 (2012). https://doi.org/10.1007/s00464-012-2343-z
Received:

Accepted:

Published:

Issue Date:
Keywords
Endoscopic retrograde cholangiopancreatography

Complications

Perforation

Prognosis