Abstract
Background
The only potentially curative option for patients with gallbladder cancer is radical resection. This is the first report that describes the successful application of a minimally invasive, robot-assisted radical resection, including lymphadenectomy, in five gallbladder cancer patients.
Methods
Medical records of patients who underwent radical resection of gallbladder cancer via the da Vinci robotic surgical system in the Hepato-Bilio-Pancreatic Surgical Department of the Shanghai Ruijin Hospital, China, between March 2010 and July 2011 were reviewed and analyzed.
Results
Robot-assisted radical resection was successful in all five patients. The mean number of excised lymph nodes was 9 (range = 3–11), mean operative time was 200 min (range = 120–300 min), mean intraoperative blood loss was 210 ml (range = 50–400 ml), and mean length of hospital stay was 7.4 days (range = 7–8 days). All patients were discharged with no reported complications. Mean postoperative follow-up was 11 months (range = 1–17 months). One patient died due to tumor recurrence 10 months postsurgically, but there was no recurrence in the remaining four patients during the follow-up period.
Conclusions
Robot-assisted radical resection for gallbladder cancer is both feasible and safe. Compared to laparoscopic surgery, the robotic surgery system is better suited for subtle dissection in a narrow, deep space. This is advantageous for both the removal of lymph nodes near the pancreas and hepatoduodenal ligament and the skeletonization of the hepatoduodenal ligament, the hepatic artery, and the celiac axis. The long-term outcome and direct comparisons to laparotomy in a larger patient cohort are needed to provide more clinical data supporting the superiority of this approach.
This is a preview of subscription content, log in to check access.
Access options
Buy single article
Instant access to the full article PDF.
US$ 39.95
Price includes VAT for USA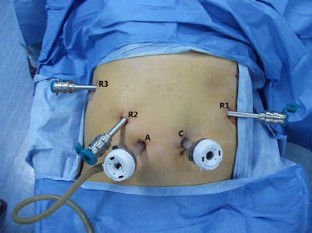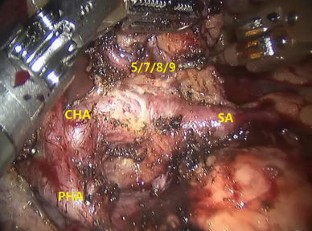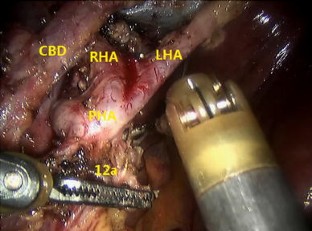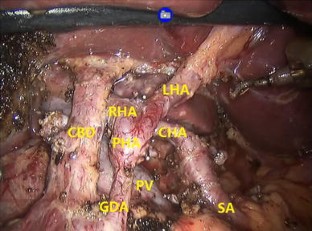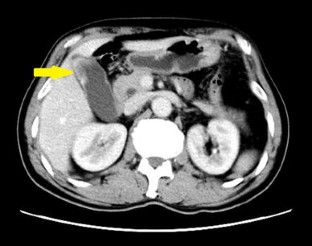 References
1.

Shih SP, Schulick RD, Cameron JL et al (2007) Gallbladder cancer: the role of laparoscopy and radical resection. Ann Surg 245(6):893–901

2.

Nasiri S, Gafuri A, Karamnejad M et al (2009) Four port-site recurrences of gallbladder cancer after laparoscopic cholecystectomy. ANZ J Surg 79(1–2):75–76

3.

Gumbs AA, Hoffman JP (2010) Laparoscopic completion radical cholecystectomy for T2 gallbladder cancer. Surg Endosc 24(12):3221–3223

4.

Cho JY, Han HS, Yoon YS et al (2010) Laparoscopic approach for suspected early-stage gallbladder cancer. Arch Surg 145(2):128–133

5.

Buchs NC, Addeo P, Bianco FM, Gangemi A, Ayloo SM, Giulianotti PC (2010) Outcomes of robot-assisted pancreaticoduodenectomy in patients older than 70 years: a comparative study. World J Surg 34(9):2109–2114

6.

Ito H, Ito K, D'Angelica M et al (2011) Accurate staging for gallbladder cancer: implications for surgical therapy and pathological assessment. Ann Surg 254(2):320–325

7.

Nevin JE, Moran TJ, Kay S et al (1976) Carcinoma of the gallbladder: staging, treatment, and prognosis. Cancer 37(1):141–148

8.

You DD, Lee HG, Paik KY et al (2008) What is an adequate extent of resection for T1 gallbladder cancers? Ann Surg 247(5):835–838

9.

Wang JD, Wang XF, Yang Y et al (2010) Value of different staging systems for gallbladder cancer. Chin J Dig Surg 9:133–135

10.

Peng SY, Hong DF (2011) Selection of surgical procedures for gallbladder cancer. Chin J Dig Surg 10(2):87–90

11.

Jensen EH, Abraham A, Jarosek S et al (2009) Lymph node evaluation is associated with improved survival after surgery for early stage gallbladder cancer. Surgery 146(4):706–711 (discussion 711–713)

12.

Wang JD, Shen J, Zhou XP et al (2011) Selection of range of regional lymphadenectomy for patients with T2 gallbladder cancer. Chin J Dig Surg 10:100–102

13.

Gumbs AA, Hoffman JP (2010) Laparoscopic radical cholecystectomy and Roux-en-Y choledochojejunostomy for gallbladder cancer. Surg Endosc 24(7):1766–1768

14.

Horiguchi A, Uyama I, Miyakawa S (2011) Robot-assisted laparoscopic pancreaticoduodenectomy. J Hepatobiliary Pancreat Sci 18(2):287–291

15.

Lanfranco AR, Castellanos AE, Desai JP et al (2004) Robotic surgery: a current perspective. Ann Surg 239(1):14–21
Acknowledgments
This work was supported by funds from the Emerging and Frontier Technology Project of Municipal Hospitals (SHDC12010103).
Disclosures
Dr. B.-Y. Shen, Q. Zhan, X.-X. Deng, B. Han, Q. Liu, C.-H. Peng, and H.-W. Li have no conflicts of interest or financial ties to disclose.
Additional information
Shen Bai-Yong and Zhan Qian contributed equally to this work.
About this article
Cite this article
Shen, B., Zhan, Q., Deng, X. et al. Radical resection of gallbladder cancer: could it be robotic?. Surg Endosc 26, 3245–3250 (2012). https://doi.org/10.1007/s00464-012-2330-4
Received:

Accepted:

Published:

Issue Date:
Keywords
Radical resection

Gallbladder cancer

Robotic surgery

Robotic biliary surgery