Abstract
Objective
This report describes the first prospective cohort study comparing transvaginal cholecystectomies (TVC) with single incision laparoscopic cholecystectomies (SILC) and four-port laparoscopic cholecystectomies (4PLC).
Methods
Between May 2009 and August 2010, 14 patients underwent a TVC. These patients were compared with patients who underwent SILC (22 patients) or 4PLC (11 patients) in a concurrent, randomized, controlled trial. Demographic data, operative time, numerical pain scales, complications, and return to work were recorded.
Results
Mean age (TVC: 33.5 ± 3.0 year; SILC: 38.4 ± 3.3 year; 4PLC: 35.5 ± 4.1 year; p = 0.58) and mean BMI (TVC: 28.8 ± 1.5 kg/m2; SILC: 31.8 ± 1 kg/m2; 4PLC: 31.4 ± 2.2 kg/m2; p = 0.35) were not statistically significant. However, mean operative time (TVC: 67 ± 3.9 min; SILC: 48.9 ± 2.6 min; 4PLC: 42.3 ± 3.9 min; p < 0.001) was significantly longer for TVC. Numerical pain scales showed significantly lower pain scores on POD 1 and 3 for TVC compared with SILC and 4PLC (TVC: 4.1 ± 0.5 and 2.9 ± 0.7; SILC: 6.1 ± 0.5 and 5.3 ± 0.5; 4PLC: 5.7 ± 0.4 and 4.7 ± 0.3; p = 0.02) with equilibration of pain scores by days 14 and 30. Return to work (TVC: 6.4 ± 1.5 days; SILC: 13.1 ± 1.3 days; 4PLC: 14.1 ± 1.4 days; p < 0.001) also was significantly faster for patients in the TVC group. One conversion in the TVC group to a 4PLC was necessary due to adhesions within the pelvis. One dislodged IUD was seen and immediately replaced in the TVC group. One hernia was observed in the SILC group.
Conclusions
Transvaginal cholecystectomy is a safe and well-tolerated procedure with statistically significantly less pain at 1 and 3 days after surgery, with a faster return to work but longer operative times compared with single incision and four-port laparoscopic cholecystectomy.
This is a preview of subscription content, log in to check access.
Access options
Buy single article
Instant access to the full article PDF.
US$ 39.95
Price includes VAT for USA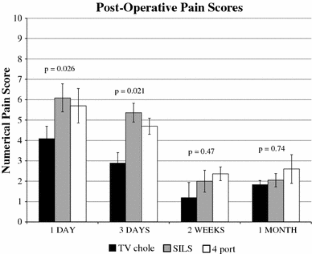 References
1.

Cameron JL, Gadacz TR (1991) Laparoscopic cholecystectomy. Ann Surg 213(1):1–2

2.

Navarra G, Pozza E, Occhionorelli S, Carcoforo P, Donini I (1997) One-wound laparoscopic cholecystectomy. Br J Surg 84(5):695

3.

Hernandez J, Ross S, Morton C, McFarlin K, Dahal S, Golkar F, Albrink M, Rosemurgy A (2010) The learning curve of laparoendoscopic single-site (LESS) cholecystectomy: definable, short, and safe. J Am Coll Surg 211(5):652–657

4.

Hernandez JM, Morton CA, Ross S, Albrink M, Rosemurgy AS (2009) Laparoendoscopic single site cholecystectomy: the first 100 patients. Am Surg 75(8):681–685; discussion 685–686

5.

Erbella J, Bunch GM (2010) Single-incision laparoscopic cholecystectomy: the first 100 outpatients. Surg Endosc 24(8):1958–1961

6.

Zorrón R, Filgueiras M, Maggioni LC, Pombo L, Lopes Carvalho G, Lacerda Oliveira A (2007) NOTES. Transvaginal cholecystectomy: report of the first case. Surg Innov 14(4):279–283

7.

Ramos AC, Murakami A, Galvão Neto M, Galvão MS, Silva AC, Canseco EG, Moyses Y (2008) NOTES transvaginal video-assisted cholecystectomy: first series. Endoscopy 40(7):572–575

8.

Noguera J, Dolz C, Cuadrado A, Olea J, Vilella A, Morales R (2009) Hybrid transvaginal cholecystectomy, NOTES, and minilaparoscopy: analysis of a prospective clinical series. Surg Endosc 23(4):876–881

9.

Roberts KE, Solomon D, Mirensky T, Silasi DA, Duffy AJ, Rutherford T, Longo WE, Bell RL (2012) Pure transvaginal appendectomy versus traditional laparoscopic appendectomy for acute appendicitis: a prospective cohort study. Ann Surg 255(2):266–269

10.

Roberts KE, Solomon D, Duffy AJ, Bell RL (2010) Single-incision laparoscopic cholecystectomy: a surgeon's initial experience with 56 consecutive cases and a review of the literature. J Gastrointest Surg 14(3):506–510

11.

Uchiyama K, Kawai M, Tani M, Ueno M, Hama T, Yamaue H (2006) Gender differences in postoperative pain after laparoscopic cholecystectomy. Surg Endosc 20(3):448–451

12.

Peters JH, Ellison EC, Innes JT, Liss JL, Nichols KE, Lomano JM, Roby SR, Front ME, Carey LC (1991) Safety and efficacy of laparoscopic cholecystectomy. A prospective analysis of 100 initial patients. Ann Surg 213(1):3–12

13.

Solomon D, Bell RL, Duffy AJ, Roberts KE (2010) Single-port cholecystectomy: small scar, short learning curve. Surg Endosc 24(12):2954–2957

14.

Prasad A, Mukherjee KA, Kaul S, Kaur M (2011) Postoperative pain after cholecystectomy: conventional laparoscopy versus single-incision laparoscopic surgery. J Minim Access Surg 7(1):24–27

15.

Khambaty F, Brody F, Vaziri K, Edwards C (2011) Laparoscopic versus single-incision cholecystectomy. World J Surg 35(5):967–972

16.

Wu SD, Han JY, Tian Y (2011) Single-incision laparoscopic cholecystectomy versus conventional laparoscopic cholecystectomy: a retrospective comparative study. J Laparoendosc Adv Surg Tech A 21(1):25–28

17.

Marks J, Tacchino R, Roberts K, Onders R, Denoto G, Paraskeva P, Rivas H, Soper N, Rosemurgy A, Shah S (2011) Prospective randomized controlled trial of traditional laparoscopic cholecystectomy versus single-incision laparoscopic cholecystectomy: report of preliminary data. Am J Surg 201(3):369–372; discussion 372–373

18.

Bucher P, Ostermann S, Pugin F, Morel P (2011) Female population perception of conventional laparoscopy, transumbilical LESS, and transvaginal NOTES for cholecystectomy. Surg Endosc 25(7):2308–2315

19.

Strickland AD, Norwood MG, Behnia-Willison F, Olakkengil SA, Hewett PJ (2010) Transvaginal natural orifice translumenal endoscopic surgery (NOTES): a survey of women's views on a new technique. Surg Endosc 24(10):2424–2431

20.

Swanstrom LL, Volckmann E, Hungness E, Soper NJ (2009) Patient attitudes and expectations regarding natural orifice translumenal endoscopic surgery. Surg Endosc 23(7):1519–1525

21.

Varadarajulu S, Tamhane A, Drelichman ER (2008) Patient perception of natural orifice transluminal endoscopic surgery as a technique for cholecystectomy. Gastrointest Endosc 67(6):854–860

22.

Peterson CY, Ramamoorthy S, Andrews B, Horgan S, Talamini M, Chock A (2009) Women's positive perception of transvaginal NOTES surgery. Surg Endosc 23(8):1770–1774

23.

Lehmann KS, Ritz JP, Wibmer A, Gellert K, Zornig C, Burghardt J, Büsing M, Runkel N, Kohlhaw K, Albrecht R, Kirchner TG, Arlt G, Mall JW, Butters M, Bulian DR, Bretschneider J, Holmer C, Buhr HJ (2010) The German registry for natural orifice translumenal endoscopic surgery: report of the first 551 patients. Ann Surg 252(2):263–270

24.

Dragisic KG, Milad MP (2004) Sexual functioning and patient expectations of sexual functioning after hysterectomy. Am J Obstet Gynecol 190(5):1416–1418

25.

Solomon D, Lentz R, Duffy AJ, Bell RL, Roberts KE (2012) Female sexual function after pure transvaginal appendectomy: a cohort study. J Gastrointest Surg 16(1):183–186; discussion 186–187
Disclosures
Dr. Roberts is a paid consultant to Covidien and the founder of Novatract. Drs. Solomon, Shariff, Silasi, Duffy, and Bell have no conflict of interest or financial disclosures.
Additional information
Sources of Support
Covidien provided partial funding for this trial.
About this article
Cite this article
Solomon, D., Shariff, A.H., Silasi, D. et al. Transvaginal cholecystectomy versus single-incision laparoscopic cholecystectomy versus four-port laparoscopic cholecystectomy: a prospective cohort study. Surg Endosc 26, 2823–2827 (2012). https://doi.org/10.1007/s00464-012-2253-0
Received:

Accepted:

Published:

Issue Date:
Keywords
Cholecystectomy

Clinical papers/trials/research

NOTES