Abstract
Background
The purpose of this study was to evaluate short-term and oncologic outcomes of laparoscopic resection (LR) for patients with symptomatic stage IV colorectal cancer compared with open resection (OR).
Methods
This study is a retrospective analysis of a prospective database. Patients with a minimum follow-up of 12 months after LR or OR for metastatic colorectal cancer were included. All analyses were performed on an "intention-to-treat" basis.
Results
A total of 162 consecutive patients submitted to LR and 127 submitted to OR were included. In the LR group, conversion rate was 26.5 %, mostly due to locally advanced disease (88.4 %). A greater risk of conversion was observed among patients with a tumor size greater than 5 cm regardless the tumor site (P = 0.07). Early postoperative outcome was significantly better for LR group, with a shorter hospital stay (P = 0.008), earlier onset of adjuvant treatment, and similar postoperative complications (P = 0.853) and mortality rates (P = 0.958). LR for rectal cancer was associated with a higher morbidity compared with colon cancer (P = 0.058). During a median follow-up time of 72 months, there was no significant difference in overall survival between the two groups (P = 0.622).
Conclusions
LR for symptomatic metastatic CRC is safe and, compared with OR, is associated with a shorter hospital stay and with similar survival rates. Concerns remain about LR of bulky tumors and rectal cancers due to the increased risk of conversion and postoperative complications.
This is a preview of subscription content, log in to check access.
Access options
Buy single article
Instant access to the full article PDF.
US$ 39.95
Price includes VAT for USA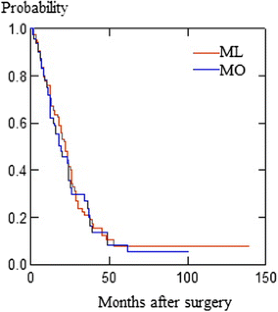 References
1.

Silverman DT, Murray JL, Smart CR, Brown CC, Myers MH (1977) Estimated median survival times of patients with colorectal cancer based on experience with 96,745 patients. Am J Surg 133:289–297

2.

Vogt P, Raab R, Ringe B, Pichlmayr R (1991) Resection of synchronous liver metastases from colorectal cancer. World J Surg 15:62–67

3.

Fong Y, Kemeny N, Paty P, Blumgart LH, Cohen AM (1996) Treatment of colorectal cancer: hepatic metastasis. Semin Surg Oncol 12:219–252

4.

Mella J, Biffin A, Radcliffe AG, Stamatakis JD, Steele RJ (1997) Population-based audit of colorectal cancer management in two UK health regions. Br J Surg 84:1731–1736

5.

Martin R, Paty P, Fong Y, Grace A, Cohen A, DeMatteo R, Jarnagin W, Blumgart L (2003) Simultaneous liver and colorectal resections are safe for synchronous colorectal liver metastasis. J Am Coll Surg 197:233–241

6.

Nash GM, Saltz LB, Kemeny NE, Minsky B, Sharma S, Schwartz GK, Ilson DH, O'Reilly E, Kelsen DP, Nathanson DR, Weiser M, Guillem JG, Wong WD, Cohen AM, Paty PB (2002) Radical resection of rectal cancer primary tumor provides effective local therapy in patients with stage IV disease. Ann Surg Oncol 9:954–960

7.

Rosen SA, Buell JF, Yoshida A, Kazsuba S, Hurst R, Michelassi F, Millis JM, Posner MC (2000) Initial presentation with stage IV colorectal cancer: how aggressive should we be? Arch Surg 135:530–534

8.

Ruo L, Gougoutas C, Paty PB, Guillem JG, Cohen AM, Wong WD (2003) Elective bowel resection for incurable stage IV colorectal cancer: prognostic variables for asymptomatic patients. J Am Coll Surg 196:722–728

9.

Tebbutt NC, Norman AR, Cunningham D, Hill ME, Tait D, Oates J, Livingston S, Andreyev J (2003) Intestinal complications after chemotherapy for patients with unresected primary colorectal cancer and synchronous metastases. Gut 52:568–573

10.

Scoggins CR, Meszoely IM, Blanke CD, Beauchamp RD, Leach SD (1999) Nonoperative management of primary colorectal cancer in patients with stage IV disease. Ann Surg Oncol 6:651–657

11.

Galizia G, Lieto E, Orditura M, Castellano P, Imperatore V, Pinto M, Zamboli A (2008) First-line chemotherapy vs bowel tumor resection plus chemotherapy for patients with unresectable synchronous colorectal hepatic metastases. Arch Surg 143:352–358

12.

Carne PW, Frye JN, Robertson GM, Frizelle FA (2004) Stents or open operation for palliation of colorectal cancer: a retrospective, cohort study of perioperative outcome and long-term survival. Dis Colon Rectum 47:1455–1461

13.

Sarela AI, Guthrie JA, Seymour MT, Ride E, Guillou PJ, O'Riordain DS (2001) Nonoperative management of the primary tumour in patients with incurable stage IV colorectal cancer. Br J Surg 88:1352–1356

14.

Takaki HS, Ujiki GT, Shields TS (1977) Palliative resections in the treatment of primary colorectal cancer. Am J Surg 133:548–550

15.

Liu SK, Church JM, Lavery IC, Fazio VW (1997) Operation in patients with incurable colon cancer–is it worthwhile? Dis Colon Rectum 40:11–14

16.

Milsom JW, Kim SH, Hammerhofer KA, Fazio VW (2000) Laparoscopic colorectal cancer surgery for palliation. Dis Colon Rectum 43:1512–1516

17.

Moloo H, Bédard EL, Poulin EC, Mamazza J, Grégoire R, Schlachta CM (2006) Palliative laparoscopic resections for Stage IV colorectal cancer. Dis Colon Rectum 49:213–218

18.

Law WL, Fan JKM, Poon JTC, Choi HK, Lo OSH (2008) Laparoscopic bowel resection in the setting of metastatic colorectal cancer. Ann Surg Oncol 15:1424–1428

19.

Abraham NS, Young JM, Solomon MJ (2004) Meta-analysis of short-term outcomes after laparoscopic resection for colorectal cancer. Br J Surg 91:1111–1124

20.

Schwenk W, Haase O, Neudecker J, Müller JM (2005) Short term benefits for laparoscopic colorectal resection. Cochrane Database Syst Rev (3):CD003145

21.

Abraham NS, Byrne CM, Young JM, Solomon M (2007) Meta-analysis of non-randomized comparative studies of the short-term outcomes of laparoscopic resection for colorectal cancer. ANZ J Surg 77:508–516

22.

Bonjer HJ, Hop WC, Nelson H, Sargent DJ, Lacy AM, Castells A, Guillou PJ, Thorpe H, Brown J, Delgado S, Kuhrij E, Haglind E, Påhlman L, Transatlantic Laparoscopically Assisted vs Open Colectomy Trials Study Group (2007) Laparoscopically assisted vs open colectomy for colon cancer: a meta-analysis. Arch Surg 142:298–303

23.

Fleshman J, Sargent DJ, Green E, Anvari M, Stryker SJ, Beart RW Jr, Hellinger M, Flanagan R Jr, Peters W, Nelson H, for The Clinical Outcomes of Surgical Therapy Study Group (2007) Laparoscopic colectomy for cancer is not inferior to open surgery based on 5-year data from the COST Study Group trial. Ann Surg 246:655–662

24.

Lacy AM, Delgado S, Castells A, Prins HA, Arroyo V, Ibarzabal A, Pique JM (2008) The long-term results of a randomized clinical trial of laparoscopy-assisted versus open surgery for colon cancer. Ann Surg 248:1–7

25.

Colon Cancer Laparoscopic or Open Resection Study Group, Buunen M, Veldkamp R, Hop WC, Kuhry E, Jeekel J, Haglind E, Påhlman L, Cuesta MA, Msika S, Morino M, Lacy A, Bonjer HJ (2009) Survival after laparoscopic surgery versus open surgery for colon cancer: long-term outcome of a randomized clinical trial. Lancet Oncol 10:44–52

26.

Jayne DG, Thorpe HC, Copeland J, Quirke P, Brown JM, Guillou PJ (2010) Five-year follow-up of the Medical Research Council CLASICC trial of laparoscopically assisted versus open surgery for colorectal cancer. Br J Surg 97:1638–1645

27.

Kuhry E, Schwenk W, Gaupset R, Romild U, Bonjer J (2008) Long-term outcome of laparoscopic surgery for colorectal cancer: a Cochrane systematic review of randomised controlled trials. Cancer Treat Rev 34:498–504

28.

Stillwell AP, Buettner PG, Ho YH (2010) Meta-analysis of survival of patients with stage IV colorectal cancer managed with surgical resection versus chemotherapy alone. World J Surg 34:797–807

29.

Kleespies A, Füessl KE, Seeliger H, Eichhorn ME, Müller MH, Rentsch M, Thasler WE, Angele MK, Kreis ME, Jauch KW (2009) Determinants of morbidity and survival after elective non-curative resection of stage IV colon and rectal cancer. Int J Colorectal Dis 24:1097–1109

30.

Konyalian VR, Rosing DK, Haukoos JS, Dixon MR, Sinow R, Bhaheetharan S, Stamos MJ, Kumar RR (2006) The role of primary tumour resection in patients with stage IV colorectal cancer. Colorectal Dis 9:430–437

31.

Stelzner S, Hellmich G, Koch R, Ludwig K (2005) Factors predicting survival in stage IV colorectal carcinoma patients after palliative treatment: a multivariate analysis. J Surg Oncol 89:211–217

32.

Law WL, Chu KW (2006) Outcomes of resection of stage IV rectal cancer with mesorectal excision. J Surg Oncol 93:523–538

33.

Law WL, Chan WF, Lee YM, Chu KW (2004) Non-curative surgery for colorectal cancer: critical appraisal of outcomes. Int J Colorectal Dis 19:197–202

34.

Temple LKF, Hsieh L, Wong WD, Saltz L, Schrag D (2004) Use of surgery among elderly patients with stage IV colorectal cancer. J Clin Oncol 22:3475–3484

35.

Kuo LJ, Leu SY, Liu MC, Jian JJ, Hongiun Cheng S, Chen CM (2003) How aggressive should we be in patients with stage IV colorectal cancer? Dis Colon Rectum 46:1646–1652

36.

Veldkamp R, Kuhry E, Hop WC, Jeekel J, Kazemier G, Bonjer HJ, Haglind E, Påhlman L, Cuesta MA, Msika S, Morino M, Lacy AM, COlon cancer Laparoscopic or Open Resection Study Group (COLOR) (2005) Laparoscopic surgery versus open surgery for colon cancer: short-term outcomes of a randomised trial. Lancet Oncol 6:477–484

37.

Guillou PJ, Quirke P, Thorpe H, Walker J, Jayne DG, Smith AM, Heath RM, Brown JM, MRC CLASICC trial group (2005) Short-term endpoints of conventional versus laparoscopic-assisted surgery in patients with colorectal cancer (MRC CLASICC trial): multicentre, randomised controlled trial. Lancet 365:1718–1726

38.

Lima IS, Yasui Y, Scarfe A, Winget M (2011) Association between receipt and timing of adjuvant chemotherapy and survival for patients with stage III colon cancer in Alberta, Canada. Cancer 117:3833–3840
Disclosures
Marco Ettore Allaix, Maurizio Degiuli, Giuseppe Giraudo, Alessandra Marano, and Mario Morino have no conflict of interest or financial ties to disclose.
About this article
Cite this article
Allaix, M.E., Degiuli, M., Giraudo, G. et al. Laparoscopic versus open colorectal resections in patients with symptomatic stage IV colorectal cancer. Surg Endosc 26, 2609–2616 (2012). https://doi.org/10.1007/s00464-012-2240-5
Received:

Accepted:

Published:

Issue Date:
Keywords
Symptomatic

Metastatic

Colorectal cancer

Laparoscopy