Abstract
Background
Feasibility and long-term safety of laparoscopic removal of gastric gastrointestinal stromal tumors (GISTs) of the stomach is well established for lesions smaller than 2 cm. Our specific aim was to explore whether laparoscopic treatment is equally applicable for gastric GISTs larger than 2 cm.
Methods
Between 1997 and 2010, 31 consecutive patients presenting with a primary gastric GIST were scheduled for laparoscopic resection, irrespective of tumor size. Prerequisites for laparoscopic approach were the absence of metastases and the presence of a well-defined tumor on CT scanning without involvement of adjacent organs, the esophagogastric junction, or the pylorus of the stomach. Data were retrieved retrospectively from a prospectively collected database, including information on patient demographics, surgical procedure, complications, hospital stay, and recurrence. Diagnosis of GIST was based on microscopic analysis, including immunohistochemistry with a panel of antibodies: CD117, CD34, DOG1, S100, desmin, and smooth muscle actin.
Results
All 31 laparoscopic resections were carried out successfully. The most common symptoms were melena, anemia, and abdominal pain. In one case we performed a laparoscopic approach for a GIST with acute bleeding. Tumor size was smaller than 2 cm in 5 patients and larger than 2 cm in 26 patients. The median tumor size was 4.4 cm (range = 0.4–11.0 cm). Median blood loss was identical in both groups (20 ml), but duration of operation (60 vs. 103 min) and duration of hospital stay (6 vs. 8 days) were lower when tumor size was less than 2 cm. Only one patient (with tumor size <2 cm) experienced a postoperative hemorrhage. After a median follow-up of 52 months, there were no recurrences or metastases.
Conclusion
The low morbidity rates and the long-term disease-free interval of 100% observed in our cohort indicate that laparoscopic resection is safe and effective in treating gastric GISTs, even for tumors larger than 2 cm.
This is a preview of subscription content, log in to check access.
Access options
Buy single article
Instant access to the full article PDF.
US$ 39.95
Price includes VAT for USA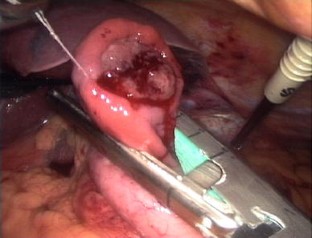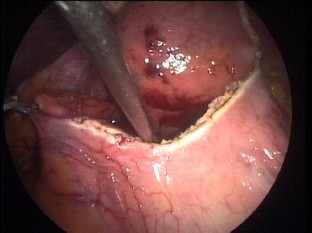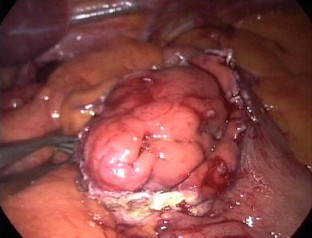 References
1.

Lewis JJ, Brenmann MF (1996) Soft tissue sarcomas. Curr Probl Surg 33:817–872

2.

Hirota S, Isozaki K, Moriyama Y, Hashimoto K, Nishida T, Ishiguro S, Kawano K, Hanada M, Kurata A, Takeda M, Muhammad Tunio G, Matsuzawa Y, Kanakura Y, Shinomura Y, Kitamura Y (1998) Gain of function mutations of c-kit in human gastrointestinal stromal tumors. Science 279:577–580

3.

Pidhorechy I, Cheney RT, Kraybill WG, Gibbs JF (2000) Gastrointestinal stromal tumours: current diagnosis, biological behavior, and management. Ann Surg Oncol 7:705–712

4.

Miettinen M, Majidi M, Lasota J (2002) Pathology and diagnostic criteria of gastrointestinal stromal tumours (GISTs): a review. Eur J Cancer 38:S39–S51

5.

DeMatteo RP, Lewis JJ, Leung D, Mudan SS, Woodruft JM, Brinnan MF (2000) Two hundred gastointestinal stromal tumours: recurence patterns and prognostic factors for survival. Ann Surg 231:51–58

6.

Piso P, Schhlitt HJ, Klempnauer J (2000) Stromal sarcoma of the stomach: therapeutic considerations. Eur J Surg 166:954–958

7.

Joensuu H, Fletcher C, Dimitrijevic S, Silberman S, Roberts P, Demetri G (2002) Management of malignant gastrointestinal stromal tumours. Lancet Oncol 3:664

8.

Cheng HL, Lee WJ, Lai IR, Yuan RH, Yu SC (1999) Laparoscopic wedge resection of benign gastric tumor. Hepatogastroenterology 46:2100–2104

9.

Nguyen NT, Jim J, Nguyen A, Lee J, Chang K (2003) Laparoscopic resection of gastric stromal tumor: a tailored approach. Am Surg 69:946–950

10.

Geis W, Baxt R, Kim HC (1996) Benign gastric tumors: minimally invasive approach. Surg Endosc 10:407–410

11.

Heinrich MC, Corless CL (2005) Gastric GI stromal tumors (GISTs): the role of surgery in the era of targeted therapy. J Surg Oncol 90:195–207

12.

Duffaud F, Blay JY (2003) Gastrointestinal stromal tumors: biology and treatment. Oncology 65:187–197

13.

Lukaszczyk JJ, Preletz RJ (1992) Laparoscopic resection of benign stromal tumors of the stomach. J Laparoendosc Surg 2:331–334

14.

Heniford BT, Arca MJ, Walsh RM (2000) The mini-laparoscopic intragastric resection of a gastroesophageal stromal tumor: a novel approach. Surg Laparosc Endosc Percutan Tech 10:82–85

15.

Walsh RM, Ponsky J, Brody F, Matthews BD, Heniford BT (2003) Combined endoscopic/laparoscopic intragastric resection of gastric stromal tumors. J Gastrointest Surg 7:386–392

16.

Ng EH, Pollock RE, Munsell MF, Atkinson EN, Romsdahl MM (1992) Prognostic factors influencing survival in gastrointestinal leiomyosarcomas: implications for surgical management and staging. Ann Surg 215:68–77

17.

Demetri GD, Benjamin RB, Blanke CD et al (2004) NCCN task force report: optimal management of patients with gastrointestinal tumor (GIST) - expansion and update of NCCN clinical practical guidelines. J Natl Compr Canc Netw 2(Suppl 1):S1–S26

18.

Otani Y, Furukawa T, Yoshida M, Saikawa Y, Wada N, Ueda M, Kubota T, Mukai M, Kameyama K, Sugino Y, Kumai K, Kitajima M (2006) Operative indications for relatively small (2–5 cm) gastrointestinal stromal tumor of the stomach based on analysis of 60 operated cases. Surgery 139:484–492

19.

Sexton JA, Pierce RA, Halpin VJ, Eagon JC, Hawkins WG, Linehan DC, Brunt LM, Frisella MM, Matthews BD (2008) Laparoscopic gastric resection for gastrointestinal stromal tumors. Surg Endosc 22:2583–2587

20.

Catena F, Di Battista M, Fusaroli P, Ansaloni L, Di Scioscio V, Santini D, Pantaleo M, Biasco G, Caletti G, Pinna A (2008) Laparoscopic treatment of gastric GIST: report of 21 cases and literature's review. J Gastrointest Surg 12:561–568

21.

Lai IR, Lee WJ, Yu SC (2006) Minimally invasive surgery for gastric stromal cell tumors: intermediate follow-up results. J Gastrointest Surg 10:563–566

22.

NovitskyYW KercherKW, Sing RFDO, Todd Heniford B (2006) Long-term outcomes of laparoscopic resection of gastric gastrointestinal stromal tumors. Ann Surg 243:738–745

23.

Nguyen SQ, Divino CM, Wang JL, Dikman SH (2006) Laparoscopic management of gastrointestinal stromal tumors. Surg Endosc 20:713–716
Disclosures
Drs. De Vogelaere, Van Loo, Peeters, Hoorens, Haentjens, and Delvaux have no commercial association that might create a conflict of interest in connection with any of the products mentioned in this article.
About this article
Cite this article
De Vogelaere, K., Van Loo, I., Peters, O. et al. Laparoscopic resection of gastric gastrointestinal stromal tumors (GIST) is safe and effective, irrespective of tumor size. Surg Endosc 26, 2339–2345 (2012). https://doi.org/10.1007/s00464-012-2186-7
Received:

Accepted:

Published:

Issue Date:
Keywords
Gastrointestinal stromal tumor

GIST

Laparoscopy